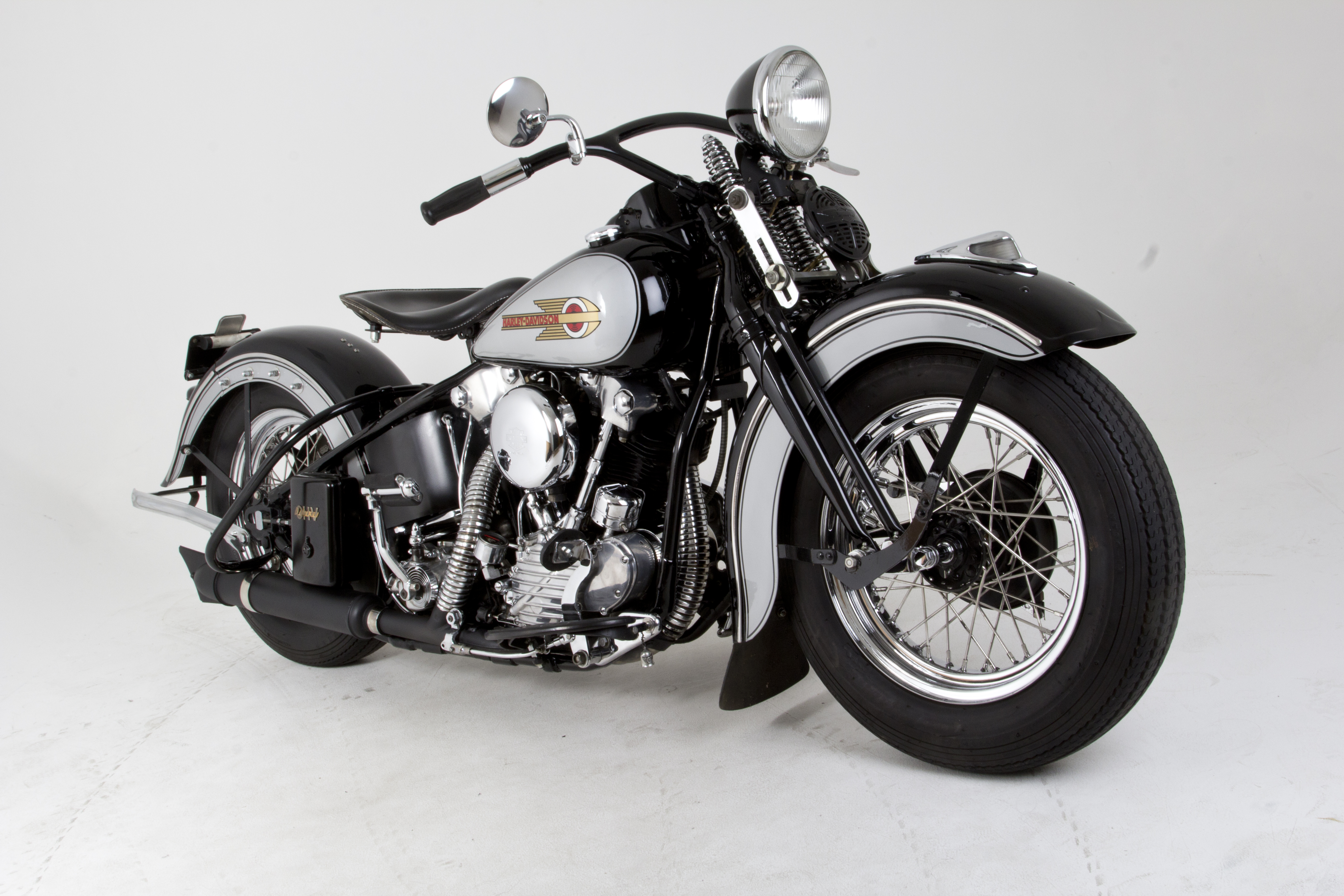 In a world full of "wannabes" and "fly by night" people, it's not often you run across the real deal. As a white haired biker was escorted to my desk for his photoshoot, I couldn't help but notice this guy at least looked the part of a biker dressed in leather. As we made our way out to parking lot, my eyes searched for a trailer with the vintage bike I was supposed to shoot. Much to my surprise, this 1946 Knucklehead was already at the rear door. After asking where was the transport vehicle, the owner "Scratch" chuckled and said, "What trailer? I rode it here." The more we talked, the more I realized that Scratch was in fact the real deal rider and has taken this show quality bike tens – maybe even hundred – of thousands of miles all over the United States over the last forty years. Rather than explain who he is, we left it up to him to tell the story of "Jessie" for himself….
This is the motorcycle I grew up with. We have been rolling now for nearly four decades now and I call her "Jessie". I first purchased her while in my early 20's. She was a rat chopper that leaked quite a bit of oil but ran great. It had a 15-inch extended springer but the Harley frame had a stock 30-degree rake, making it a bike that sat ridiculously high up front. After paying the previous owner (he was an old school biker named "Blue") $1,450, he instructed me on how to use the quick release "suicide" clutch and hand shifter- this would be my first time. The main thing, he said, was not to lose your balance once you place it into gear, if your left foot came off the clutch pedal suddenly it would just take off or stall. It started on the second kick and I mounted her for the first ride.
Blues garage was on an alley and the view out of his garage door was a block wall. I would ease her out of the garage, turn to the left and take it down to the end of the alley, turn around and return to his garage. Well, that was the plan anyway. With a little "feathering" of the throttle, I shifted my weight just slightly and lifted my left boot up and onto the clutch pedal and pressed down. The open primary chattered loudly as I reached down with my left hand to "click" it into first gear. The clutch was a little out of adjustment and when it "chunked" into first gear the bike lurched forward just enough for me to lose my balance. My reaction was to drop my left foot down to catch the bike that was now falling to the left. The clutch then became fully engaged and jerked forward- fast! I struggled to hang on and in the process twisted on the throttle even more making the straight drag pipes roar. The front wheel came off the ground and the bike continued to fall to the left. Somehow, I really don't know how, the bike shot out of the garage on the rear wheel, falling to the left, but cleared the door as I somehow momentarily found the rear brake, slamming the front end down. Still out of control, I was now racing down the alley as I struggled for my balance. I hit the gas again and to my horror the front end came back up (I found it did this rather easily). By the time I reached the end of the alley I managed to get it under control and brought it to a stop. I took a minute to catch my breath before carefully turning it around and heading back to Blues garage, now reasonably in control of the bike. As I brought it to a stop, I saw a big grin on 'ol Blues face. He was chuckling as he said, "I think you two are going to get along just fine".
It didn't take very long for me to take the bike apart and rebuilt it as a decent chopper, properly raked for that 15 over springer. I replace the quick release suicide with a Rocker Clutch, which has been on ever since. Over years she has proven to be the kind of bike every biker dreams of. Rarely giving me any trouble for many, many miles. For a long time "Jessie" was my only home as we traveled from place to place discovering America. The motor and transmission has always remained the originals that I bought that day. Most everything else I have changed again and again until it became the bike you see today. It's still a little bit custom while appearing somewhat "stockish". I have had other bikes over the years, but Jessie has always been, and will always be, my favorite machine.
Take a look at this gallery for more great knuckle-powered motorcycles.