Many years ago, when I was in art school studying to be an animator, one of my teachers told us, "The worst thing you can say about a piece of art is that it's interesting. At least if someone hates your work, they were affected enough to get mad at it." In other words, "That's interesting" was politically correct for "Who gives a s—t?" Taking that idea a step further, if you didn't feel a personal connection to what you made, no one else will either. That idea has held true with me for a long time, and I think it applies to custom motorcycles too. When you phone in building a bike, it shows. When you put a lot of yourself into a scoot you love, that comes through also.
I'm pretty sure you can guess which of those categories Charlie Stockwell fell into when transforming a 2017 Street Bob into the awesomeness that is the Moonlight Chopper before you.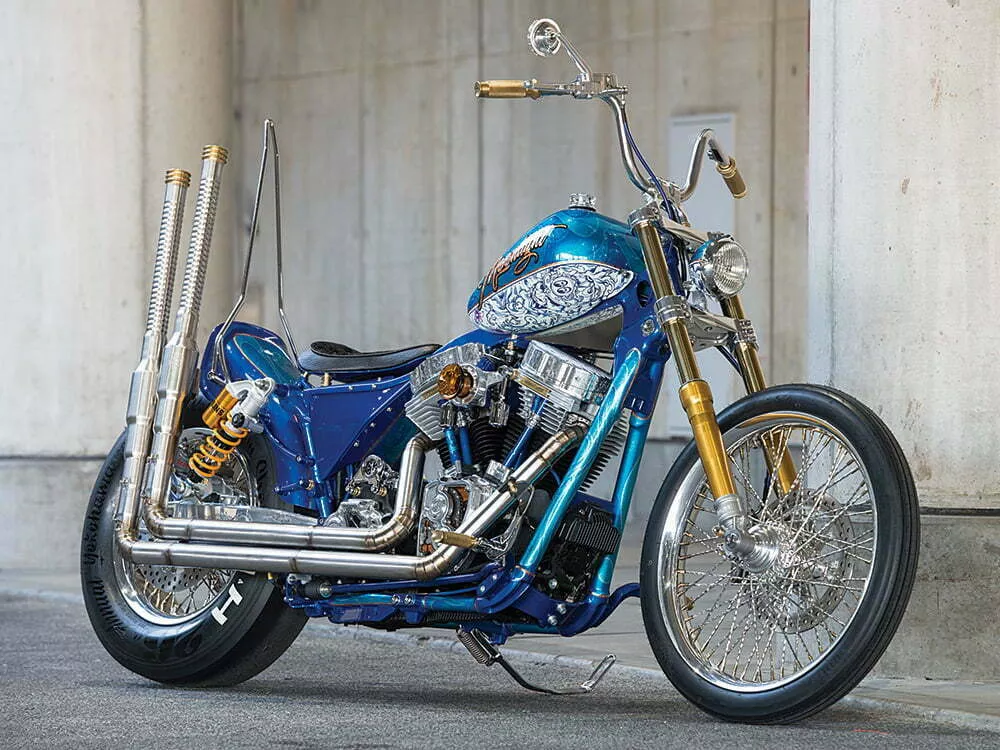 He first got hooked on his two-wheel addiction back when he was 11 or 12 years old. Growing up, motorcycles weren't part of the family. That is, until his older sister starting dating a dude who rode one.
"I was the rebel of six kids and thought that guy was really cool," Charlie says. "He taught me to ride." By the time Charlie was 14 or 15 years old, he was hooked, and when he was 16, he got a Saturday job at the local dealership making the techs coffee and tea. He also did that while in college. The university experience wasn't for him though. He was an art major, but the school environment was too restrictive for his liking. "You can't grade my art, so I'm not going to university to force me to change what I make," he says. "After that, the boss took a chance on me making a custom bike. It sold immediately and snowballed to 30 bikes a year." He was officially home, artistically speaking. Charlie also loves to race. At one point, he went through a road-racing phase, and now he's into flat track.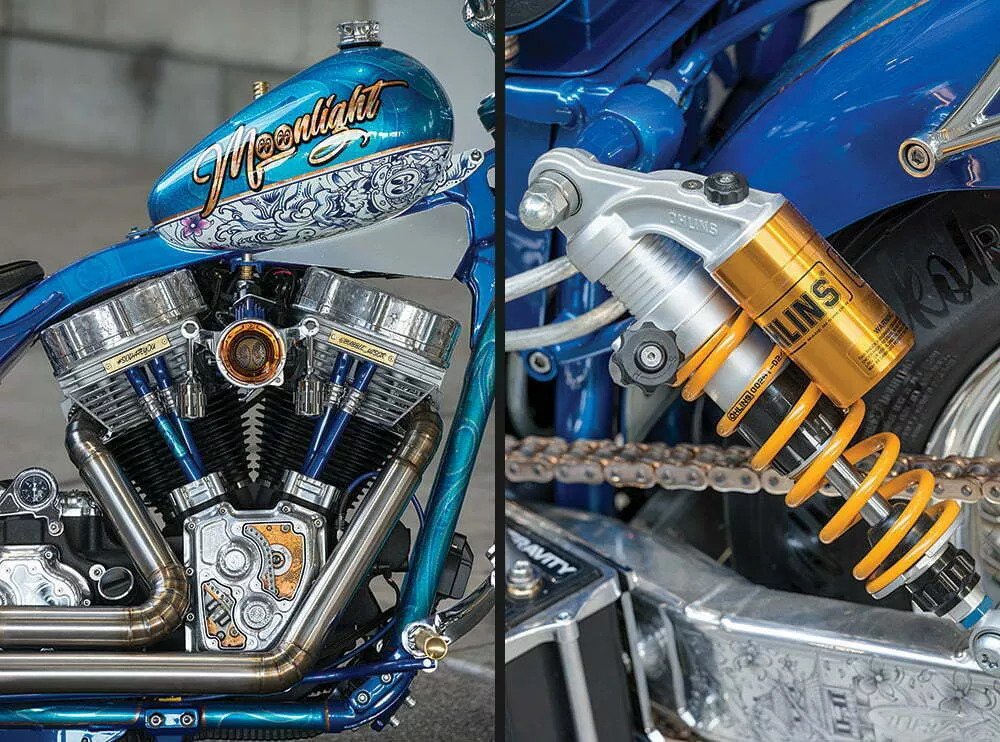 All of which brings us to creating what you want, not what's expected. His Moonlight Chopper creation here is all about that. It's a 2017 Dyna with modern performance upgrades and 1970s chopper looks. These are not three things that builders typically bring together in a single bike.
"The whole project was enjoyable," Charlie tells me. "The customer is a good friend who gave me the chance to build a whole experience for him. When I was a kid, a friend gave me [a copy of] Hot Bike Japan, which gave me a taste for what's possible with a custom. So I told him, 'Let's build a bike for the Mooneyes show.'" Said customer told Charlie to build any style he wanted to. Stockwell decided to work on something unique, to scare himself into building something that might not be acceptable for general consumption. As he puts it: "I wanted to build something outside my comfort zone and hope the Japanese audience liked it. The Moonlight Chopper is the '60s and '70s chopper scene mixed with my modern performance style. And then do it on a Dyna. It was the challenge of mixing three things that should never go together with the hope that it did well in Japan. The best part of all this was building something I shouldn't, and taking it to a foreign land and having the whole thing accepted."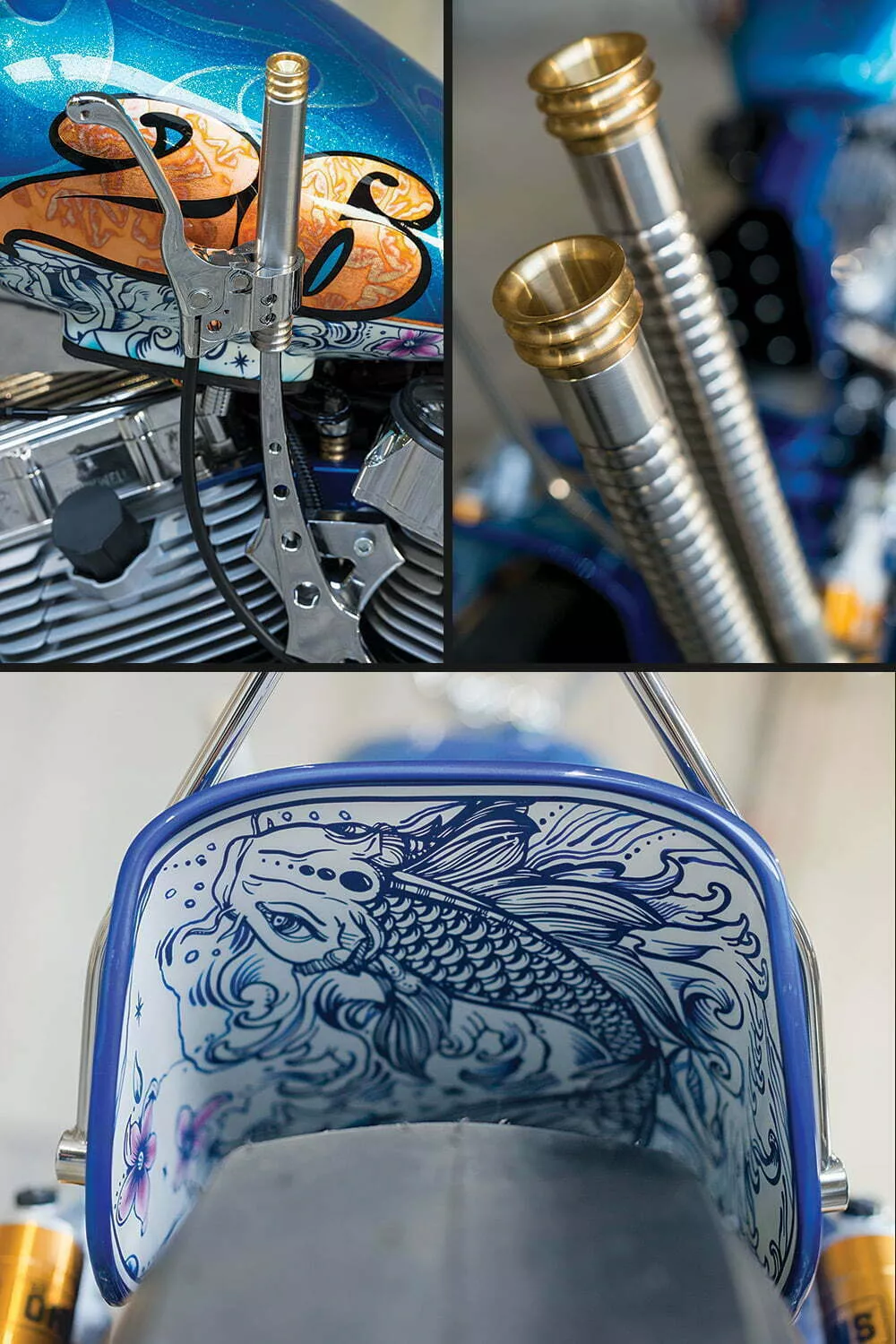 That's a tall order. Charlie had to make a stock Dyna chassis catch the chopper vibe (from a time when Dynas didn't even exist) while blending in the latest and greatest in suspension and braking parts for a fuel-injected American V-twin. Although he says the fabrication of parts such as the tank and fenders was easy, bending up an exhaust that paralleled the bottom of the frame before jumping skyward behind the shocks was tricky. The exhaust was easy to build but hard to decide what route to take.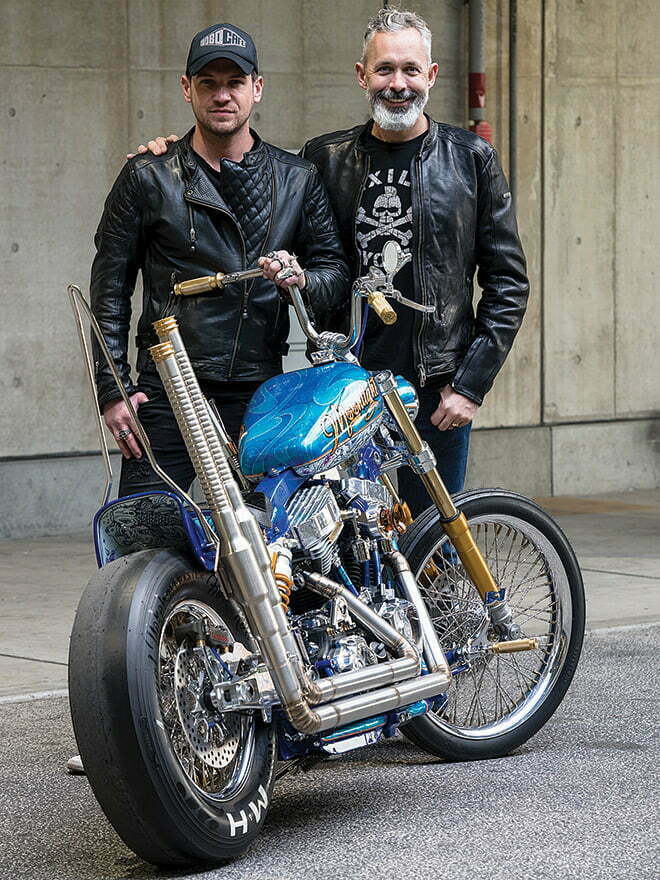 What really gave him trouble was the electrical system. Getting rid of electrical components on a CAN-bus bike (like the switches) for chopper minimalism while keeping the bike a modern working Twin Cam was tricky. When you feel strongly enough about a work of art, though, you make it happen.
All of that hard work was rewarded months later in Japan. Crowd response was anything but interesting. At least, in the sense my old art teacher meant. Charlie didn't phone in this chopper; he threw a little of everything he thought was cool into it, in a way we don't see too often. In my mind, that's what custom bike building is all about.
| | |
| --- | --- |
| General | |
| Owner | Classified |
| Shop | Charlie Stockwell at Warr's Harley-Davidson |
| Website | warrs.com |
| Year/Make/Model | 2017 Harley-Davidson Street Bob |
| Fabrication | Warr's Harley-Davidson |
| Build Time | Three months |
| Engine | |
| Year/Type/Size | 2017 Twin Cam 103ci |
| Builder | Charlie Stockwell |
| Cases | H-D |
| Cylinders | H-D |
| Heads | H-D |
| Rocker Boxes | H-D |
| Cams | H-D |
| Throttle Body | H-D EFI |
| Exhaust | Custom-made with Vance & Hines Mini-Grenades mufflers |
| Air Cleaner | Bare Knuckle |
| Transmission | |
| Year/Type | 2017 H-D |
| Gears | H-D |
| Clutch | H-D |
| Primary Drive | Performance Machine |
| Frame | |
| Year/Type | 2017 H-D Dyna |
| Rake/Stretch | Stock/none |
| Suspension | |
| Front end | Öhlins Tele Forks |
| Length | Stock |
| Triple Trees | Rebuffini |
| Swingarm | H-D |
| Shocks | Öhlins |
| Wheels, Tires, and Brakes | |
| Front | |
| Builder/Size | Ride Wright 21-inch |
| Tire/Size | M&H 21-inch |
| Caliper | Brembo |
| Rotor | Performance Machine |
| Rear | |
| Builder/Size | Ride Wright 18-inch |
| Tire/Size | M&H 18-inch |
| Caliper | Brembo |
| Rotor | Performance Machine |
| Finish/Paint | |
| Color | Blue |
| Paint/Graphics | Imagine Design Custom and King Nerd |
| Accessories | |
| Front Fender | None |
| Rear Fender | Warr's Harley-Davidson |
| Gas Tank | Warr's Harley-Davidson |
| Dash | None |
| Handlebars | Roland Sands Design |
| Grips | Warr's Harley-Davidson |
| Mirrors | Ken's Factory |
| Hand Controls | Performance Machine |
| Footpegs | Warr's Harley-Davidson |
| Headlight | Lowbrow Customs |
| Taillight | CSC |
| Seat | Warr's Harley-Davidson |