It's not often you see a pack of Harley-Davidson production bikes going flat out on a racetrack mixed among sportbikes. That's what happened though at a recent trackday at Buttonwillow Raceway, a club-level roadrace track in the farmlands just west of Bakersfield, California.
Pacific Track Time in conjunction with Hot Bike Magazine presented V-twin Trackday with support from GP Suspension, Kraus Motor Co., GPR Stabilizer, and Fab 28 Industries. In the morning before hitting the track, about a dozen V-twin-powered bikes rolled through tech inspection and raised a lot of eyebrows from track regulars.
A mobile auto mechanic named Zach Nation from Southern California is one of the forerunners spearheading this unorthodox and thunderous movement of Harleys on the track. Many Dyna enthusiasts had been taking notice of Zach due to his exploits on famed Mulholland Highway on social media. Videos of him scraping knees and pegs at unbelievable speeds were shared and spread like wildfire over the internet. Zach grew up riding dirt bikes and sportbikes which is responsible for his aggressive riding style and skills. Zach ended up riding a Harley-Davidson in a strange twist after recovering from a broken foot. H-D was the only motorcycle company that would finance him for a new bike when he went shopping to replace his totaled sportbike. Not one to let a V-twin cruiser distract from his riding habits, he adapted his machine for his style of riding and went at it.
The V-twin Trackday had a nice turnout of riders, mostly on Harley-Davidson Dyna models, the Dyna being the weapon of choice for riders who like some performance with V-twin motorcycles. All riders started out the day riding in the "C" group, which is a novice designation. After a couple sessions of ripping up the track and not being fish out of water, most everyone moved up to the "B" group, the intermediate class. A few had the speed and skill to move up to the "A" group, an expert class, if they wanted to.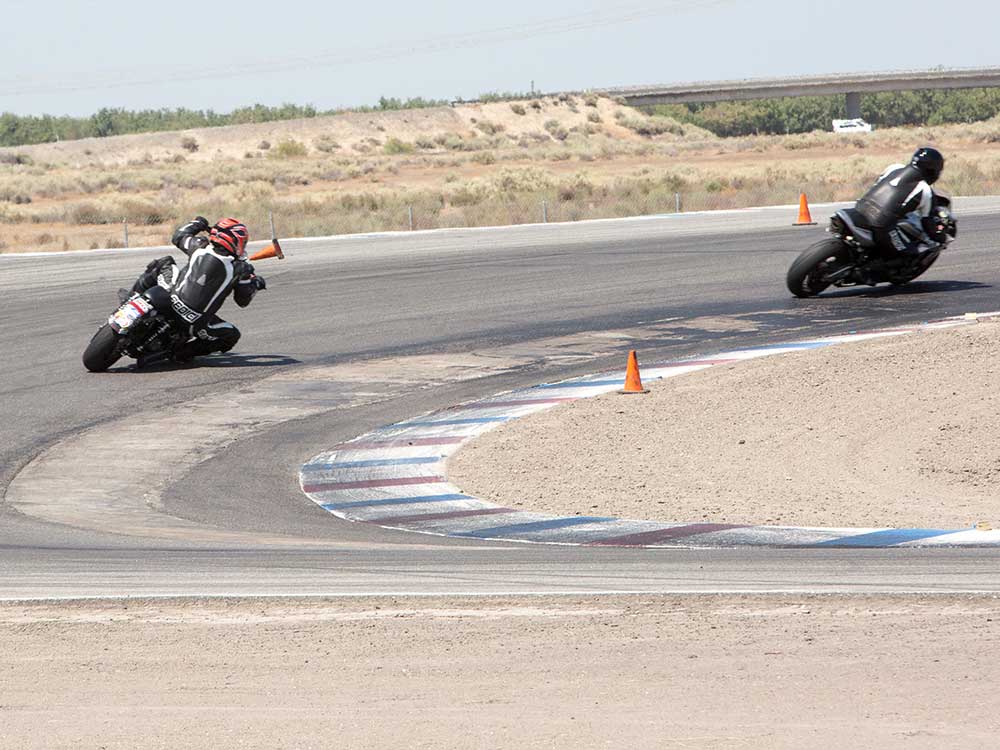 Personally I was surprised how well these trailblazers on Dynas mixed with the sportbikes they shared track time with. I witnessed more than a couple of sportbike riders get passed by Zach then do a double take or just shake their head.
We've noticed since this particular trackday more riders on V-twins hitting up trackdays at their local raceway. Who knows, even a few of us here at Hot Bike may tape up our headlights, zip up some full-protection leathers, and hit the track. It definitely looks like a blast.