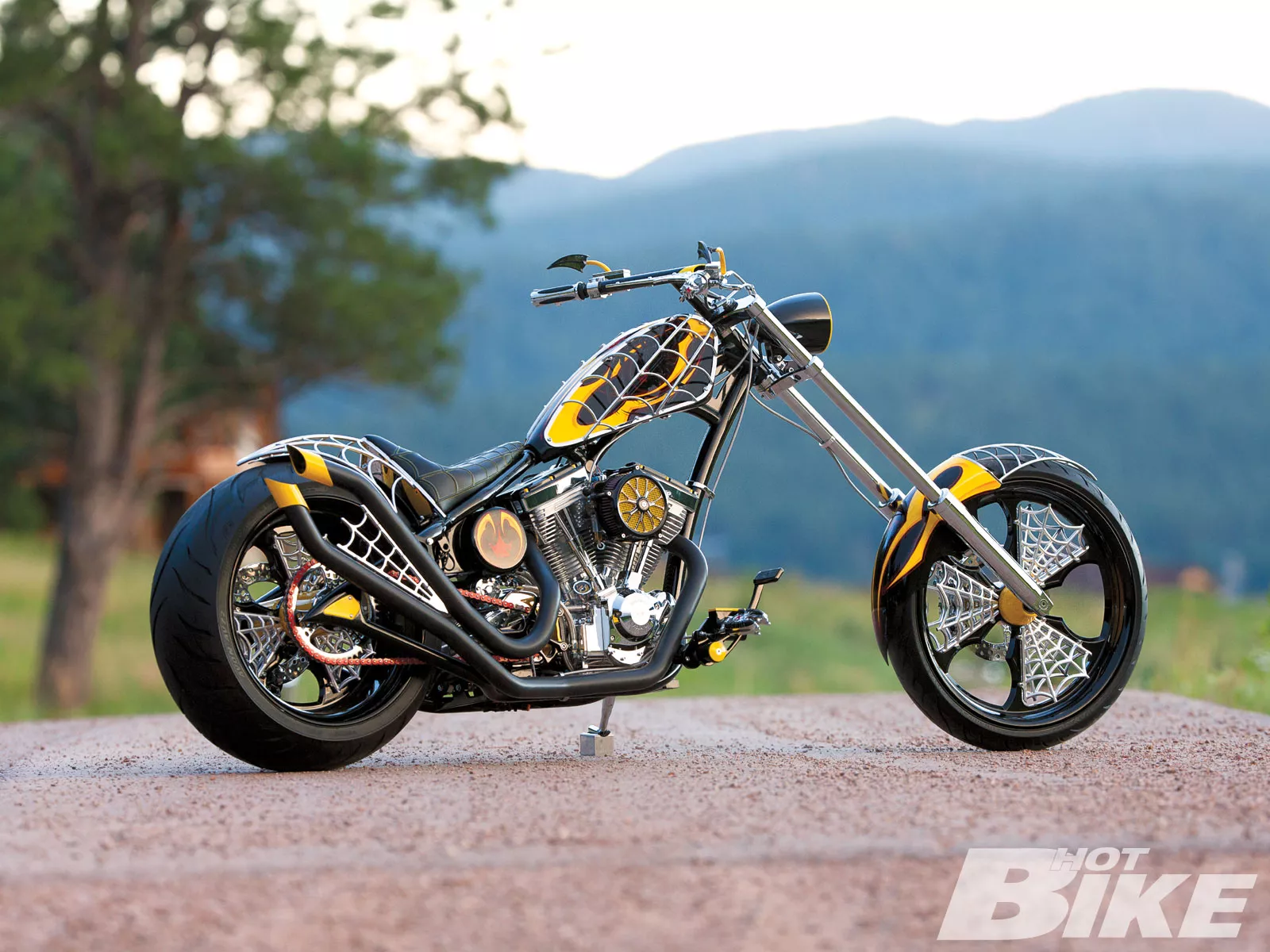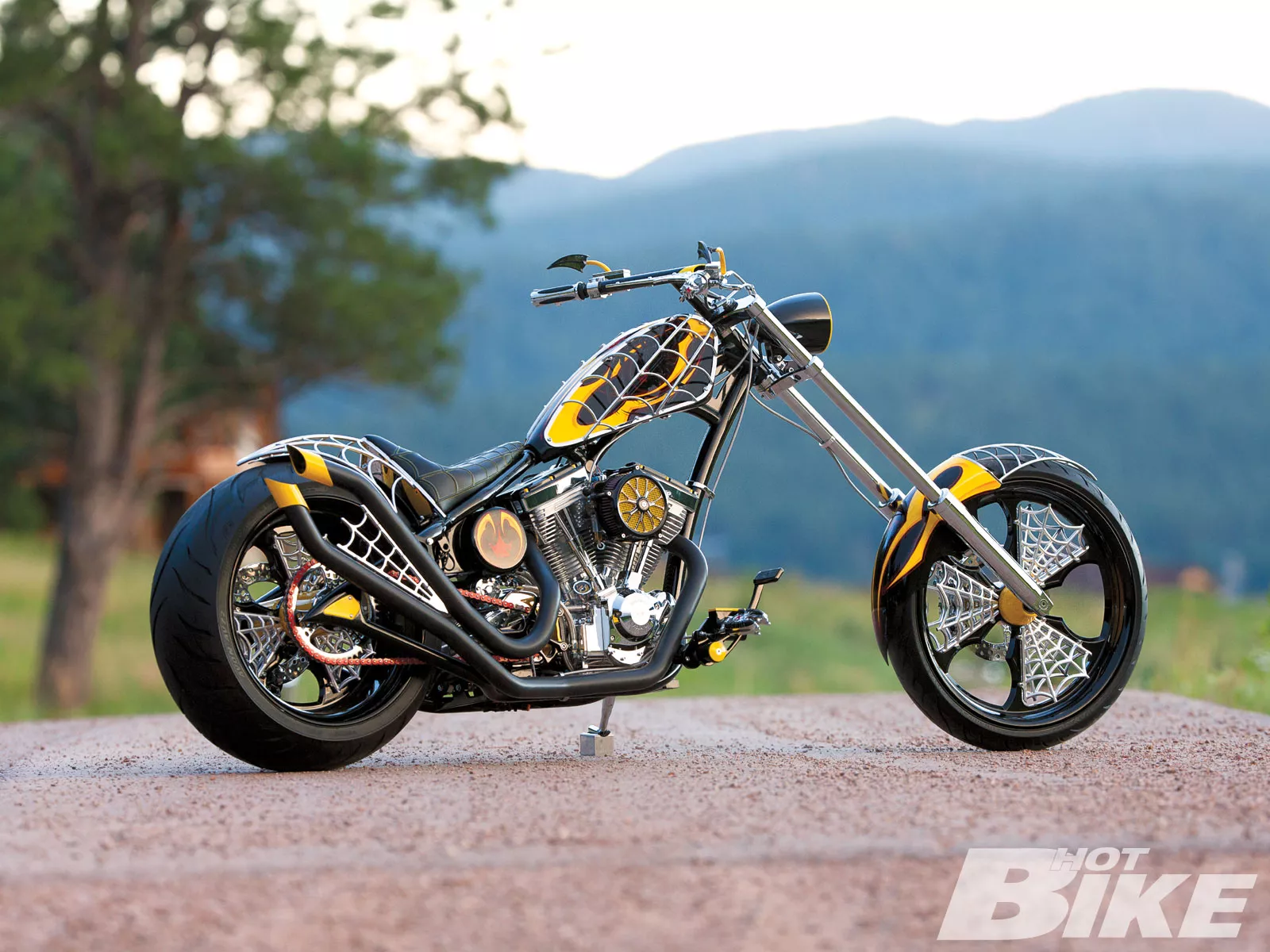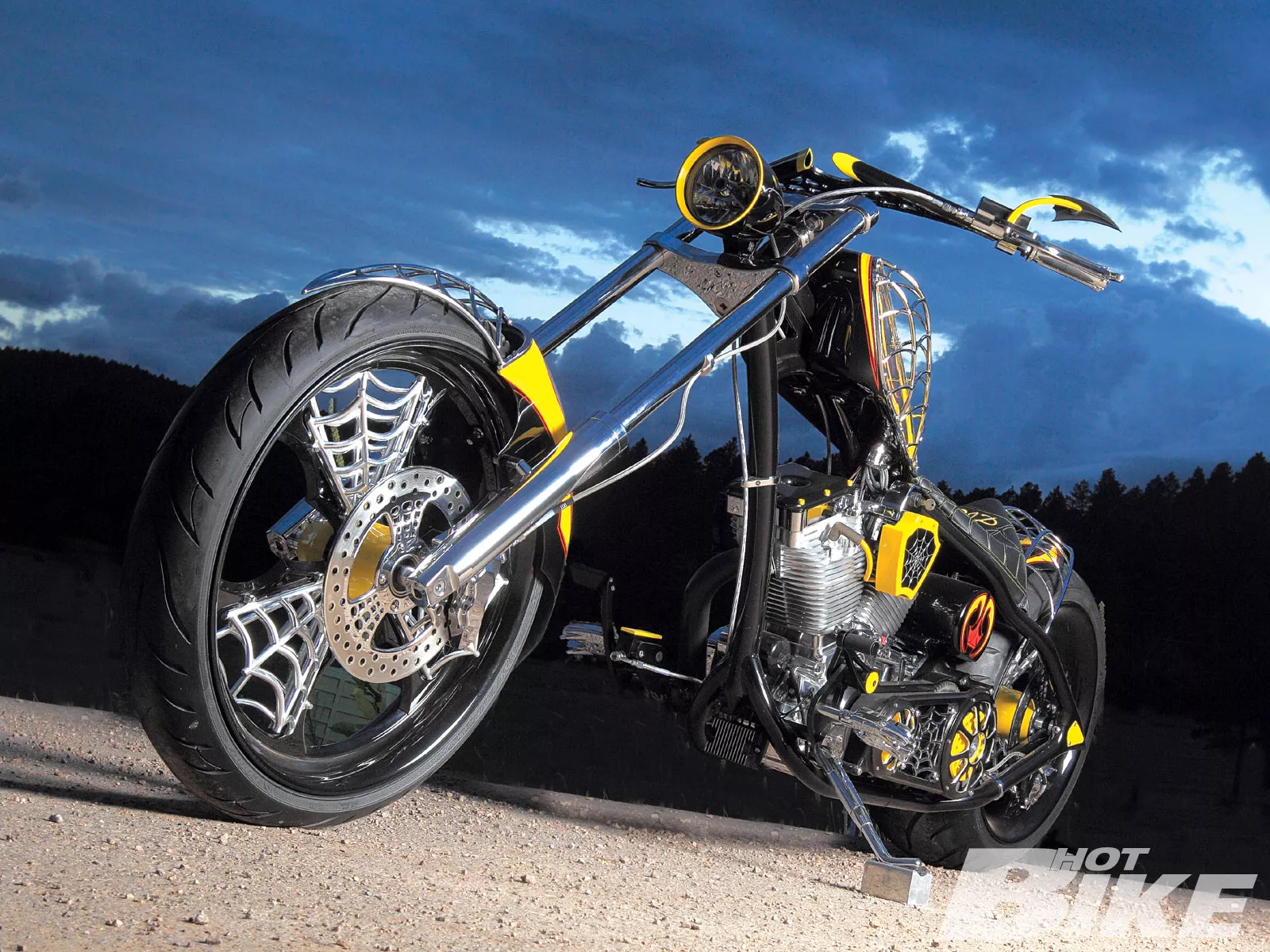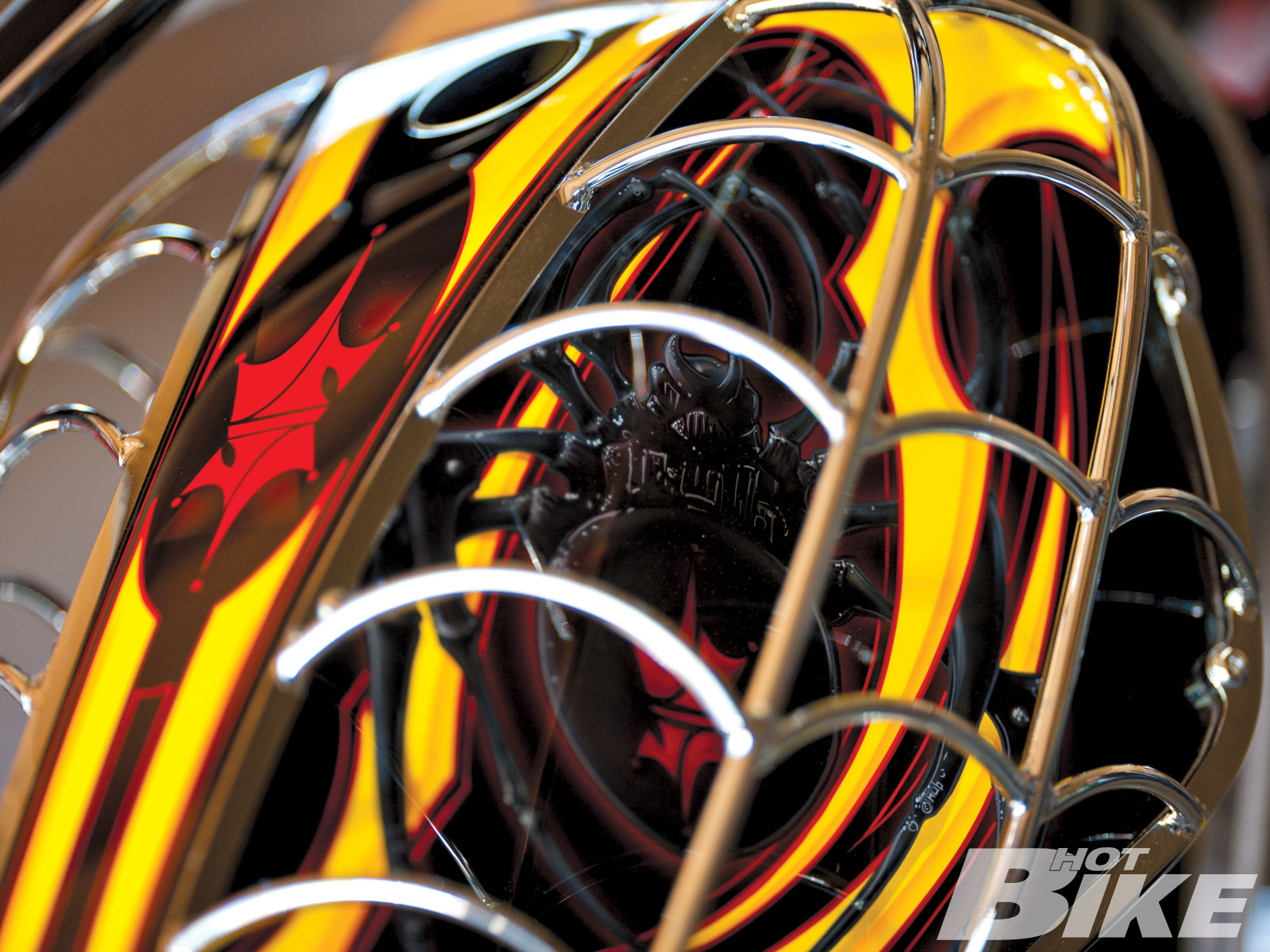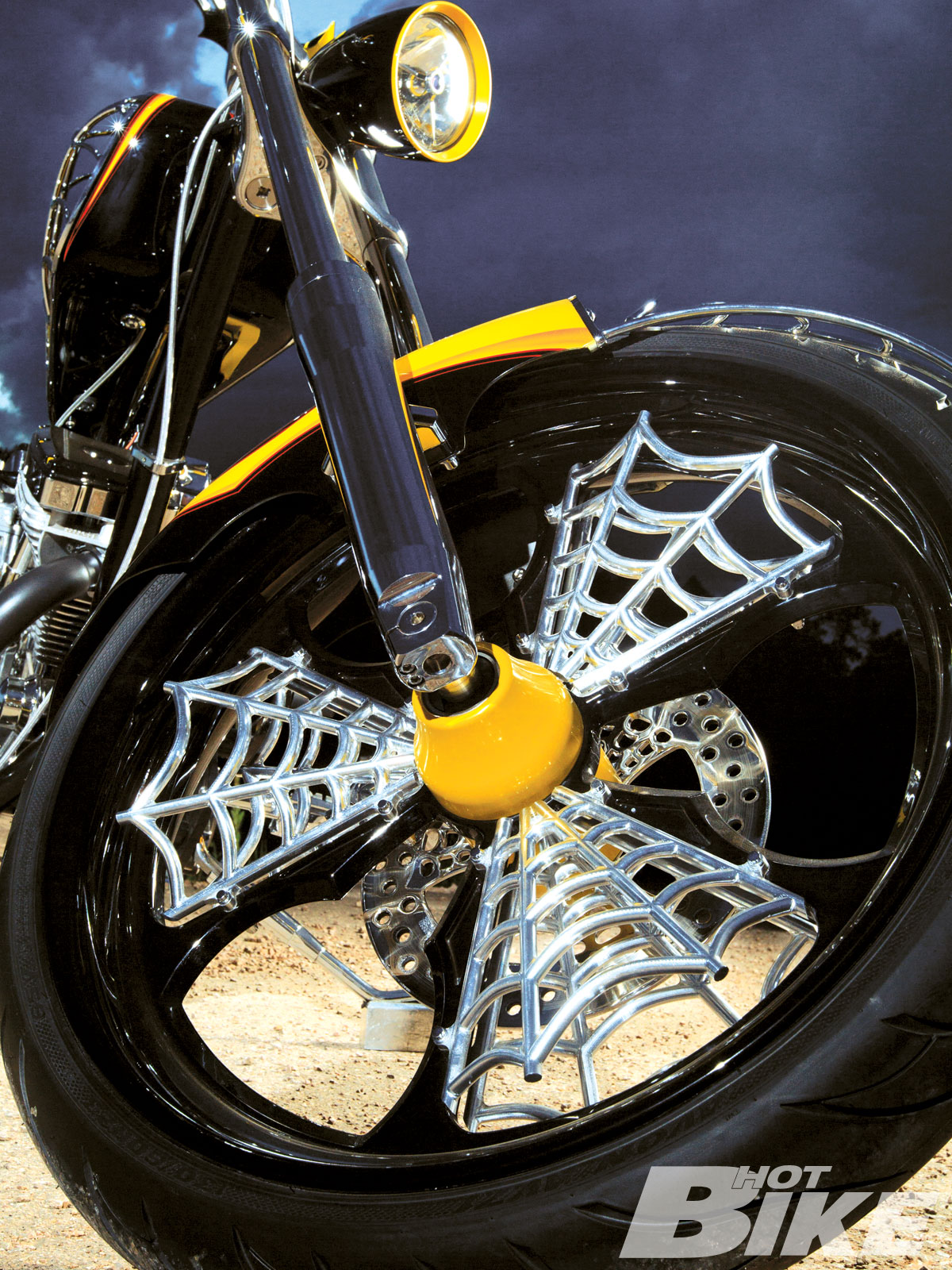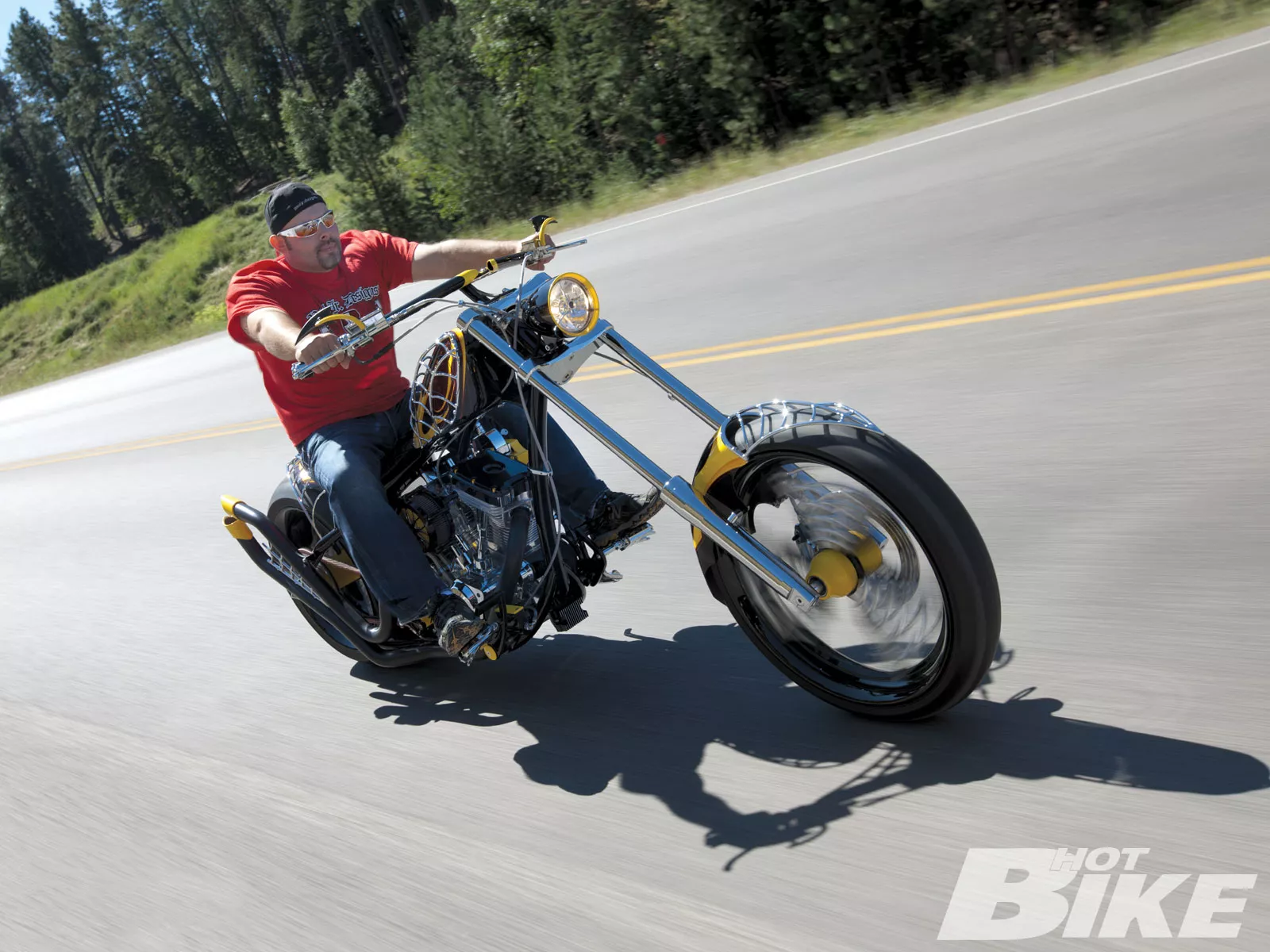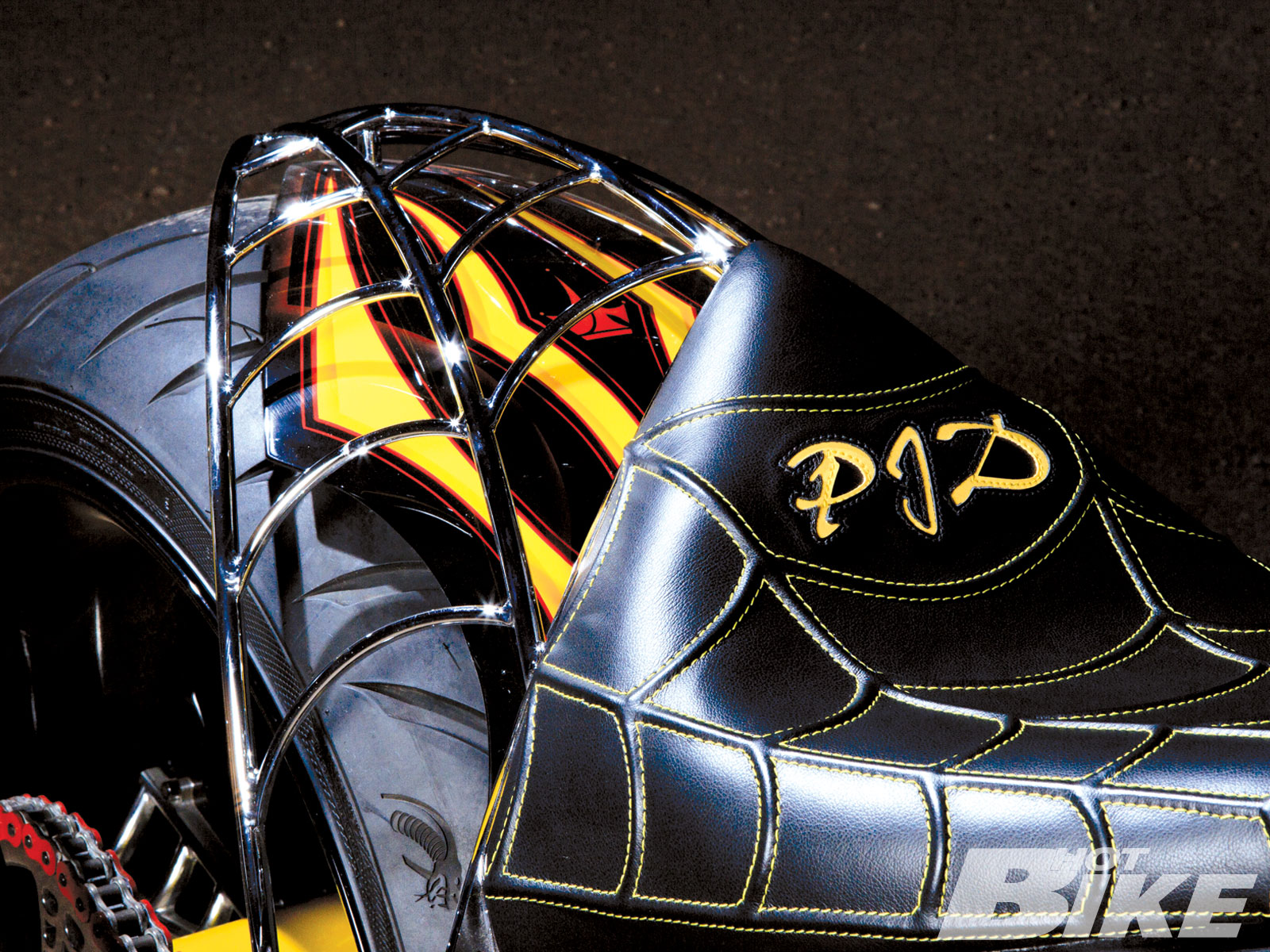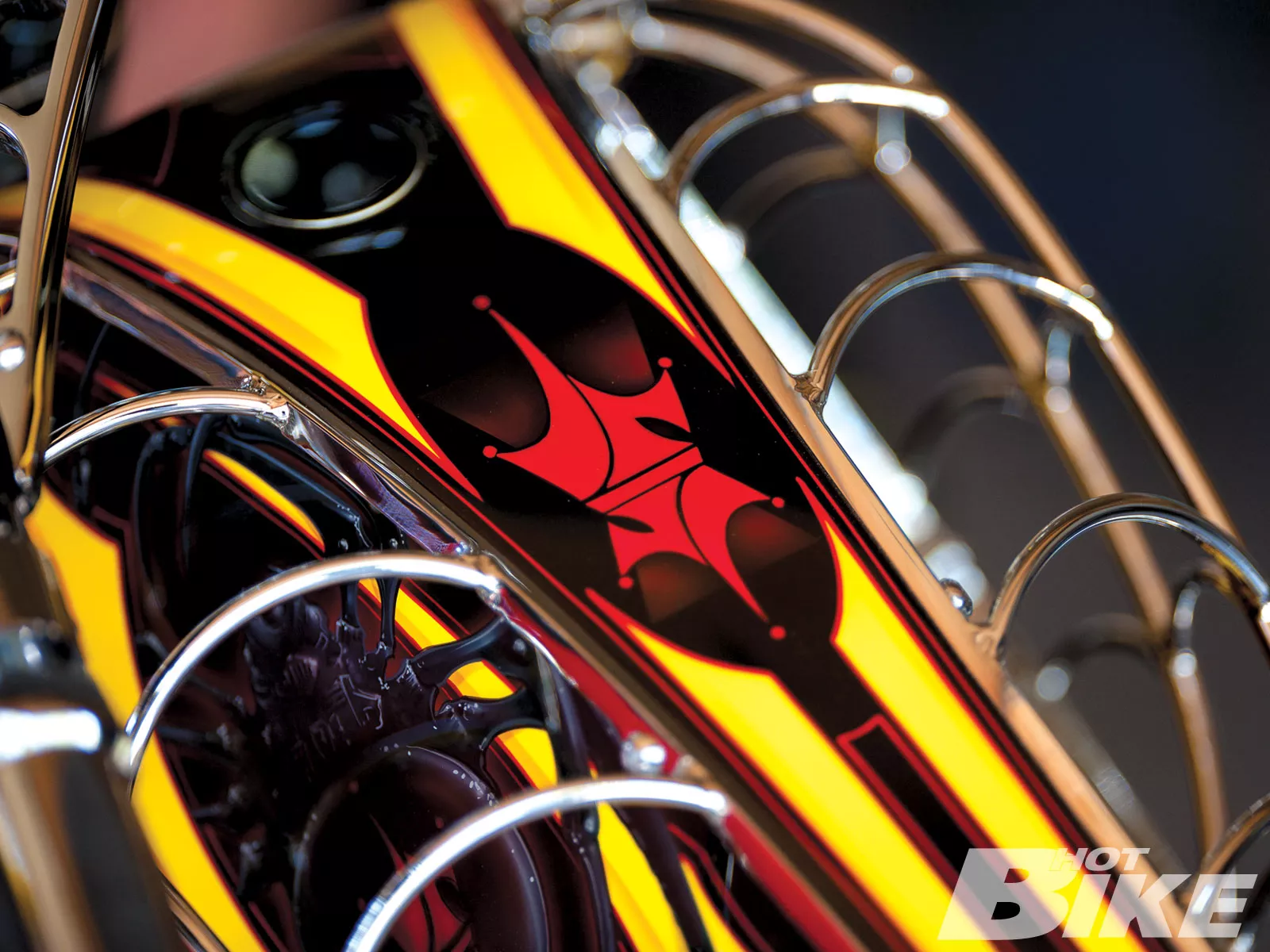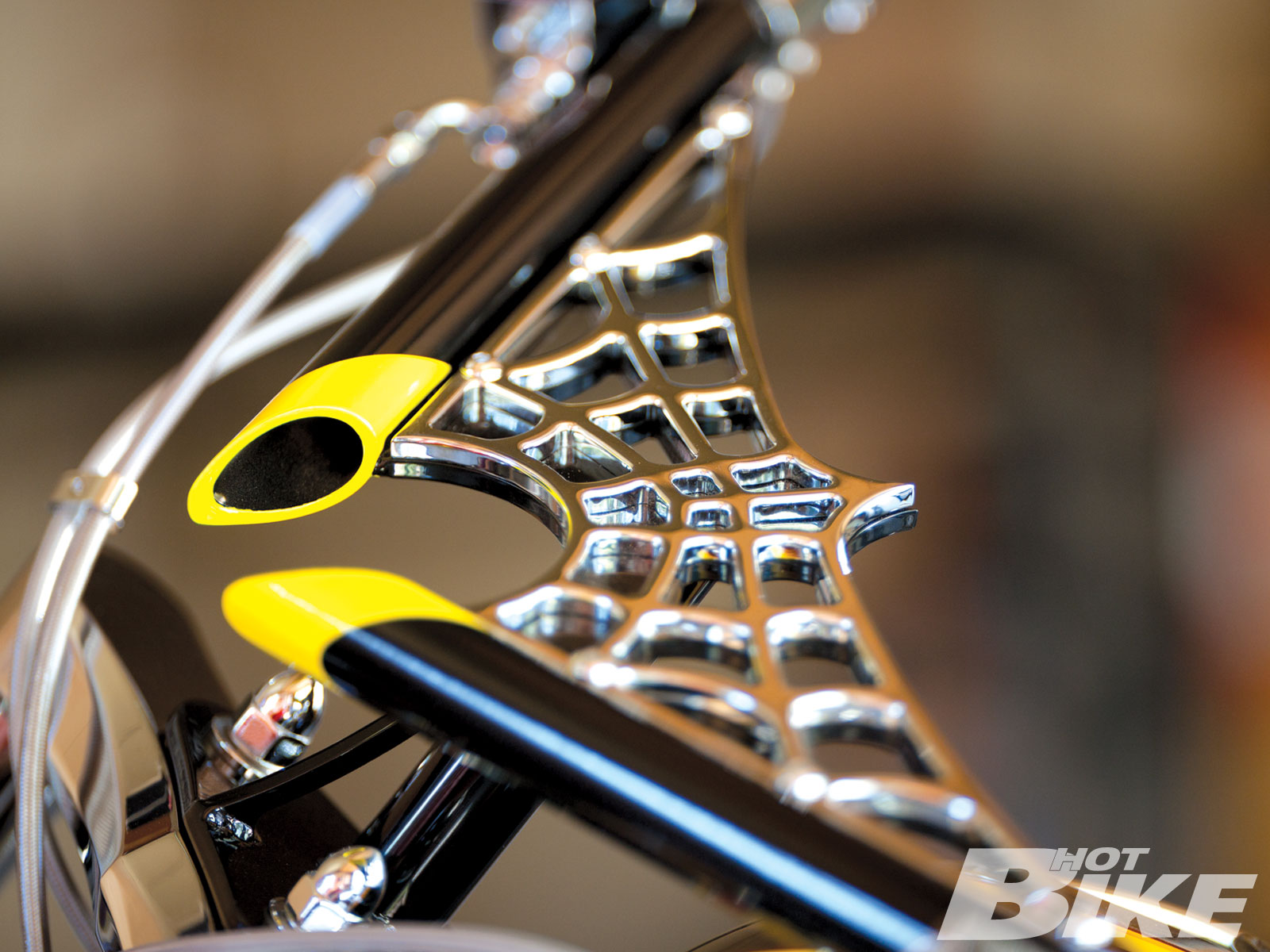 In·flu·ence: noun, verb
The capacity or power of persons or things to be a compelling force on or produce effects on the actions, behavior, opinions, etc., of others
-Dictionary.com
Like it or not, love 'em or hate 'em, it's hard to deny the influence the Teutul family from American Chopper (AC) has made on not only the motorcycling community but across the globe. While other motorcycle "reality" television shows have come and gone and have definitely helped propel custom motorcycles and builders into the face of the general public, AC has been watched by millions of viewers domestically and internationally for almost a decade. And judging by the 2.8-million viewers (tvbythenumbers.com) who watched the season seven premiere of the show's latest rendition, American Chopper: Senior vs Junior in which Paul Sr. and Paul Jr. are competing for bike building business a mere 4 miles apart from one another, people are still very interested in what the feuding Teutul's are up to.
After being fired by his father from Orange County Choppers (OCC) in 2008 and bound by a one-year non-compete clause, Paul Jr. (Paulie) is back with a new shop, Paul Jr. Designs (PJD), a new attitude, and a new outlook on life. "My father firing me seemed bad at the time, but it was probably one of the best things that happened to me. It was freeing," Paulie commented during our phone interview. Paulie described the situation working at OCC as oppressive with his father constantly monitoring his comings and goings and his work progress, or non-progress as his father might argue.
"It's interesting because I feel like the look and feel of OCC comes from me in the sense of the inception. I designed the logo and was in charge of the look and feel of the entire company as well as all the motorcycles," Paulie stated. And while he may still have some ownership in the company (20 percent, as of this writing, for which his father is suing him) all the bikes he designed and built at OCC are locked away and inaccessible to him. So what better way to start off his new company than to build himself and the shop a bike?
Theme bikes have always been around; in fact doesn't every custom bike have some sort of theme to it whether it be snakes, fire, skulls, or barbed wire. But what Paulie and the other AC members have done over the years is taken theme bikes to a whole new level not only in style, but in the people who buy them as well. "Who would have ever thought that a company like Intel would buy a motorcycle," said Paulie. And while some might find the bikes kitschy or overdone, once again, you can't deny their influence as many builders have tried to emulate them in style and in name-how many (enter county name here) County Choppers have you heard of?-and thousands upon thousands of people have stood in line or traveled far and wide to see the original bikes. "People relate to theme bikes on a different level. They love the integration. You can grab people that wouldn't be interested in motorcycles with a theme bike. And not only that, it's ever-changing. I mean if we were building flat black motorcycles with the same engine and the same everything, we would have had one episode and we would have been done. But the theme keeps it interesting and keeps it changing," Paulie added.
One of the most popular-and Paulie's favorite bike that he built-was the Black Widow bike. "The Black Widow has been a fan favorite and a favorite of mine. But with the separation, I don't get to have any of those bikes. So I have to create a whole new set of bikes for myself and for my new company. As far as this Anti-Venom bike, it's my first bike as Paul Jr. Designs and it had to be something special and unique," Paulie stated.
What's in a name? Well if you can't read between the lines, Anti-Venom, we suggest you back away from the TV for a while. While a black widow may be poisonous and do serious damage if it attacks you, a dose of anti-venom can get you back in the game of life. "Just the word anti-venom has a deeper meaning. I named it that because it's kind of the answer to the problem, in much the same way as if you had a problem and you needed anti-venom that would help you. The problem here is that all the bikes sit on the showroom floor over at OCC," Paulie said.
With a small crew of friends and members of the original show now working for Paulie at PJD, (once again, you can probably read between the lines on that one) it was bike-building and show-business as usual with cameras rolling as the crew made a mad rush to get the bike done and on the truck to be debuted in Sturgis. "The build went excellent but it was very labor-intensive. The gas tank may look simple but we probably have a couple hundred hours just in the tank along with the fenders and exhaust. But we have a great team of people like Vinnie, Odie, Nub, and the rest of the guys who were all an integral part of making it all happen in the time frame it did."
Working with an off-the-shelf tank, Paulie wanted to improve upon what was accomplished with the Black Widow bike and rather than just wrapping the tank in chrome webbing, the Anti-Venom tank was heavily modified so that the webbing was a more intricate part of the tank. "We took a tank and sliced it at an angle on each side and took that part of the tank away. We put a laser on it and had it set up in a vise that you would normally use on a CNC machine and we just got it. If we would have been off a half a degree out of pitch and askew, each side would've been 100 percent different, but we got it first shot," Paulie remarked. "We used a water-jet to make our first plate template and then we took 1 inch out of the sides along the length almost like a cross, and then I shrunk it down, tacked it together, and set it back inside this almost gaskety looking perimeter plate. Once I had that shape, we bent two pieces to be our horizontal bars and then we used that as a background to build all the webbing off of and keep that perfect shape of the gas tank. Essentially the web makes up the negative space we cut off and puts the shape back into the gas tank. It was so time consuming, it's unbelievable. I'm getting tired thinking about it."
The wheels were another aspect in which Paulie wanted to better the Black Widow bike. Instead of cutting out a flat web pattern and calling it a day, the webbing actually has some volume and dimension to it for that 3-D effect (it's all the rage these days). "We did all the webbing in-house and Chuck over at Renegade cut the wheels. I only have one CNC machine and it would have taken so long to do the wheels. I mean, it took three weeks running the machine around the clock to cut the web inserts, it was crazy. So I had no machine to cut the wheels, so that's where Renegade came in. It really worked out well," Paulie commented.
Now out on his own, relaxed and refreshed, Paulie has had time to reflect and look beyond the confines of a workshop and think about what's important to him. Working with, and establishing good relationships with others in the industry is one of Paulie's main goals. "One of the things I hope that comes out of this is I really want to help the motorcycle industry," said Paulie. "It's been a really tough couple of years for the industry, but I think the industry is right on the pivotal point of coming back. And I don't see any reason to be greedy about it. I want to spread the wealth and motivate people to go and buy motorcycles and parts, and be involved in every aspect. It's something that's important to me. I want to see this industry get back to where it was."
If you've been following the show then you know, (if not spoiler alert) everything worked out and the bike was finished and made its debut in Sturgis to a welcoming crowd. What's next for Paulie? Well, it would seem that he has set his company up pretty well just by the name alone. "The name Paul Jr. Designs was very intentional. We're building motorcycles, but I am designing products for companies outside of the motorcycle world. I did a grill with Coleman but I have a lot of other things coming up with Coleman as well as some other big box stores, innovative stuff with existing products and inventive stuff with all new products. I don't want to be a manufacturer, I want to be a design firm," Paulie stated.
As for the fate of American Chopper: Senior vs Junior, well it all depends on the ratings. So far things are looking bright. But if things go south, we guess there's always Design Star on HGTV. As for Paulie and his father, it sounds like it's one of those volatile relationships that will continue to burn hotter than a cutting torch. And while the TV show has brought huge success, it just continues to turn up the heat on a scorching relationship. "It's unfortunate because I would like to have a better relationship with my father. But the fighting didn't start with the show, the show just captured what was there," Paulie commented. "The fighting through the years has unfortunately been real. And I say that because a lot of it has been some bad stuff, stuff that you say but you don't mean. Most people can take it back and then it doesn't exist anymore, but for us it's archived and it's been repeated globally for the past decade. I haven't necessarily been an innocent party but if it was up to me, I wouldn't fight like that. I think my father has a tendency to like that kind of conflict where you could be drawn into it. That's not in my makeup. I don't have that situation in my life anymore. I'm not an explosive guy, I'm measured. I try to consider other people, and I think that's why this has been working out so well."
While you may not care for American Chopper or the Teutul's style, there may be millions who think differently about the TV show and the bikes than you do. And it's those people that Paulie and the American Chopper team have had a major impact on; inspiring them to buy motorcycles, build motorcycles, buy and make parts, and buy T-shirts. It was this new interest and awareness of motorcycles by enthusiasts and the general public that spurred people to pour millions of dollars into the custom motorcycle industry helping it become the juggernaut it was before the economy went south. Of course Jesse James, Biker Build Off, and the other motorcycle related TV programming helped tremendously as well, but you can't dismiss the effect Paulie, his father, and the rest of the American Chopper team have made in the custom motorcycle industry just because you don't care for the show or the bikes. They truly have been an influence in all sense of the word.
| | |
| --- | --- |
| SPECIFICATIONS | |
| BIKE OWNER | Paul Teutul Jr. |
| SHOP NAME | Paul Jr. Designs (PJD) |
| SHOP PHONE | (845)787-5356 |
| SHOP WEBSITE | www.pauljrdesigns.com |
| YEAR/MAKE/MODEL | 2010/PJD/Anti-Venom |
| FABRICATION | Paul Jr./Vinnie/Mark |
| ASSEMBLY | Paul Jr./Vinnie/Odie |
| BUILD TIME | One month |
| | |
| --- | --- |
| ENGINE | |
| YEAR/MANUFACTURER | 2010/S&S; |
| TYPE/SIZE | Evo/113ci |
| BUILDER | S&S; |
| CASES | S&S; |
| CYLINDERS | S&S; |
| HEADS | S&S; |
| ROCKER BOXES | S&S; |
| CARB | S&S; |
| AIR CLEANER | PM |
| EXHAUST | PJD |
| | |
| --- | --- |
| TRANSMISSION | |
| YEAR/MANUFACTURER/TYPE | '10/Baker |
| CASE | Baker |
| CLUTCH | PM |
| PRIMARY DRIVE | PM |
| | |
| --- | --- |
| FRAME | |
| YEAR/MANUFACTURER | Kraft Tech |
| RAKE | 38 degrees |
| STRETCH | 6 inches |
| | |
| --- | --- |
| SUSPENSION | |
| MANUFACTURER FRONT | Biker's Choice |
| LENGTH | 12 over |
| TRIPLE TREES | HHI |
| MANUFACTURER REAR | N/A |
| SWINGARM | N/A |
| | |
| --- | --- |
| WHEELS, TIRES, AND BRAKES | |
| MANUFACTURER FRONT/TYPE | Renegade/PJD |
| SIZE-HEIGHT/WIDTH | 23×3.75 |
| TIRE/SIZE | Avon/130-23 |
| CALIPER | HHI |
| ROTOR | Renegade/PJD |
| MANUFACTURER REAR/TYPE | Renegade/PJD |
| SIZE-HEIGHT/WIDTH | 20×10 |
| TIRE/SIZE | Avon/280 |
| CALIPER | HHI |
| ROTOR | Renegade/PJD |
| | |
| --- | --- |
| FINISH/PAINT | |
| COLOR | Black/yellow |
| PAINTER | NUB Grafix |
| GRAPHICS | NUB Grafix |
| | |
| --- | --- |
| ACCESSORIES | |
| FRONT FENDER | PJD |
| REAR FENDER | PJD |
| FENDER STRUTS | PJD |
| GAS TANK & CAP | PJD |
| OIL TANK | Kraft Tech |
| HANDLEBARS | PJD |
| HAND CONTROLS | JayBrake |
| FOOT CONTROLS | JayBrake |
| FOOTPEGS | JayBrake |
| HEADLIGHT | Headwinds |
| TAILLIGHT | N/A |
| LICENSE MOUNT | N/A |
| SEAT | Pirate Upholstery |