Hitting the road for a long journey into the wind is always an adventure. The tone and quality of that adventure depends on how prepared you are for the unexpected. At the very least, you'll probably find some cool side road or unexpected sight to go check out along the way. This is especially true if you've never been to an event like the HOT BIKE Tour. Not all unforeseen events on a moto marathon are of the fun variety, and it's good to be prepared for those times when the biker gods are pissed off and decide to vent on your day.
Prep Your Bike
Obviously you don't want your scoot breaking down along the way. Not being able to ride on a ride isn't riding. You'll want to inspect your bike for warning signs before starting your trip and correct them as needed. Our good friend Joel Felty of Headwinds and Moto-Camp fame has a handy-dandy checklist on his website of what to look for before you start your run:
| Brakes | Drivetrain |
| --- | --- |
| __ Master cylinder, front: check level | __ Engine oil: check level |
| __ Master cylinder, rear: check level | __ Transmission oil: check level |
| __ Brake pad, front: check wear, both inner and outer pad | __ Primary chain/clutch oil: check level |
| __ Brake pad, rear: check wear, both inner and outer pad | __ Primary chain: check chain tensioner adjustment |
| | __ Clutch lever: properly adjusted |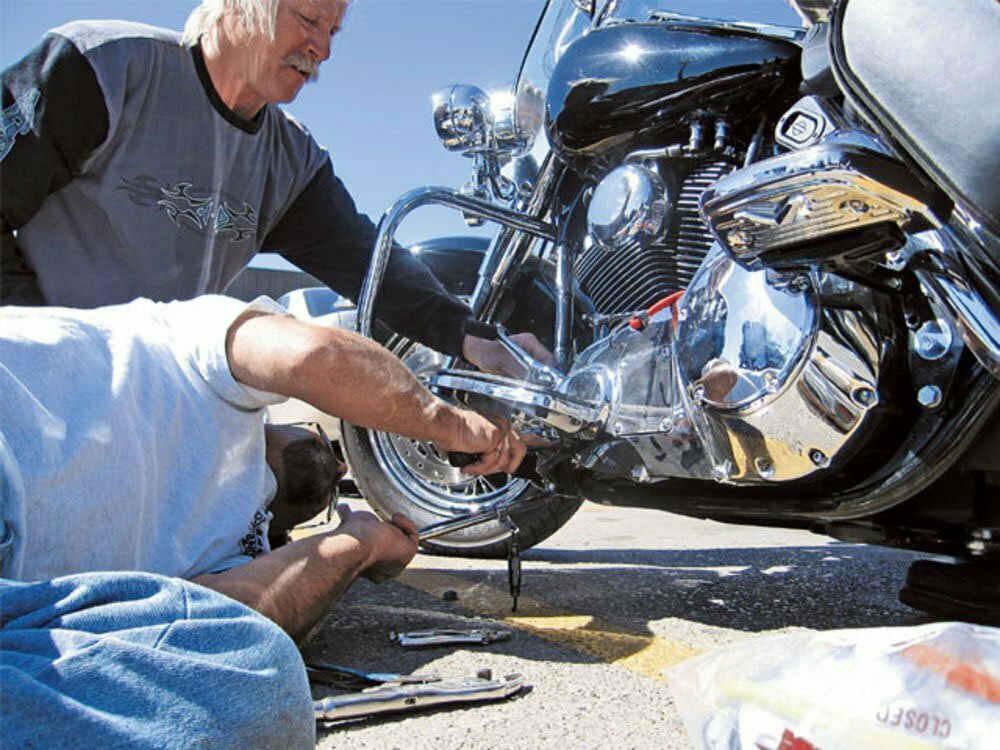 | Fuel System | Tires/Wheels |
| --- | --- |
| __ Throttle cable: check that it's smooth and doesn't stick | __ Tires: measure tread wear, tread must be a minimum 3/32 inches (at rider's discretion) |
| __ Fuel: is your tank full? | __ Tire pressure: inflate with bike fully loaded |
| __ Hoses: check for cracks or leaks | |
| Lighting | |
| --- | --- |
| __ Headlights: Check high- and low-beam | __ Taillights |
| __ Brake lights | __ Running lights |
| __ Turn signals | __ Spotlights |
Run (With) What Ya Bring
The bike's been inspected and it's ready to go. Now let's get it packed with all the stuff you'll want to have on hand for a multi-day trip to Southern Dozen & Johnson City, TN. A tool kit, sunscreen, and rain gear are obvious, but just to make sure you don't have too many bad surprises, here's another basic list of items for you to consider taking with you:
| | |
| --- | --- |
| __ Cell-phone charger | __ Toothpaste and brush |
| __ Rainsuit, rain gloves, rain boots | __ Underwear |
| __ Sunscreen | __ T-shirts |
| __ Sunglasses | __ Socks |
| __ Drinking water | __ Jeans |
| __ First-aid kit | __ Snack food |
| __ Tool kit | __ Eye drops |
| __ Road map (you won't have cell coverage everywhere) | __ Glasses cleaner |
| | __ Deodorant |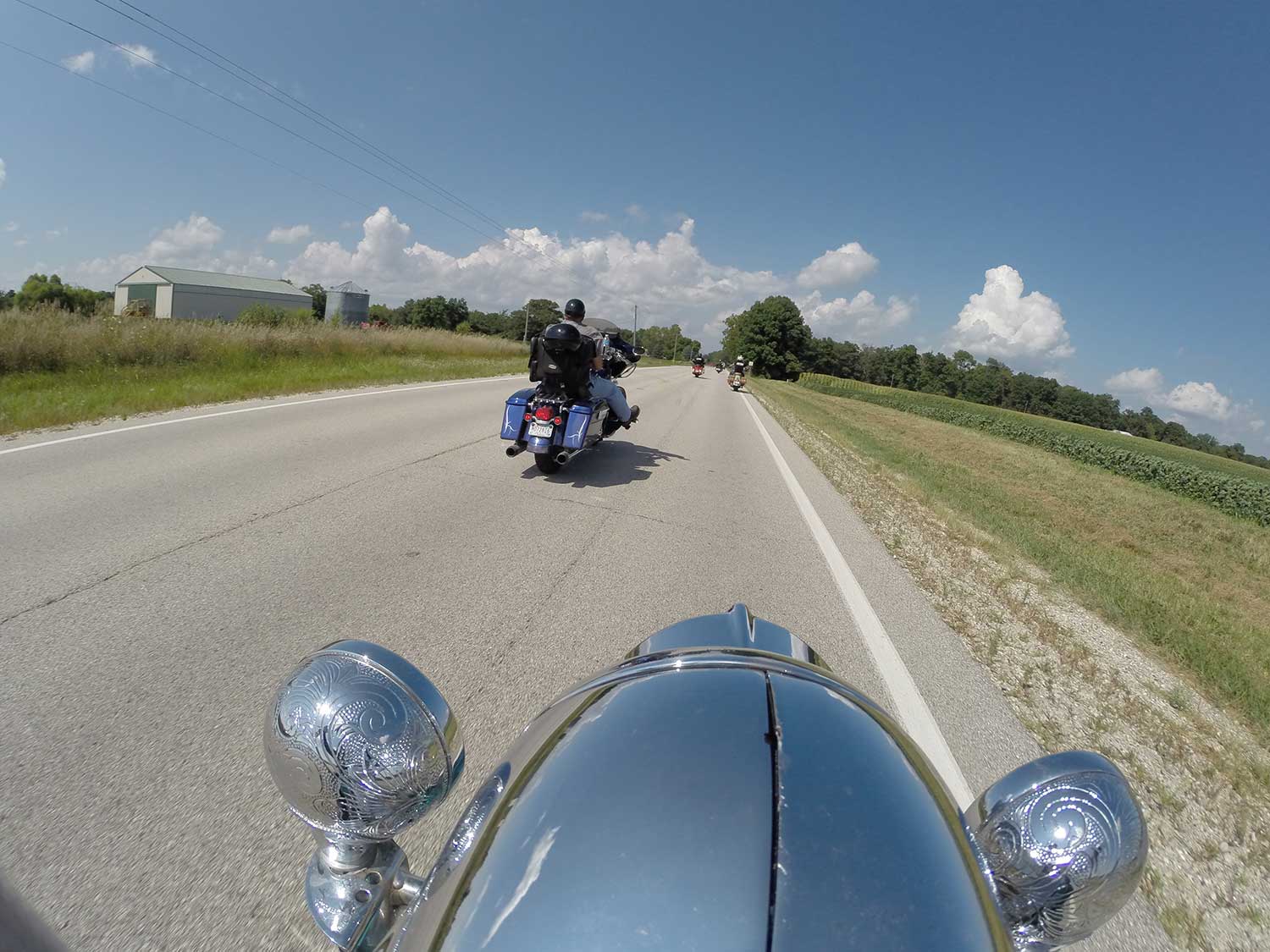 Iron Butt Association: Marathon Motorcycling Wisdom
Who would know better about long-distance riding than the Iron Butt Association? Dedicated to endurance road riding, the IBA has more than 50,000 members worldwide. Membership is earned through completing certain long-distance riding achievements like the Iron Butt Rally, which is 11 days and 11,000 miles. Here are just some of their tips for marathon motorcycling. You'll find even more on their website. The following list is their intellectual property and is used with their written permission.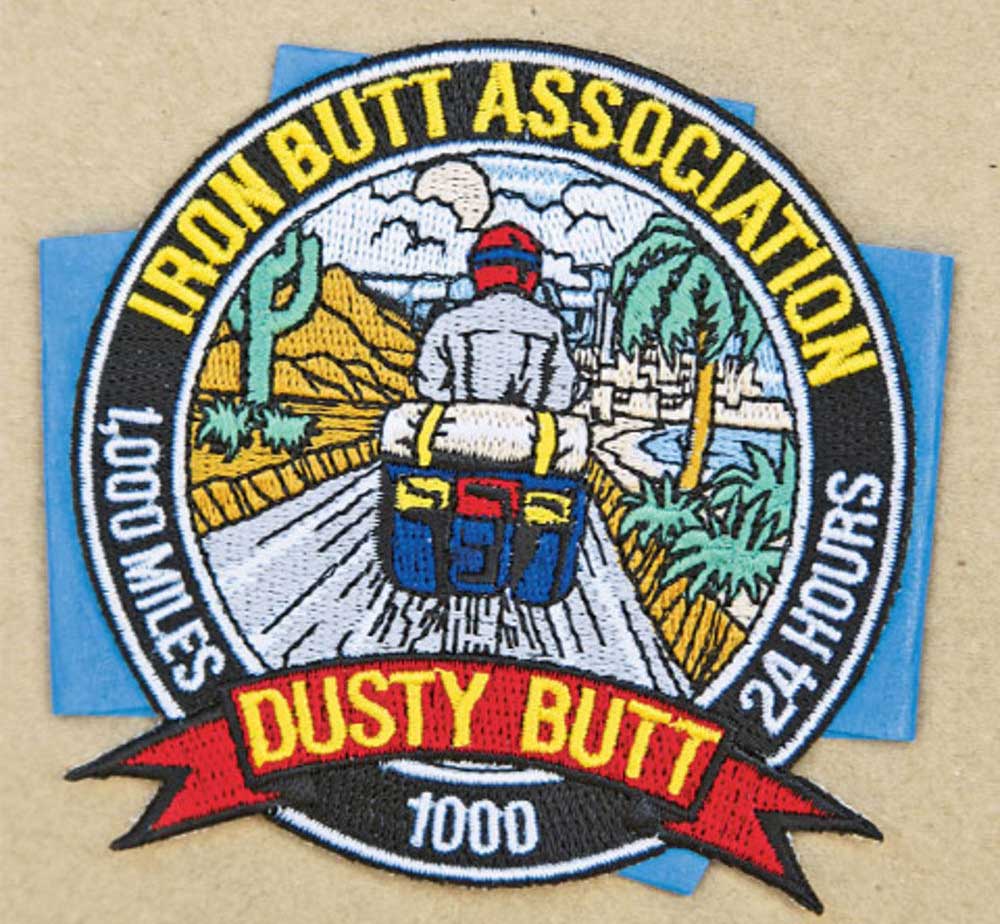 1. Know your limits and plan your trip around them.
If the longest ride you have ever taken is 300 miles in a day, don't plan a trip with a string of endless 500-mile days. Iron Butt Association surveys also warn of an important trend in long-distance trip planning (see Chart A). Discounting weather or other problems, after an initial mileage peak on days one and two, daily average mileage will steadily drop during trip days three to seven. On day seven of a trip, the typical long-distance rider will comfortably ride about 65 percent of the average daily mileage that they would book on a two-day trip. If the pros have this type of mileage attrition rate, would you plan on any less?
Also include large easy-to-cut loops into your trip plan. If you do get behind schedule, this is the easiest way to skip part of your trip without ruining the rest of it.
Whether you are capable of riding 300 miles per day, or 1,000, the ability to make miles tends to decrease as the length of the trip increases. The most severe loss is in days three through seven, where Iron Butt types then level out to about 65 percent of their peak capacity.
2. Prepare your motorcycle before the trip.
With vacation time in short supply, why would you waste time during a trip to have your tires replaced? It is often cheaper to replace tires and chains at home rather than squeezing the few remaining miles from them to only find that they are not available. Additionally, quality motorcycle oils can go the distance. It is not unheard of Iron Butt types grinding away 10,000 or more miles between oil changes. Running hours between oil changes and workload means more than miles. A motorcycle ridden around town will need more frequent changes than one used on a long trip.
3. Avoid adding accessories or doing maintenance immediately before a trip.
If it can be avoided, don't use a trip as a test bed for a new exciting accessory. This is particularly true for electrical system farkles. It's asking for trouble to install new auxiliary lights or perform other mission-critical electrical modifications right before a rally. This leaves no time to thoroughly exercise the system for proper behavior before having to depend on them during a long night ride.
And don't forget, even the best mechanic can make a mistake. Try and avoid picking up your motorcycle and heading out directly on a 10,000-mile trip. A trip is also not the best time to try out that new rainsuit, helmet, or packing technique!
4. Pack wisely; keep personal supplies handy.
While many riders use a tank bag, what they pack in them is not always well thought out. Sunscreen, skin lotions, eye cleaner, eye lubricant, a flashlight, a tire gauge, maps, and other essentials should all be kept in a handy location. If these items are not on hand when you need them, you won't use them. That can lead to costly mistakes like missing a road because you didn't want to find your map or roasting your face and then facing painful sunburn for days into a trip. (Ever try wearing a helmet over a sunburned head? Do it once and you will never forget to pack the sunscreen where it is handy.)
On the other hand, things like registration and insurance papers should be kept in a secure watertight area of the motorcycle. Assuming you probably will only need these items while talking to the law, having them stowed away gives you time to talk to the officer and convince him you are human and not some crazed biker. That could work to your advantage.
5. Be ready before you leave, and don't waste time shopping on the road.
The same rules that apply to your motorcycle should apply to your riding gear and essentials. Maintain a checklist of items to carry and then check it before you leave. Buying toothpaste at 7-Eleven is no big deal, but having to shop around for a sweater or swimsuit or specialty medicines that you left at home can eat up valuable riding or rest time.
6. Learn how to avoid boredom.
Long rides usually mean riding across areas you might not consider prime riding spots. To some riders US 50 across Nevada is a beautiful ride. To a canyon carver it can be a long, hot, boring, dull highway to hell. For times like this, carrying your favorite music can prove invaluable. Some of the other tricks of the trade are to stock up your tank bag with a supply of tart candies that you can munch on while riding. A sour lemon drop will shock your senses and keep you going another 20 miles!
7. Join a towing service!
Breakdowns happen and there is nothing like being stuck with no one to turn to for help. MTS, AMA, Cross-Country motor club, some insurance companies, and some auto clubs have plans that will tow you out of trouble. This is not a matter of just money (the cost of the plan versus the risk of the cost of a later tow). These clubs have contracted with tow companies around the US. Skip the insurance and you can spend hours burning up the phone looking for a tow company. Pay a little now or pay a lot later in the form of money and wasted trip time.
8. Learn to stop to go faster.
On the surface this tip might not make sense, but the successful long-distance rider uses this strategy to their advantage. Since each rider is different, no one can predict a comfortable speed average for every rider. What is important is to know what speed your internal riding clock runs by and when your speed falls below that average, take time out and get some serious rest.
Wasting time on coffee stops or milling about gas stations is time that could be better spent in a comfortable room sleeping or, even better, taking a walk to stretch tired and sore muscles and get some oxygen pumping back into your brain.
---
---
9. Put on your rainsuit before it rains!
If you have less than a half tank of gas, why not stop, fill up, and put on your suit all in one quick, safe stop? Whether you take the fill-up advice or not, we strongly recommend you avoid putting your rainsuit on alongside the road. The dangers are too numerous to outline, but think about this when planning to dodge the rain under an overpass: Do you really want to be standing just 3 feet (or about an arm's length) from traffic zooming by at 60 mph and up? And if it is raining, do you want to be standing that close to drivers half-blinded by the rain themselves? And keep in mind that some of those drivers will be looking for a covered place of their own to wait out a hard rain—just like the place you are putting on your rainsuit.
10. Stay hydrated!
While your bike might have a fuel gauge, unfortunately your body does not have a simple hydration gauge. By the time you are thirsty, you have already started on the road to dehydration.
11. Get gas before you need it.
You only have to run out of gas one time or take a 5-mile detour in search of gas to blow the time you saved by not stopping. When gas is handy, stop and get it!
That having been said, keep in mind that gas stops can be a major time-sink if not managed properly. While wasting five minutes loitering at the fuel pump might not be to detrimental on multi-day events, it can be devastating on 24-hour rides, where maintaining a certain minimum average speed is critical. Whenever possible, always use "pay-at-the-pump" service stations. And have more than one credit card handy, in case your financial institution's automated systems "shut down" your card for unusually heavy use.