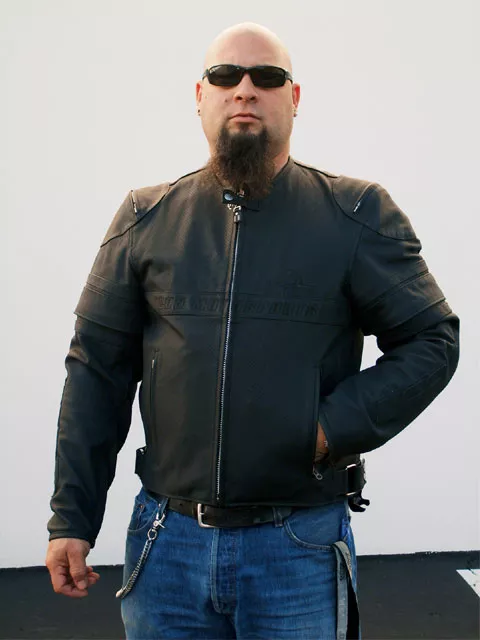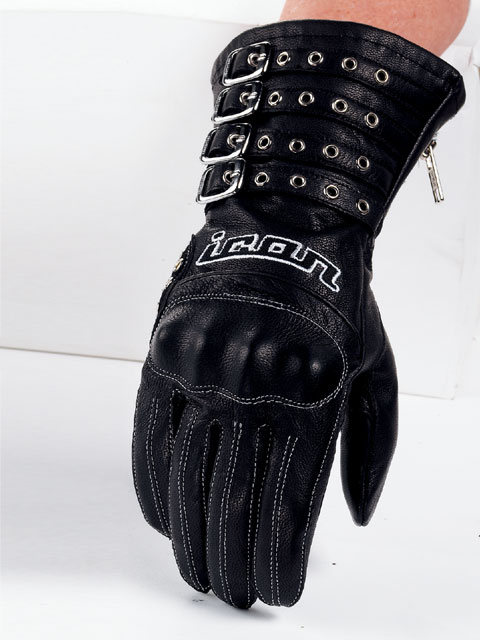 Here at Hot Bike, we get mega-info on the latest and greatest riding gear sent in by manufacturers each month. Riding Essentials gives us the opportunity to take a few pages to show you the goods and tell you what we think. This month's gear happens to all be from Icon. But remember to check back each month, as we will continually mix things up.
You can find all this Icon gear and more by contacting your local Drag Specialties dealer or by checking out
Fits Like A Glove
Short ones, long ones, thick ones-it doesn't really matter, as long as it fits and functions well. Icon's perforated sheepskin Pursuit glove conforms to your hand and provides defense against the asphalt with a reinforced goatskin leather palm. We like the asphalt protection offered by the glove's integrated knuckle armor…or for those cases where you need to put up your dukes. The Pursuit glove is available in sizes S-3XL.
As Fate Would Have It
The Strongarm Fate jacket puts a little spin on our material world. Merging a denim chassis and leather-etched leather sleeves, this jacket provides a cool combo of style and versatility. Instead of owning another leather jacket-most likely black-we like the fact that you get the best of both worlds. The Strongarm Fate can be a three-season jacket, with a removable vest and zippered vents for climate control. CE-approved removable shoulder and elbow armor and Aramid-reinforced shoulders provide abrasion resistance. The Strongarm Fate jacket is available in sizes S-4XL.
Feeling Hot, Hot, Not!
Do you find yourself cooking in your riding jacket during the summertime? Beat those body-melting days with Icon's Pursuit jacket. What's cool about this jacket is just that-the all-over perforation helps you to stay cool.
We also dig the zip-off sleeves, as much for their maximum cooling ability as a handy way of showing off your muscles. CE-approved removable shoulder and elbow armor help combat a nasty encounter with the asphalt. The Pursuit jacket is available in sizes XS-3XL.
Up Your Fly
Icon has upped the zipper by taking basic denim jeans one stitch further with the company's Standard pant. The pants really caught our attention, because although these jeans will behave as well as your favorite pair, they're specifically designed for motorcycle use. Combining reinforced Aramid knees with triple-needle stitching, these pants offer protection on all those critical seams. The Standard pant is available in regular and long lengths, with waist sizes ranging from 28 to 44 inches.
Protecting The Precious
Luscious leather, sophisticated sex appeal, color choices-that's Icon's Bombshell collection. What makes this line the bomb is a complete riding outfit: matching jacket, chaps or pants, helmet, gloves, and boots. Starting up and working down, this form-fitting leather jacket shapes to your body, while the chaps feature reinforced cross-stitched seams to conform nicely to, ahem, your better half. Either way, we dig the custom buckle adjustment system on both garments, which allows that much more conformity. The Bombshell jacket features CE-approved shoulder and elbow armor, while the chaps are designed to be cut-to-length for the ultimate fit and protection. The Bombshell jacket is available in sizes XS-2XL, and the chaps are available in sizes S-XL, with four colors to play with: tan, black, blush, and white.
Are You Ready, Boots?
These boots were made for riding. That's just what Icon designed them to do. The looks and functionality of the Bombshell boots piqued our curiosity. Four buckles on premium-grade leather set these boots apart from the rest of the plain old boots out there today. The Bombshells feature a ribbed calf expansion panel and internal ankle and insole padding for comfort and protection. A functional wedge heel with a protection plate helps keep heel placement where it should be-on the footpeg. The Bombshell boots are available in sizes 5-10, including half sizes.
They Look At Your Hands First
Give that first glance at your hands a run for its money with Icon's Tuscadero glove. The durable goatskin chassis provides the ultimate fit, while the internal molded knuckle and riveted palm with Aramid underlay provide protection. We like the four-buckle cuff styling and zippered cuff for its secure fitment and protection. The Tuscadero glove is available in sizes S-XL.