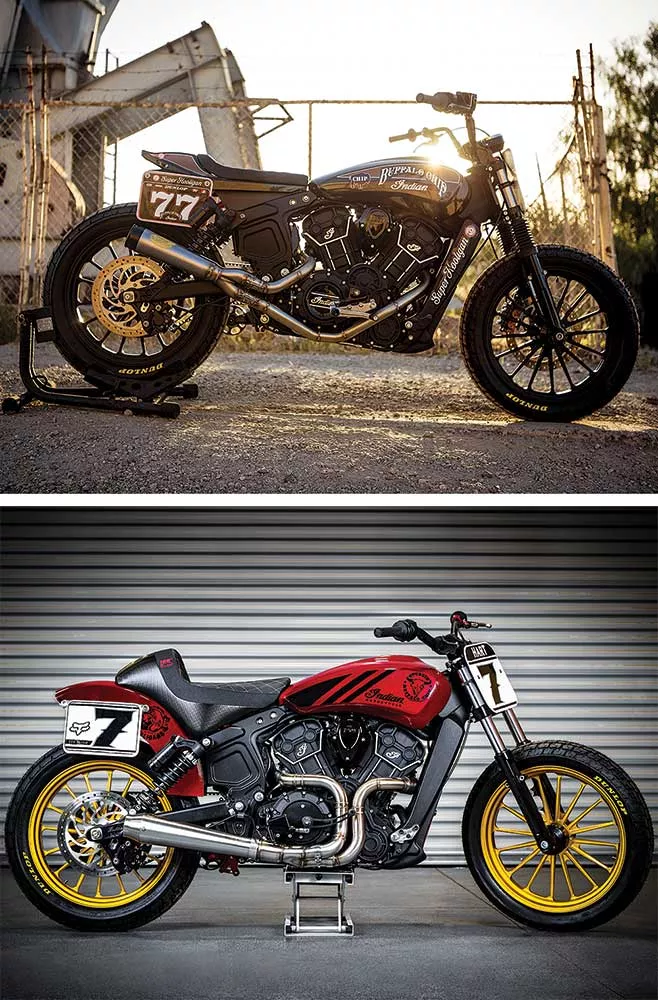 If you're like me, you got rid of your good twin a long time ago and have been living out their life for them ever since. That's what we evil twins are for—at least according to every soap opera and sci-fi franchise in history. We're as cliché as it gets. If you want to see a different take on twins, you'll have to get a gander at the Evil Twins built by Carey Hart and Roland Sands for the Buffalo Chip.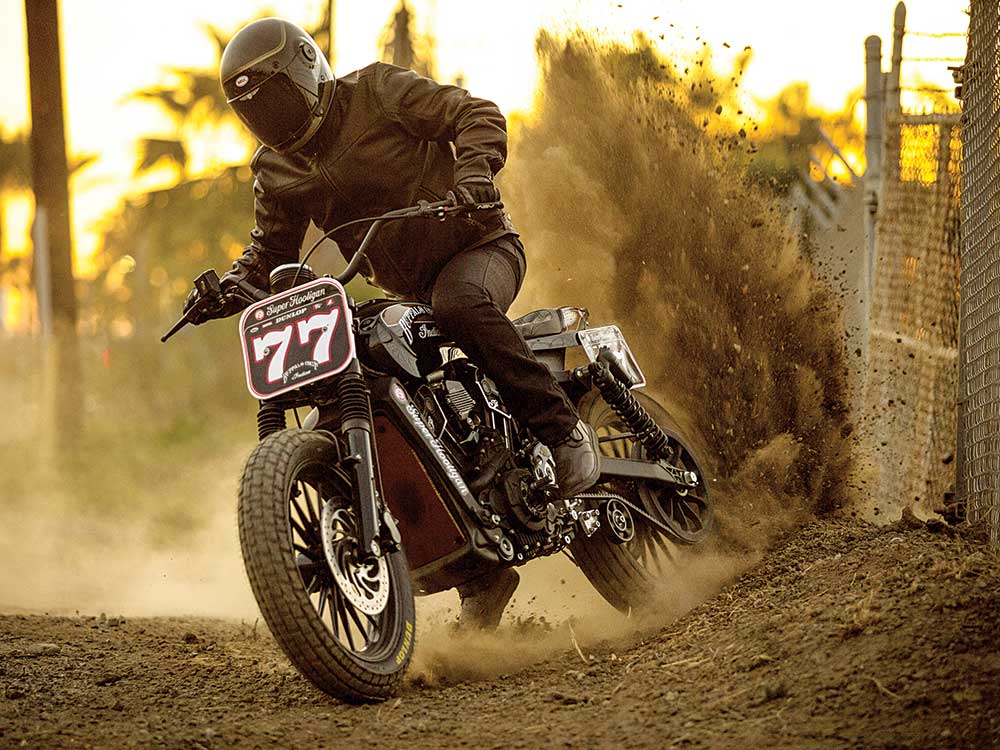 Even as we speak, everyone who's anyone is getting ready for Sturgis. Roland and Carey, who aren't busy enough apparently, decided they needed one more cool project on their respective heaps o' work. They've molded identical 2017 Indian Scout Sixty motorcycles into wicked racing machines for the Sturgis Buffalo Chip's Moto Stampede Bike Giveaway. Before being given to two fans on the Chip's Wolfman Jack Main Stage, these two hooligan racebikes, known as the "Evil Twins," will face off during the RSD Super Hooligan races presented by Indian Motorcycle at the Buffalo Chip Moto Stampede on Wednesday, August 9. Fans may enter to win the bikes online now at buffalochip.com/eviltwins.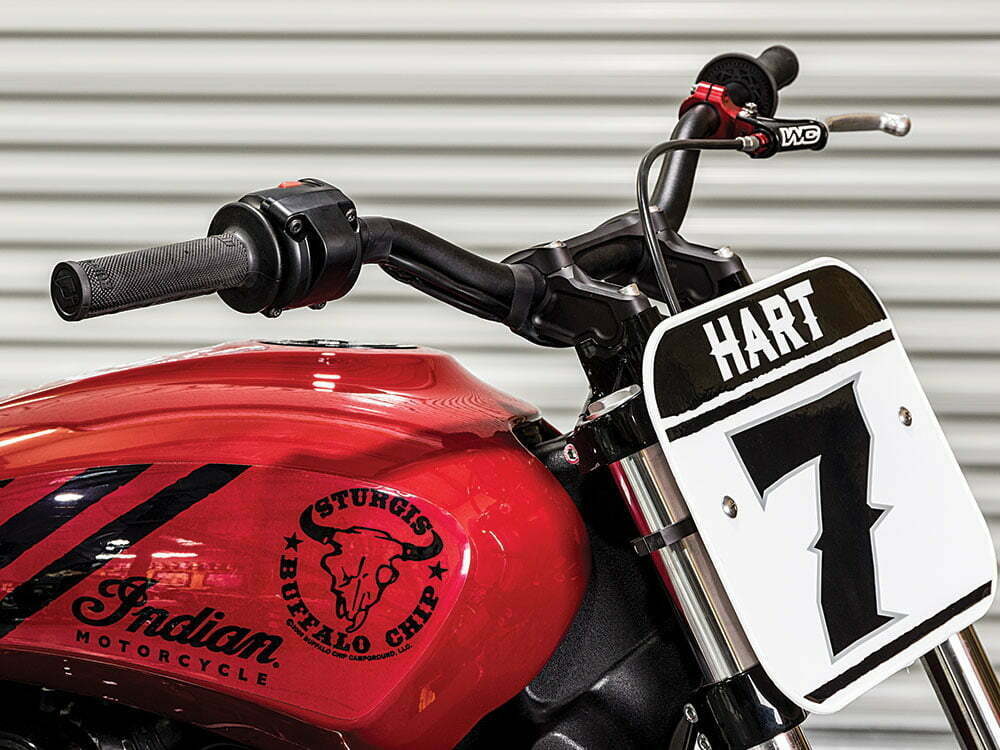 "The stories these Evil Twins will tell will be unlike any others out there," according to Rod Woodruff, president of the Sturgis Buffalo Chip. "Designed, built, and raced by the biggest names in motorcycling and racing, these Indian motorcycles will sport real battle scars from having been run in Super Hooligan races. You just can't buy a bike with history like that, but you could win one.
"The Scout Sixty is already a force to be reckoned with, and now Roland and Carey's modifications will truly add to the fun that can be had on these bikes," said Reid Wilson, marketing director for Indian Motorcycle. "We can't wait to give away these bikes on the Buffalo Chip's main stage and pass on the good times after the Moto Stampede races."
More info about the Moto Stampede racing events at the Buffalo Chip can be found at buffalochip.com/events/moto-stampede.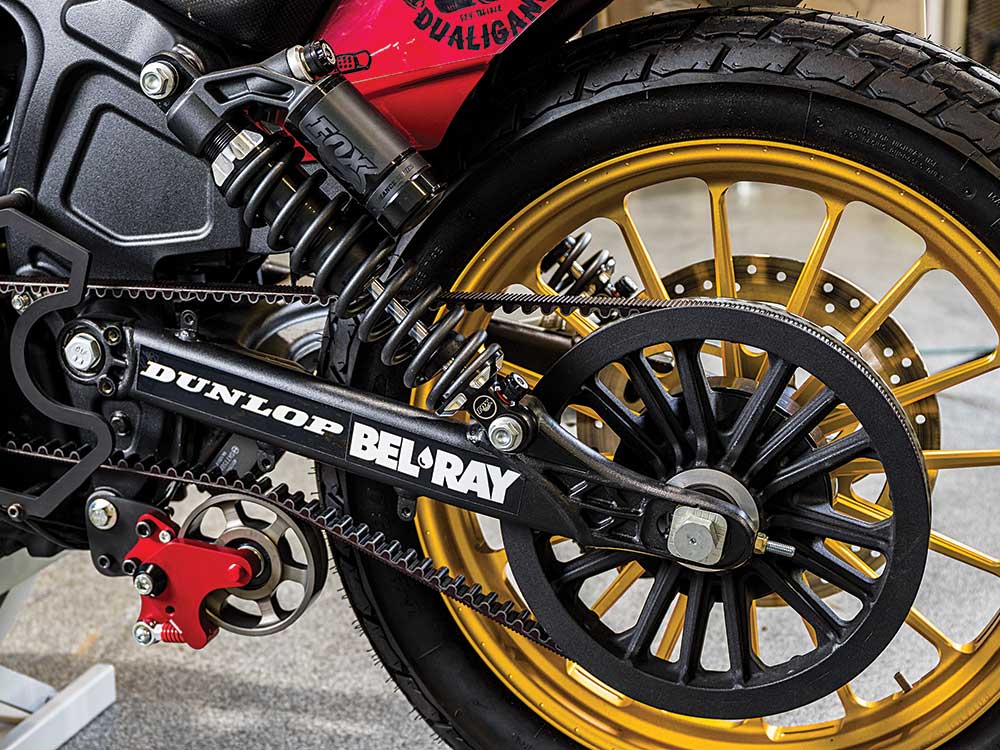 | Carey Hart Indian Scout Sixty | |
| --- | --- |
| General | |
| Builder: | Carey Hart |
| Website: | goodriderally.com |
| Engine | |
| Year/Type: | 2016/Indian Scout |
| Throttle Body: | DynoJet |
| Exhaust: | Thrashin Supply Company |
| Air Cleaner: | K&N |
| Susspension | |
| Front End: | GP suspension revalve |
| Rear: | Fox Piggyback |
| Wheels, Tires, and Brakes | |
| Front | |
| Builder/Size: | Roland Sands Design/19 in. |
| Rear | |
| Builder/Size: | Roland Sands Design/19 in. |
| Rotor: | Galpher |
| Finish/Paint | |
| Colors: | Indian Maroon |
| Paint/Graphics: | Guts Racing |
| Powdercoating: | Black Cerakote |
| Accessories | |
| Rear Fender: | Custom cut |
| Handlebars: | ODI |
| Grips: | ODI |
| Hand Controls: | Works Connection clutch perch |
| Foot Controls: | Evil Empire Mids |
| Floorboards: | Evil Empire |
| Seat: | BMC |
| Roland Sands Design Indian Scout Sixty | |
| --- | --- |
| General | |
| Builder: | Roland Sands Design |
| Shop Phone: | (562) 493-5297 |
| Website: | rolandsandsdesign.com |
| Engine | |
| Year/Type: | 2016/Indian Scout |
| Exhaust: | RSD custom stainless-steel slant 2-into-1 |
| Air Cleaner: | K&N |
| Type: | Indian Scout with Free Spirits XR1200 belt tensioner |
| Suspension | |
| Front End: | Stock with GP Suspension Cartridge Kit, British Customs 41mm (Triumph) fork boots, and RSD prototype Tracker fork brace |
| Triple Trees: | Stock RSD-modified stock for increased steering angle |
| Shocks: | Progressive Suspension 970 Series 13.0-in./V-rod spec |
| Wheels, Tires, and Brakes | |
| Front | |
| Builder/Size: | RSD custom Traction flat-track race wheel 19 x 3.0 in. |
| Rear | |
| Builder/Size: | RSD custom Traction flat-track race wheel 19 x 3.0 in. |
| Pulley: | Victory Octane |
| Finish/Paint | |
| Colors: | Buffalo Chip Design |
| Paint/Graphics: | RSD custom-printed MX-style tank and tail graphics kit by ZLT |
| Accessories | |
| Tailsection: | Saddlemen/Medium Made fiberglass flat- track tailsection |
| Gas Tank: | Indian Scout, narrowed 6 in. |
| Handlebars: | RSD custom 1 in. to 7/8-in. flat-track bars |
| Foot Controls: | RSD prototype chrome-moly foot control relocation plates |
| Seat: | Saddlemen race seat |