Many know Robert Pandya from his tenure as External Relations Manager for both Victory and Indian, or through his recent Give A Shift program, a grassroots initiative aiming to both promote motorcycling in a positive light and to ensure the industry's solvency for future generations. Now Pandya can add another title to his résumé—proud owner of a unique custom Indian, called "Stella's Mettle."
Seeing how Pandya lives in Georgetown, Texas, debuting Stella's Mettle just down the road in Austin during the 2018 Handbuilt Motorcycle Show made perfect sense. Why not unveil it to the public at one of the hottest shows around and have an estimated 30,000 people check out your newfound pride and joy? While Stella's Mettle was built around Pandya's vision, Joe Mielke of Snap Fabrications was tasked with making that vision manifest in metal.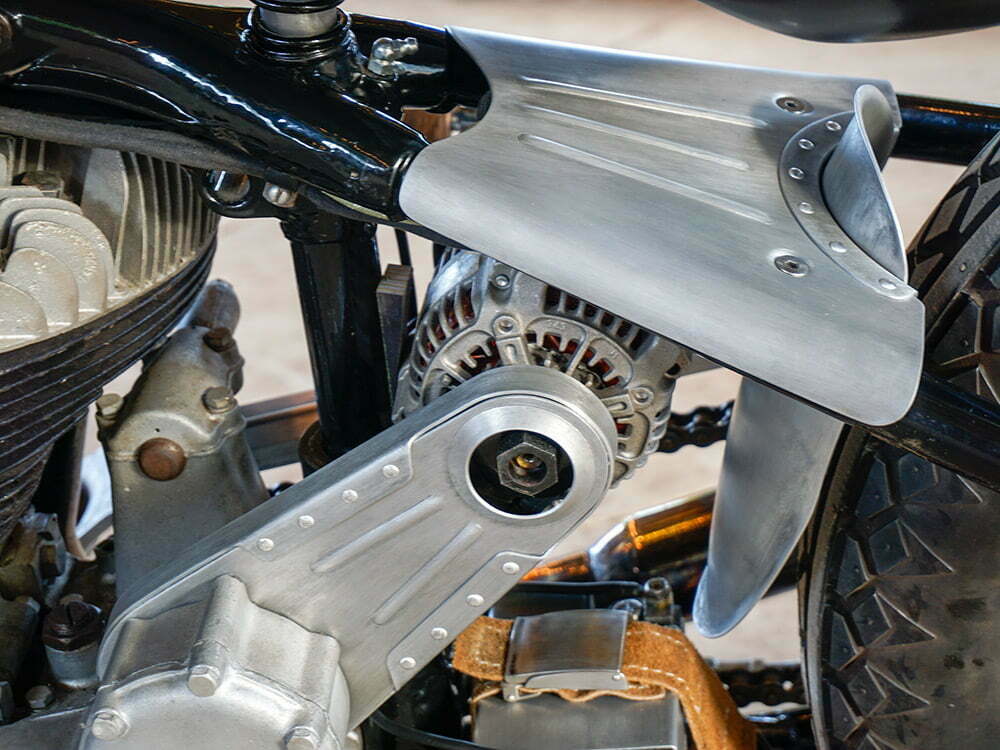 "He and I talked several times when he first brought the motorcycle to me here in South Dakota," Mielke said. "Robert had a complete fictional backstory to illustrate how this motorcycle could have come to life back in the '50s. Basic gist of it is, there's a guy who could have been an aircraft mechanic, maybe he was a pilot, but when he returned from the war he had this motorcycle. He was a bit of a progressive thinker and tinkerer. What Robert asked me was, if this guy was to build a progressive, maybe beach racer in the early '50s, and it got tucked into a barn with a tarp over it, if it got pulled out of that barn today, what would it look like?"
Foremost, it would reflect the time this fictional character spent in the Second World War. Providing Stella's pulse is a 1947 Indian Chief engine and drivetrain that's been completely rebuilt. The package was mounted in a frame from a 1946 Chief, complete with plunger-style rear suspension and an original front end. Gone are the Chief's traditional valanced fenders, and their absence highlights the clean lines of the frame and the fresh Coker tires it rolls on. While the tank is from an old Indian Chief, Mielke fabricated everything else, and that list includes the seat pan and tailsection, fenders, belt guard, kicker arm, generator cover, and handlebars. His crowning achievement on this build is the hand-shaped front fairing, its design reminiscent of a WWII bomber nose cone, complete with aircraft rivets for authenticity.
In addition to the hand-fabricated metal, Mielke's influence extends to the carburetor's dust cover, shifter knob, and kicker pedal which were formed out of the same wood he uses to make his coveted metal-shaping mallets. His father Dan did the cutting and sewing on the seat.
As the project neared completion, Pandya paid Mielke a visit at his shop in South Dakota. "Robert came the last week of fabrication and we kind of tuned things and…got him on the motorcycle and fit the handlebars and seat location," Mielke said. When it came time to apply the finishing touches, allowing the beauty of Mielke's metal-shaping skills to shine was high on the priority list, so paint was used sparingly, with Sean Star of Starr Custom Paint applying splashes of red, black, and subtle stripes of gold leaf.
While Stella's Mettle was a shining star among the custom Indian motorcycles at the 2018 Handbuilt Show, it wasn't alone. Karlee Cobb of Klock Werks brought her rockin' hardtail 2016 Indian Scout chopper to the show, a bike she affectionately dubbed "Project Princess." Her build features the first fully polished Indian Scout 1103 engine in the world, showing exemplary work from the team at Elite Polishing. It's also the first chopper we've run across based on the new Scout. Thanks to a Warrior frame built by Jason Kangas of Twisted Choppers, a more extreme rake angle on the neck helped kick out the front end. The stock fork legs were shaved and filed before being sent out for chroming. The chopper look benefited from ditching the 16-inch stock front wheel in favor of a taller, thinner 19-inch spoked one from Arlen Ness. Cobb got her first crack at welding as she cut off about 2 inches of the tank, then welded the middle together. Meanwhile, Brad Smith of The Factory Match laid down layers of candy paint and inlaid the Indian headdress logo and striping with gold leaf. The custom Scout was built for Michael Lichter's annual "Motorcycles as Art" exhibit at Sturgis and has since been making the rounds before landing at the Handbuilt. Cobb and the Klock Werks team should be proud, as it's one wicked Princess.
Another incredible Indian at the show was Jon MacDowell's custom 1941 Indian Scout 741, a pared-down and polished build called "The Flying Squirrel." While the 1-inch stainless bars are bent down like a vintage boardtracker, the custom springer front end MacDowell created is clean and modern. The internal and external springs have opposing tensions and are laced through plates mounted to the fork. The Scout 741 engine has been bored out to 37ci and its bottom end rebuilt by Carl Pusser at Walkin Tall Cycles. MacDowell made the custom gas tanks out of 14-gauge aluminum after taking a shaping class from metal master Cristian Sosa. The fuel and oil filter are made of handblown glass pieces that have been rubber mounted to the frame. Tall wheels balance out a tight build, with its 23-inch Bridgestone knobby sporting an aggressive tread. Thanks to its combination of polished stainless steel and aluminum, MacDowell's build is a fine representative of the Handbuilt theme.
Traces of Indian Motorcycle's racing history were also present at the show, from Brittney Olsen's 1938 Indian Sport Scout racer to the company's American Flat Track championship-winning FTR750. The popular RSD SuperHooligan Indian Scout Sixty also graced the gathering. Anyone who caught the American Motor Drome show outside the building might have spotted a 91-year-old Scout circling the wooden planks of the Wall of Death. From vintage to modern to one-off, the presence of Indian Motorcycle took many forms at the 2018 Handbuilt Motorcycle Show.