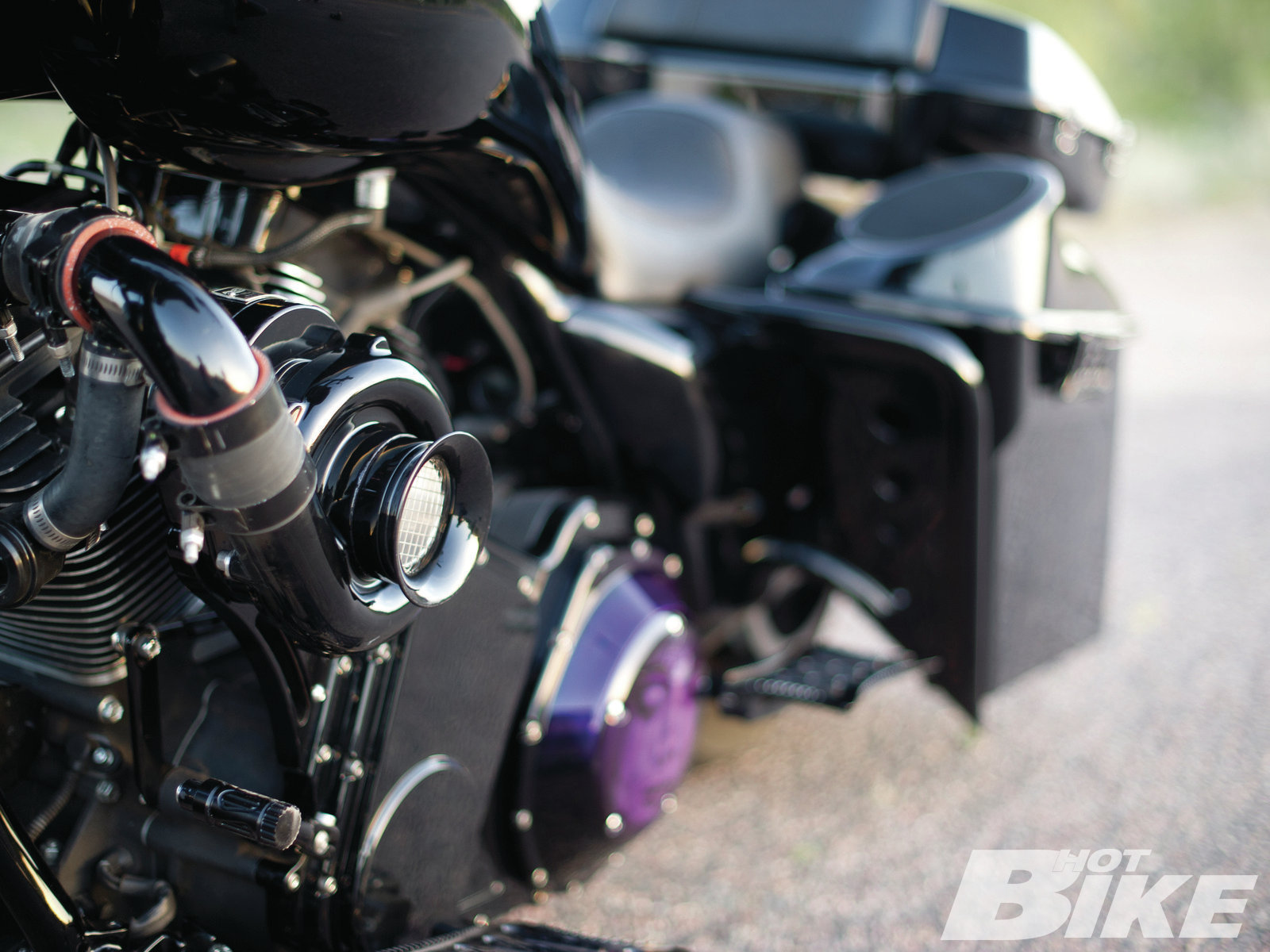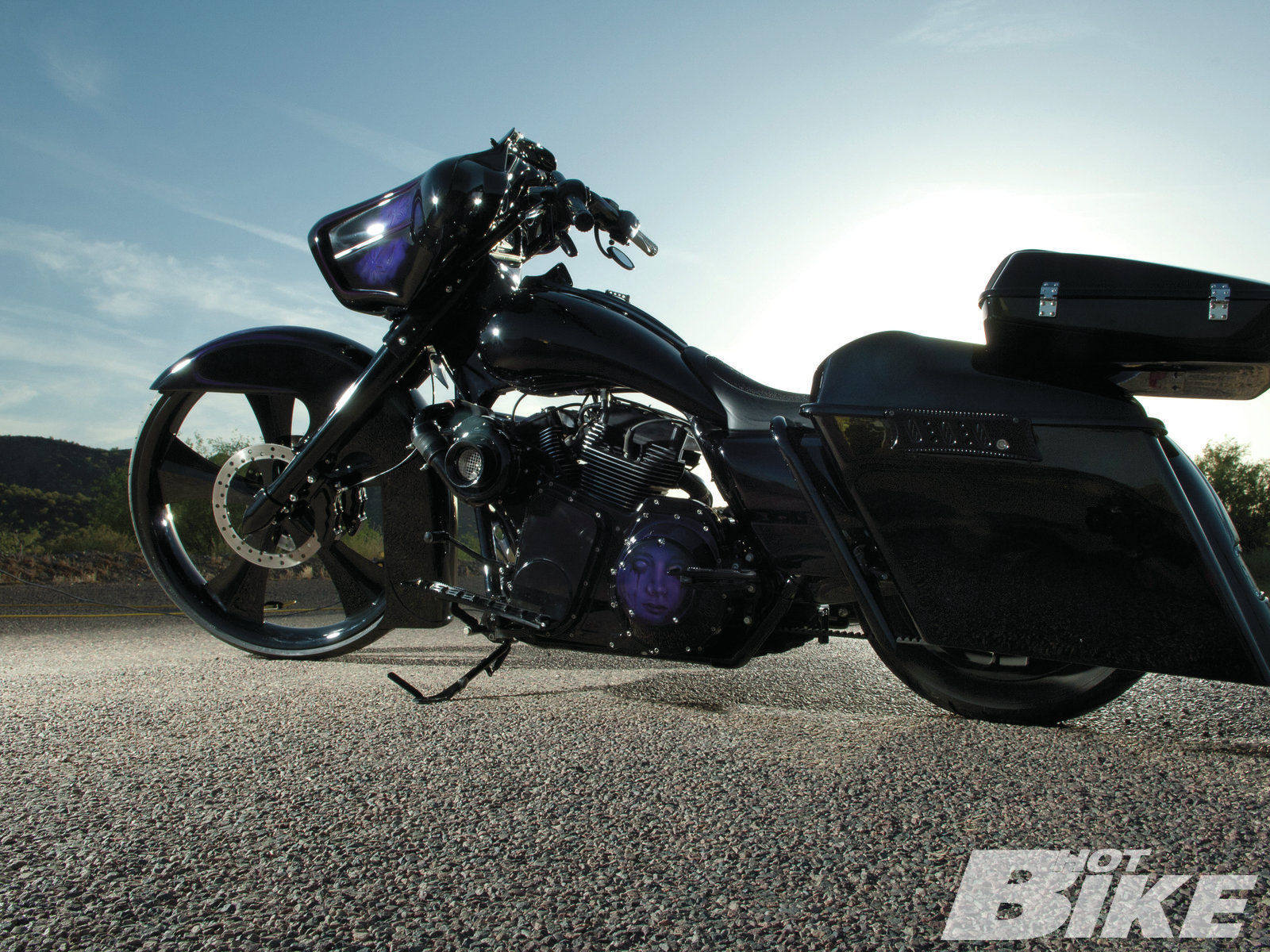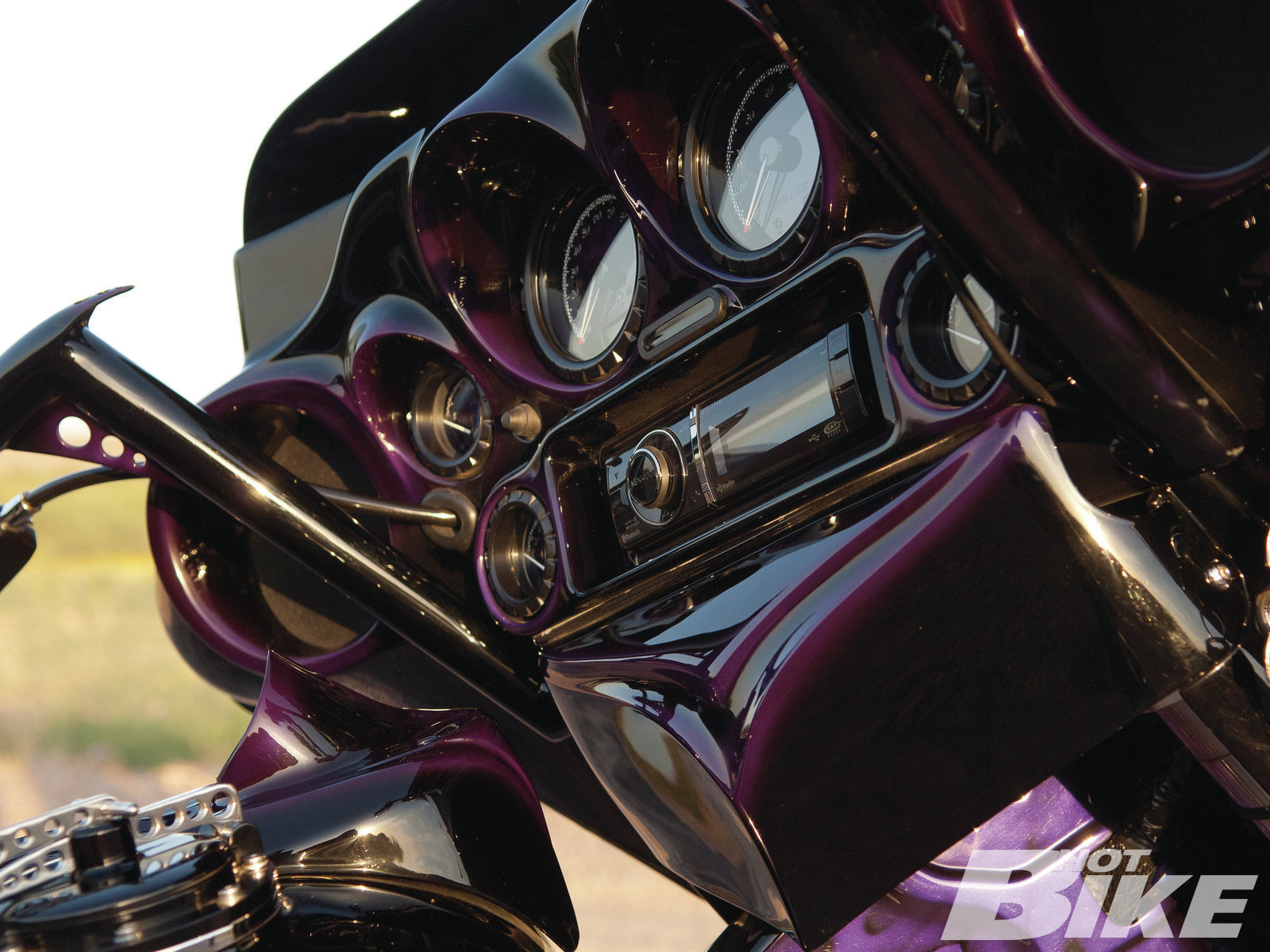 Staring at this custom bagger built by John Shope of Sinister Industries (SI) made me flash back to the very first bike of John's we ever featured. It ran in the December 2006 issue and the bike was a radical black and copper high-neck, drop-seat, S&S; Shovelhead chopper with a wild exhaust and tons of attitude.
In some ways things haven't changed much for John since that first photo spread. His creations still feature crazy custom exhaust designs and he still builds bikes that are on the extreme side. On the other hand, some things are quite different. Since that time, John has racked up numerous accolades including winning CMT's Chopper Challenge, he relocated his shop to Phoenix, and instead of building wide-tired choppers, as of late John has been blowing up the bagger scene. Oh, and as for attitude, yeah his bikes still have plenty of attitude, and so does John—and that's what I've come to like most about the guy.
It's hard to respect people that think their shit don't stink if they constantly turn out crap. John, as cocky as he is, has a right to be proud of his builds. In a short period of time, his shop has become well known amongst the bagger crowd. The bike's that roll out of his shop are on the cutting edge of the bagger scene. In fact, if you take a closer look at many of the custom baggers you see these days, a lot of those bikes are rolling around with John's parts, or look a lot like a SI bagger. As they say, imitation is the greatest form of flattery.
We spotted John's latest build, dubbed Big Time (note the front wheel), at a bike show a while back and as always were quite impressed. John informed us that the bike was a brand new 2011 Street Glide that was rolled right out of the dealership and into his shop. Then it was completely blown apart so that they had a clean slate to work with.
In order to ensure the name Big Time fit with the bike John decided to install a 30-inch wheel, so out came the reciprocating saw and they began cutting, bending, and welding the frame to fit the massive components. The neck rake was kicked out, the backbone bent up a bit so the neck sat a little higher, then custom arched downtubes were welded in place to solidify the reworked frame. Next, a set of HHI 12-degree raked trees were installed along with 2-inch over fork legs outfitted with a SI air ride. Out back a SI air ride system was bolted up as well. A freshly cut 30-inch, five-spoke SI Edge wheel wrapped in a Vee Rubber was then slipped between the fork legs. At the rear a stock 16-inch wheel was mounted between the swingarm to give the SG a squat stance.
Skinning the bike, a SI 30-inch fender with custom-molded tips was mounted tight over the front wheel. Over the backbone a totally custom gas tank was fabricated to sit low on the frame and seamlessly taper back into the seating area. Atop the tank a dash was created to house a boost gauge for the Pro Charger that would be added to the engine. Next, a SI rear fender complete with filler panels and flush-mounted lighting was secured to the back of the bike. To match the long look of the fender, a set of SI's stretched ABS saddlebags were added with Bagger Concepts Loud Lids. Actually audio plays a big part in this bike as SI built a custom chopped Tour-Pak with a 10-inch sub to boost the bass output. Up front instead of going with the standard Street Glide fairing, the fairing was converted to more of a shark-nose Road Glide style with a mix of recessed and ridged body lines for a completely custom look.
While the frame and body work were being taken care of, the engine was getting treated to a 103 kit with ported heads and a modified throttle body. After getting coated in black powdercoat the engine was reassembled, and mounted between the frame rails. To help add a significant amount of grunt to the glide, a Pro Charger Supercharger was installed. The engine build was capped off with one of John's signature extreme exhaust systems. He calls this one the Up Yours. It's a 2-into-1 system with dual pipes sweeping along the right side of the bike then merging together in almost a 90-degree bend in front of the saddlebag to spit exhaust fumes at anyone who dares to pull too close.
---
"Another one of John's signature identifiers is his two-sided paintjob designs. Often one side will be one color and the other side will be another, or one side will have graphics. "
---
Another one of John's signature identifiers is his two-sided paintjob designs. Often one side will be one color and the other side will be another, or one side will have graphics. This bike features a half-and-half paint scheme with one side completely drenched in solid gloss black paint (except for the primary inspection cover) and the other side a mix of black with purple air-brushed skulls, $100 bills, spiders, and demonic faces—even the rocker boxes and cam cover got the airbrush treatment.
After six months of work, the bike was finished up with a host of SI accessories like the handlebars, floorboards, footpegs, saddlebag latches, gas cap, and license mount. In the end what was once a tame and stock Street Glide became a completely custom menacing monster. What else would you expect from a company called Sinister Industries? HB
Specifications
| | |
| --- | --- |
| Bike Owner | Joe Escobar |
| Shop Name | Sinister Industries (SI) |
| Shop Phone | (623) 465-5263 |
| Shop Website | sinisterindustries.com |
| Year/Make/Model | '11/H-D/Street Glide |
| Fabrication | SI |
| Assembly | SI |
| Build Time | Six months |
| | |
| **Engine ** | |
| Year/Manufacturer | '11/H-D, SI |
| Type/Size | TC/103ci |
| Builder | SI |
| Cases | H-D |
| Cylinders | H-D |
| Heads | H-D |
| Rocker Boxes | H-D |
| EFI | H-D |
| Air Cleaner | Pro Charger |
| Exhaust | SI—Up Yours |
| | |
| Transmission | |
| Year/Manufacturer/Type | '11/H-D/Six-speed |
| Case | H-D |
| Clutch | Screamin' Eagle |
| Primary Drive | H-D |
| | |
| Frame | |
| Year/Manufacturer | '11/H-D, SI |
| Rake | 43 degrees |
| Stretch | 1-1/2 in. out & up |
| | |
| Suspension | |
| Manufacturer Front | SI Air Ride |
| Length | 2-in. over |
| Triple Trees | HHI 12 degrees |
| Manufacturer Rear | SI Air Ride |
| Swingarm | H-D |
| | |
| Wheels, Tires, and Brakes | |
| Manufacturer Front/Type | SI Edge |
| Size-Height/Width | 30×3.5 |
| Tire/Size | Vee Rubber/140/40-30 |
| Caliper | HHI |
| Rotor | SI 13-in. |
| Manufacturer Rear/Type | H-D Stock |
| Size-Height/Width | 16×5 |
| Tire/Size | Avon/180-16 |
| Caliper | H-D |
| Rotor | H-D |
| | |
| Finish/Paint | |
| Color | Black & Purple |
| Painter | Sinthium Paint |
| Graphics | Sinthium Paint |
| | |
| Accessories | |
| Front Fender | SI 30 in. |
| Rear Fender | SI |
| Fender Struts | SI |
| Gas Tank & Cap | SI |
| Oil Tank | H-D |
| Handlebars | SI |
| Hand Controls | H-D |
| Foot Controls | SI |
| Footpegs | SI |
| Headlight | H-D, SI SG to RG conversion |
| Taillight | SI |
| License Mount | SI |
| Seat | Guy's Upholstery |
| Saddlebags | SI, Bagger Concepts |
| Saddlebag Latches | SI |
| Audio | SI, Bagger Concepts, JL Audio, Kenwood |