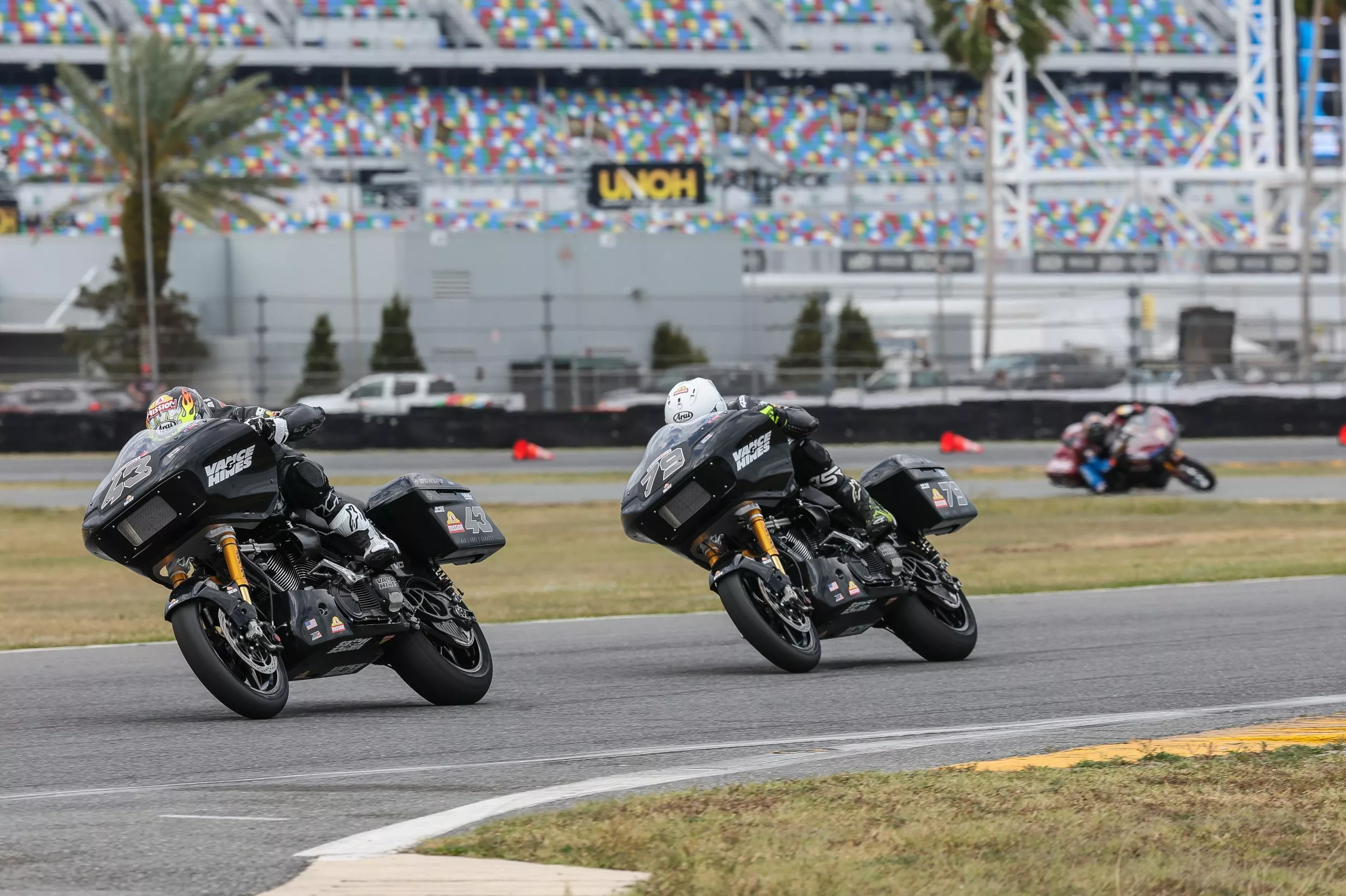 After a nail biting season opener of MotoAmerica's Mission King of the Baggers at Daytona, the Round One victor, James Rispoli, aboard the Vance & Hines Harley-Davidson Road Glide was able to win the first of two rounds at Daytona International Speedway.
But it didn't come easy for Rispoli as he survived a harrowing death wobble, making the save of his life on the high banks of Daytona Speedway. Once he got the high-speed tank slapper under control, he was keeping the pressure on Wyman when the H-D Screamin' Eagle Road Glide expired with five laps to go. From there it was a battle to the finish with Rispoli and his teammate Hayden Gillim joined by the second factory Harley of Travis Wyman. The two Vance & Hines riders then got a scare when Travis Wyman's Road Glide suffered a mechanical failure on the banking. The fear of oil on the banking brought out the red flag and Rispoli had his first win in the bag with Gillim second.
Defending Mission King Of The Baggers Champion Tyler O'Hara finished third on his Indian Motorcycle/Progressive/Mission Foods Indian Challenger despite having to start from the back row when the team failed to get him and his teammate Jeremy McWilliams out of pit lane in time for the sighting lap.
The first of the Team Saddlemen Harley was ridden to fourth place by Cory West, who finished 13.1 seconds off the lead and well clear of McWilliams, who was just 1.4 seconds ahead of Baggers rookie and former Superbike racer Jake Lewis.
In addition to the two factory Harleys, Bobby Fong was another knocked out of the race with mechanical problems on his Sac Mile/SDI Racing/Roland Sands/Indian Challenger.
"I saw my life flash twice and then it just kept going," says James Rispoli, after recovering from the shaky bagger. "I was like, 'maybe I'll get out of it.' It just kept going all the way up the banking. I don't know, man. I summoned all the energy from my ancestors to keep that one going straight. But at the end of the day, to be honest, it was a really fun race. Once we saw Tyler (O'Hara) and Jeremy (McWilliams) not on there (the grid), the game plan is always to race hard but a little different because the Harleys react the same way. So, me and Hayden (Gillim) were just clicking off laps, passing each other in good spots. I think we figured out where he was strong, where I was strong, and we just made it work. To be honest, it's a shame to see both factory Harleys go out, but I kind of feel like we were tracking them down a little bit in some areas. Maybe he was just blowing up. I don't know. I feel like me and Hayden did a phenomenal job of just working together. You got to do that here at Daytona. Then me and Hayden started making quite a bit of mistakes out there, running wide and stuff. I was just hoping nobody else would catch up. I saw some people coming. Travis (Wyman) got in there with us, and he had a little bit of a moment. Thankfully, he's super solid and got right off the line. But I'm just stoked. Vance & Hines have worked their butts off this off-season. We go out in FP1 and if we're slow a mile an hour, it's all forgotten, and it can't be. These guys work so hard. We're in the fight. Yeah, we might not have the mile an hour, but we lasted, and we got one and two. It's the first King Of The Baggers (round). I'm super proud of my team and my teammate. We'll just keep going. Terry (Vance) – just get the red numbers out because we're looking at the red plate, baby."