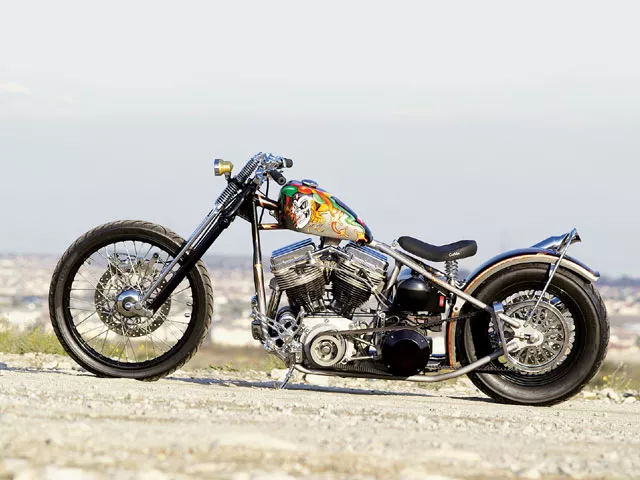 Considering that this bike was built by Joker Machine's general manager, Geoff Arnold, you'd probably expect to find mainly parts from this company featured on it. Since this bike was also Geoff's first build, pulling lots of parts from Joker's lineup could have been a convenient option for him. This was not the case for the '05 STD panhead "Bar Hopper" shown here, however. In fact, this retro-inspired ride probably has the least amount of the company's parts of any bike built at Joker.
Geoff's motive for this build is interesting, to say the least-until we discovered the nature of his intentions. This is not a promotional bike for Joker Machine, a major manufacturer of V-Twin OEM replacement parts and hydraulic components. This panhead is Geoff's personal ride, the motorcycle he'd always wanted to build. "I didn't want to overly exploit Joker's parts," Geoff said. "I wanted to keep it honest." The handful of company parts on this pan are there to serve the design he was after: an old-looking bike with some modern-day features. The remaining parts he collected from swap meets over the course of a year or just managed to fall into his hands.
Geoff was fortunate enough to find an '02 narrow-tire Panzer frame before Panzer went out of business. He decided not to modify the frame, nor do any molding. "I didn't want it to look very finished," Geoff said. "I wanted the frame raw and simple." What's striking about this frame, according to Geoff, is that most people think it's painted silver. Actually, the frame was clearcoated by Troy Lee of Troy Lee Designs, a custom paint shop well known in the motocross, NASCAR, F1, and Indycar business. "I felt very confident in leaving the paint and graphics up to him," Geoff said. Troy added some black paint and gold leafing to the front of the frame, carried the theme to the neck, finished it off on the rear fender, and finally topped the job off with graphics.
As mentioned earlier, Geoff had always wanted a panhead. This 88ci mill was built by him with the help of Greg, aka "Wizard," Joker's R&D; guru and all-around go-to guy for fixing things. When it came time for the motor, they really wanted a full view of the mill to show this baby off. The engine's primary backing plate was cut down, and the motor was strutted to the trans with adjustable Heim-joint rods. Since there is no connecting backing plate, this will help keep the motor and tranny aligned. Geoff and Wizard then mounted a Rivera six-speed kicker transmission.
Over the year, Geoff spent lots of Sundays at swap meets collecting parts, and that's how he acquired most of what you see on this bike, minus the handful of Joker parts. He found some old H-D OEM wheels, which he dismantled and had powdercoated black. He came across an old seat pan and sent it out to Corbin in Hollister, CA, for a non-slip asphalt-type seat cover to keep him planted on the bike. (Some time ago, too much throttle and a slippery seat proved to be a bad combination for Geoff.) The Joker parts he selected suit the bike's design and still keep it period-correct to him. "It was important the bike be mechanically straightforward with highly functional parts," Geoff said. "I also avoided a lot of billet parts to keep it with the period." Most important to Geoff is the fact that he succeeded at his first build and built it the way he wanted, with as little assistance as possible.
Of special note to us here at HOT BIKE is the talented individual who took these photos, Jeff Deasey. Jeff unfortunately passed away in March last year, but his impact on this industry, hard work, and dedication will always be remembered. Jeff worked as a senior editor for several years on this magazine and Hot Rod Bikes, now Bike-Works. Jeff then went to work for Joker Machine as the company's media/marketing director. "Jeff helped with some of the bike's design and made suggestions, like what I should and shouldn't be doing," Geoff said. "I would like to give a special thanks to Jeff and dedicate this bike to him." This was the last bike Jeff photographed. He was a great photographer, tech-savvy hardcore motorcycle enthusiast, and an all-around great guy. Jeff will be missed by all who knew and loved him.
| | |
| --- | --- |
| SPEC SHEET | |
| GENERAL | |
| OWNER | GEOFF ARNOLD |
| SHOP | JOKER MACHINE |
| PHONE | (909) 613-0028 |
| WEBSITE | WWW.JOKERMACHINE.COM |
| YEAR/MAKE/MODEL | '05/STD PAN/BAR HOPPER |
| FABRICATION | GREG, AKA WIZARD |
| ASSEMBLY | WIZARD |
| BUILD TIME | THREE WEEKS |
| | |
| --- | --- |
| ENGINE | |
| YEAR/TYPE/SIZE | '05/STD PANHEAD/88-INCH |
| BUILDER | OWNER AND WIZARD |
| CASES | STD |
| FLYWHEELS | STD |
| RODS | STD |
| PISTONS | STD |
| CYLINDERS | STD |
| HEADS | STD |
| VALVES | STD |
| ROCKERS | STD |
| ROCKER BOXES | STD |
| PUSHRODS | STD |
| PUSHROD TUBES | STD |
| CAM | STD |
| LIFTERS | STD |
| CARBURETOR | S&S; |
| AIR CLEANER | JOKER MACHINE |
| IGNITION | STD |
| EXHAUST | KNUCKLE PIPES W RIVERA MUFFLER |
| | |
| --- | --- |
| TRANSMISSION | |
| YEAR/TYPE | '05/RIVERA SIX-SPEED |
| CASE | RIVERA PRIMO |
| GEARS | N/A |
| CLUTCH | RIVERA PRIMO |
| PRIMARY DRIVE | RIVERA PRIMO |
| | |
| --- | --- |
| FRAME | |
| YEAR/TYPE | '02/PANZER |
| RAKE | 37 DEGREES |
| FINISH | CLEARCOAT |
| | |
| --- | --- |
| SUSPENSION | |
| FRONT | DNA SPRINGER |
| | |
| --- | --- |
| WHEELS TIRES,AND BRAKES | |
| FRONT | |
| TYPE/SIZE | H-D/21-INCH |
| TIRE/SIZE | AVON/MH90X21 |
| CALIPER | BREMBO/QTM |
| ROTOR | BREMBO/QTM |
| REAR | |
| TYPE/SIZE | H-D/16-INCH |
| TIRE/SIZE | AVON/140-90X16 |
| CALIPER | BREMBO/QTM |
| ROTOR | BREMBO/QTM |
| BUILDER | WHEEL WORKS |
| | |
| --- | --- |
| FINISH/PAINT | |
| COLORS | BLACK, GOLD LEAFING W/RED PINSTRIPES |
| PAINTER | TROY LEE |
| GRAPHICS | TROY LEE |
| PLATING/POLISHING | OCP |
| POWDERCOATING | ALUMIN-ART |
| | |
| --- | --- |
| ACCESSORIES | |
| REAR FENDER | SWAP MEET |
| GAS TANK | SPORTSTER |
| OIL TANK | MIDWEST |
| HANDLEBARS | FLANDERS |
| RISERS | JOKER MACHINE |
| MIRRORS | JOKER MACHINE |
| HAND CONTROLS | JOKER MACHINE FX |
| FOOT CONTROLS | JOKER MACHINE |
| FOOTPEGS | JOKER MACHINE |
| HEADLIGHT | MIDWEST |
| TAILLIGHT | JOKER MACHINE |
| LICENSE MOUNT | JOKER MACHINE |
| SEAT | CORBIN |