Josh Rundlett and Rundlett Performance & Machine are veterans of the Geico Hot Bike Tour, so 2018 wasn't his first rodeo. He's always loved the tour and we've always loved seeing what he brings to the show. For our Arizona event, that meant a bagger the Incredible Hulk would've proudly raced Captain America with at the end of The Avengers. The 2014 Harley-Davidson Street Glide is a mean, green riding machine with some extra grunt and crowned with a 26-inch front wheel.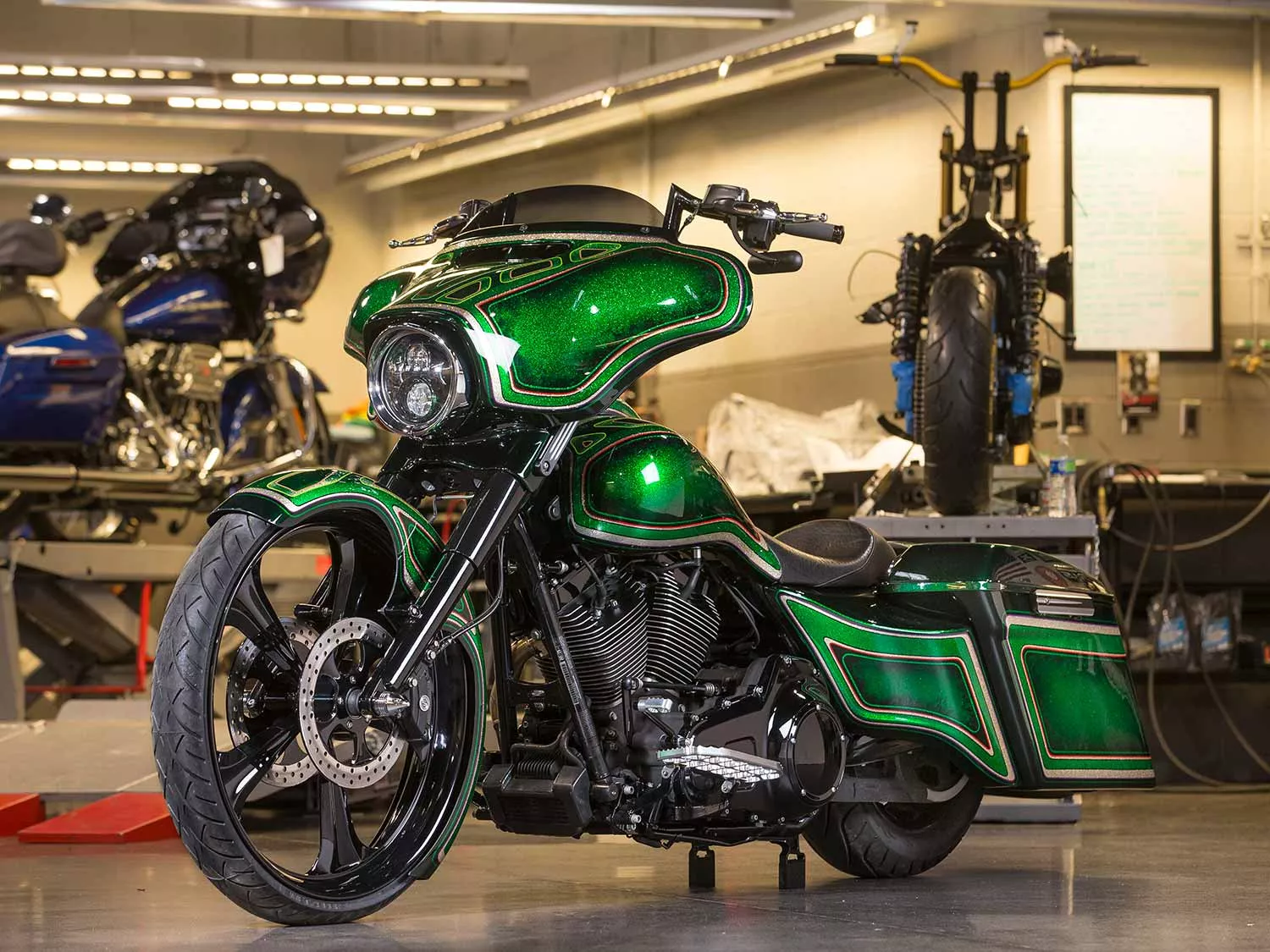 We've all seen our share of large-wheeled baggery over the last decade; this one doesn't go full Big Wheel though. That's what sets it apart. There isn't a two-wheeled surround sound system on it, the bags and back fender are custom but not extended, and you won't be dragging said bags over every bump in the road because they're not slammed down. All of these things are fine in a bagger made for style but Josh's goal was a blend of performance where it mattered, style where it mattered, and targeting the budget where it mattered.
---
RELATED: 2018 Hot Bike Tour Invited Builder Josh Rundlett
---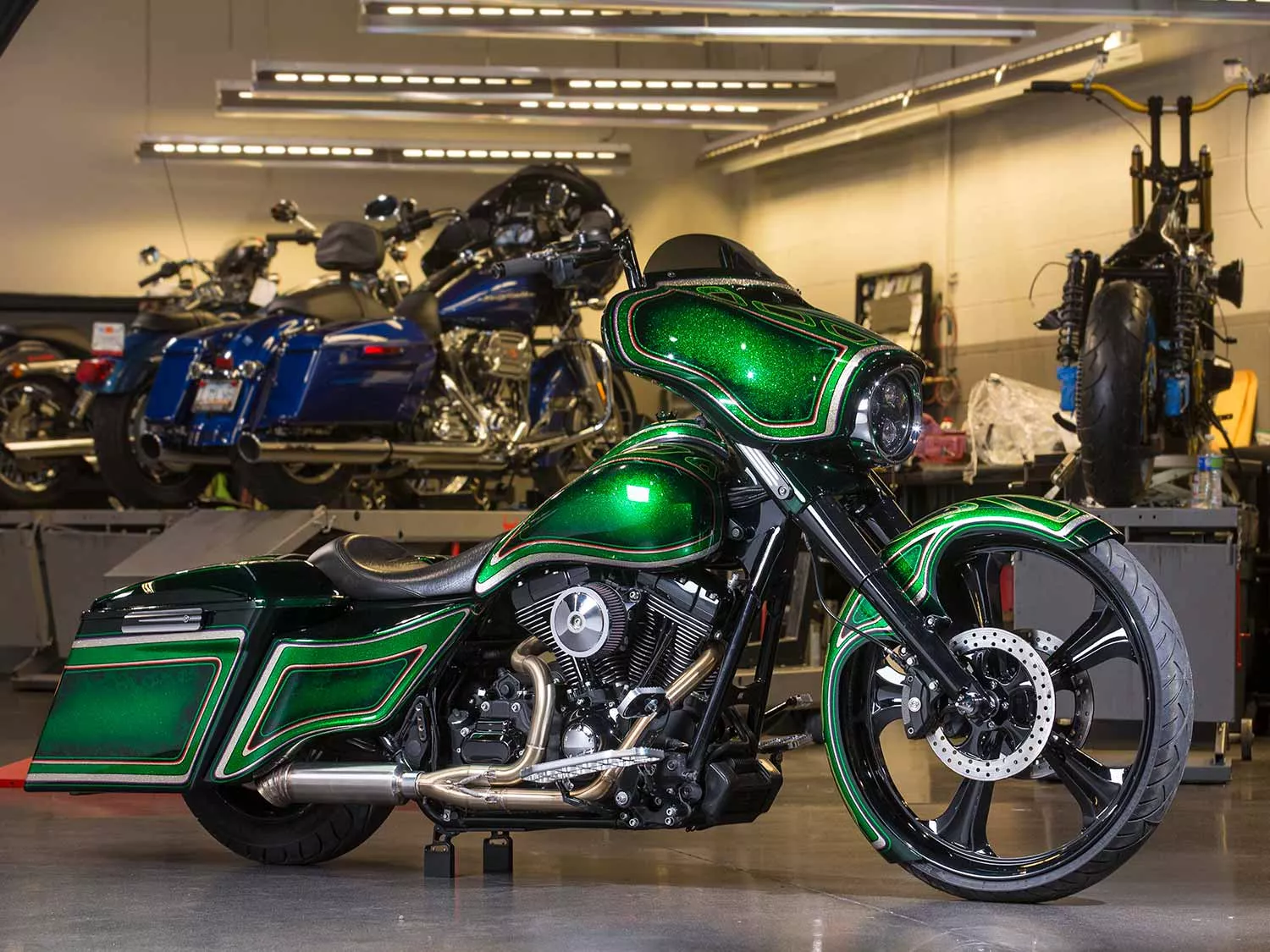 Yes, I know, "where it matters" is a subjective term. Some of us want gobs of power from an S&S mill punched out to 143ci but don't give a damn about the paint, while others are all about the looks, but most of us are somewhere off-center of that spectrum. At least, that's the case here.
Mr. Rundlett kept the Twin Cam engine at 103ci and most of its guts are pure H-D. He did, however, give this bike some upgrades in the form of reworking the heads, a Ness air cleaner, stainless steel Fab28 2-into-1 exhaust, and S&S 585 cams to squeeze more ponies and torque out of it.
The Street Glide's skeleton didn't go under the knife but the suspension mounted to it isn't the original article. Hawg Halters triple trees allowed fitment of the 26-inch Colorado Custom front wheel and a Legend Air suspension out back smooths out rough spots on the road.
What Josh likes most about this motorcycle is that green metalflake. Laid down by Hot Dog Finlan, it follows the lines of every part it graces, from the Misfit front fender to the Bad Dad gas tank and rear fender. It's where the bagger truly shines, in every sense of the word. All of the color plus the mixture of powdercoating and chrome are among Rundlett's favorite aspects of the finished Street Glide, which is prowling the asphalt somewhere as we speak. It's owned by a guy named Wade, who we can only assume has a last name (he didn't care to share it with the group). We were just happy the bike showed up to the Hot Bike Tour for the world to see.
Spec Sheet
| | |
| --- | --- |
| General | |
| Owner | Wade. Just Wade. |
| Shop | Rundlett Performance & Machine (RPM) |
| Shop Phone | (909) 486-0879 |
| Website | Instagram: @rpmmoto |
| Year/Make/Model | 2014/Harley-Davidson/Street Glide |
| Fabrication | RPM |
| Build Time | 6 months |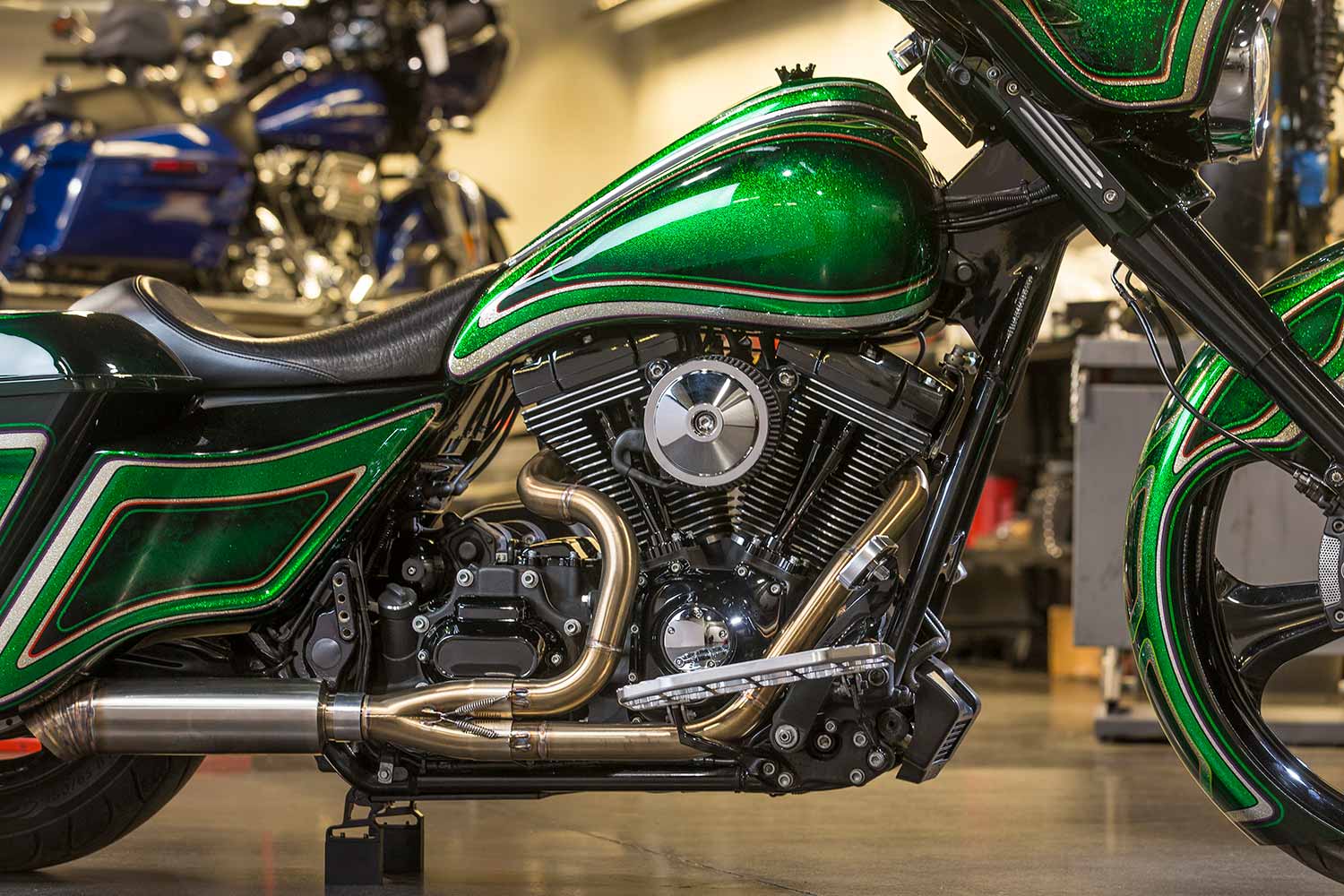 | | |
| --- | --- |
| Engine | |
| Year/Type/Size | 2014/H-D Twin Cam/103ci |
| Builder | RPM |
| Cases | H-D |
| Cylinders | H-D |
| Heads | RPM/H-D |
| Rocker Boxes | H-D |
| Cams | S&S Cycle 585 |
| Throttle Body | H-D |
| Exhaust | Fab28 |
| Air Cleaner | Arlen Ness |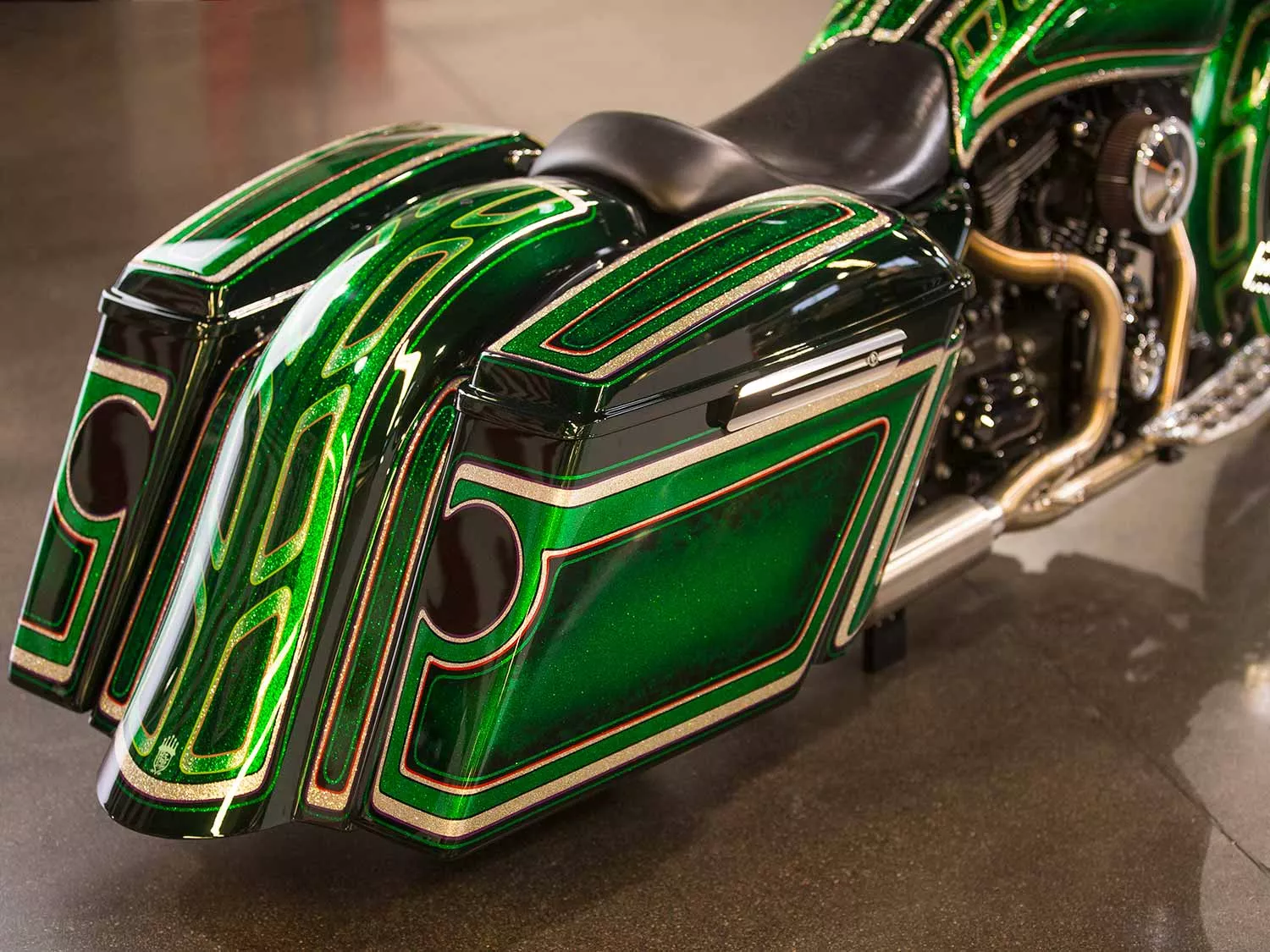 | | |
| --- | --- |
| Transmission | |
| Year/Type | 2014/H-D |
| Gears | H-D |
| Clutch | H-D/AIM |
| Primary Drive | Evolution |
| Frame | |
| Year/Type | 2014/H-D Touring |
| Rake/Stretch | 35°/None |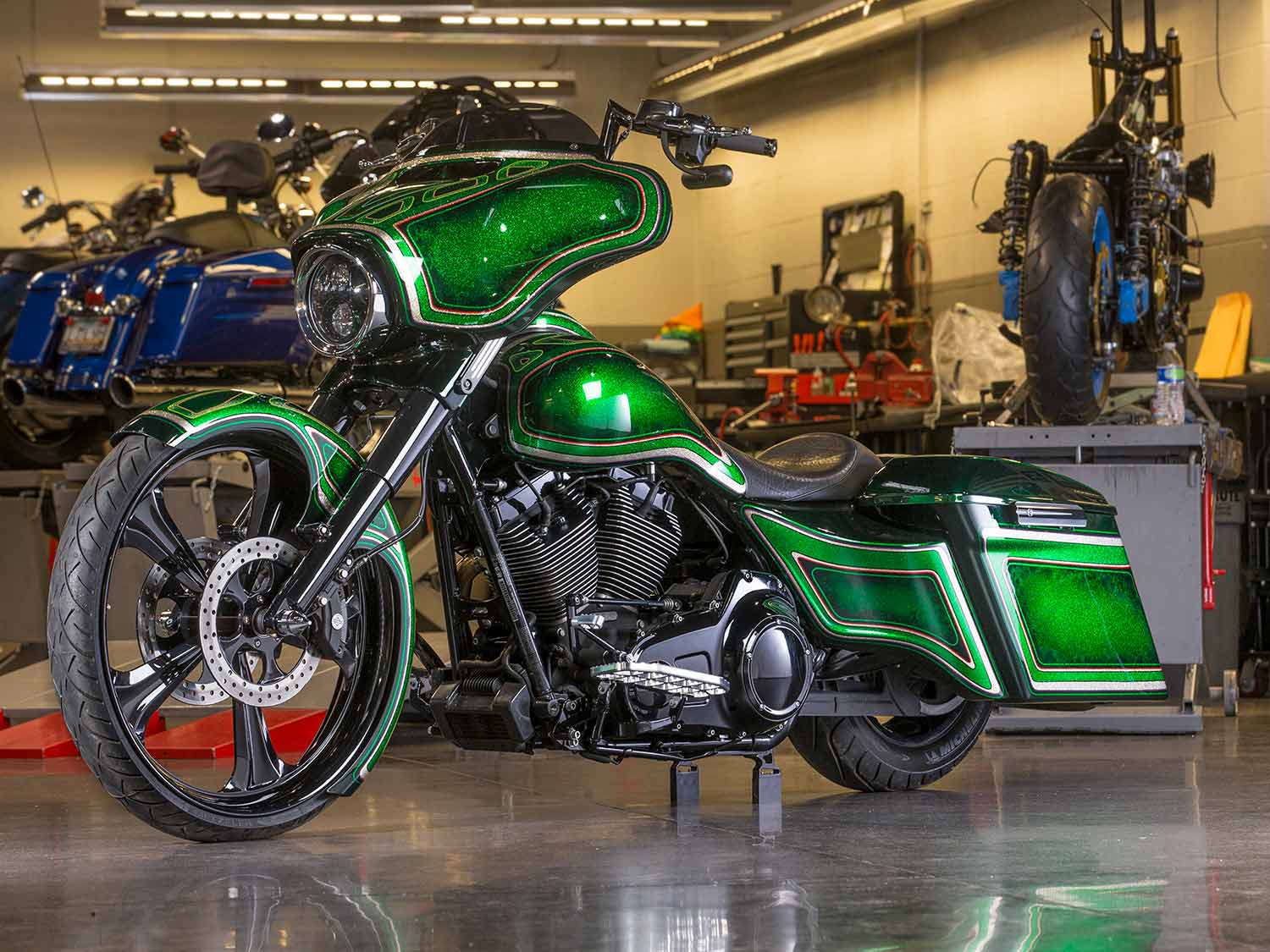 | | |
| --- | --- |
| Suspension | |
| Front End | H-D |
| Length | Stock |
| Triple Trees | Hawg Halters Inc. |
| Swingarm | H-D |
| Shocks | Legend Air Ride |
| | |
| --- | --- |
| Wheels, Tires, and Brakes | |
| Front | |
| Builder/Size | Colorado Custom/26-in. |
| Tire/Size | Metzeler/26-in. |
| Calipers | H-D |
| Rotors | Colorado Custom |
| Rear | |
| Builder/Size | H-D/16-inch |
| Tire/Size | Metzeler/180mm |
| Caliper | H-D |
| Rotor | H-D |
| Pulley | H-D |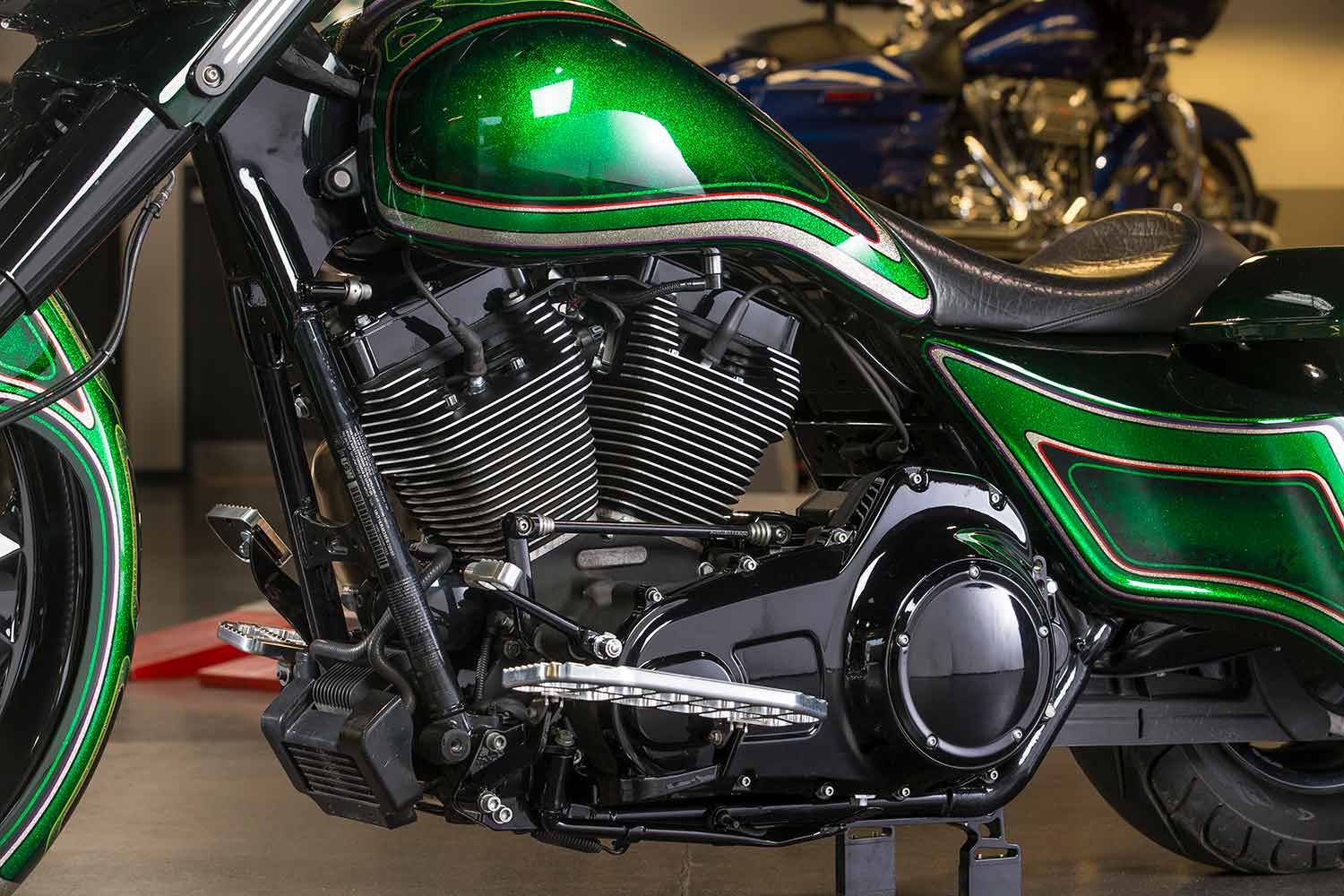 | | |
| --- | --- |
| Finish/Paint | |
| Colors | Metalflake Green |
| Paint/Graphics | Hot Dog |
| Powdercoating | Young Guns Powdercoating |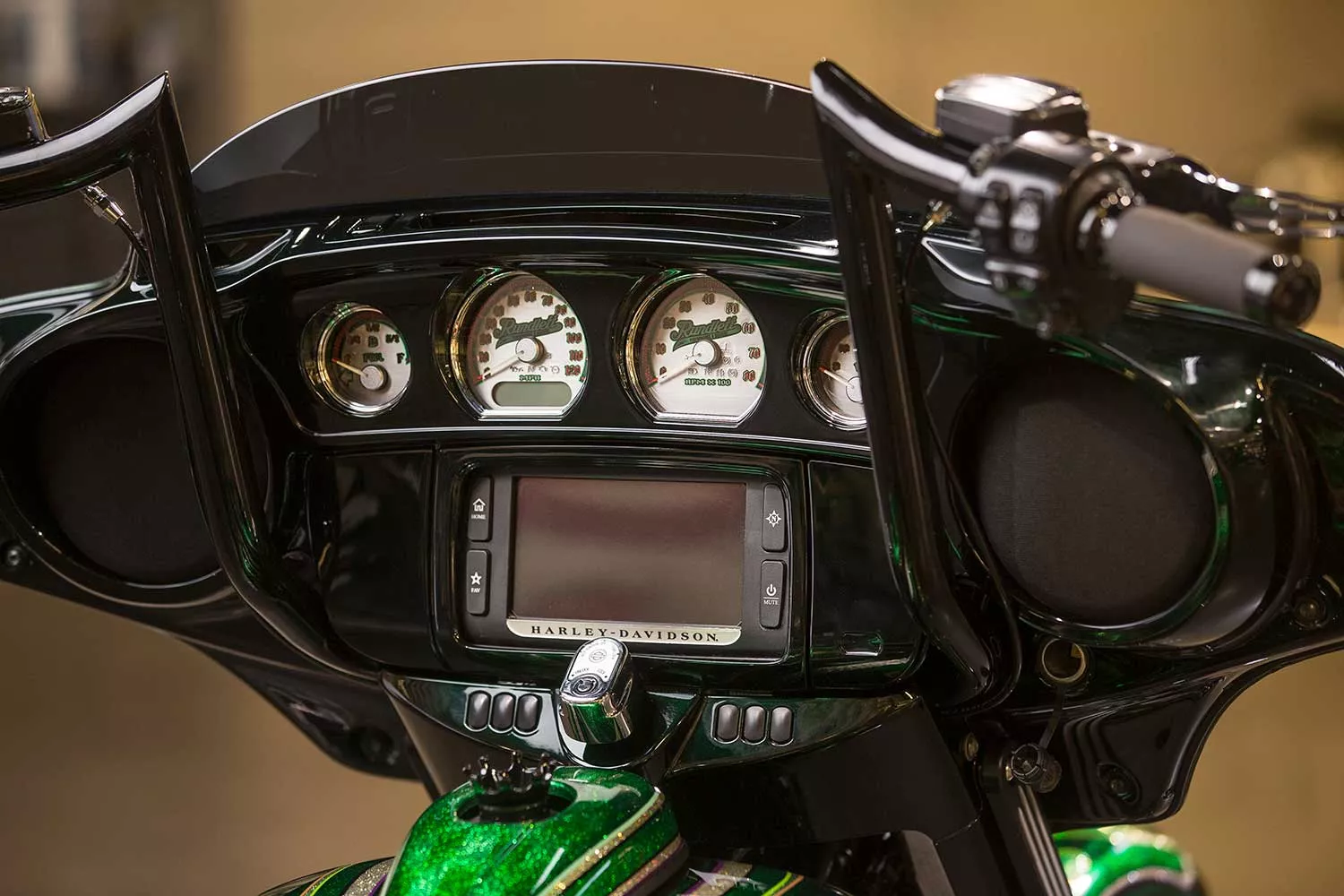 | | |
| --- | --- |
| Accessories | |
| Front Fender | Misfit |
| Rear Fender | Bad Dad |
| Gas Tank | Bad Dad |
| Dash | Paul Yaffe |
| Gauges | H-D |
| Handlebars | Paul Yaffe |
| Grips | Performance Machine |
| Mirrors | Arlen Ness |
| Hand Controls | H-D |
| Floorboards | Joker Machine |
| Headlight | H-D |
| Taillight | Bad Dad |
| Turn Signals | Bad Dad/Custom Dynamics |
| License Mount | Bad Dad |
| Seat | Bitchin' Rich |
| Stereo | H-D |