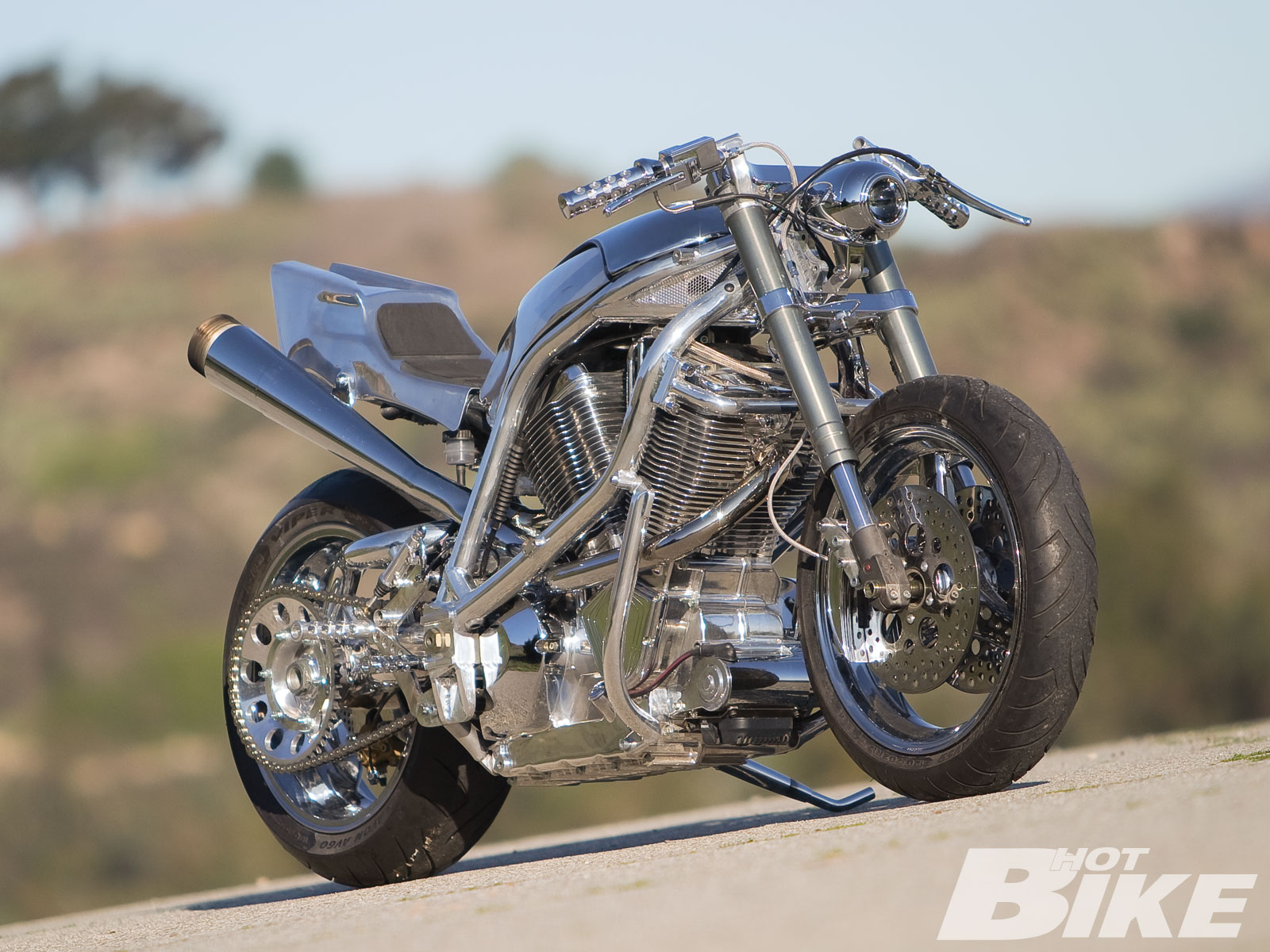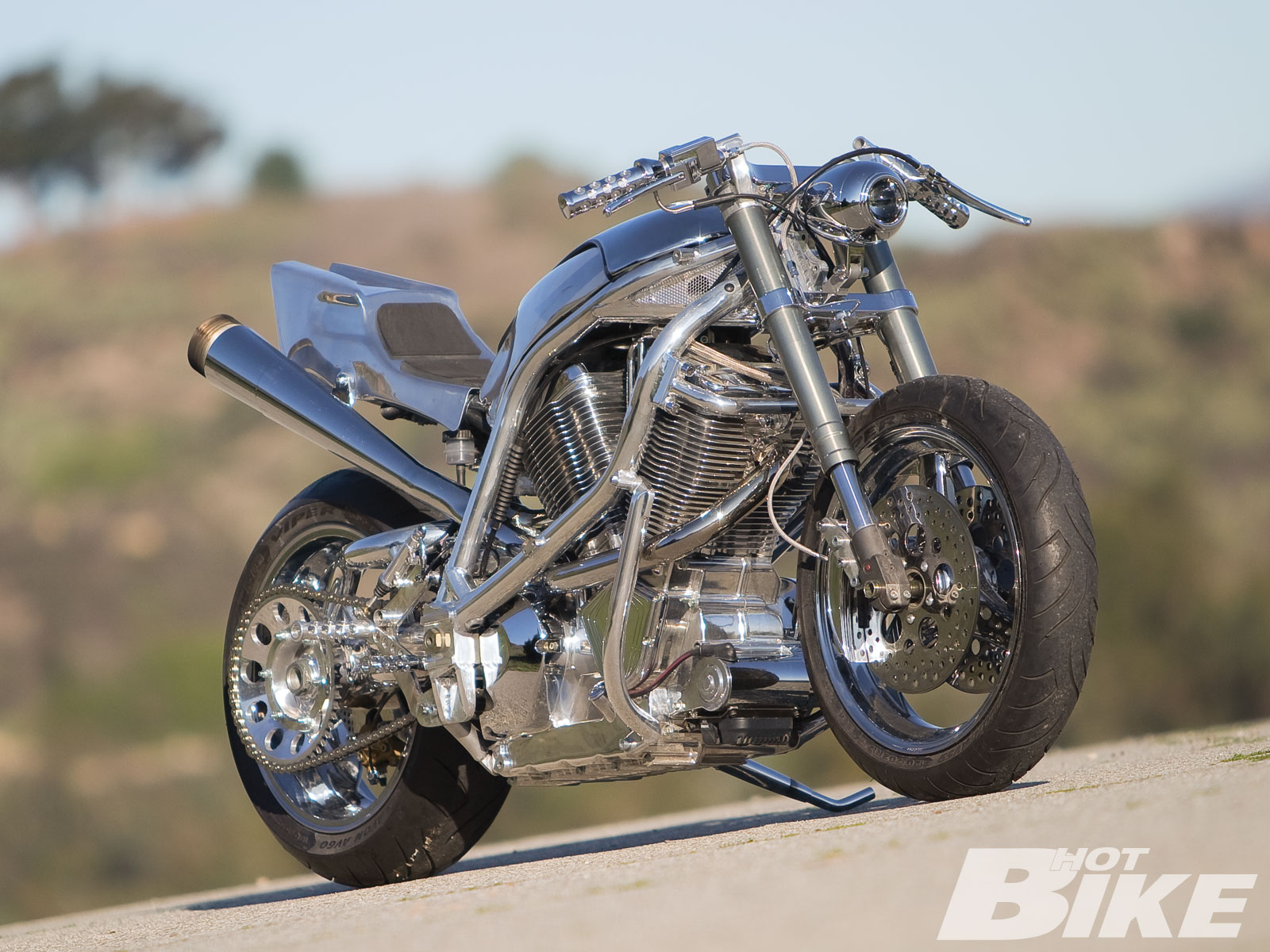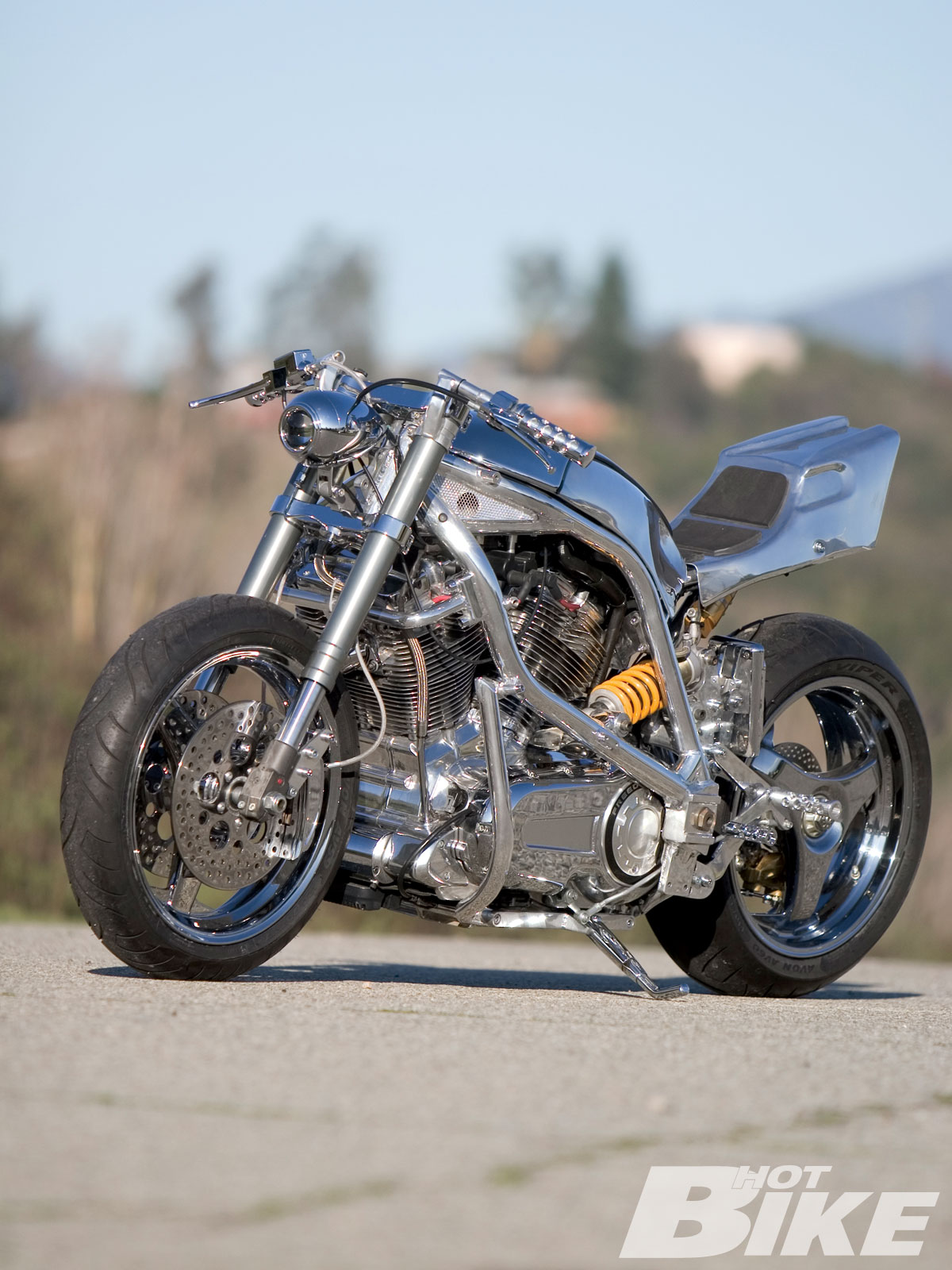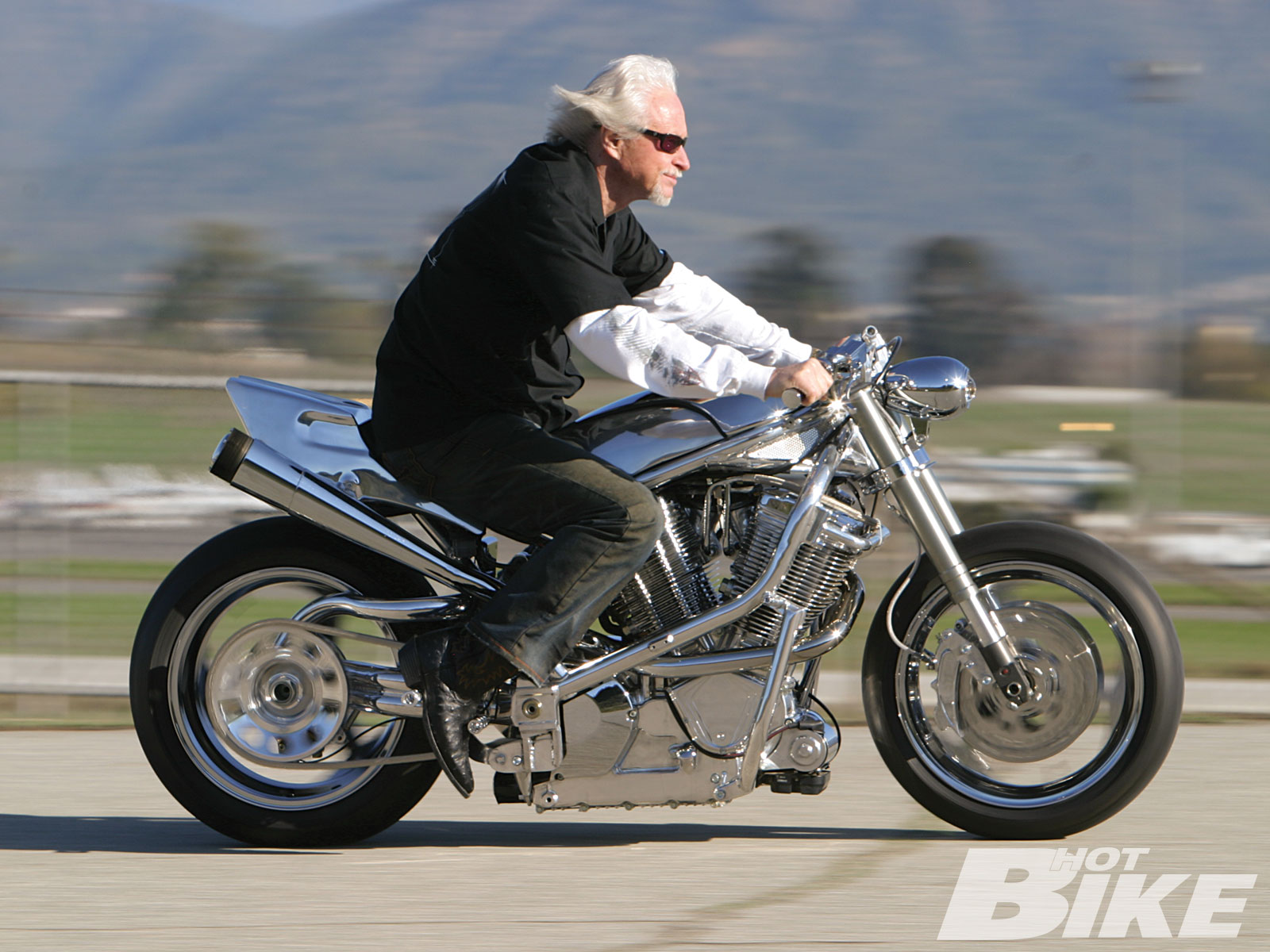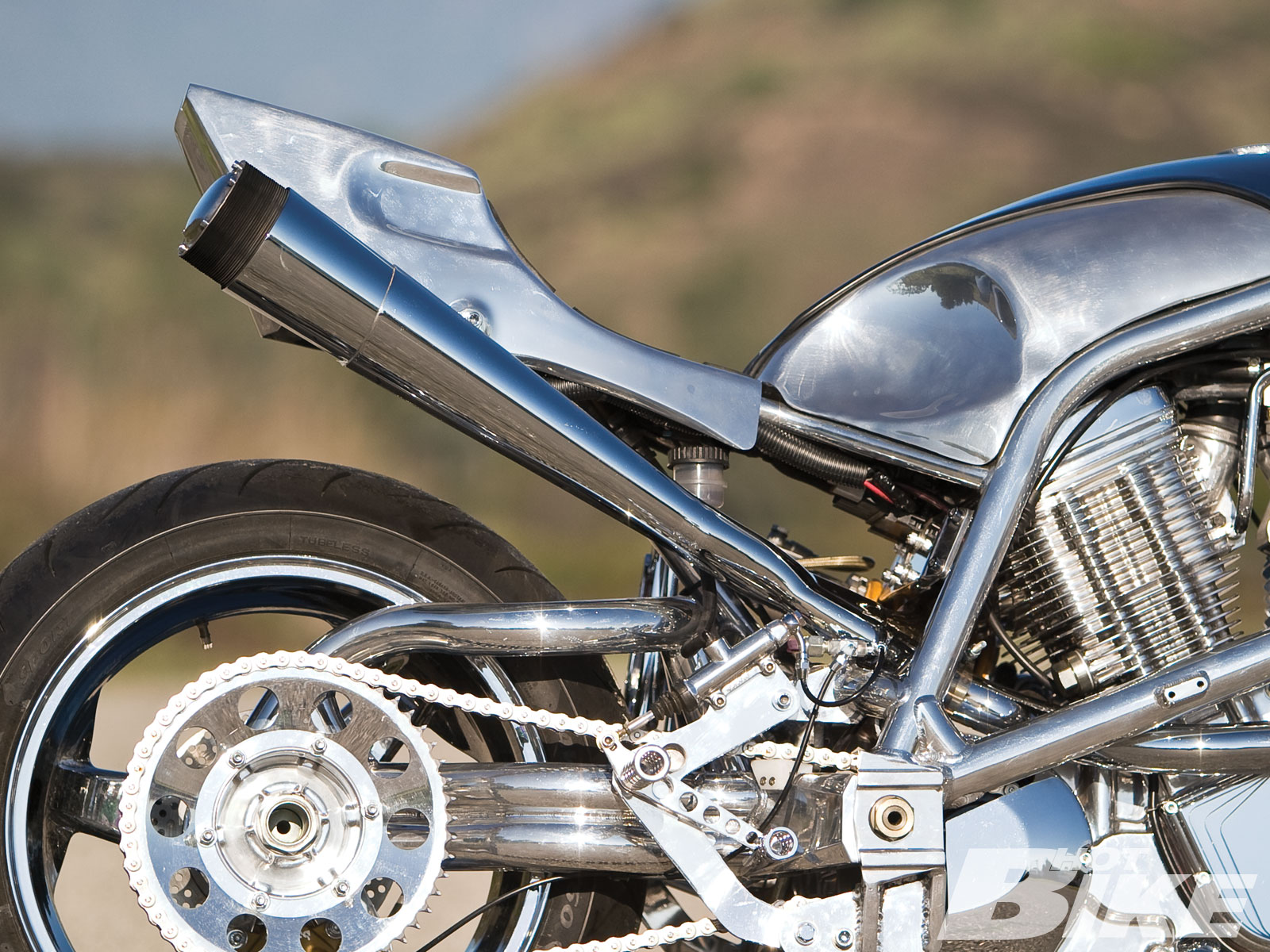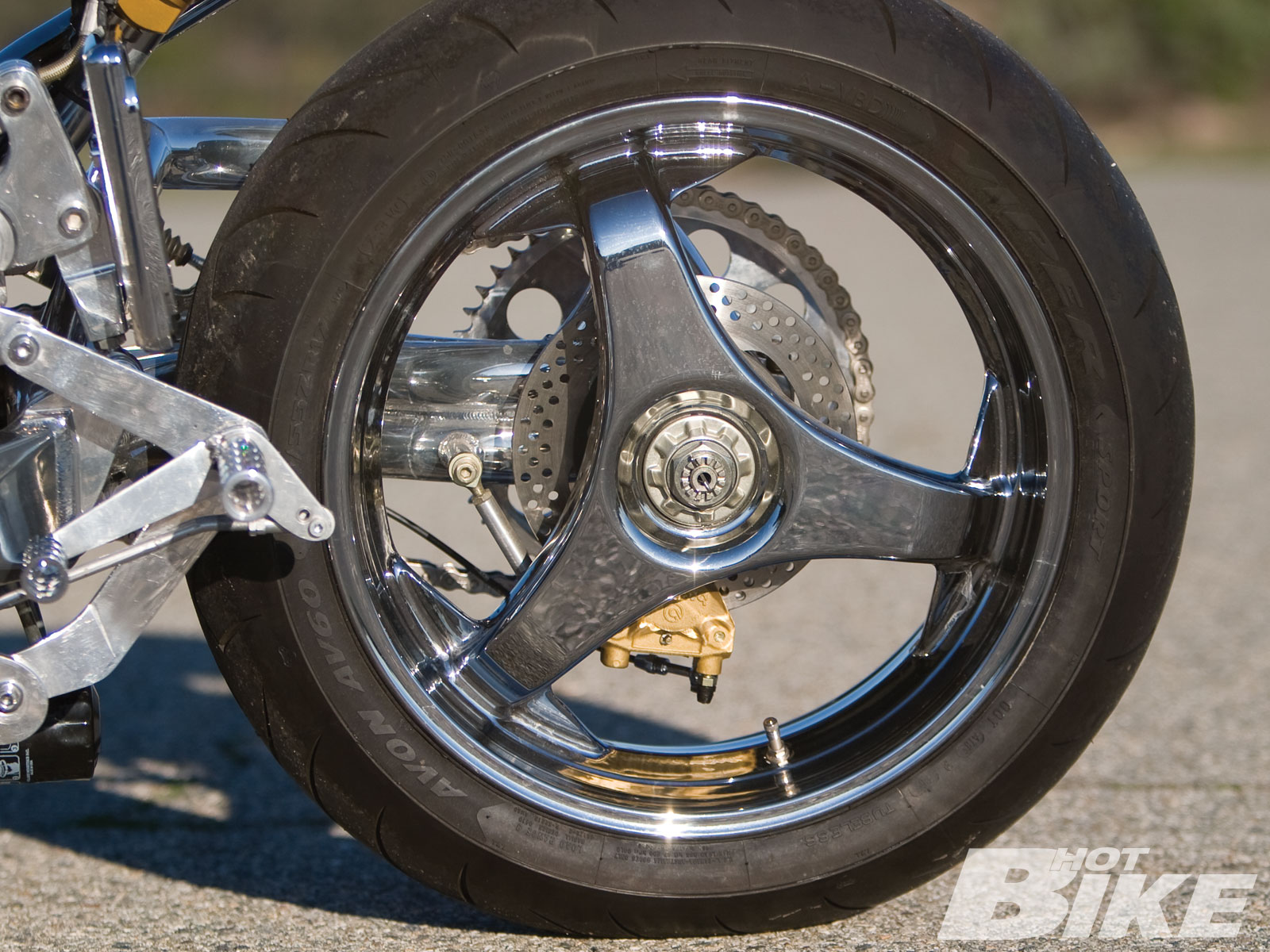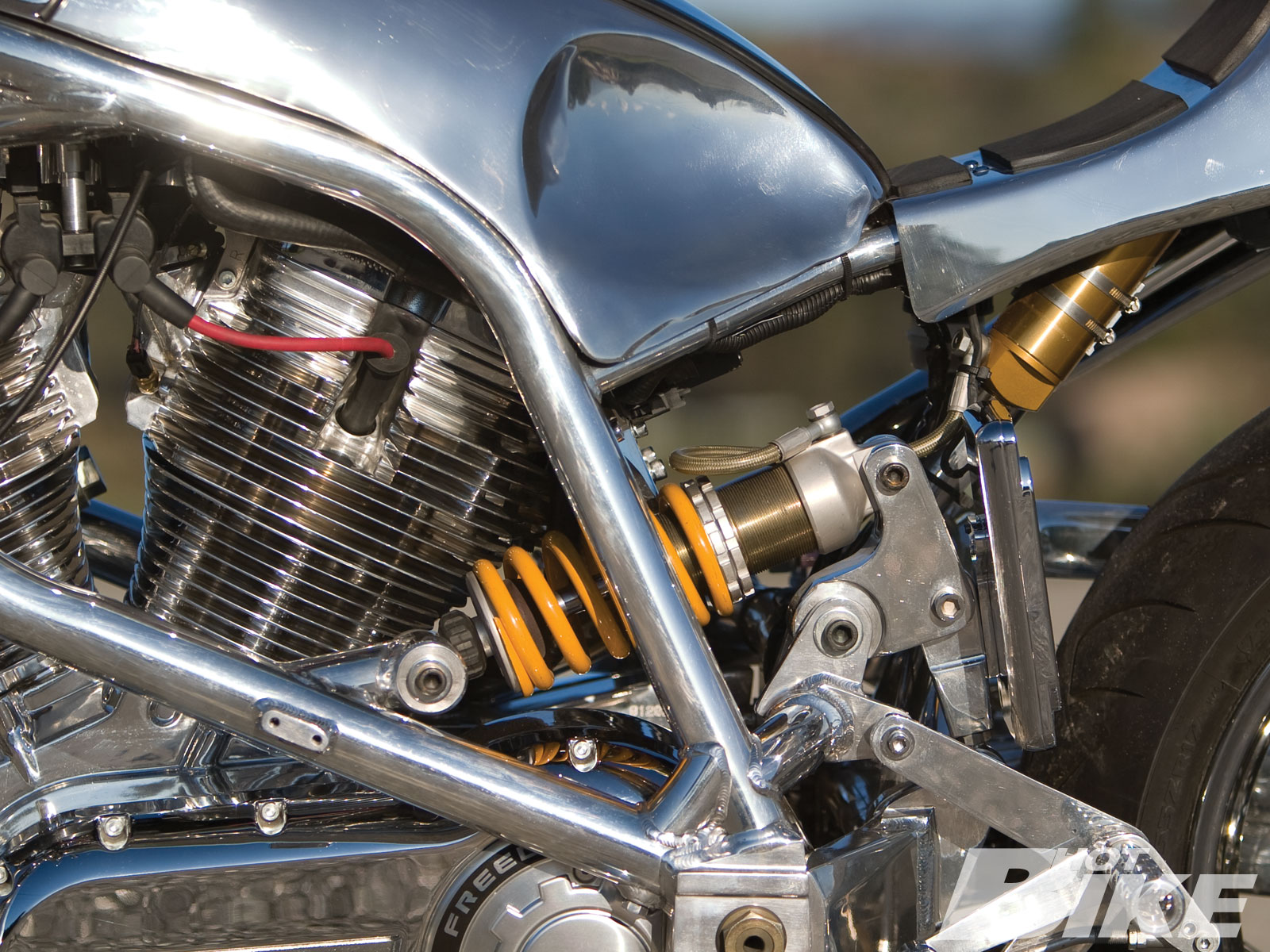 In the late '60s, chopping stock bikes to unrecognizable works of art was rapidly becoming the norm for motorcycle enthusiasts. This pastime would inspire future generations for decades, if not centuries to come. There aren't too many names in the game that have persevered from the beginning to the present day, but one man stands out: Arlen Ness
The man, the myth, the legend, the king of customs, as he's been called, is not your average bike-building celebrity. He's the one who kind of started it all so to speak, but didn't let celebrity get to his head. He has an air about him, a humble, meek, kind demeanor that allows him the accord to stop and talk bikes with any one of his fans in a calm. Maybe that's the secret of his success. Or maybe it's a culmination of fine art, integrity, and professionalism. All in all he's been in the game for more than 40 years and he still continues to wow us with his fantastic creations like this Victory racer.
Arlen's developed quite a relationship with the folks at Victory Motorcycles. He's has been working with Victory for nine years now and really digs the direction the company is headed. He likes the fact that Victory is a made up of young, bright, enthusiastic guys, "That are open to neat shit! You do something cool, they love it!" Arlen expressed. In total he has 12 different types of motorcycles utilizing Victory power plants, from choppers to lowliners to naked bikes. "I thought I'd build a sport bike for Victory to maybe get some ideas for down the road. I had the frame already, cut it up and modified it, and basically had to get that motor in with a shoehorn," Arlen said. Arlen is a big fan of Victory's 106ci engine, which is why he basically just had Victory send him the heads, cases, and barrels so he could give them a high polish and send it back to have it pieced together on the assembly line. Once he got the engine back, he mocked it all up in the frame.
Arlen used a Spondon Engineering frame and swingarm, which he'd never used before. "This frame was originally for a Sportster project that [my son] Cory [Ness] was working on that was just sitting around so I snatched it up. It's light; the single-sided swingarm is more like a race frame more than anything, and the entire frame and swingarm weighs about 37 pounds," Arlen stated. If you haven't noticed the shock that connects the frame to the swingarm (and came with the chassis), take a gander. It's got racing written all over it.
To flow with the lines of the frame, Team Ness handmade the pipe to be an upswept collector that spits spent gases toward the heavens in tribute to the motorcycle gods, and the way this baby sounds, the gods must be pleased.
To maintain lightness, the bodywork is all made up of aluminum that's been highly polished to a mirror-like shine (try photographing this thing!). The wheels are made from magnesium, but to try and stick to the polish theme, Arlen says that the traditional chroming baths don't work well with magnesium, so he went another route and powdercoated the wheels chrome. This is a fine example of his attention to detail, his je ne sais quoi.
He hasn't spent too much time riding this racer as he's a very busy man. Let's just say he traveled about 200 days in the past year. That's something he plans on fixing when he gets some time, because this is one bike he's definitely going to want some time with.
| | |
| --- | --- |
| ### SPECIFICATIONS | |
| BIKE OWNER | Arlen Ness |
| SHOP NAME | Arlen Ness |
| SHOP PHONE | (925) 479-6350 |
| SHOP WEBSITE | arlenness.com |
| YEAR/MAKE/MODEL | '09/Victory/Custom |
| FABRICATION | Team Ness |
| ASSEMBLY | Team Ness |
| BUILD TIME | One year |
| | |
| --- | --- |
| ENGINE | |
| YEAR/MANUFACTURER | '09/Victory |
| TYPE/SIZE | V-twin/106ci |
| BUILDER | Victory |
| CASES | Victory |
| CYLINDERS | Victory |
| HEADS | Victory |
| ROCKER BOXES | Victory |
| EFI | Victory |
| AIR CLEANER | Ness |
| EXHAUST | Ness |
| | |
| --- | --- |
| TRANSMISSION | |
| YEAR/MANUFACTURER/TYPE | '09/Victory/six-speed |
| CASE | Victory |
| CLUTCH | Victory |
| PRIMARY DRIVE | Victory |
| | |
| --- | --- |
| FRAME | |
| YEAR/MANUFACTURER | '09/Spondon |
| RAKE | 29 degrees |
| STRETCH | None |
| | |
| --- | --- |
| SUSPENSION | |
| MANUFACTURER FRONT | Ceriani |
| LENGTH | Stock |
| TRIPLE TREES | Ceriani |
| MANUFACTURER REAR | Spondon |
| SWINGARM | Spondon |
| SHOCKS | Spondon |
| | |
| --- | --- |
| WHEELS, TIRES, AND BRAKES | |
| MANUFACTURER FRONT/TYPE | Ness billet wheel |
| SIZE-HEIGHT/WIDTH | 16×3 |
| TIRE/SIZE | Avon/16 |
| CALIPER | Ness |
| ROTOR | Ness |
| MANUFACTURER REAR/TYPE | Ness billet wheel |
| SIZE-HEIGHT/WIDTH | 17×5 |
| TIRE/SIZE | Avon/17 |
| CALIPER | Ness |
| ROTOR | Ness |
| | |
| --- | --- |
| FINISH/PAINT | |
| COLOR | No paint, all polished aluminum |
| PAINTER | N/A |
| GRAPHICS | N/A |
| | |
| --- | --- |
| ACCESSORIES | |
| REAR FENDER | Handmade aluminum |
| FENDER STRUTS | None |
| GAS TANK & CAP | Handmade aluminum |
| OIL TANK | In motor |
| HANDLEBARS | Ness |
| HAND CONTROLS | Ness |
| FOOT CONTROLS | Ness |
| FOOTPEGS | Ness |
| HEADLIGHT | Ness |
| TAILLIGHT | Ness |
| LICENSE MOUNT | Ness |
| SEAT | Ness |