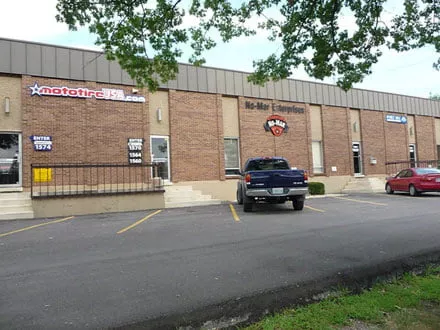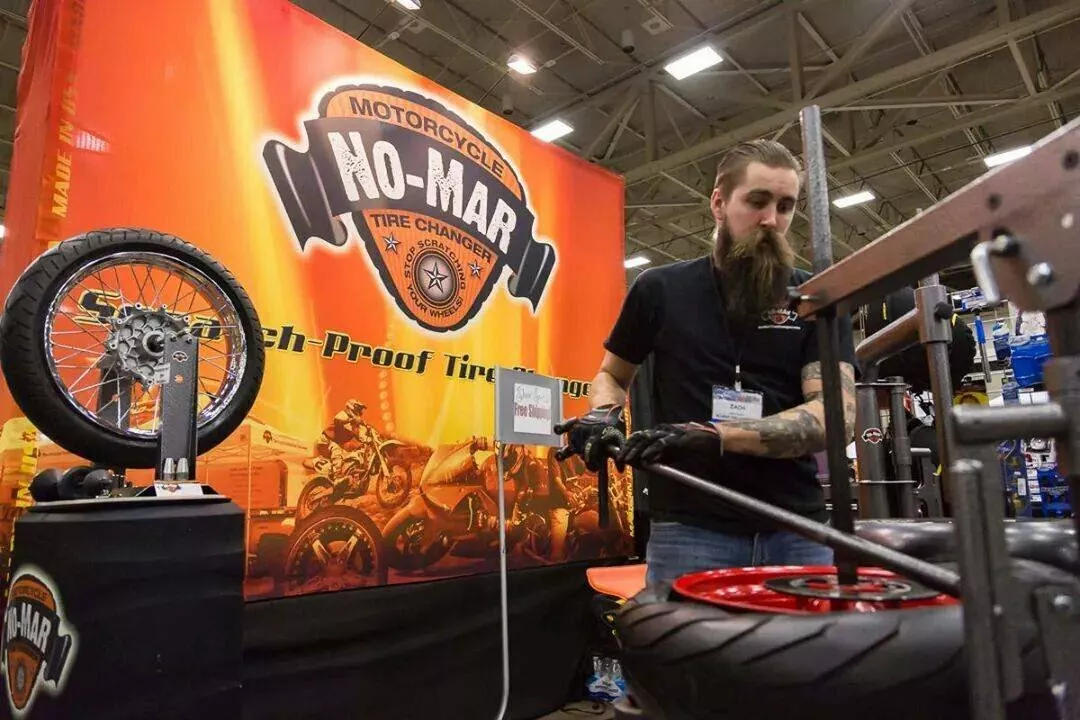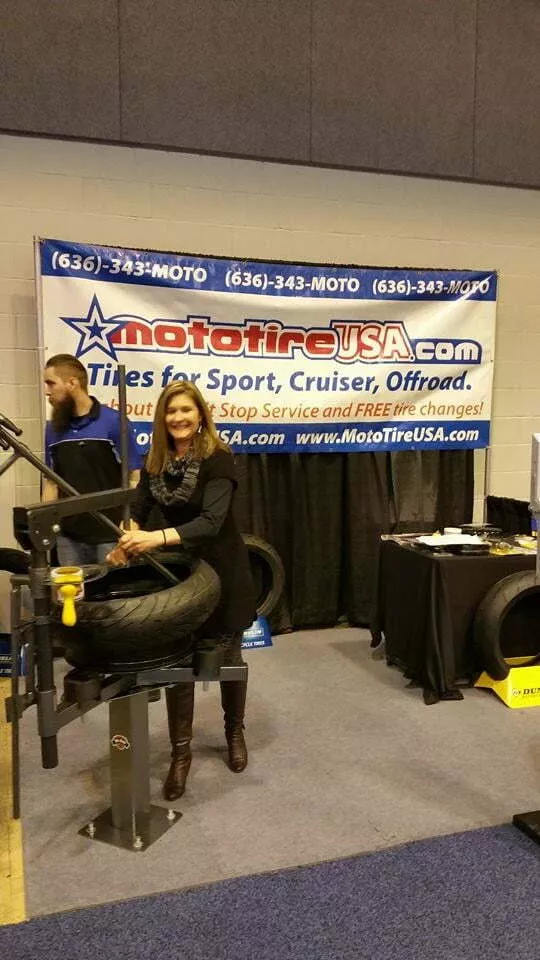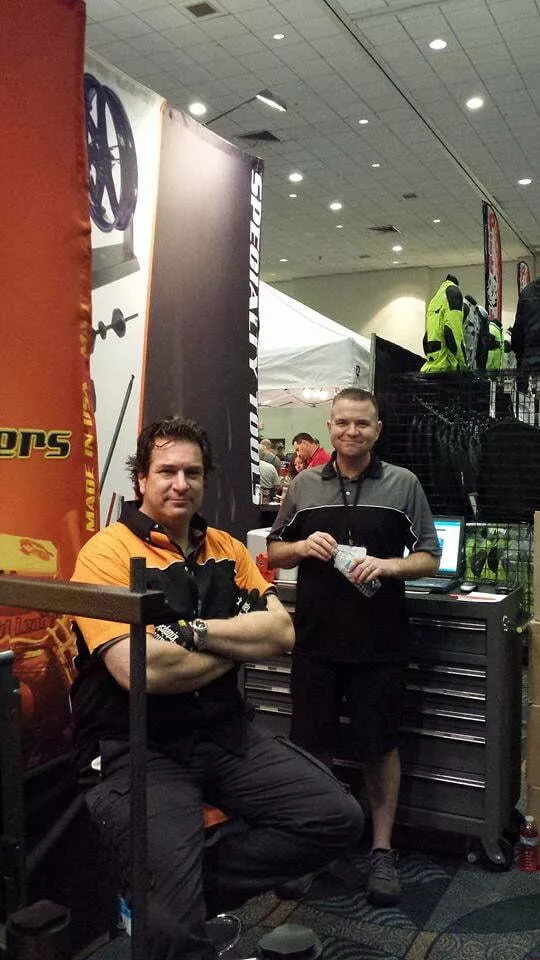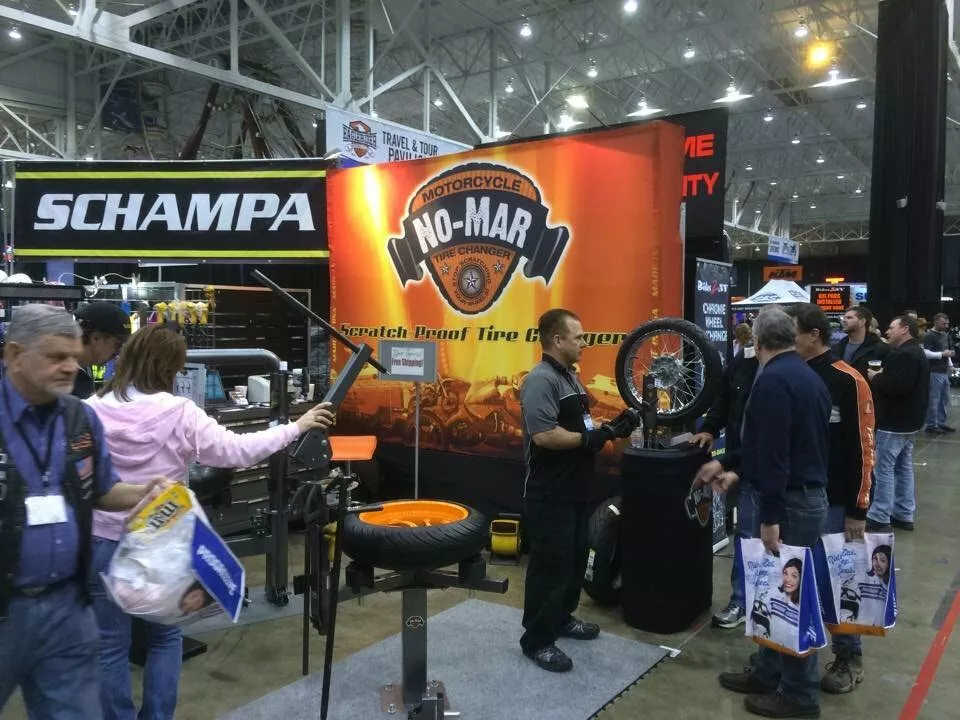 Company Name– No-Mar Tire Changer
Location- Fenton, MO
Company History – Owner-Steve Nemish, Sue Lakebrink Nemish
Staff– 9 employees
Years in business– 11yrs
How it all started– Well to tell you the truth the company all started when the owners went to a trip to the International Motorcycle Show in Chicago. During that afternoon there, Steve and Sue noted that there was no manual tire changers being shown there. They left the show that afternoon and said, "We will be back next year with a product no had ever seen." While driving home Steve was in the backseat make a drawing. So we established as No-Mar Enterprises LLC in 2005 to manufacture and market our unique tire changing tools and equipment. Our products have been developed, patented, and trademarked by Steve Nemish . Over the years newer and more unique designs, brands and patented tools have been added to our tire changing system. In 2010 we incorporated. Our brand(s) include No-Mar, Cycle Hill and MotoTireUSA. We present our patented Mount Demount bar, Posi-Clamp wheel lock, Block and cam wheel lock (Patented), Large Clamping cones (Patented), SpoonBar (Patented), Bike Link and various other patented assemblies, continually developing unique tire tools and products with our primary focus on the Motorcycle Industry, however, many other sectors benefit as well. No-Mar manufacturing and distribution facilities are just outside of St. Louis, Missouri, USA. Fabrication of some of our components utilize American manufacturers for steel and iron castings, machining, molded plastic parts, special hardware, chemicals, and steel. In-house we produce 96 percent of our products including most of our own special hardware as well as molding our own foam packaging. Some of our machines run twenty four hours per day. Annual parts production exceeds one million. Web based marketing is utilized as our primary model. Internet sales allow us to reach our special customers in all corners of the world. Our exports average 18%, up 15% from 2010 to 2013. Now as of summer 2014 we have expanded our products to Australia with a warehouse in Sydney. and have show a growth there in that market of 16%. We also have, as of 2015 are going to be apart of the Parts Unlimited/ Drag Specialties Catalog along with K&L Supply as well. This has allowed us to produce a new hybrid changer called the CH200. our customer base growing over 5000 new accounts per year.
Product Line– Cyclehill, Ch200, Cyclehill Pro, Classic, and our Professional
New Products for 2015– Ch200, Cycehill Pro, Model update now to new 4th generation of the Classic.
Why are you supporting the Hot Bike Tour?– Well that is a great question. The Bonnier Group we have had a great relationship over the years doing interviews at shows and advertising. But No Mar Tire Changer as a company and a brand does reach every motorcycle rider at every level or type of riding. Expanding to a wider range of customer is very important in growth we haven't reached to the V-Twin market like we would like to. We felt that going and joying in more with the market directly is the best option. Partnering with Hot Bike and Bagger for the tour is a great way to meet with people in the V-twin community directly. Hot Bike and Bagger magazines are the V-Twin industry standard, nothing is better. We feel we are the same and what to be apart of the Best.
What are you offering the participants at Hot Bike Tour? – We are offering to the Winners of Hot Bike and to Bagger, each a New No Mar Tire Changer- Professional model with our New Monster Frame arm kits which will allow for the operator to change a 7-to-33inch wheel!! We will have product sampling with live demo's along with vending on site at each of the stops during the tour. Well will also be offering Tire service as well at each stop.