"Well, I mean that for nearly 3,000 years man has been searching for the lost ark. It's not something to be taken lightly. No one knows its secrets. It's like nothing you've ever gone after before." —Marcus Brody, Raiders of the Lost Ark (1981)
Obviously, no one's ever going to confuse the Ark of the Covenant with a Harley-Davidson FXR. For one thing, no one's ever had divine fire shoot out of a bike and turn people into human patty melts.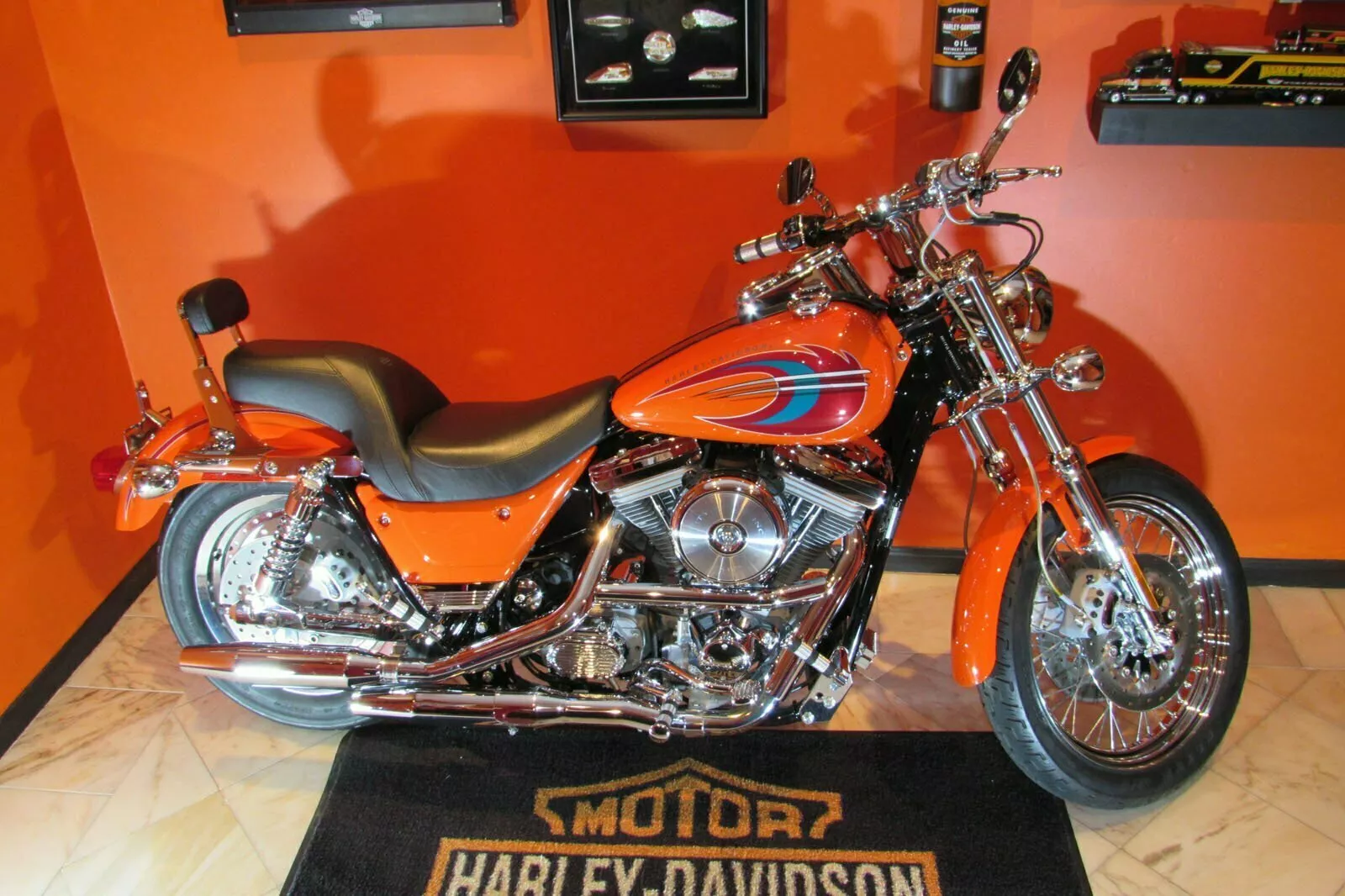 It's pretty common knowledge that Harley discontinued the FXR in the '90s in favor of the less expensively produced Dyna. Later on, H-D's CVO division created the FXR3 and FXR4, the latter being produced with the last Evo motors for the year 2000. The bike you see here is the very last production model for both the FXR frame and the Evolution motor to roll off the assembly line. Holding claim to both of those honors is what makes this motorcycle such a rarity and a pleasure to bring to you. I was kind of giddy when the current owner, James Bakalich of parts4less.com, got back to me on it.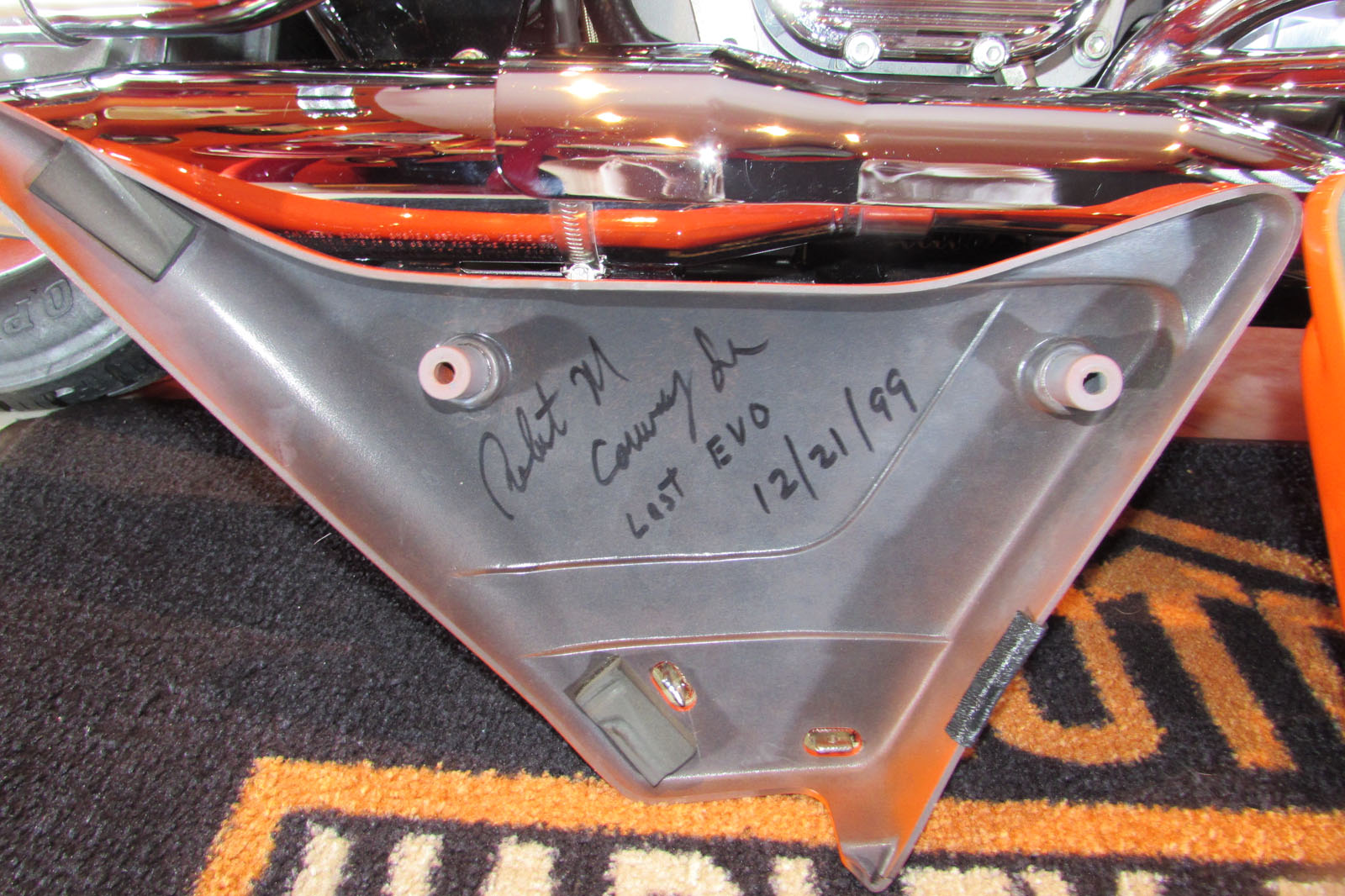 James isn't the original owner though. That privilege fell to Norman Howell in Florida who came into this bike by that oldest of standbys: dumb luck. Howell's no stranger to bikes. He first threw leg over a saddle more than 55 years ago. When he saw a yellow FXR in a magazine article in 1999 or so, he knew he had to have one as his next scoot. Dick Farmer's Harley-Davidson was his go-to dealership; they'd sold him his Sportster and later his Electra Glide. Surely, they'd have one of those FXR things lying around, right?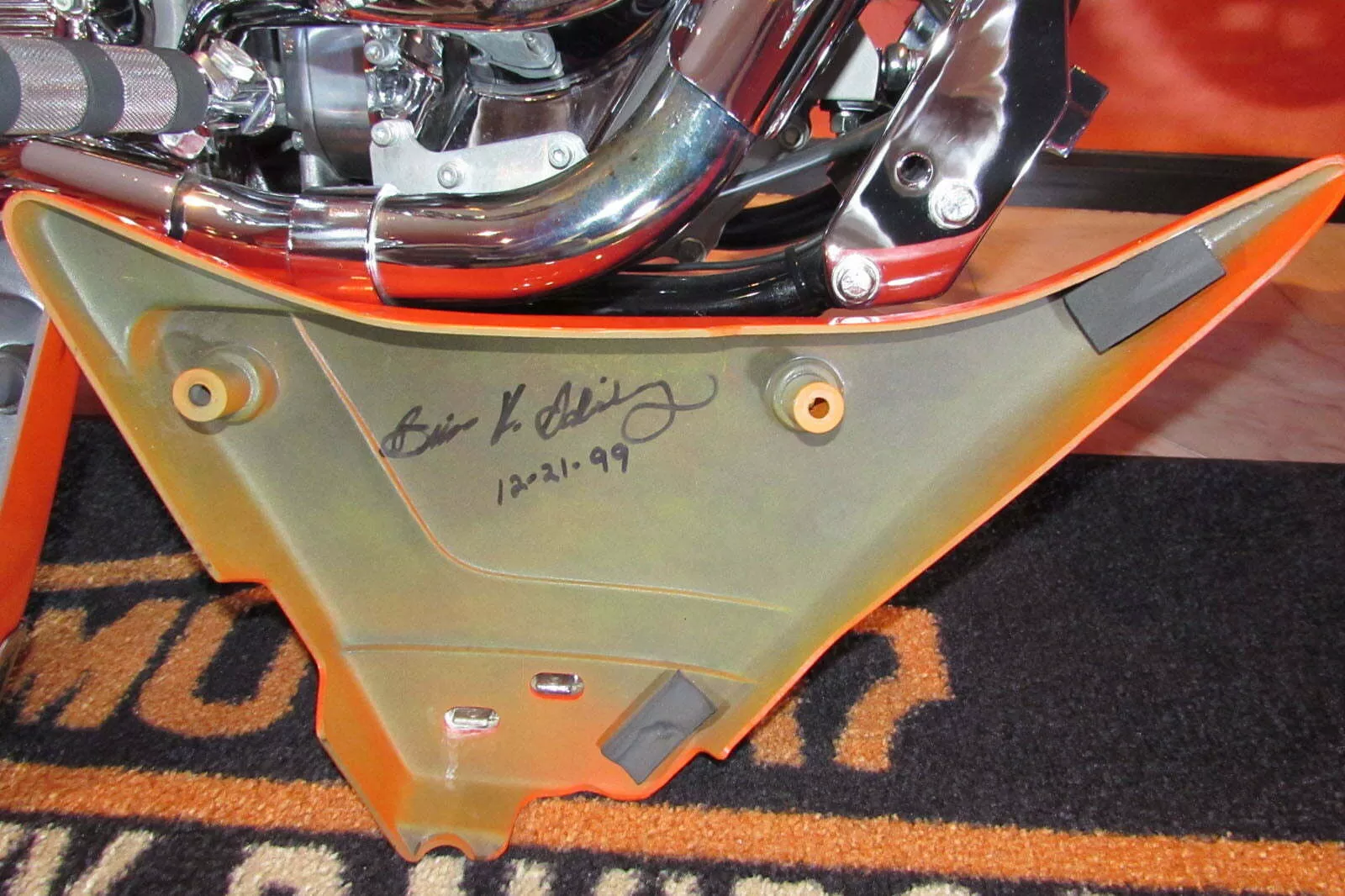 Why, yes, yes they did. Not only did the dealership have a shiny new CVO FXR4, but Howell pulled a barn find without the barn. Unknown to him or Dick Farmer's, the new FXR Howell took home was the very last ever made.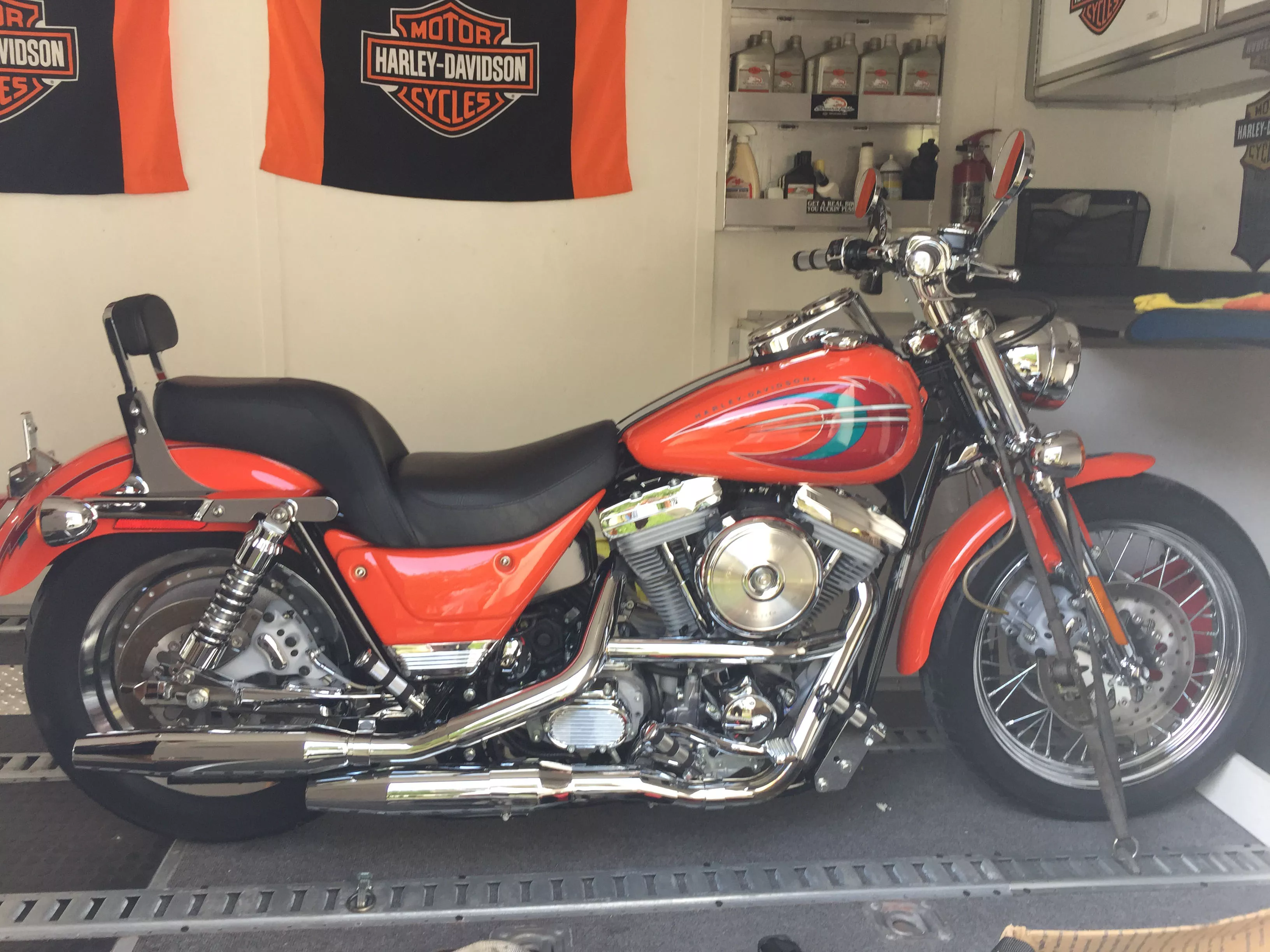 That information didn't come to light until after Howell broke in his new motorcycle. He got it home, put some miles on it, and went to clean it. That's when Howell found out he was on the bonus plan. In removing a side panel, he opened a mystery. Why the hell were there signatures on the inside of said bodywork? His wonder only deepened on finding another signature on the frame, where the writing was covered by the seat before he took it off during cleaning.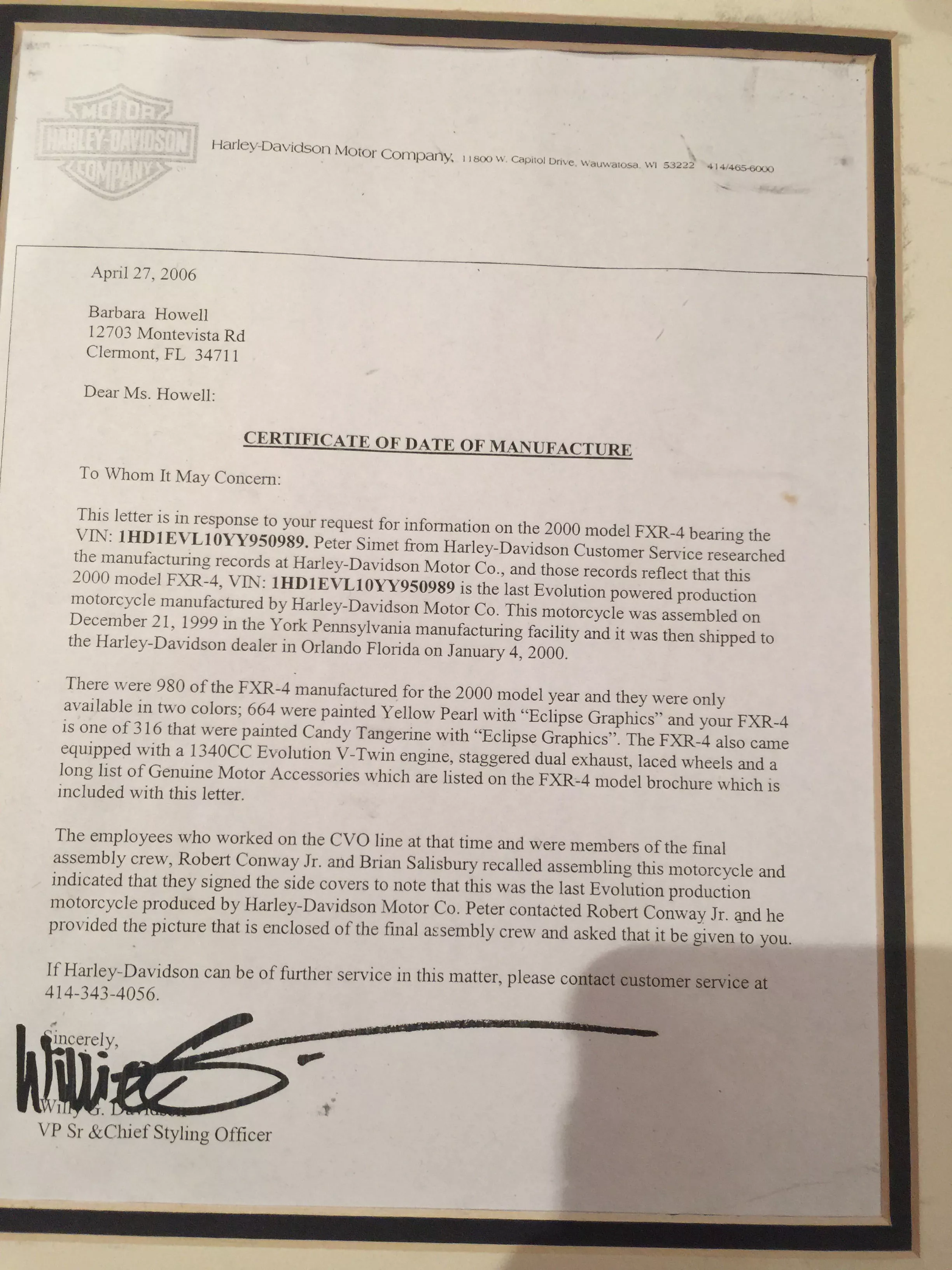 "I rode it back down there and showed it to Farmer's," Howell explained. "They'd never checked the covers and had no idea it was the last FXR." Why would they? The bike arrives at the dealership all shiny and clean. If it runs fine, there's no reason to start pulling off covers. Someone neglected to tell the dealership that they had the last of the breed on their showroom floor. If they had, I strongly doubt Howell would've been able to purchase it. A few years later, Howell's wife got in contact with the factory to get the full info on his FXR as a surprise for Father's Day. They emailed and phoned back and forth. Harley-Davidson did the research on it. Eventually, they sent Howell the paperwork on it stating that this bike was, in fact, the final FXR and Evolution motor Harley ever made. The CVO team had taken a shot of themselves with the bike in the foreground, and he received a copy of that too.
The only drawback was owning an FXR you can't ride. Why would you? The thrill of taking it on the road would be intense, but think of how bad you'd feel if you even scratched the factory paint on a piece of H-D history this rare. Howell wrapped it up, maintained it regularly, and kept the bike to himself for well over a decade. Only moving out of his house to smaller digs would part him from his FXR.
Opting to sell the last verified FXR in history, he listed it for sale online. Scammers stepped up to bottom feed him out of his treasure, but Howell was having none of it. It wasn't until James bugged the hell out of him to buy it that Howell relented.
Nowadays, the FXR sits at an undisclosed location guarded by a big bad dog named Ninja. Unlike the Ark of the Covenant, no one's putting this beauty in a crate to be researched by "top men."
Source