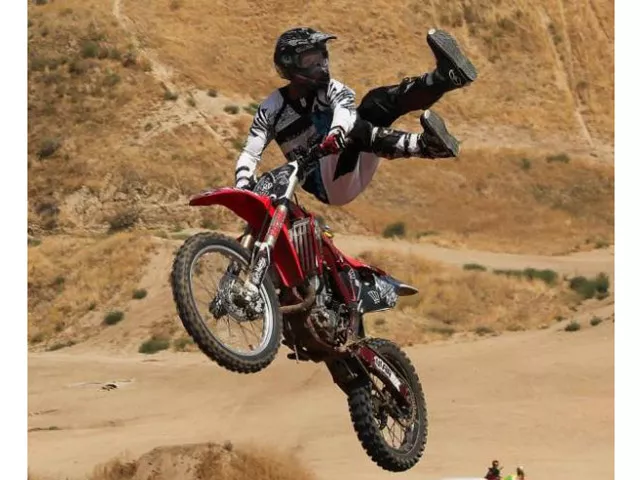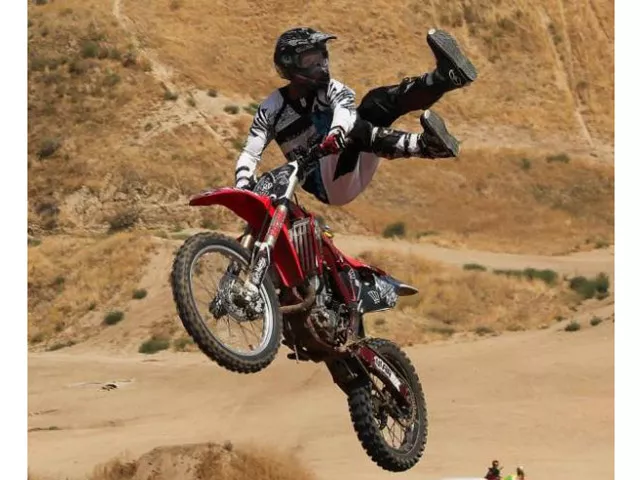 Buffalo Chip, S.D. (March 24, 2011) - In addition to the incredible bikes, races, live music and unbeatable biker atmosphere, the Legendary Buffalo Chip will also be adding mind-blowing jumps and multiple world record attempts to their selection of world-class entertainment during their 30th anniversary Sturgis Rally Week celebration.
The Chip has literally kicked into high gear preparing for their 30th year as Sturgis' premier entertainment venue and travel destination by penning a contract with motocross Pro Riders and distance jumpers Trigger Gumm and Derrick McClintock. As a result, the Chip's Sporting Complex will stand witness to an array of once-in-a-lifetime feats and skill testing jumps.
The daredevils will be performing 200 plus jumps daily from August 5 through August 13 with all jumps taking place at midnight. Attempting an array of world record distance jumps including one astounding world record breaking jump on a Harley Davidson during the course of the week, Gumm and McClintock are looking forward to showing Chipsters what a gnarly jump really looks like.
Trigger Gumm is a five-time Guinness Book World Record holder for longest distance jump. He last held the distance record of 277.5 feet in 2005 when he launched his service Honda 500 cc motorcycle over 90 yards in the air. He also held the record for height in jumping after achieving an 80 ft high vertical. Although both records have since been beaten, Gumm remains a legendary contender and constant threat within the Moto X Empire. Originally from San Clemente, CA, Gumm has appeared in over 15 videos and is attracted to the risk, excitement and wild times that Moto X is renowned for. A Pro Rider for life, Gumm has broken world records and an array of bones to maintain his status as the man of steel, capable of jumping anything that crosses his path.
Derrick McClintock began racing motocross at the age of three but once introduced to the world of Freestyle Moto X; he quickly became intrigued by the new riding style and was soon a freestyle riding force to be reckoned with. Originally from Orange County, CA, at the age of 16 he turned pro and raced the AMA Supercross and Outdoor Nationals. One of McClintock's greatest triumphs is being able to ride with childhood hero, Trigger Gumm who has also played a large role in turning him on to distance jumping. This year McClintock has big plans and is scheduled to jump multiple distance jumps.
"We're thrilled to have Trigger and Derrick amaze and astonish our guests with their multiple world record distance jumps," explains Buffalo Chip owner, Rod Woodruff. "They will be performing a number of outstanding feats and we're proud to have them on board as part of our entertainment lineup. We strive to provide visitors with a large and varied selection of things to do and see and I think we've accomplished that with these two."
You won't want to miss the opportunity to witness these legendary jumps in person. The Legendary Buffalo Chip offers the most authentic Sturgis experience around and there really is no reason to go anywhere else. Visit www.buffalochip.com now to make your reservations for Sturgis Rally Week 2011 and enjoy the largest selection of entertainment and events at the Best Party Anywhere!
The summer's largest biker party is at the Legendary Buffalo Chip during Sturgis Rally Week, August 6-13. The Legendary Buffalo Chip is proud to celebrate their 30th anniversary as Sturgis' premier entertainment venue and motorcycle travel destination by offering guests an outstanding selection of world-class entertainment, food, amenities, art, vendors, charitable efforts, and countless memories. To experience the true spirit of Sturgis Rally Week 2011 visit www.buffalochip.com.