Sometimes, life just tosses something perfect in your lap. One of those times was when I was down to my last dollar in Vegas and ran it all the way up to winning a poker tournament at the Sahara. Now, it's a bike feature that starts with a UFO abduction that landed Robert "Woody" Wooden this 1937 Indian Chief.
Well, I like to think it was a UFO abduction, anyway. For all I really know, the previous owner of this bike went out for cigarettes and beer one day then just kept driving. Unless you're actually in the saucer praying the little aliens probe the other guy first while you escape, you can't be certain anyone was actually taken by little silver men saying, "Ack ack ack," over and over.
Woody was a self-employed house painter working alongside his wife when all this started. Mid-job, his buddy Griz calls.
"They're selling off the contents of this guy's trailer house. You should get down here."
It turns out the guy who owned the trailer, who was kind of a UFO buff, just walked away leaving everything behind in his trailer house. We're talking socks, shirts, underwear, and all personal items.
Oh, and the majority of what is now Woody's 1937 Indian Chief.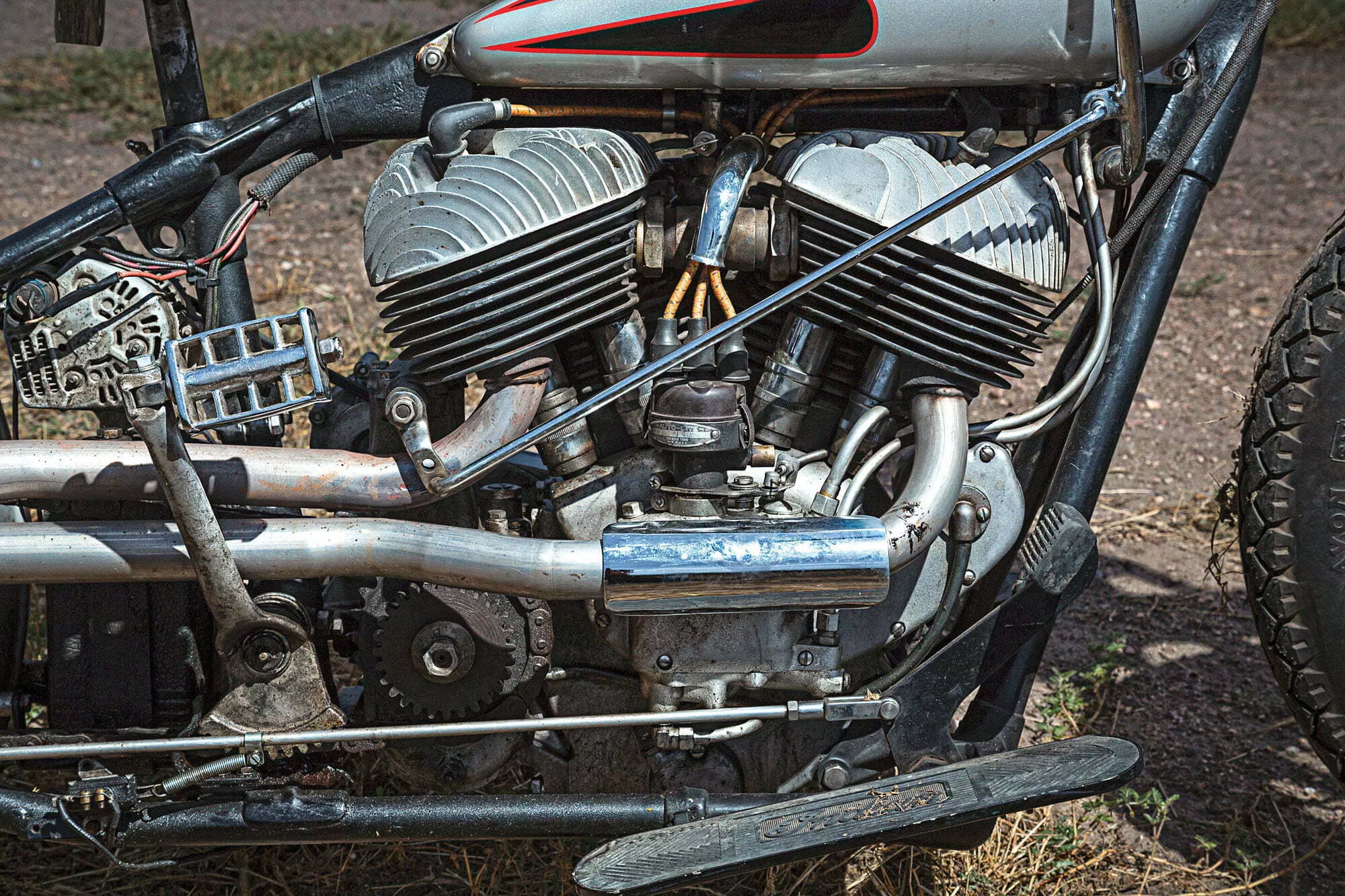 Considering the guy disappeared under mysterious circumstances, it fits that the corpse of his Indian was scattered all over the scene -style. Woody discovered the rear wheel and brake assembly in the shed, that kind of thing. He met the executor who was taking care of the sale of everything. As they slowly picked through the trailer house, Woody pieced together the dead Indian part by part, room to room. Only the skeleton and front end were missing.
"I kept going back out there, especially the day they're moving the trailer, thinking that when they pull this trailer off that maybe the frame and front end are going to be underneath it," he says. Sadly, this was not the case.
A missing chassis was the least of Woody's obstacles at this point though. Before he could even think about hunting up a new frame and fork, he needed money. When you're self-employed, it can be feast or famine in the cash department. When you're and self-employed, there's a sentence your spouse might get real tired of hearing real fast.
"But, baby, this is a once-in-a-lifetime chance to buy an old bike."
You know after many years of riding and partying, wrenching on bikes, and buying shit, sometimes an old lady just gets tired of all of it. So of course Woody did what any responsible man would do in this situation.
He ran up his credit card to buy everything that was in that trailer related to the '37 chief. It's the American way.
With the body parts back home in the garage, Woody turned to his racer buddy, Jim Wall, for the frame. Jim hooked him up with an Indian chassis that had been cut up for dirt racing or something similar. What's kind of cool is that the frame was only 12 digits off from matching the engine case numbers. A swap for some cash and Indian transmission parts to Jim later, Woody had what he needed. It was surgery time.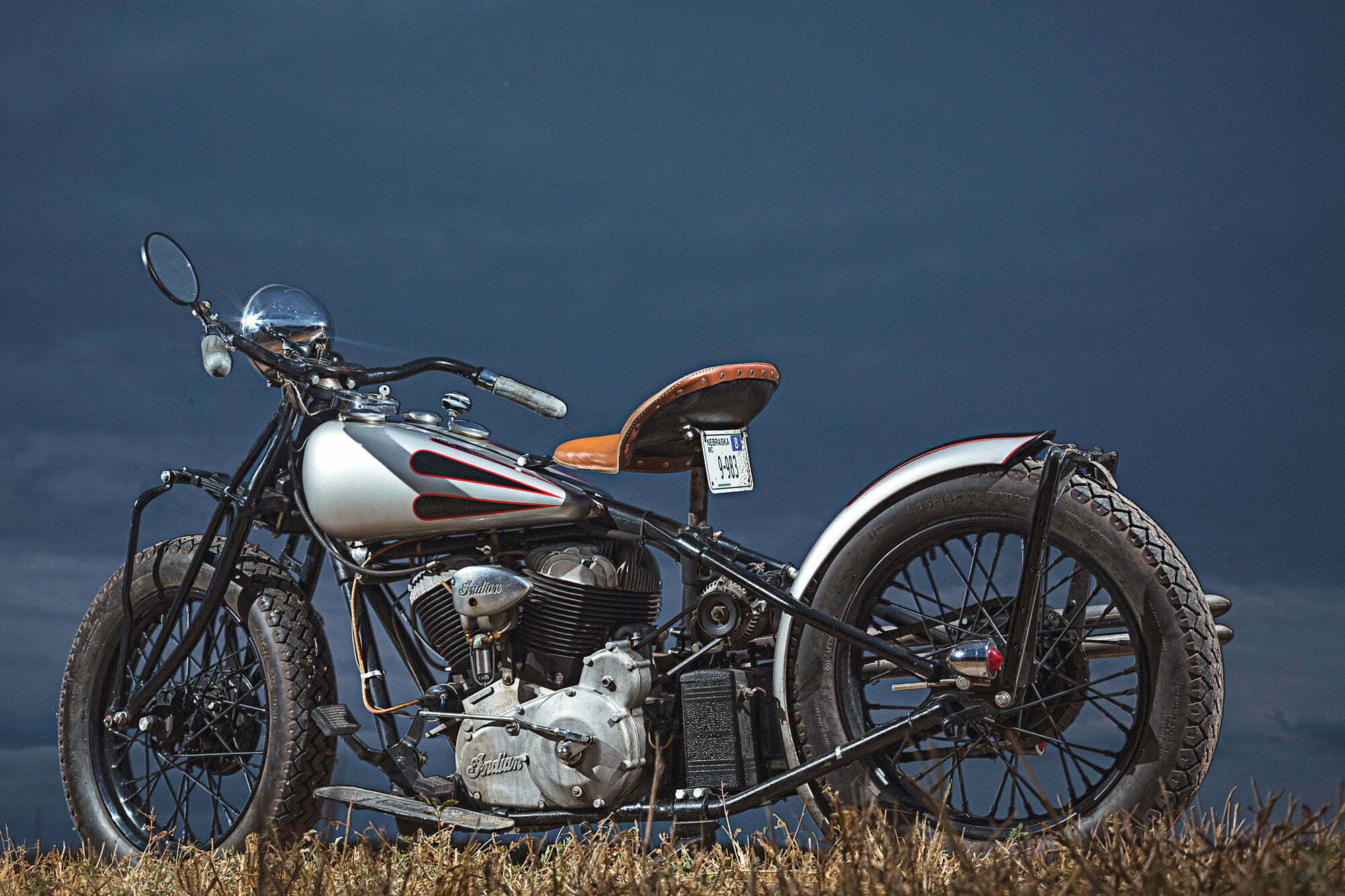 Everything that was cut off from the frame was carefully recreated and welded back on to recreate the stock look—not, however, the stock feel. "I have all that it takes to make it stock, all the way through, including engine cylinders and heads and the sheet metal, but it's so damn fun to ride, even in heavy downpours of rain that I just can't make the jump to make it stock again," Woody says. "I'd rather stumble upon another chassis to make a bagger than change this bike." This is his favorite bike to ride and runs very strong. He's even let his friends ride it, though briefly, while they were on their way to Brooklyn, including Ryan Grossman, Kurpius, Troy Critchlow, and of course his local riding buddies.
It's been on the road 11 years now; the engine hasn't been touched since the first rebuild. Woody says, "It gets its miles in but can always use more! Other riders have been impressed with the way it handles and pulls when screwing on the throttle. The crankcases were engraved with the name of the original owner and city: Frank Satterthwait, York, NE."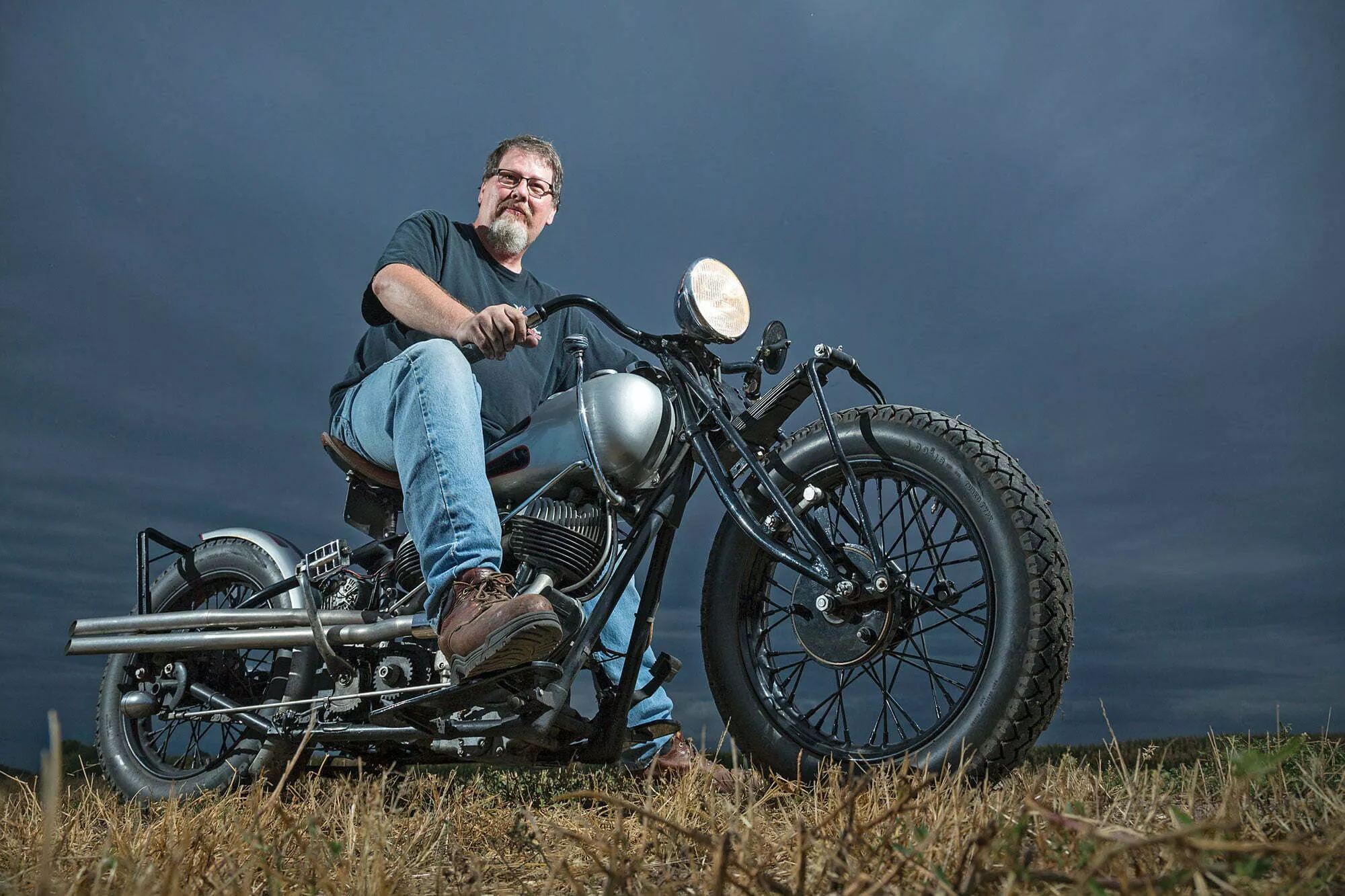 | Specifications | |
| --- | --- |
| General | |
| Owner | Robert "Woody" Wooden |
| Shop | Woody's Garage |
| Shop Phone | (308) 233-1279 |
| Year/Make/Model | 1937/Indian Chief |
| Fabrication | Woody Wooden |
| Build Time | 2 years |
| Engine | |
| Year/Type/Size | 1937/Indian/74ci |
| Builder | Machining by Todd Vinzant, assembly by Woody Wooden |
| Cases | '37 Indian |
| Cylinders | '46 or later Indian |
| Heads | '40 or later Bonneville heads |
| Cam | Factory Bonneville cams more lift and duration |
| Carb | M-Bonneville Linkert |
| Air Cleaner | Indian air horn |
| Exhaust | Gary Grassmeyer |
| Transmission | |
| Year/Type | 1937/3-speed crashbox |
| Gears | Indian |
| Clutch | Stock |
| Primary Drive | Stock| |
| Frame | |
| Year/Type | Stock 1937/Indian Chief| |
| Rake | Stock |
| Stretch | Stock |
| Suspension | |
| Front End | Stock leaf spring |
| Length | Stock | |
| Triple Trees | Stock |
| Swingarm | Zip |
| Rear Shocks | Nada |
| Wheels, Tires, and Brakes | |
| Front | |
| Builder/Size | Stock/18 in.| |
| Tire/Size | Avon 18MKII/18 in. |
| Drum | Stock |
| Hub | Stock |
| Rear | |
| Builder/Size | Stock/18 in.| |
| Tire/Size | Avon MKII/18 in. |
| Drum | Stock |
| Hub | Stock |
| Pulley | Stock |
| Sprocket | 43-tooth |
| Finish/Paint | |
| Manufacturer | Dupont |
| Colors | Yes |
| Painter | Kent Kelley |
| Graphics | Kent Kelley |
| Plating | Colorado Plating |
| Powdercoating | Ace Irrigation| |
| Accessories | |
| Front Fender | None |
| Rear Fender | Ribbed, Wassel (I think) |
| Gas Tank | Stock |
| Dash | None |
| Gauges | Stock |
| Handlebars | Sport Bars |
| Grips | Stock |
| Hand Controls | Internal throttle and ignition |
| Foot Controls | Foot clutch| |
| Floorboards | Stock |
| Headlight | '47 Motolamp |
| Taillight | Bullet lights |
| License Mount | Zip-ties to bottom of seat |
| Seat | Heather's Leathers |
| | |
---
Get the all the latest issue of Hot Bike magazine! Subscribe directly from us.