Melding their careers with a shared fervor for going fast, a team of Indian Motorcycle engineers continues to practice their art on two-wheeled skunk-works type projects after-hours in the office and at home. Now, in a seven-episode video series titled "A Passion For Speed", they're able to capture a glimpse of what happens in these creative sessions as the team prepares an Indian Scout and Indian Chief Dark Horse for land speed racing in El Mirage, Calif.
Located in the Mojave Desert, El Mirage dry lakebed has attracted speed enthusiasts for more than 60 years. At its best, the 1.3-mile-long hard and smooth track serves as a unique venue for testing a machine's maximum velocity. At its worst, under spectacular summer thunderstorms, it becomes an impassible quagmire of clay and silt.
"It's not a one-man show, by any means," says Michaelson. "It's everybody coming together and chipping in and building something phenomenal. And that really is the foundation of where Indian Motorcycle came from – a bunch of guys in the shop working for the win. And that's exactly what we're doing."
"At Indian Motorcycle we love riding and racing as much as our dedicated and passionate owners," says Reid Wilson, Marketing Director for Indian Motorcycle. "Wayne, Chet, Dan and Neil reflect the obsession we all have for motorcycling. All we needed to do was follow them with a camera and do some interviews. This was their passion project."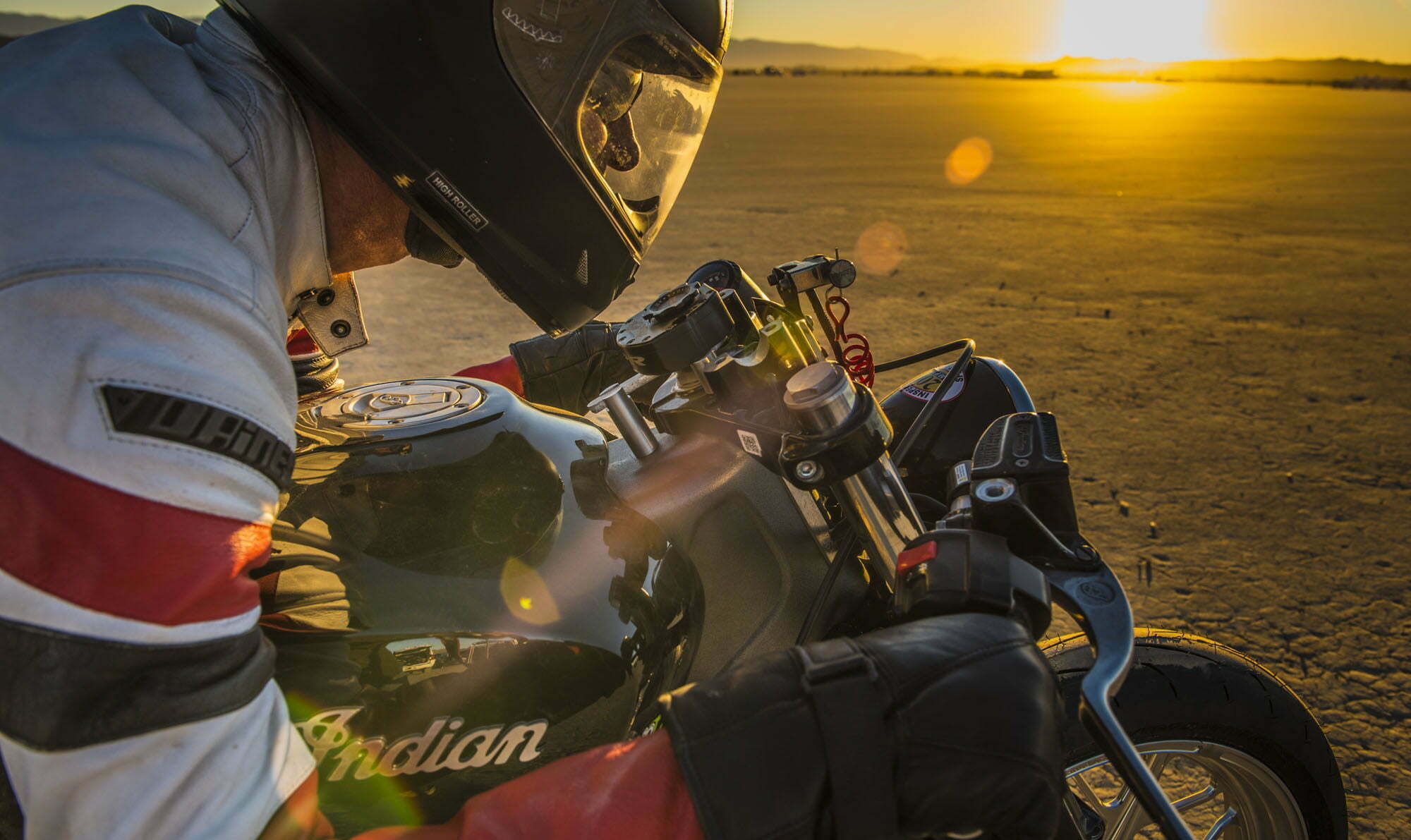 ABOUT INDIAN MOTORCYCLE
Indian Motorcycle, a wholly-owned subsidiary of Polaris Industries Inc. (NYSE: PII), is America's first motorcycle company. Founded in 1901, Indian Motorcycle has won the hearts of motorcyclists around the world and earned distinction as one of America's most legendary and iconic brands through unrivaled racing dominance, engineering prowess and countless innovations and industry firsts. Today that heritage and passion is reignited under new brand stewardship. To learn more, please visit www.indianmotorcycle.com.
ABOUT POLARIS INDUSTRIES
Polaris Industries Inc. (NYSE: PII) is a global powersports leader with annual 2015 sales of $4.7 billion. Polaris fuels the passion of riders, workers and outdoor enthusiasts with our RANGER, RZR and POLARIS GENERAL side-by-side off-road vehicles; our SPORTSMAN and POLARIS ACE all-terrain off-road vehicles; VICTORY and INDIAN MOTORCYCLE midsize and heavyweight motorcycles; SLINGSHOT moto-roadsters; and Polaris RMK, INDY, SWITCHBACK and RUSH snowmobiles. Polaris enhances the riding experience with parts, garments and accessories sold under multiple recognizable brands, and has a growing presence globally in adjacent markets with products including military and commercial off-road vehicles, and more.