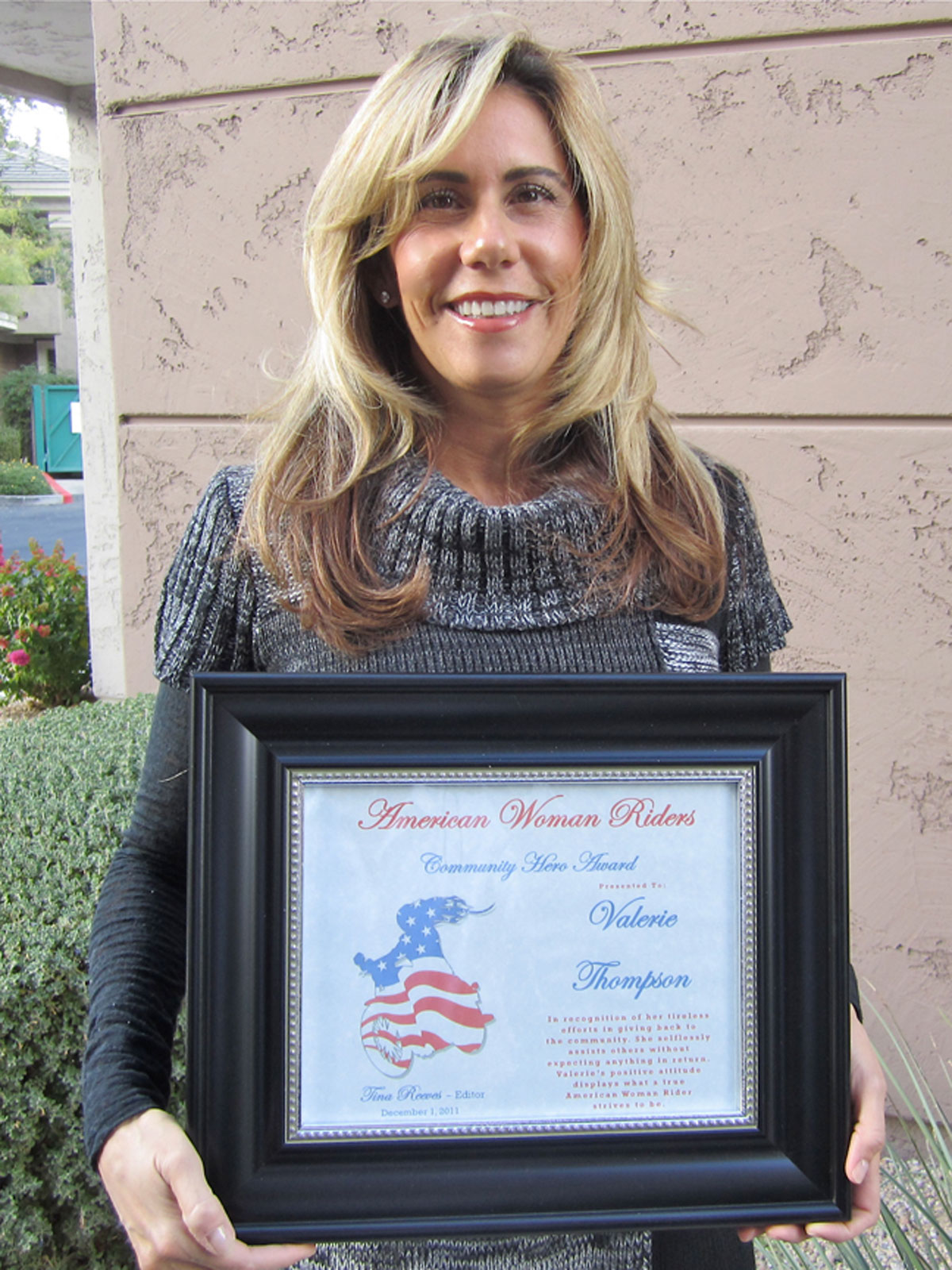 (Scottsdale, AZ) – December 9, 2011- Motorcycle racer and team owner Valerie Thompson has been named the co-recipient of the 2011 American Woman Riders Community Hero Award by the American Woman Riders Association. Thompson's racing accomplishments and community support of the HopeKids children's charity were key criteria for award selection.
The American Woman Riders Community Hero Award was initiated in 2010 to provide recognition of women motorcycle riders who donate time to charities and give selflessly to their community without expecting something in return. "Valerie's many years of supporting the HopeKids organization was a key consideration in selecting her for this year's recognition. She has taken children to drag races, attended movie days, and participated in many fundraising events for the organization. Her motorcycle racing accomplishments in drag racing and land speed record attempts make her an excellent role model for thousands of women riders across the country. Valerie's positive, caring attitude display what a true American Woman Rider strives to be," according to Tina Reeves, President of the American Woman Riders Association.
"This award is a real honor. My parents taught me the importance of "giving back" to the community and helping those less fortunate. I love working with kids, which has been extremely rewarding for me personally. HopeKids does excellent work and it has been a wonderful experience to help support their efforts," said Thompson.
Tammy Wiley from Harker Heights Texas was the co-recipient of this year's community hero award, recognizing her work with the "We Fight Like A Girl" ovarian cancer foundation.
Valerie Thompson Background
Thompson currently holds two land speed records at the famed Bonneville Salt Flats. This year Thompson ran a "personal best" top speed of 201.01 mph at the 8th Annual BUB Speed Trials, outperforming all other BMW's at the event. Thompson also serves as a motorcycle presenter for the world's largest auto auction company, Barrett-Jackson. Thompson's current goals include setting additional land speed records and becoming a member of the "200 MPH Club." Current sponsors include: CTEK battery chargers, TROON Enterprises, Swisstrax, Hawthorne CAT of San Diego, Stand Up Photos, and Alter/Bivins Racing.
American Women Riders Association Background
Founded in 2010, the American Woman Riders Association began as a New Mexico online magazine for women who love to drive and ride motorcycles. The online magazine has grown quickly and now has international members in Italy, Germany, Spain, New Zealand, and Australia. American Woman Riders celebrates all the grandmothers, mothers, and daughters who love riding the open road. Additional Information Sources
Facebook:
Facebook:
YouTube: http://www.youtube.com/user/ValerieThompson20
LinkedIn:
Web Site:
Web Site:
Web Site:
Web Site:
Web Site: www.americanwomanriders.com
Facebook: http://www.facebook.com/#!/pages/American-Woman-Riders/112117735473351