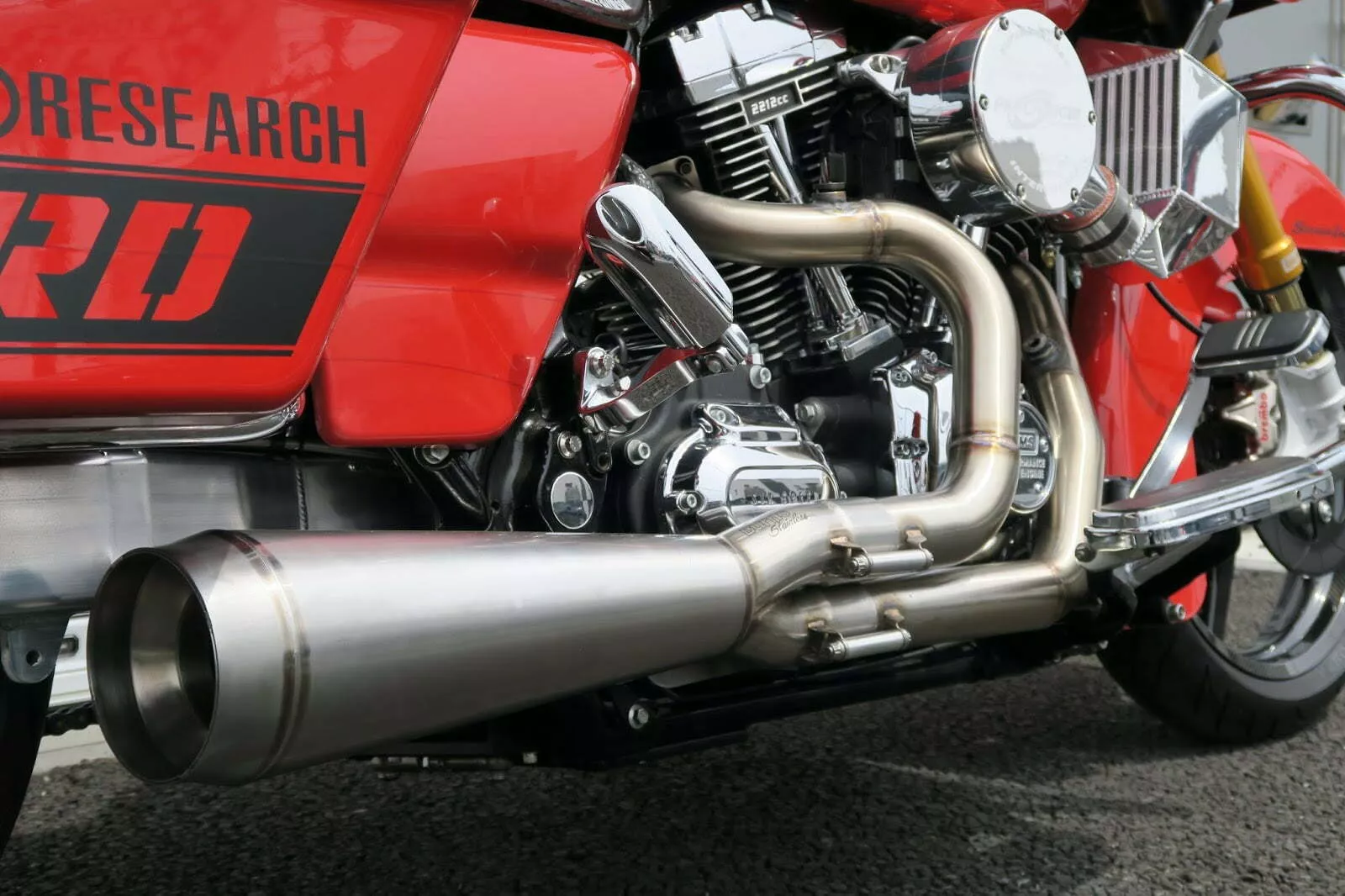 Burns Stainless is excited to introduce the "No Holds Barred" (NhB) Exhaust for Harley-Davidson baggers running big-inch competition engines. "For years we have been working with many of the world's finest big-twin tuners helping them win races, set records and make big power in dyno shootouts with our exhaust builds," comments Vince Roman, Technical Director at Burns Stainless. "It became apparent that there were not any well-engineered stainless aftermarket systems available for these big engines, so we decided to offer a 2-into-1 system incorporating the famous Burns merge collector."
The system is a 3-step equal-length primary exhaust with merge collector and reverse cone megaphone muffler. The merge collector and 3-step design provides a nice broad power band without sacrificing top-end power. The system will be available in two sizes, one for 107 – 117 cid builds and one for 117+ cid builds. The "big-inch" pipe is shipping now.
Two exhaust models are available:
1-3/4" + 1-7/8" + 2" primaries with 2.5" muffler for 107 – 117 ci

1-7/8" + 2" + 2-1/8" primaries with 3" muffler, for 117+ ci
Please Note: These pipes are not suitable for stock, non-competition engines. In other words, "For Off-Highway Racing Use Only."
Burns Stainless is a provider of high quality exhaust components for the professional racer and fabricator. The company also provides engineering services for specific racing applications including exhaust collector and header design.
Disclaimer
Burns Stainless LLC is not affiliated in any way with the Harley-Davidson Motor Company. The Harley-Davidson name are trademarks of the Harley-Davidson Motor Company. Any mention of trademarked names or other marks is for the purpose of reference only.