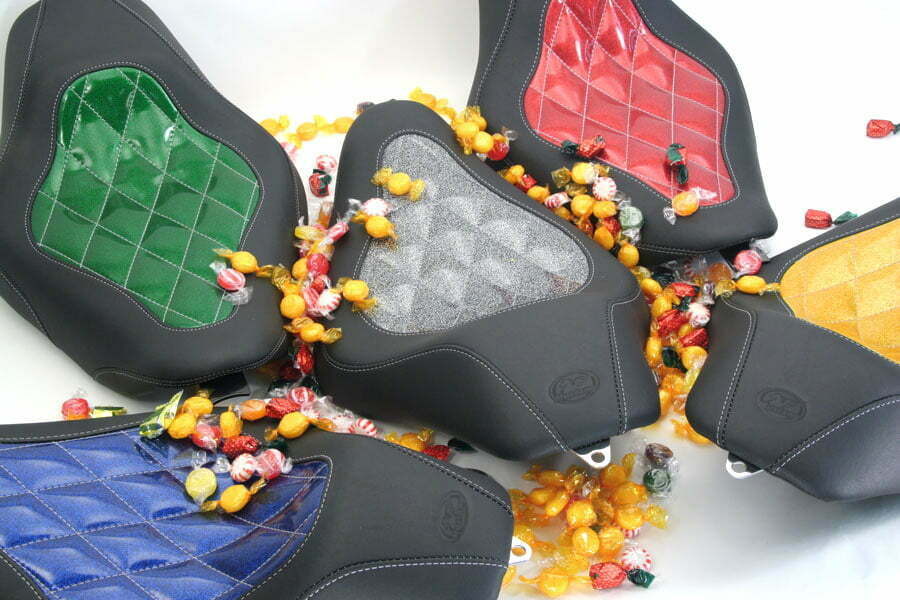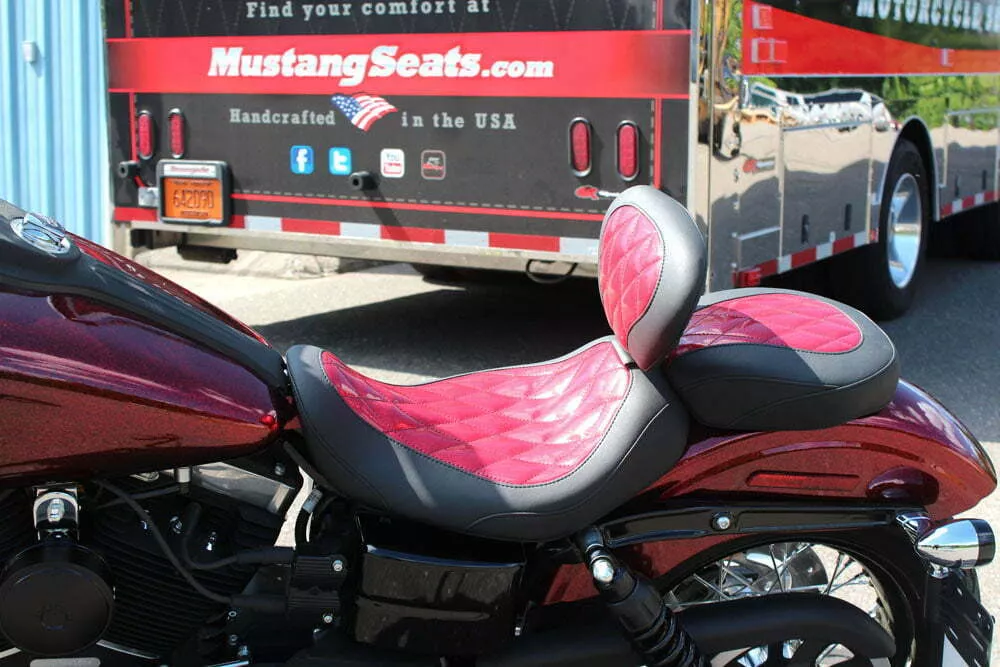 From "Deep Space Blue" to "Vortex Green", the trippy metal flake colors live again! In a sweet surprise, Mustang Motorcycle Products is introducing metal flake vinyl options to their custom seat program. These six new colors match the retro color schemes found on the Harley-Davidson Hard Candy Custom collection. Black Hills Harley-Davidson will host the world launch of Mustang's newest custom seat option during the annual Sturgis Rally in August.
"Of course, I am much too young to remember when metal flake was first popular," joked Mustang's Marketing Director, Marilyn Simmons. "However, Mustang is old school… we have been manufacturing the world's most comfortable motorcycle seats in our historic New England factory since 1980." In addition to the extensive custom seat program rolled out last fall, customer demand for metal flake has added even more options when it comes to creating your own seat. "We are now offering custom seats with a selection of different stitch patterns, thread colors and now metal flake vinyl inserts to choose from," she explains.
The customers' first step in Mustang's automated online seat design process is to pick a stitch pattern: plain, Tuck and Roll or Diamond stitch options are available. Next, it's time to pick the vinyl color – choose from a variety of colors including Mustang's new metal flake options. As you're designing your unique seat, you can see exactly how it will look. There is even a magnifier tool that lets you get a close-up look at the flakes and stitch colors.
Seeing is believing, but these out-of-this-world colors have to be seen in the light of day rather than on a computer screen to really do them justice. "We wanted something really special to share with our friends from Black Hills Harley, since they have been such great hosts during the Sturgis Rally," says Simmons. "This will be the first place to see the rainbow of retro metal flake colors actually sewn into the seats and mounted on a motorcycle.
"Featuring countless combinations of stitch options, 12 contrasting thread colors, and 18 vinyl colors including six new metal flake choices, our custom seat program is available for our most popular models," says Simmons. Mustang's Tripper Solo, Tripper Fastback and DayTripper are three seat styles currently available in the custom seat/retro metal flake program, but more seats and colors are coming. You can check them out at www.mustangseats.com/custom but you will have to stop by the Mustang truck at Black Hills Harley-Davidson to see the exclusive unveiling of their "Cosmic Purple" colorway, plus some other surprises during the Sturgis Rally.
You can't miss Mustang's big rig at Black Hills H-D so stop by July 28 through August 9 to see this eye candy in person!