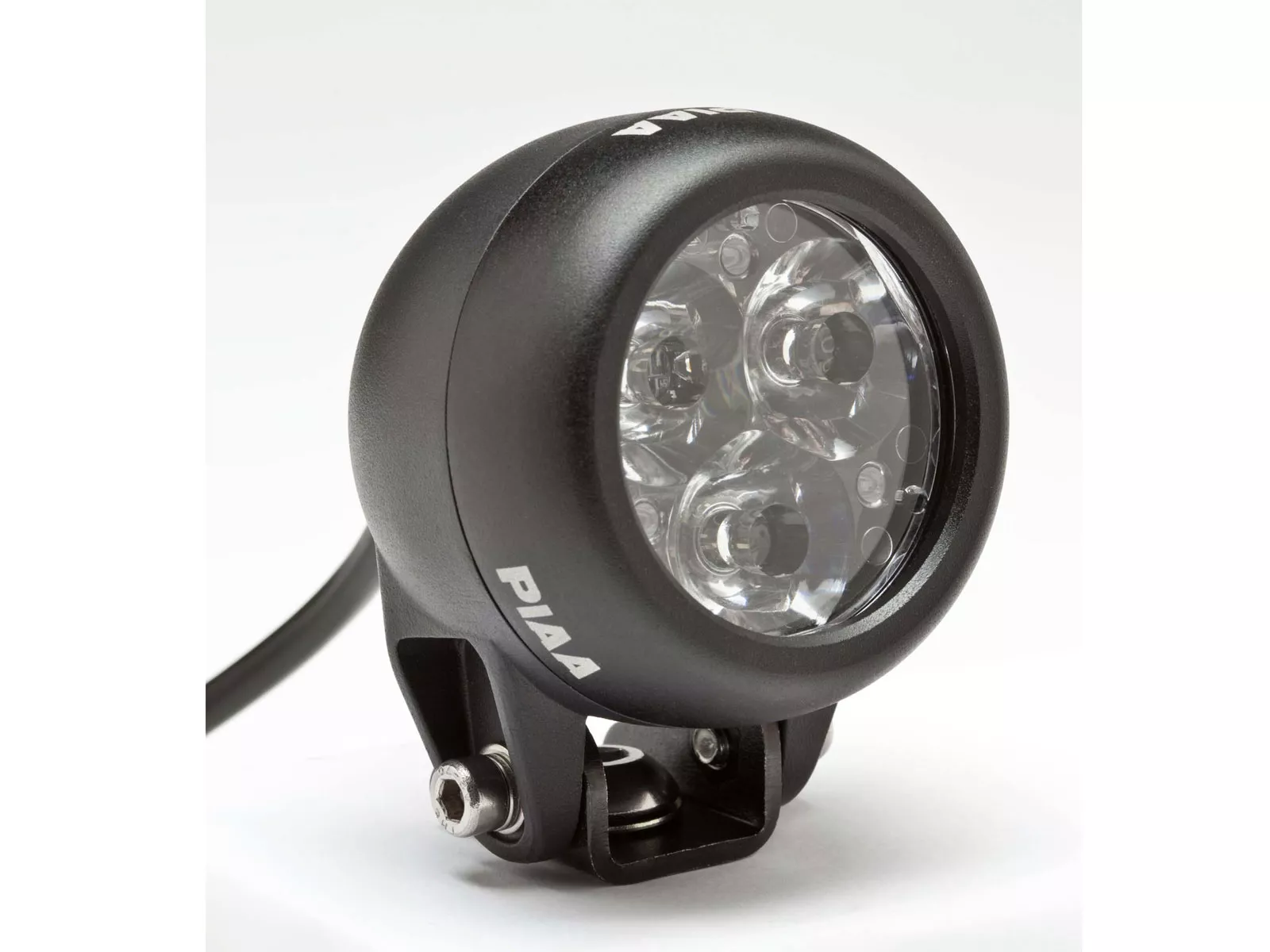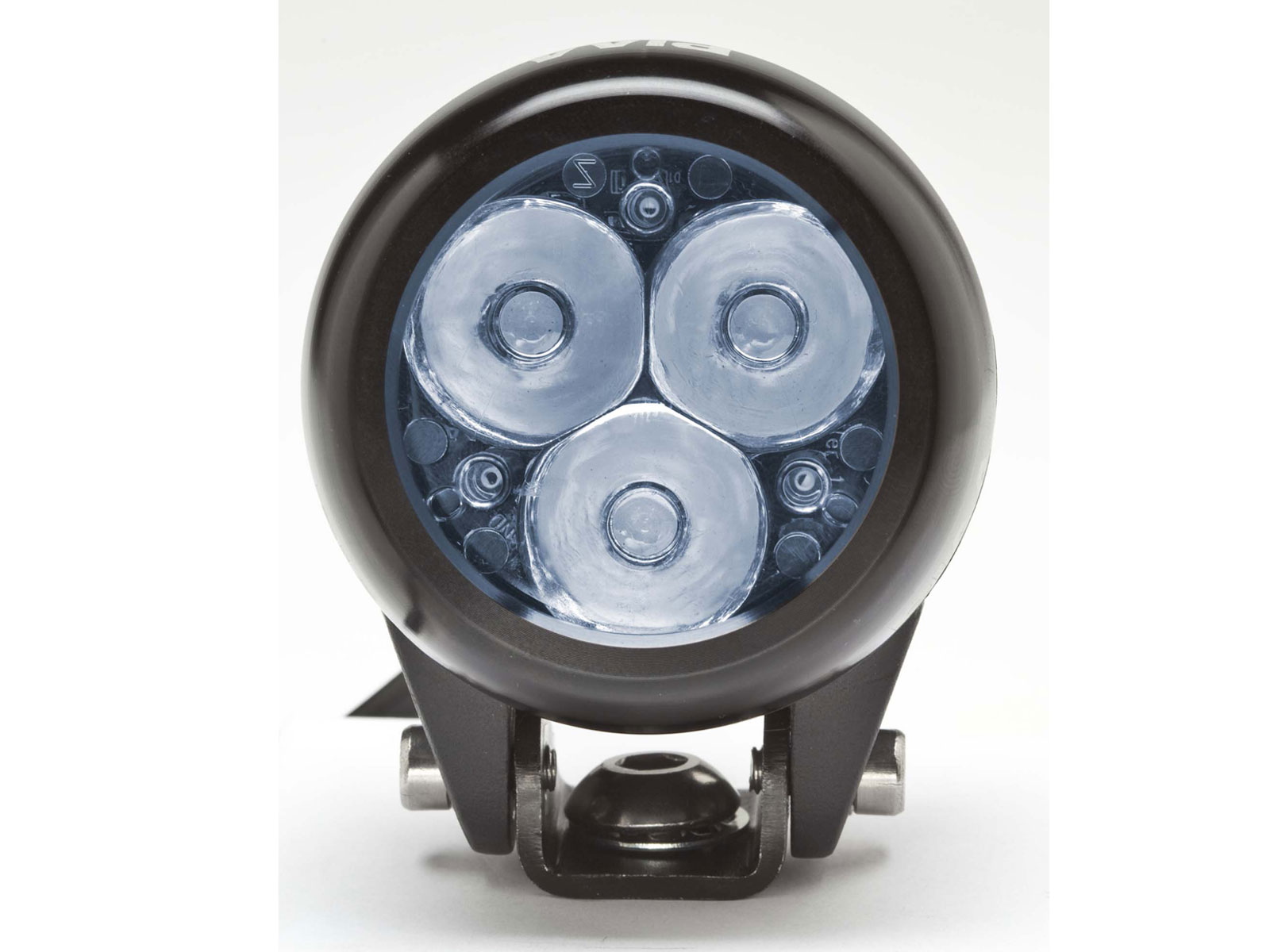 Portland, OR, February 15, 2012 - PIAA Corporation has introduced the new 1100LED driving lamps that offer high output illumination for optimum sighting and visibility, but which draw significantly less power than H.I.D. or Halogen lamps. The 1100LED, designed principally for the Powersports lighting market, requires only one amp per light at 12 volts. Each lamp includes three four-watt high output LED bulbs.
Designed as aftermarket replacement driving lamps for motorcycles, ATVs, UTVs, and snowmobiles, the PIAA 1100LED lamps feature innovative computer-controlled Pulse Width Modulation (PWM) technology that provides optimal thermal protection for longer life and greater performance. The in-lamp monitor modulates the length of the pulse up to 250 pulses per second, based on power and temperature situations.
The PIAA (pronounced pē′-uh) 1100LED lamps take their styling and lighting performance cues from the popular PIAA 1100x lamps, which have been a staple of the PIAA line up for years. Gordon Robertson, Vice President of Sales for PIAA Powersports explains that PIAA developed the new 1100LED driving lamps as a quality alternative for those vehicle owners who are attracted to the visual appearance and low-heat attributes of LED lighting.
Robertson says, "With the introduction of PIAA 1100LED driving lamps, we're now offering vehicle owners the convenient choice of outfitting their Powersports vehicles with high-quality LED lamps, because the 1100LED lamps fit into the exact same mounting locations and on the exact same PIAA brackets as the 1100X lamps."
The compact PIAA 1100LED lamps, with 3-mm high-impact clear glass lens, illuminate road surfaces with a brilliant bluish-white color (6300 Kelvin) that is the closest yet to sunlight. They provide improved nighttime visibility and also serve to make the vehicle and its driver much more conspicuous to daytime traffic for added safety.
Additionally, the PIAA 1100LED driving lamps emit light in a symmetrical pattern, helping to ensure there is no loss of visibility for the vehicle's rider when leaning into a turn. Robertson says, "Good lighting every inch of the ride is critical for fast, nighttime Powersports driving. The PIAA 1100X lamps provide that added measure of safety, whether you're driving a motorcycle, ATV, UTV, or snowmobile."
To help ensure optimal heat dissipation, PIAA 1100LED lamps are designed to operate at vehicle speeds as low as 4 mph. Two sensors, located on the LED mounting board inside the lamp, provide heat protection for the lamps by reducing power to the LEDs during extreme temperature situations. O-ring seals, located at the lens and housing seams, protect the lamp's electronic components and also prevent moisture build-up.
The lamps also feature CNC machined die-cast aluminum front and rear housings. The finned rear housing allows natural rearward LED heat dissipation, which helps contribute to longer bulb life.
The ideal range of operation for the PIAA 1100LED driving lamps is 11.1v to 16v, with an operation threshold of 8v to 16v.
The PIAA 1100LED two-lamp kit (part number 73122) includes aluminum housings, chrome-plated trim rings, clear glass lens, and three four-watt LED bulbs in each driving lamp. The wiring harness (part number 78901) is included in the kit.
Every PIAA customer enjoys the benefits of The PIAA Advantage, which features advanced technology from the best minds worldwide, lamps and bulbs for virtually every type of vehicle, and race-proven quality and durability supported by a Limited Lifetime Warranty on many products. Motorists, off-roaders, and racers have access to technical and product support unmatched in the industry. Most important, everyone using PIAA products is assured of the finest illumination safety available at any price.
Thanks to The PIAA Advantage, the road to better visibility begins with PIAA.
PIAA Corporation is a global leader in the design and manufacture of replacement and specialty lighting products for the on- and off-highway automotive, powersports, all-terrain, and motorsports industries. Founded in 1963, The PIAA Corporation offers nearly a half-century of expertise in developing and manufacturing world-class products that customers can use with pride and confidence. Offerings include Halogen, H.I.D. (High Intensity Discharge), and LED (Light Emitting Diode) lamp assemblies and bulbs, as well as a variety of related bulbs, installation kits, and accessories. Visit the company's Powersports web site: www.piaapowersports.com