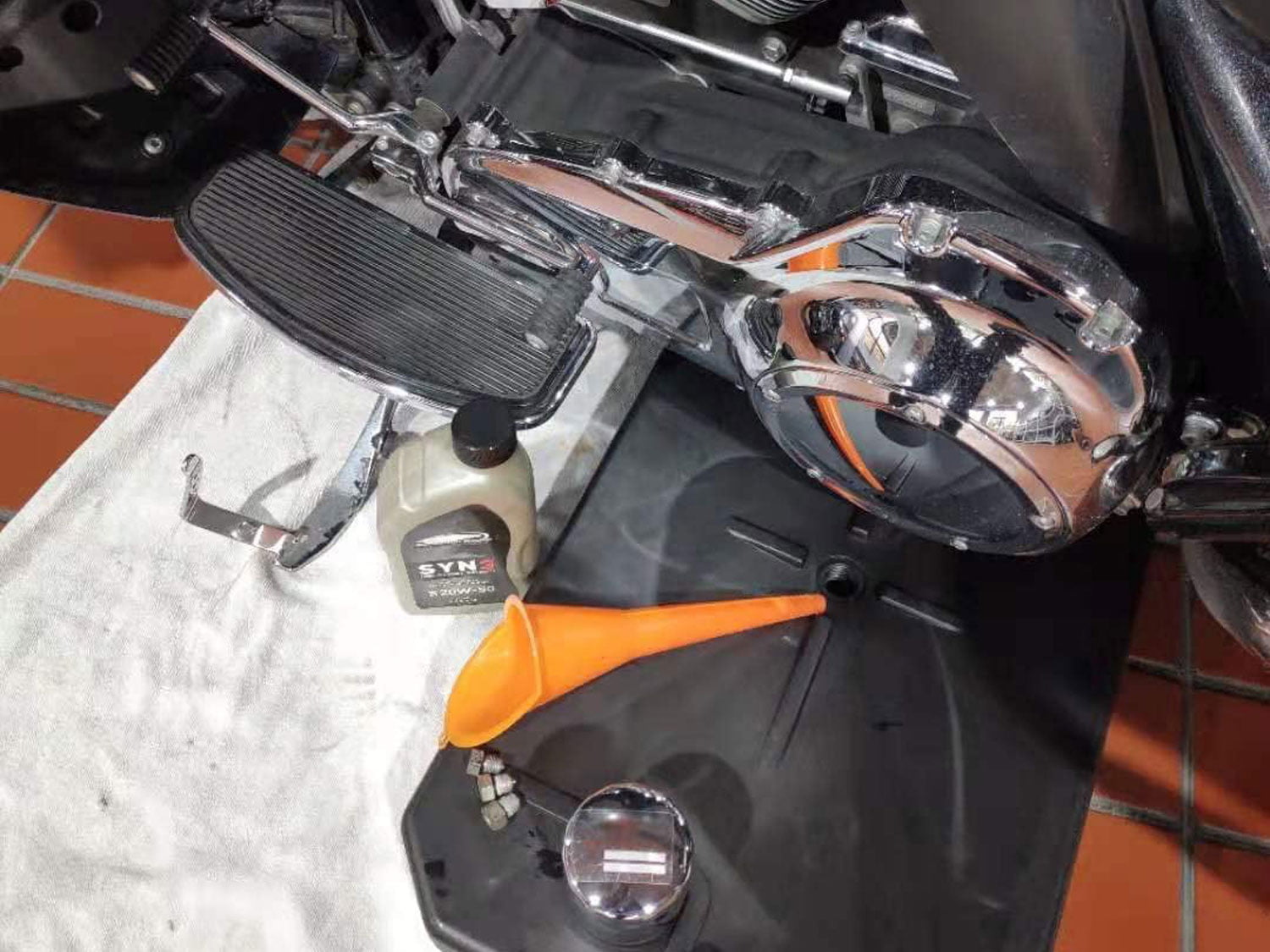 Where there's a clean driveway or garage floor, there's an Exxon Valdez-caliber oil spill waiting to happen. Just ask us; we've suffered lots of them. For instance, you drop the engine's drain plug into the pan, where it's instantly mired in a sea of black gold. Or worse, the filter free-falls into the pan, creating an oil tsunami that darkens nearby concrete forever. Or the classic sneak attack: Oil draining from your engine or primary "walks" along the cases or frame, creating a long river of spillage that a small pan can't possibly capture. Solution? Pick the right drain pan—before the job! Some catch loose drain plugs and filters before they can enter the pan; others have splash-proof walls; and some pour easily or feature screw-on caps for clean, secure transit to the nearest bike shop, auto-parts store, or recycling center for disposal. Here are some of our favorites.
Low-Profile Drain Pan
Marketed for use with various 1984–2020 Harley Davidson models, this XMT-Moto drain pan's low profile makes it ideal for customs, bikes with low-slung fairings, and vintage bikes too. The rectangular shape means it can even capture oil from the primary case of a long V-twin. Just remove the centrally mounted cap, slide the pan under your bike (either fore-aft or sideways, behind the sidestand), drain the engine, primary, gearbox, or final drive, and then replace the cap. The capacity is adequate for "multiple" engine drains. Later, a separate drain port makes disposing of oil at the recycling center easy.
Monster Capacity
If you're looking for a drain pan for both a motorcycle and automobile, consider this 15 Quart Lumax Drainmaster. We own one and can report it's super easy to use. Just unscrew the big 8-inch cap, slide the Drainmaster under your vehicle wherever required, and let 'er rip. The huge storage volume means you can use it for changing coolant on bikes or trucks alike—as long as there's adequate clearance. The pan is heavy when full, so built-in rollers make it easy to move around the shop.
Classic Open Drain Pan
As open drain pans go, this unit from Capri Tools is about as sophisticated as they come. Far from the old-school galvanized steel, washtub-style pans, this polyethylene open pan has some trick features built (or rather, molded) right in. First, an integrated handhold lets you hang it up for storage, keeping the garage floor free of clutter when the pan is not in use. Then, the 2-gallon (8-quart) capacity is adequate for even the biggest bike sumps. And most impressively, the anti-splash lip and integrated pour spout makes emptying waste oil into a container a clean operation.