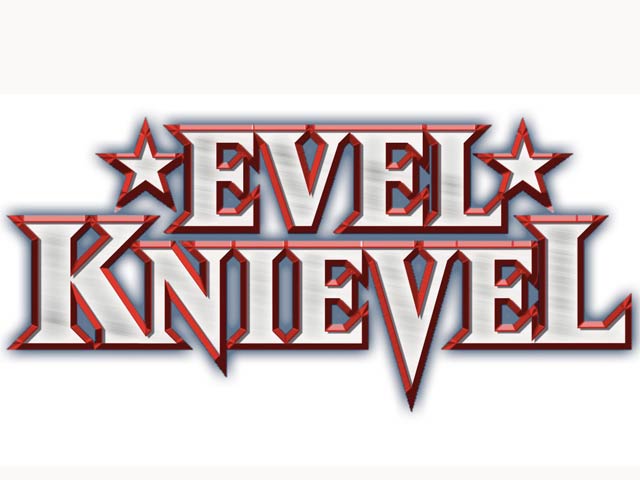 FOR IMMEDIATE RELEASE
America's Legendary Daredevil Soars Back into Action as Warner Home Video Honors the Man who invented Extreme Sports with the Release of the Evel Knievel DVD
George Eads (CSI: Crime Scene Investigation) Stars in Title Role and John Badham (Saturday Night Fever) Directs this Action-Packed Thriller
BURBANK, CA (June 14, 2005) – The word "dull" is not in this man's vocabulary. Whether it's jumping 151 feet across the fountains in front of Caesar's Palace in Las Vegas or attempting to jump the Snake River Canyon in Idaho, fear is not a factor for America's Legendary Daredevil – Evel Knievel. With the popularity of action/extreme sports higher than ever, Warner Home Video (WHV) and Turner Network Television (TNT) will release Evel Knievel on DVD on August 2, 2005 for $19.98 SRP. Order due date is June 28, 2005.
Decked out in the classic red, white and blue and exuding bravado, George Eads (CSI: Crime Scene Investigation) plays the title role and John Badham (Saturday Night Fever) directs this decades-spanning story of the hard living, steel-straddling man who went to daredevil extremes long before there was anything called Extreme Sports. Both Eads and Badham provide an exciting audio commentary option on the DVD.
"Evel Knievel certainly has a flair for the dramatic and Warner Home Video is proud to present the incredible story of the first true extreme athlete," said Tehya Kopp, WHV Senior Director, Special Interest Marketing. "With rising popularity of action sports, it's fun to take a step back and see where the term 'daredevil' originated."
DVD special features include:
• Audio commentary by George Eads and Director John Badham
Born in the wide-open copper mining town of Butte, Montana October 17, 1938, Robert Craig Knievel knew he wanted to become a motorcycle daredevil at the young age of eight years old. In 1965 he began his daredevil career when he formed a troupe called Evel Knievel's Motorcycle Daredevils, a touring show in which he performed stunts such as riding through fire walls, jumping over live rattlesnakes and mountain lions and being towed at 200 miles an hour behind dragster race cars holding on to a parachute. Knievel did everything himself, including truck driving, ramp erecting, promoting and performing his ever longer and more dangerous motorcycle jumps.
_Important Information for Retailers_
Evel Knievel will be available from WHV on August 2, 2005 for $19.98 SRP on DVD with orders due on June 28, 2005. The release is timed to coincide with X Games 11 in August 2005. The DVD release will be supported by targeted radio promotions and an extensive online campaign reaching motocross and extreme sports fans.
_The Credits_
With operations in 90 international territories Warner Home Video, a Warner Bros. Entertainment Company, commands the largest distribution infrastructure in the global video marketplace. Warner Home Video's film library is the largest of any studio, offering top quality new and vintage titles from the repertoires of Warner Bros. Pictures, Turner Entertainment, Castle Rock Entertainment, HBO Home Video and New Line Home Entertainment.
_The Basics_
_Evel Knievel_
| | |
| --- | --- |
| Street Date | August, 2, 2005 |
| Order Date | June 28, 2005 |
| DVD SRP: | $19.98 SRP |
| DVD Cat #: | #T6899 |
| Feature Running Time: | 91 minutes |
For more information on this and other titles distributed by Warner Home Video, visit www.whvdirect.com and www.evelknieveldvd.com.
Video Clip Previews
Real Audio Format