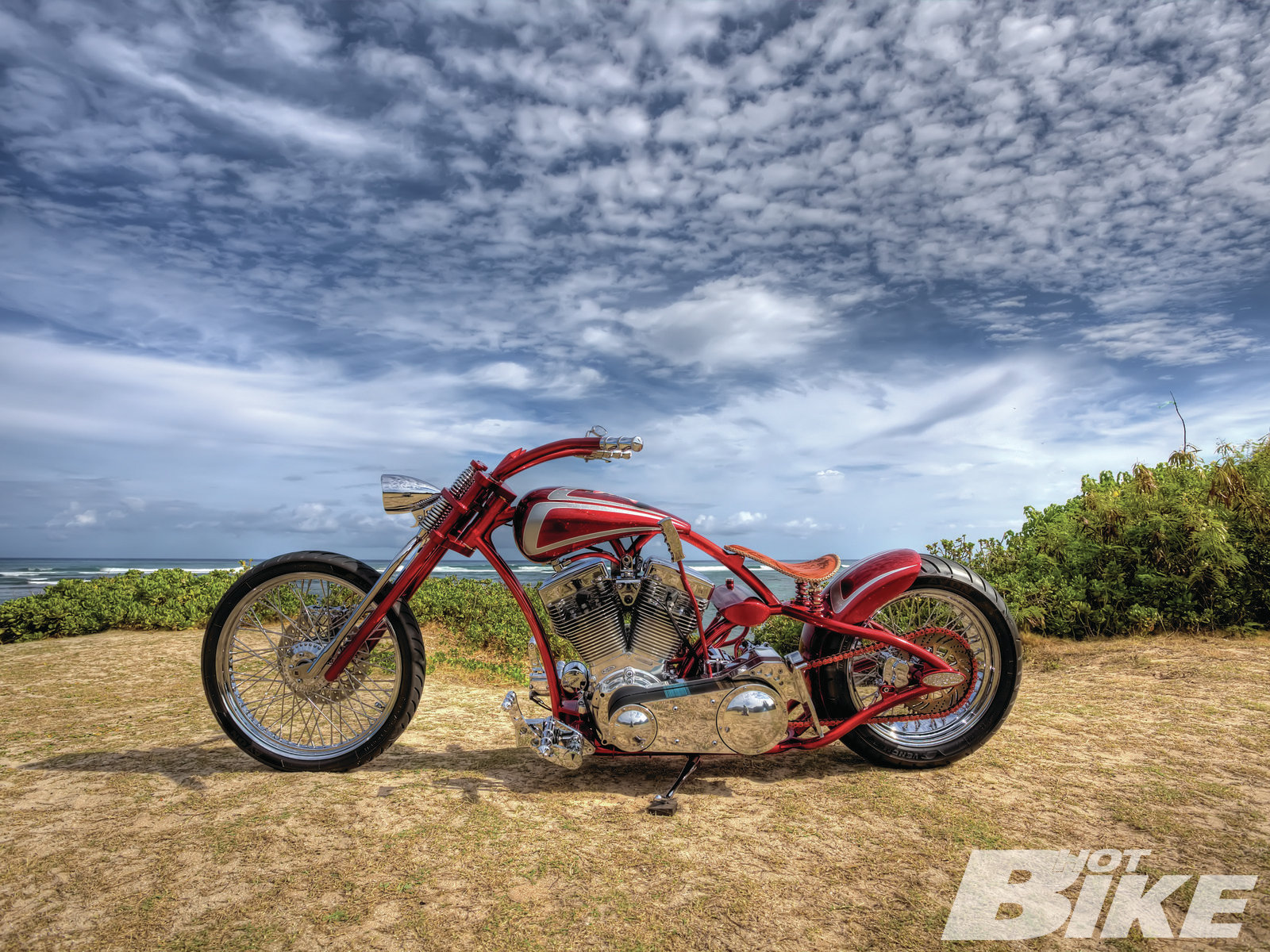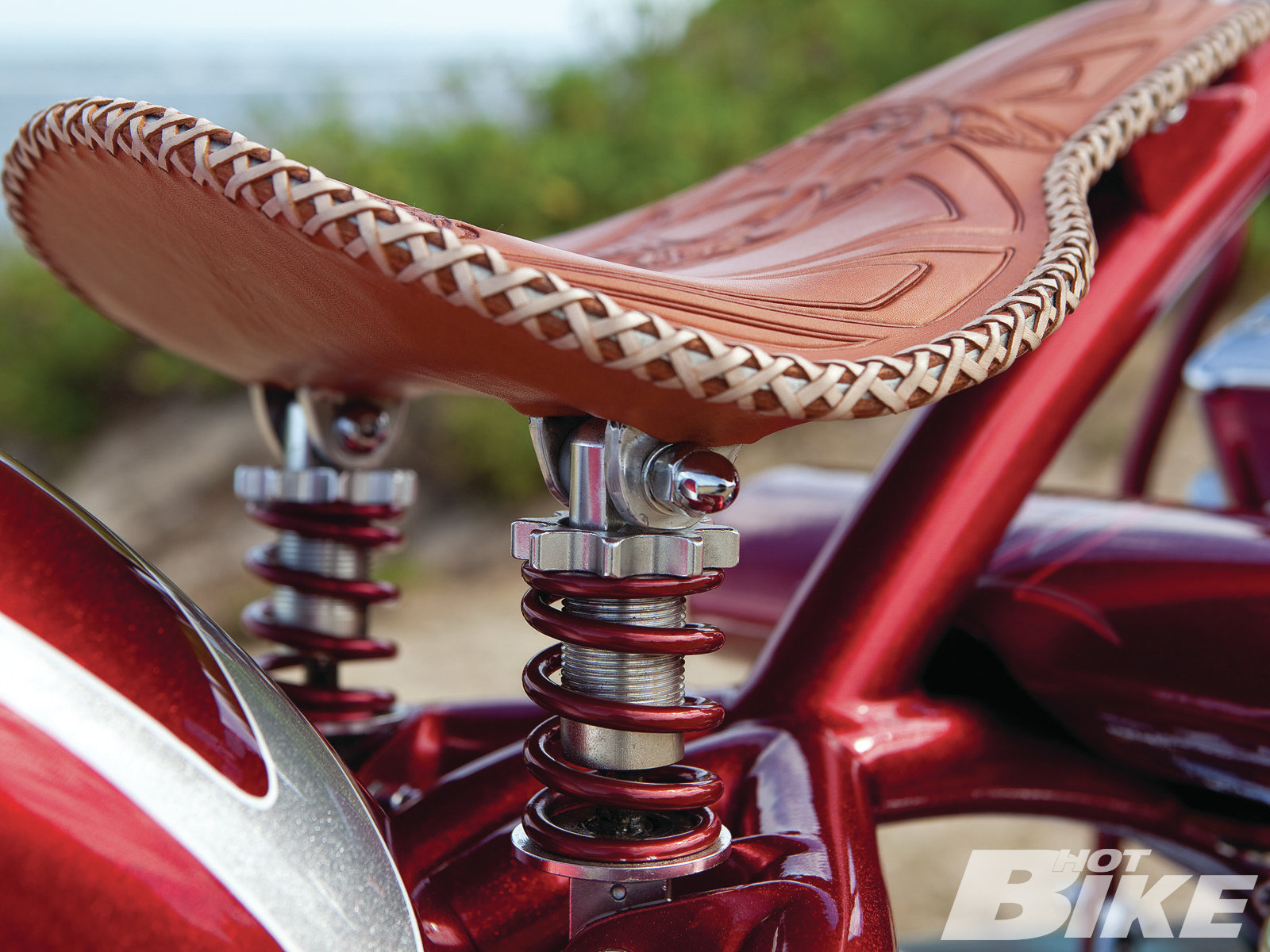 When it comes to custom bikes, I've always liked the bobber style because they're fast and agile, plus bobbers are stripped-down of all unnecessary parts. A few years ago my friend and co-worker at the time, Garret Perreira, introduced me to one of his friends, Nui Kauhane, owner of Grumpy's Customs, here in Hawaii. After hanging out at the shop for a while I got to see how custom bikes were built from the ground up. I then decided that I was going to tackle the project of building my own custom bobber. A major problem that I saw was that everybody was building bobbers that all looked similar. There were even production companies coming out with their version of a bobber. I wanted a bike that stood out but still fell along the lines of a bobber. That's when Redneck Engineering in Liberty, South Carolina, joined the party.
I made a phone call to Redneck, and talked to Fred. He told me about a bobber-style frame that they came out with, a rigid frame with a small stretch and little rake that was very easy to ride. The frame was exactly what I was looking for and it had these crazy curves in it that made it stand apart from traditional rigid frames. Three weeks later the frame was sitting in my garage. Vince Doll built the custom Redneck Springer to give me the perfect rake and trail. The crew at Redneck also built all the sheetmetal to fit.
With the frame on my lift, I was now able to start the mock-up. I started by mounting the Redneck springer along with DNA wheels and some Avon rubber. HHI supplied the four-piston front brake along with the rear sprocket brake. With the help of Nui, I modified the Redneck handlebars with pass-through risers to accept an internal throttle and brake line. The frame was also drilled for internal lines and wiring. Keoki Mitchell did up the seat pan with a pair of Chopper Shox to make the ride a little smoother.
<div class="st-block quote text-
Notice: Undefined index: st_text_align in C:laragonwwwhotbike-importblocksquote.php on line 1
">
I quickly learned that nothing ever fits perfectly and everything always takes longer than expected!
For the drivetrain I used a polished 100ci RevTech motor and a polished six-speed Roadmax transmission fitted with a PM hydraulic clutch cover. A 3-inch BDL beltdrive was used to connect the motor and trans. As it turned out, the hardest part of the build was getting the driveline to match up perfectly with the rear sprocket brake setup. After trying many different trans sprockets with no luck, I went to see Roger Kurwahara of Kustom Fab Choppers. Roger machined a custom rear wheel hub and spacers that would get everything to line up correctly and keep the chain from getting too close to the frame.
While doing the mock-up I ran into a lot of problems. Luckily, I would always have the help of Nui and Roger. They had a lot of good advice for me and were always willing to help out. After the bike was mocked up, Nui tackled the task of welding up the frame and handlebars while Roger did the machine work for the critical parts.
After the bike was torn down it was time to send out the parts for paint, powdercoat, and chrome. The frame and sheetmetal were given to my homie, Jimmy Keola over at Who's Your Daddy Customs. Jimmy took care of the bodywork, then based everything in a silver flake, followed by a thick coating of House of Kolor Kandy Red. Jimmy also added the custom pinstriping and a fresh pin-up girl on the gas tank.
The springer frontend and handlebars were sent out to Hi-Tech Coatings for a double dose of candy red powder. All the parts that needed to be chromed went all the way across the US, over to Brown's Plating in Kentucky. The final piece of the puzzle was a custom-made leather seat created by my good friend Chip Purkey of Purkey's Custom Leather.
With all of the parts back, it was time for the final assembly. Anxious to get it done, I took a week off from my job at Hawaiian Airlines and got down to business. With the helping hands of my parents, Maz and Fats, and my girlfriend, Lorraine, I was able to get the bike assembled in just five days. It really helped to have a few extra hands available and willing to get dirty. When it came time for firing it up, I called over my friends Shad Bolosan and Bobby Apao for some assistance in getting everything dialed-in and celebrating the event.
With the "Ratt Trap" being my first ever custom-build, I really didn't know how long or how difficult it would be. I quickly learned that nothing ever fits perfectly and everything always takes longer than expected! I do know that without the help of my family and friends, this build would have taken a whole lot longer. I would like to thank everyone involved in making this build a success, and hopefully there will be many more to come. HB
Specifications
| | |
| --- | --- |
| Bike Owner | Gilbert "Gilly Ratt" Ching |
| Year/Make/Model | '09/Redneck/Bob This |
| Fabrication | Owner and friends |
| Assembly | Owner and friends |
| Build Time | One year |
| | |
| Engine | |
| Year Manufacturer | '08/RevTech |
| Type/size | Evo/100ci |
| Builder | RevTech |
| Cases | RevTech |
| Cylinders | RevTech |
| Heads | RevTech |
| Rocker Boxes RevTech | |
| CarbMikuni | |
| Air CleanerVelocity Stack | |
| Exhaust | Wicked Bros |
| | |
| Transmission | |
| Manufacturer/Type | Roadmax/six-speed |
| Case | Roadmax |
| Clutch | BDL |
| Primary Drive | BDL |
| | |
| Frame | |
| Year/Manufacturer | '09/Redneck Eng. |
| Rake | 35 degrees |
| Stretch | 3 inches out |
| | |
| Suspension | |
| Manufacturer Front | Redneck Eng |
| Triple Trees | Redneck Eng |
| | |
| Wheels, Tires, and Brakes | |
| Manufacturer Front/Type | DNA/Spoke |
| Size-Height/Width | 21×2.15 |
| Tire/Size | Avon/80/90-21 |
| Caliper HHI | |
| Rotor | Thunder Cycles |
| Manufacturer Rear/Type | DNA/Spoke |
| Size-Height/Width | 18×5 |
| Tire/Size | Avon/200 |
| Caliper | HHI |
| Rotor | HHI |
| | |
| Finish/Paint | |
| Color | HOK Kandy Red |
| Painter | Jimmy Keola/Who's Your Daddy Customs |
| Graphics | Jimmy Keola |
| | |
| Accessories | |
| Rear Fender | Redneck Eng. |
| Fender Struts | Internal |
| Gas Tank & Cap | Redneck Eng. |
| Oil Tank | Redneck Eng. |
| Handlebars | Owner, Nui Kauhane |
| Hand Controls | PM |
| Foot Controls | Accutronix |
| Headlight | Kustmo Fab |
| Taillight | Kirk's Customs |
| License Mount | Kirk's Customs |
| Seat | Purkey's Custom Leather |