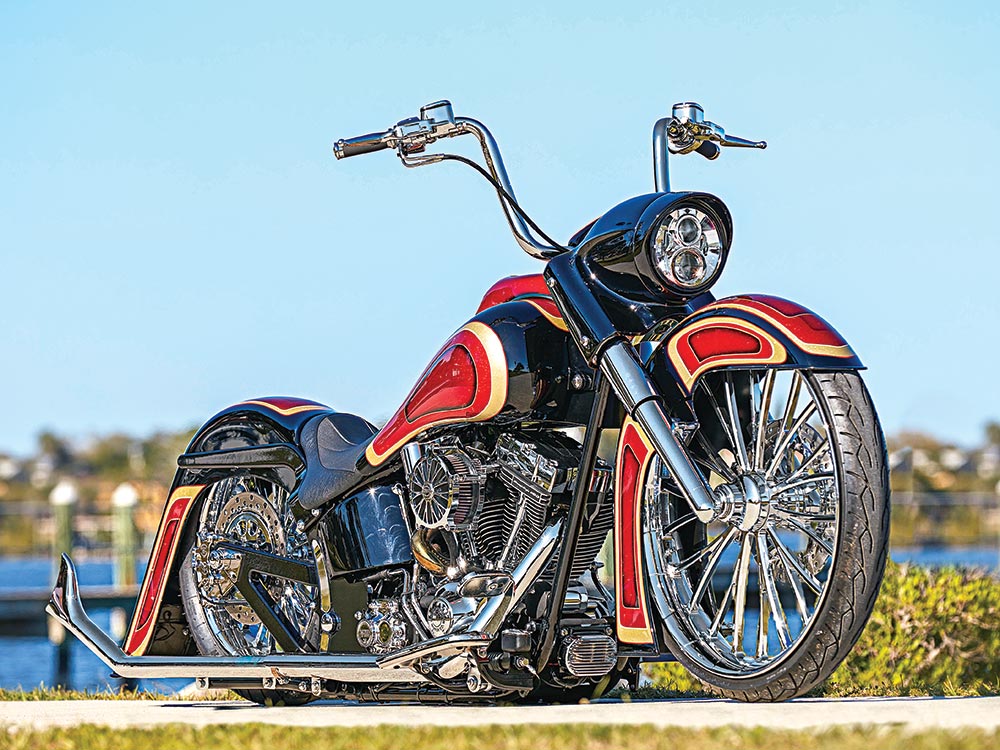 We're seeing more layframe Softails around the industry, and this '06 H-D Softy Deluxe is no exception. Rankin Creek Custom Cycles (RCCC) created it for Wendy Woolard as a gift from her boyfriend and RCCC customer Doug Adams.
Like a lot of women, Wendy started her two-wheeled life as a spectator on the back half of the motorcycle seat. She eventually had enough of that mess and wanted to be in control of her own ride. Doug built her a rigid-frame import bike, but that wasn't enough either. Wendy wanted the real American deal. Enter Doug's Softail Deluxe.
RCCC had done right by Doug Adams in the past, with two great custom baggers they'd created for him, a Street Glide and a Road King. He knew they could give Wendy a killer custom hog of her own. So he contacted Lee Myers, owner of RCCC, to come get the Softail with the idea of turning it into a 26-inch wheeled layframe bike.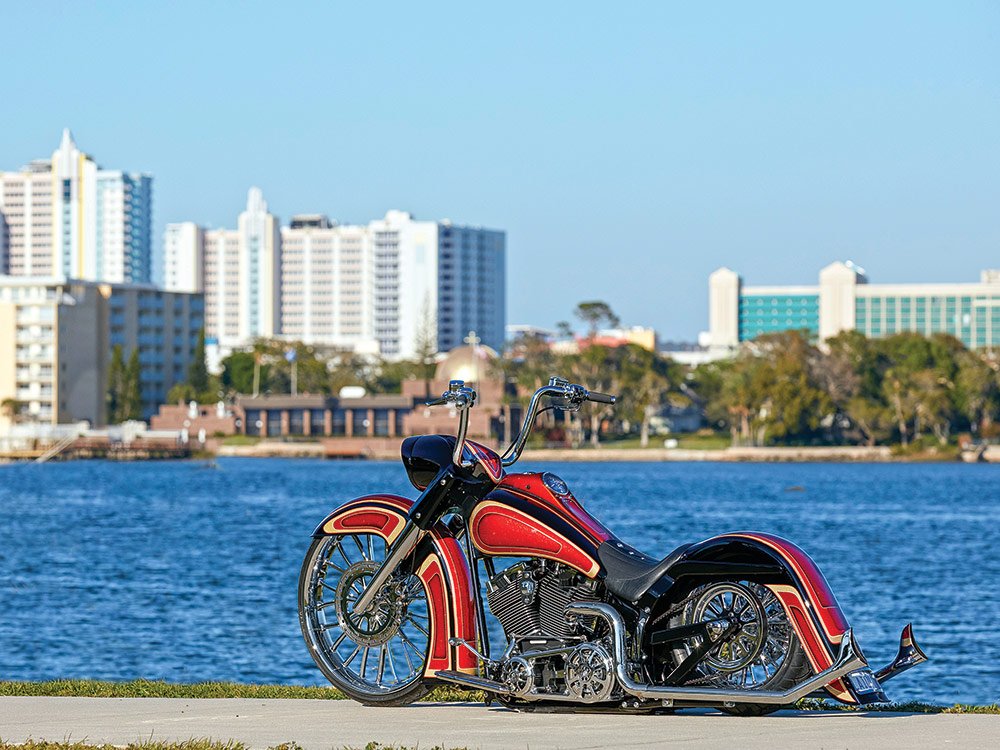 Doug is not only a customer of RCCC but has become good friends over the years with Lee and the crew at RCCC. Lee said he hadn't built a Softail before but was looking forward to the opportunity to build another killer bike for Doug and Wendy. That's where the real fun began.
"Here at RCCC we didn't have a frame jig for a layframe," Lee told us. "So we contacted Sean at TOL. We told him about the idea of a 6-gallon FLT gas tank. He said he never done that before but said he had a mockup tank he could sit on the backbone to see if it would work." Lee would still have to make the tank mounts though. "We decided on a FLT neck and triple trees for better handling of the bike," Lee says.
RCCC sent Sean the bare frame, and two weeks later the frame was finished and returned: "I can't say enough about Sean and Matt at TOL," Lee says. "They do quality work and quick turnaround."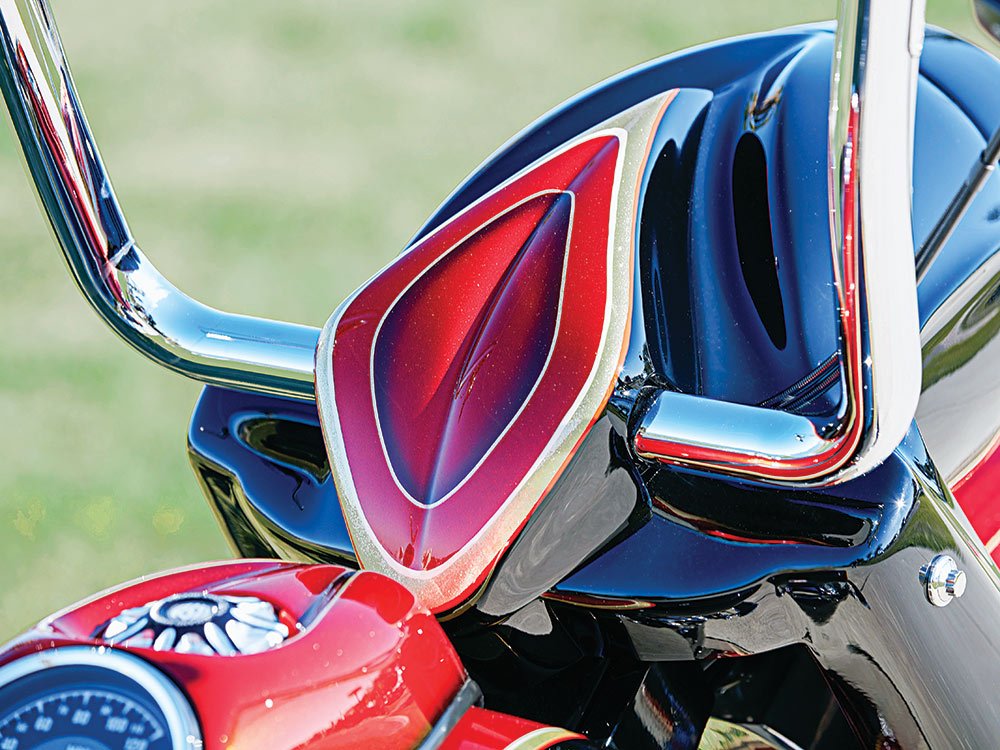 Next, to make the bike layframe, Lee needed a swingarm, so he contacted Joel Gurath of Backbone Built Bikes. Joel was another great guy to work with, being this was RCCC's first Softail build. Joel was a great help with advice when Lee's shop ran into questions. Once RCCC had all of the parts, Lee made the fuel-tank bungs and mounts before turning the torch over to Jeremiah Marshall of RCCC who handled all the precision TIG welding on the tank, frame, and oil tank. With the mockup done, the sheet metal was handed off to Richard Dooms of Richard's Customs who does all the bodywork and molding for RCCC. He smoothed it all out and cleaned it all up.
By this time the Softail was ready for mockup. Lee was really happy with the way it was coming along. Once Butch Watson of High Rollers Cycle Seats worked his seat-making voodoo for a killer saddle, it was literally time for the finishing touches. Lee handed the bodywork off to Jeremy Fogleman of Burlington, North Carolina, for a killer paint job, while Hanover Powder Coating handled the frame and coated parts. In the end, Wendy didn't get a secondhand hog; she got her very own. That's exactly how you should feel when yours is done at the shop too.
Specifications
| | |
| --- | --- |
| Bike Owner | Wendy Woolard |
| Shop Name | Rankin Creek Custom Cycles |
| Shop Phone | (540) 290-3848 |
| Shop website | rankincreekcustomcycles.com |
| Year/Make/Model | 2006/Harley-Davidson/Softail Deluxe |
| Fabrication | RCCC |
| Assembly | RCCC |
| Build Time | 5 months |
Engine
| | |
| --- | --- |
| Year/Manufacturer | 2006/H-D |
| Size | 103ci |
| Builder | H-D |
| Cases | H-D |
| Cylinders | Screamin' Eagle |
| Heads | Screamin' Eagle |
| Rocker Boxes | H-D |
| EFI/Carb | H-D |
| Air Cleaner | RC Components |
| Exhaust | Dirty Bird Concepts |
Transmission
| | |
| --- | --- |
| Year/Manufacturer/Type | 2006/H-D/5-speed |
| Case | H-D |
| Clutch | BDL |
| Primary Drive | Performance Machine |
Frame
| | |
| --- | --- |
| Year/Manufacturer | 2006/H-D |
| Rake | 35° |
| Stretch | 1.5 in. out |
Suspension
| | |
| --- | --- |
| Manufacturer Front | H-D FLT w/ Dirty Air inserts |
| Length | 2 in. over |
| Triple Trees | Hawg Halters Inc. 9° |
| Manufacturer Rear | Legend Air Suspension |
| Swingarm | Backbone Built Bikes |
Wheels, Tires, and Brakes
| | |
| --- | --- |
| Manufacturer Front/Type | RC Components |
| Height/Width | 26 x 3.75 in. |
| Tire/Size | 120/50 Vee Rubber/26 in. |
| Caliper | Hawg Halters Inc. 6-piston |
| Rotor | RC Components |
| Manufacturer Rear | RC Components |
| Height/Width | 18 x 4.25 in. |
| Tire/Size | Metzler 160/60V-18 |
| Caliper | Performance Machine |
| Rotor | RC Components |
Finish/Paint
| | |
| --- | --- |
| Color | Black, Candy Apple, and gold |
| Painter | Jeremy Folgeman, bodywork and molding by Richard Dooms |
| Graphics | Jeremy Folgeman |
Accessories
| | |
| --- | --- |
| Front Fender | Fat Katz/RCCC |
| Rear Fender | RCCC |
| Fender Struts | H-D |
| Gas Tank & Cap | Stretched FLT tank stretched with Roland Sands cap |
| Oil Tank | H-D modified by RCCC |
| Handlebars | Carlini |
| Hand Controls | H-D |
| Foot Controls | H-D |
| Footpegs | H-D |
| Headlight | H-D Daymaker |
| Taillight | Custom Dynamics |
| License Mount | RCCC |
| Seat | High Rollers Cycle Seats |