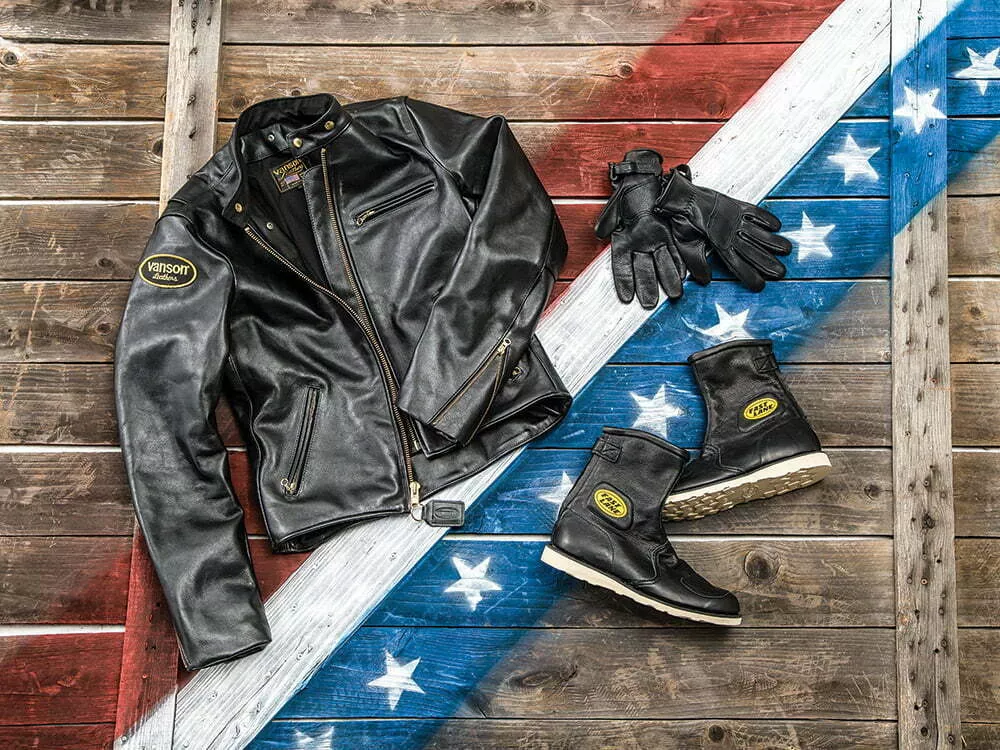 In the early days of riding and racing, protection was much simpler. No hard stuff, just top-quality leather and maybe a little bit of foam. Products were made to fit and made to last. These products here are all made in the United States for a few specific functions: to look good, to last forever, and to keep you safe and comfortable on your motorcycle. Smaller companies you can call up and order directly from. You got a problem? Call them back; the numbers are on their websites, and the person who picks up is going to be able to help you.
Bates Leathers was started in 1939 in Southern California, where the company still operates. Making race suits, gloves, boots, motorcycle seats, and just about anything else associated with motorcycles and leather, it's developed a cult following among vintage enthusiasts, but its products are also still used by serious racers. Bates' boots are all handmade in the SoCal shop. If you call to order, you'll talk to Dawn or Dana, who will help make sure you measure your foot accurately to get the best fit. You can't just go online and order a pair, but they're still $20 cheaper than a pair of Red Wing moc toes.
Vanson Leathers was started in 1974 in Fall River, Massachusetts, where every piece is still hand-cut and sewn. The yellow-and-black Vanson badge has adorned some of the best racers in history—from drag racing to superbikes to the street—and tons of normal joes too. This here is the Model A—the company's first jacket ever, still made the same as it was in '74. There is no impact protective armor, just incredibly thick leather. This thing squeaks when you move. It's going to be a while before it's broken in, but isn't that part of the fun? It's tough. It's clean. It's rigid. It'll do its job when it needs to and look good doing it.
Many of you probably know Lee Parks from his Total Control book and DVD series, which has taught thousands of riders proper technique for high-performance riding, but he's gotten into the gear business as well. While Lee Parks Design hasn't been around as long as the other companies, his DeerTours and DeerSports gloves are remarkably similar to the ones used in American road racing in the '70s and '80s. Made with the same attention to detail and quality components, Parks' gloves are simple, well-engineered and built to last—not to mention fit.