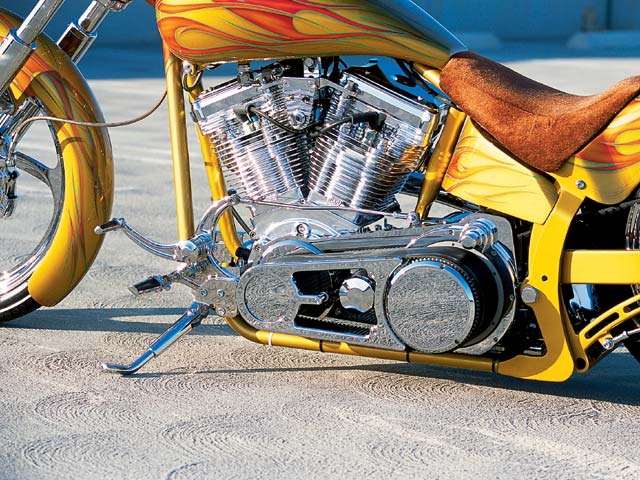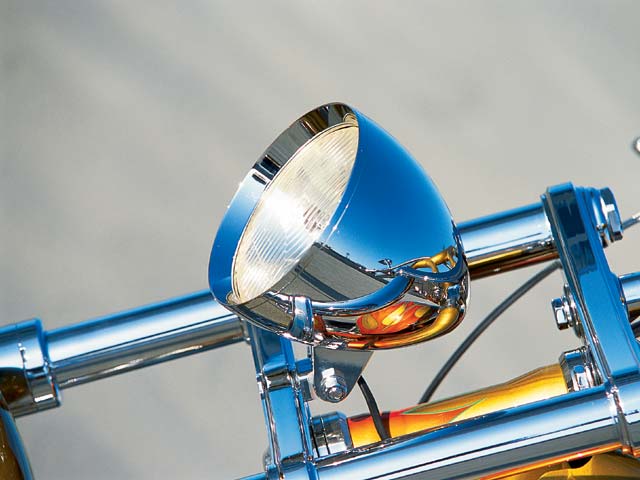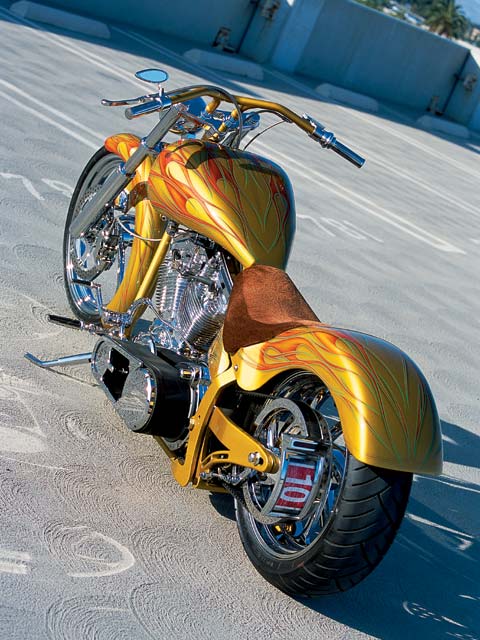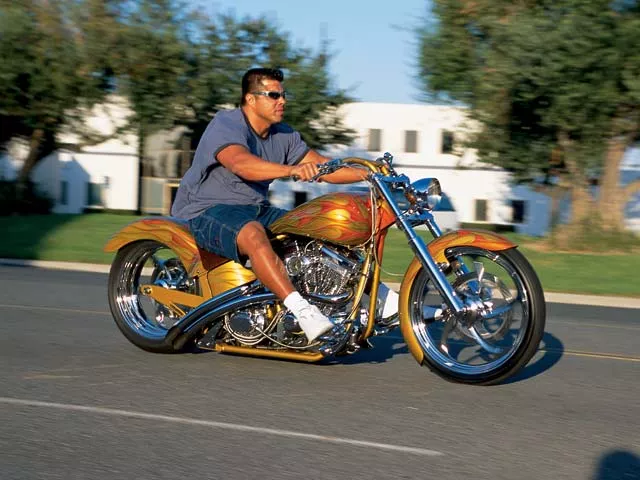 You may remember a bike we featured in the March 2003 issue of HOT BIKE titled, "A Rivalry That's All in Fun," owned by Aurelio Perez. As a follow-up to that article, we just photographed J.R. Martinez's bike, otherwise known as "The Rival" in the original story. In case you missed that story, Aurelio and J.R. have been friends for almost 14 years and have a "keeping up with the Joneses" type of relationship. They've been trying to one-up each other ever since they met. For a while, they were both riding customized Harleys, but Aurelio decided it was time to take it to the next level. He had a ground-up custom built and we featured it in the magazine. Well, J.R. couldn't stand for that so he countered Aurelio by building his own full custom that is just as cool as his buddy's, but of course, he had to find ways to one-up him.
J.R. went to Bob Cecchini to create the bike for him, an old friend and the builder of Aurelio's bike. J.R. explained to Bob how cool the bike had to be in order to compete (and beat) Aurelio. The first thing that Bob suggested was a bigger and faster motor in the form of an S&S.; At a full 7 inches of displacement larger than Aurelio's, and a few horsepower more, a polished 107ci motor fit the bill perfectly. Bolted to the S&S; is a G carburetor, a Joker Machine velocity stack, a Crane Hi-4 ignition system, and a set of MGS pipes. Behind the motor is a polished RevTech six-speed that is fed power through a Billet 4U 3-inch open belt primary and a Rivera clutch.
The next step was getting the motor into a frame, and J.R. wanted a Paughco Softail, just like his buddy's, with 38 degrees of rake, except his had to have an extra 2 inches of stretch in the backbone. The rear section of the frame sports a Simms swingarm and Legend Air shocks. Bolted to the steering neck is a 2-inch-under Perewitz frontend. Wheels, calipers, and brakes are all Performance Machine products, from the 21-inch wheel with a matching rotor and six-piston differential bore caliper in the front, to the 18-inch wheel, matching pulley, driveside rotor, and four-piston caliper. Both wheels are wrapped in Metzeler rubber with a 180/50/18 in the back and an 80/90/21 in the front.
As far as sheetmetal and paint were concerned, J.R. definitely wanted his bike to stand out in a crowd, but it had to look different than his friend's bike, without being overstated. For a front fender, Bob smoothed out a Jim Nasi blank that hugged the skinny tire. Moving on to the gas tank, hidden strut rear fender, and oil tank, J.R. wanted one-off pieces, so Bob made each part by hand with complementary contours and an exact fit to the frame. Then the metal was painted by Greedy Fly Josh with a gold basecoat and layered with bright orange flames and a whole bunch of clear.
The final accessories were bolted on once the metal had returned to Bob's shop. Rebuffini bars were bolted to the triple-trees with a PM mirror and hand controls above a Headwinds headlight. A P.Y.O. taillight/license plate frame was secured to the primary side of the swingarm, and finally a Corbin seat was mounted behind the gas tank.
Of course, once the bike was up and running, the first place J.R. rode to was Aurelio's house. Instead of knocking on the door, J.R. did a burnout in the street in front of his house, raising the bar a notch higher as soon as Aurelio saw the new bike. We can't wait to see what kind of bikes these two try to outdo each other with next!
| | |
| --- | --- |
| Spec Sheet | |
| GENERAL | |
| Owner | J.R. Martinez |
| Year/Make | '03/Custom |
| Fabrication | Bob Cecchini, Owner |
| Assembly | Bob Cecchini |
| Build Time | Three months |
| | |
| ENGINE | |
| Size/Type | 107ci S&S; |
| Cases | S&S; |
| Flywheels | S&S; |
| Rods | S&S; |
| Pistons | S&S; |
| Cylinders | S&S; |
| Heads | S&S; |
| Cam | S&S; |
| Carb | S&S; |
| Ignition | Crane Hi-4 |
| Pipes | MGS |
| | |
| TRANSMISSION | |
| Year/Type | '03/Baker six-speed |
| Case | Baker |
| Gears | Baker |
| Clutch | Rivera |
| Primary Drive | Billet 4U |
| | |
| FRAME/SUSPENSION | |
| Year/Type | '03/Paughco Softail |
| Rake | 38 degrees |
| Stretch | 2 inches out |
| Swingarm | Simms |
| Rear Suspension | Legend Air |
| Forks | Perewitz |
| Extension | 2 inches under |
| Triple-Trees | Perewitz |
| | |
| WHEELS, TIRES, AND BRAKES | |
| Wheels Front: | 21×2.15 PM |
| Rear: | 18×5.5 PM |
| TiresFront: | 80/90/21 |
| Rear: | 180/50/18 |
| Brakes Front: | PM |
| Rear: | PM |
| | |
| FINISH | |
| Molding | Bob Diaz |
| Painter | Greedy Fly |
| Color | Really Gold |
| Graphics | Flames |
| Chrome Plating and Polishing | Superior Plating |
| | |
| ACCESSORIES | |
| Bars | Rebuffini |
| Risers | Rebuffini |
| Hand Controls | PM |
| Headlight | Headwinds |
| Taillight | Yaffe |
| Electrical | R.B.C. |
| Fuel Tank(s) | Bob Cecchini |
| Oil Tank | Bob Cecchini |
| Front Fender | Nasi |
| Rear Fender | Bob Cecchini |
| Fender Struts | Bob Cecchini |
| Pegs | PM |
| Foot Controls | PM |
| Seat | Corbin |