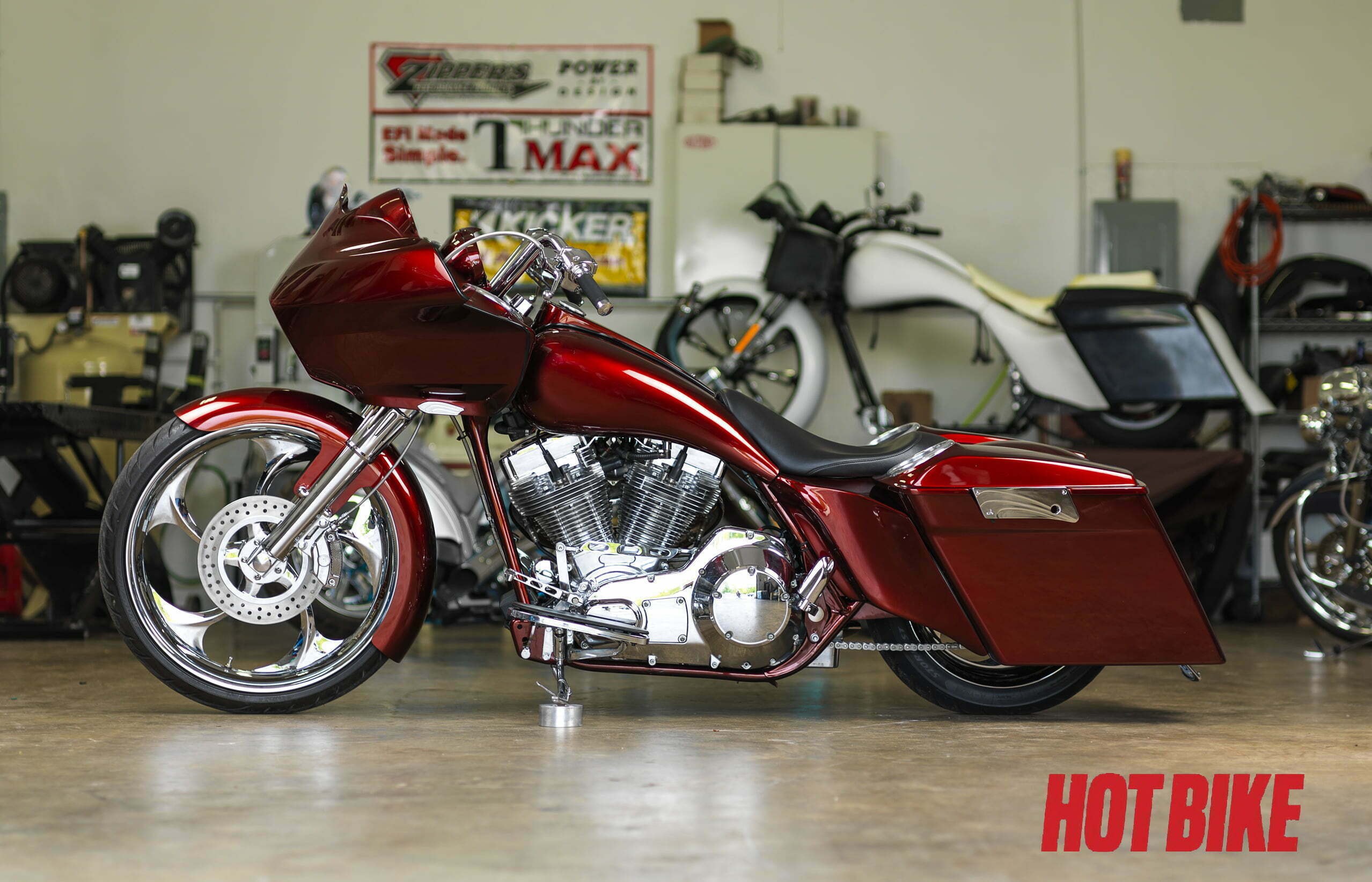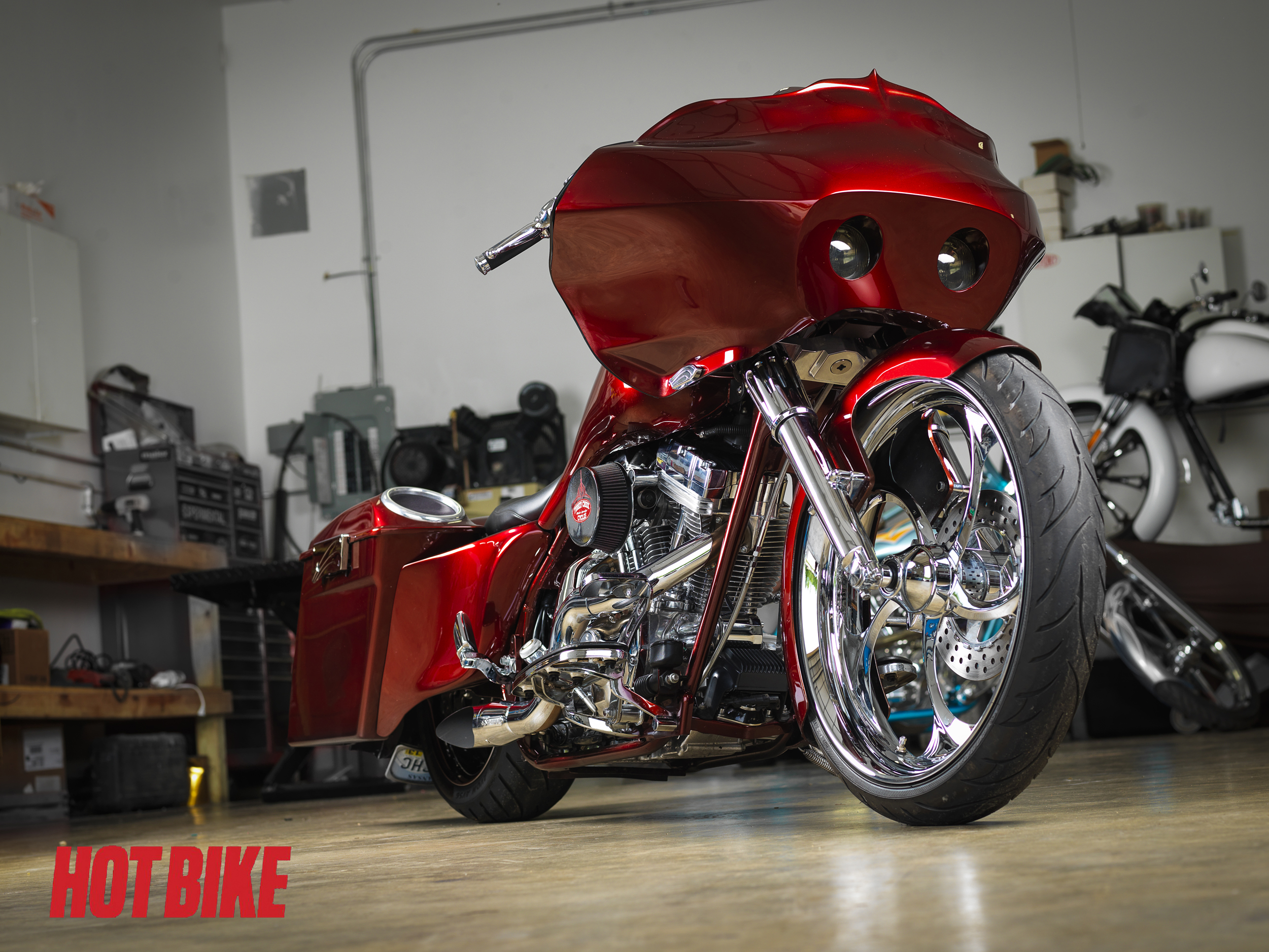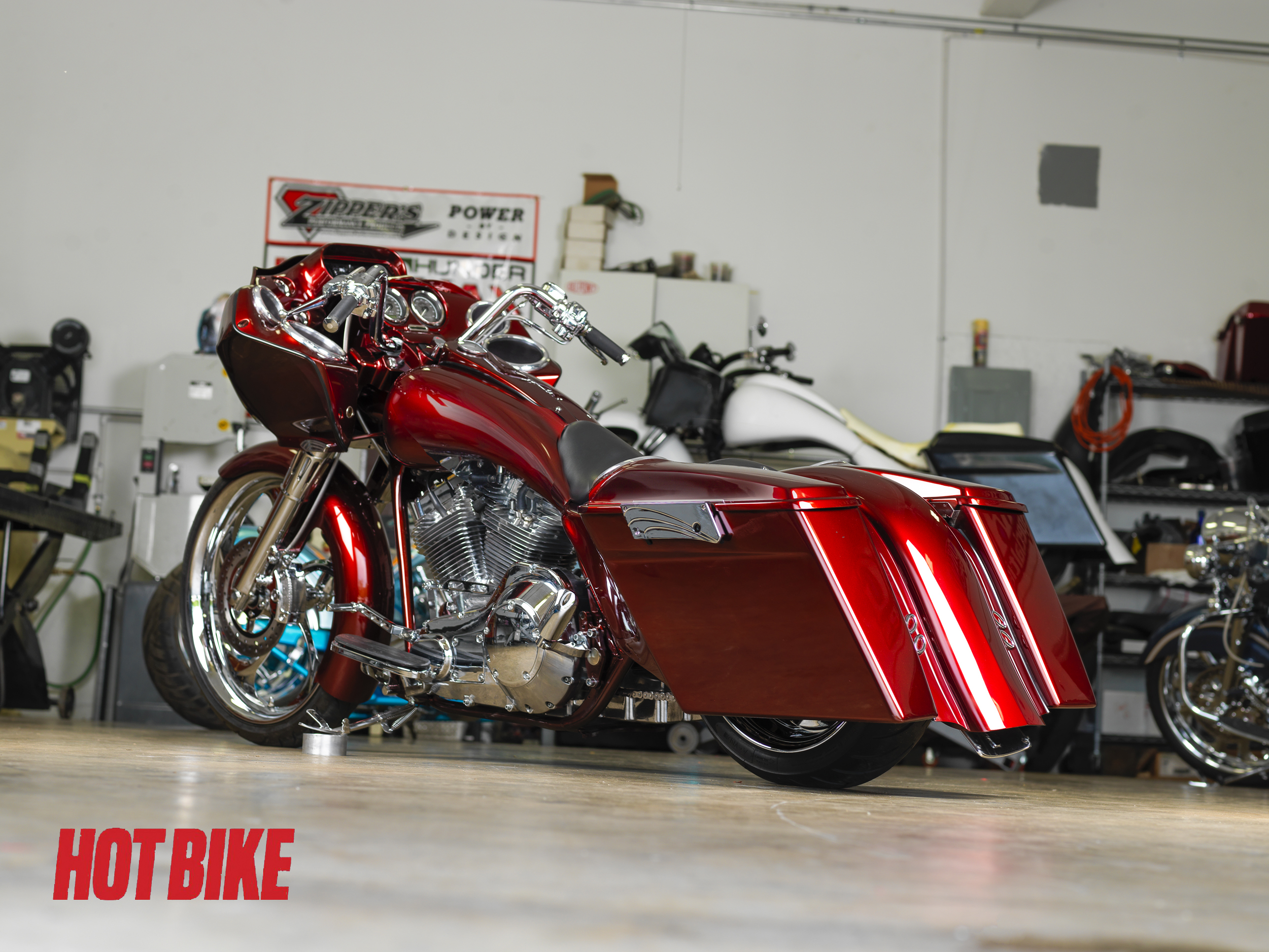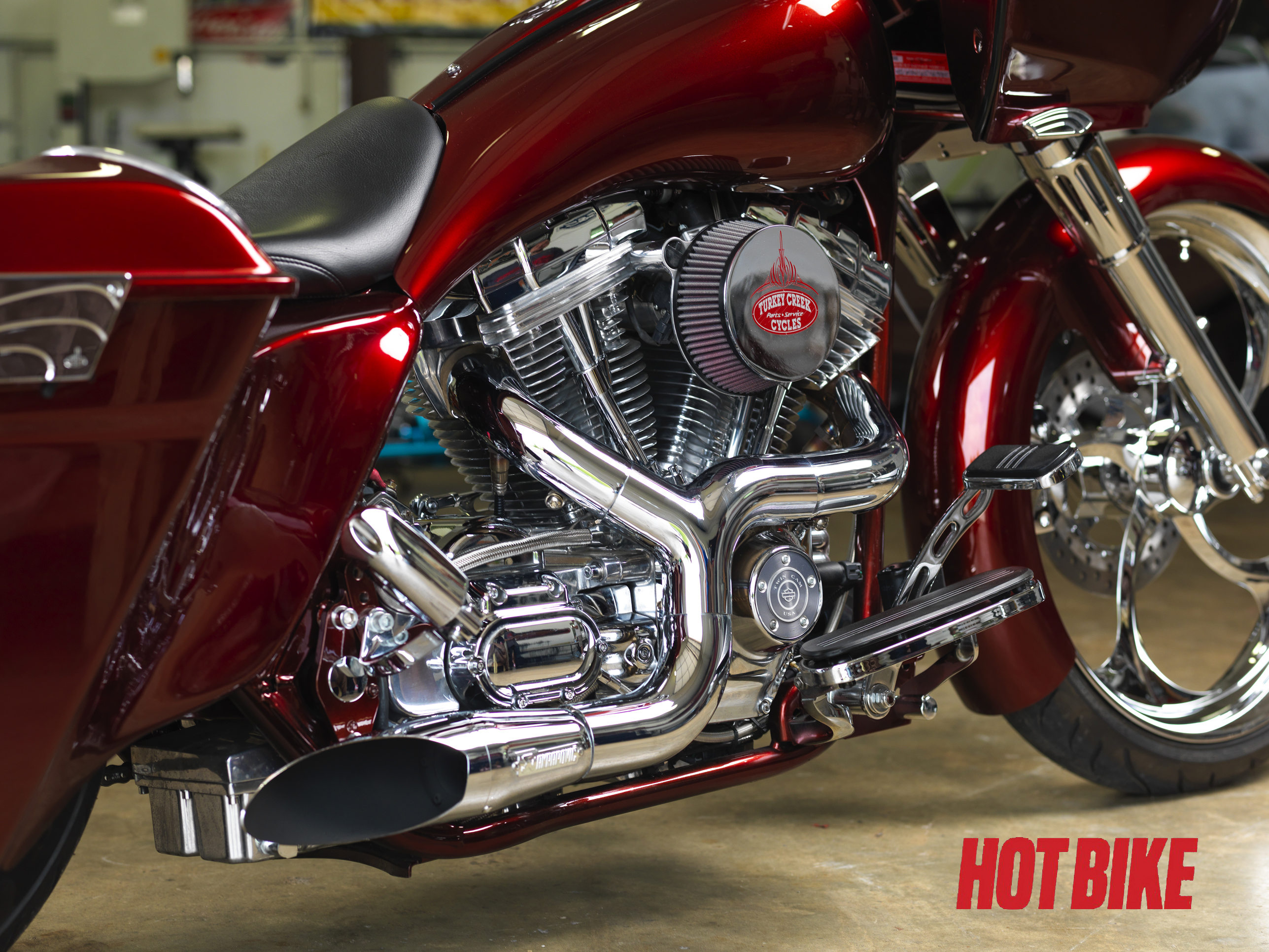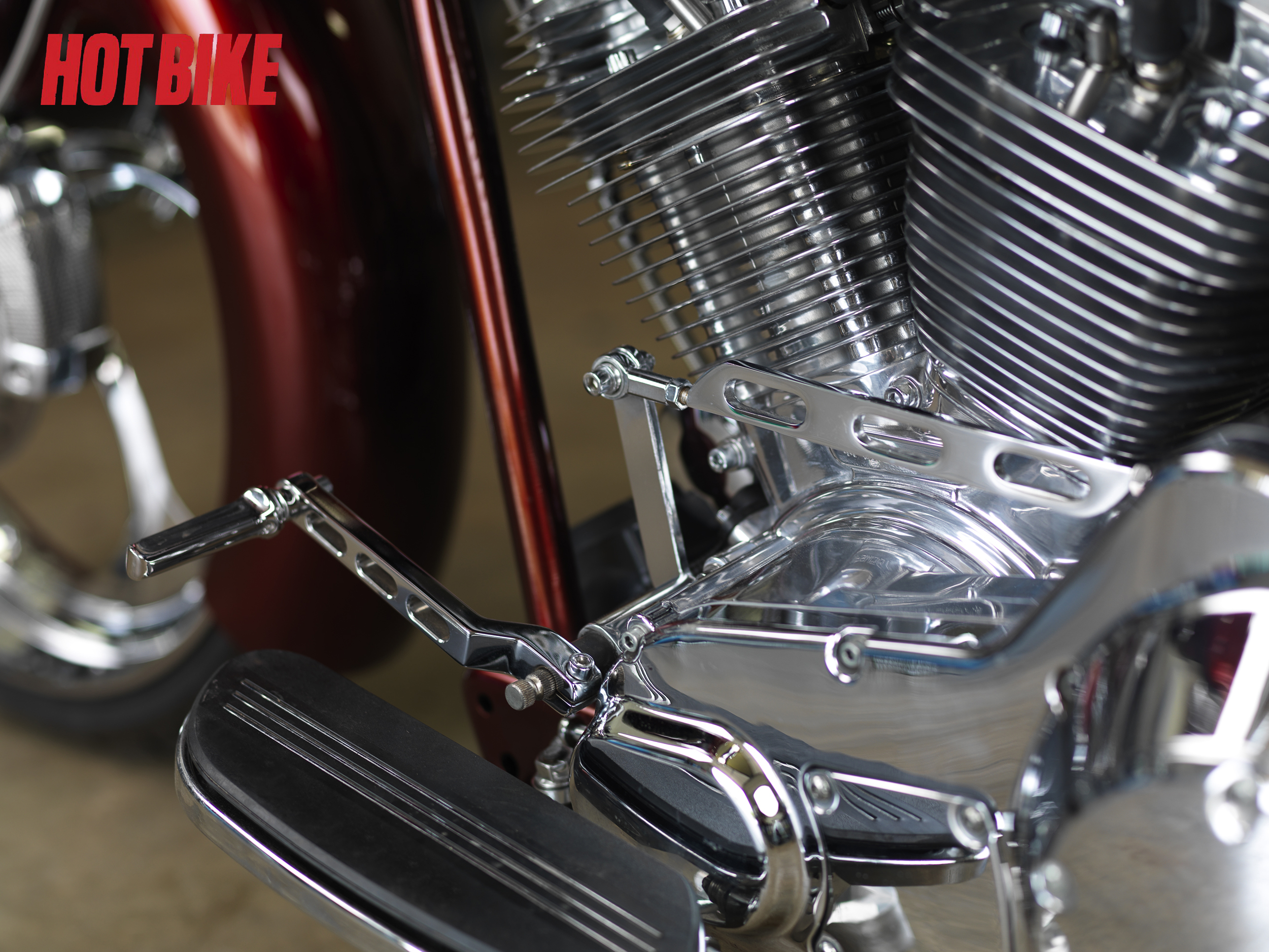 I'd love to know how someone came up with the name for this paint. Was it two people sitting around the office, splitting a six pack, saying, "Hey, Ed. You know what that new deep red reminds me of? Ox blood." Or maybe they're in the mixing room and someone says to the design team, "I was at a slaughterhouse the other day, and it occurred to me that ox blood would make a great red paint." I suppose I could call someone up and ask around, but I just finished lunch and hit my afternoon food coma, so I'm feeling a little too lazy. Besides, it doesn't really matter, and lots of other things are colored oxblood red. What's important is that oxblood is the deep beautiful red paint Chris Campbell at Turkey Creek Cycles chose for this sweet 2005 Road Glide, and it looks damn good.
This project started with a worn-out salvage bike. Chris Campbell and Paul Harper would go to the local swap meet in Kansas City where they met a guy named Ross who'd buy all of their used parts. Eventually Ross told them the reason he was snatching up all the used parts was because he had some wrecked Harleys that needed love and new life. When he offered to sell one to them, Chris asked if he had a Road Glide in his collection. Sure enough, he in fact did. After a trip to Ross' garage, Chris started up the bike in question and this project was born.
At first, Chris was fine with just getting it rideable. That lasted for all of one season's fun on the street, however. When the Road Glide went into winter hibernation, Turkey Creek's Dave Carrel got busy collecting the parts needed to turn the caterpillar into a butterfly, albeit a badass one and not one of those kind, gentle butterflies people press into scrapbooks.
No, this butterfly got a raked front end, 23-inch Renegade wheel, and a redesigned strut system out back to bracket a new 17×6.25-inch rim. Turkey Creek also reworked the chassis setup so the rear fender sits lower and further back. Resetting the profile like that was a great first step for the in-depth transformation that followed.
That continued when Paul reworked the fairing. When he started cutting into it, all Chris could do was scratch his head, but he had faith. As you can see, the end result was his reward. Chris followed up by making the fairing support brackets that are not only molded to the frame, but they're part of it. Not to be outdone, Paul stretched the gas tank. Chris answered by mocking up and modifying the side covers. Between the two of them and all of that metal sculpting, they gave this Glide a sweet smooth flow to its lines. It took two nights and some cold beer to figure out what to do about the rear fender, however. That's what led to the fold-out license plate holder—that's Chris' favorite part of this bike.
Although I'm pretty sure what Chris calls a TCC 106-inch Enforcer motor ranks pretty high on his list of "likes" when it comes to his bagger. In keeping with making this Road Glide into an absolute stunner, he had all of the visible drivetrain components polished to a brilliant shine. After they came back, he filled the covers with guts from some of the biggest names in the industry—S&S 4.5-inch stroker flywheels, lifters, and pushrods, T-man cams, fueling oil pump, and cam plate. Between those parts and Jack Larsen's head work, the new 106-inch mill boasts enough grunt that Chris hunts for 120-inch motors to challenge.
Choosing paint wasn't nearly a clear-cut decision for Chris. He had no idea which direction he wanted to take the color until he opened up the House of Kolor book and consulted with his painter buddy, Carlos. Not only did he come up with just the right shade of red, but he had it all done with just enough time for Chris to complete the bike—in time for Turkey Creek's upcoming block party. Carlos and Turkey Creek didn't invent the name Oxblood Red, but they sure as hell put it to great use.