Everything has been done. Every big-wheel bike, I've done, whether it was a Street Glide, Road Glide, what have you. But no one's done an FXR front end on a touring bike." That's how Dave Dupor of DD Custom Cycles decided this meaty Road King had to happen. "It's a cool-looking front end that's something different and will appeal to guys on the West Coast," Dave says. "Here in the Midwest, the FXR thing hasn't taken real well, and I'm the guy who always does something a little different. I also heavily modified the fairing to my liking." Converting an FXR fork to it was just the opening salvo in the creativity barrage that followed, as you can probably tell.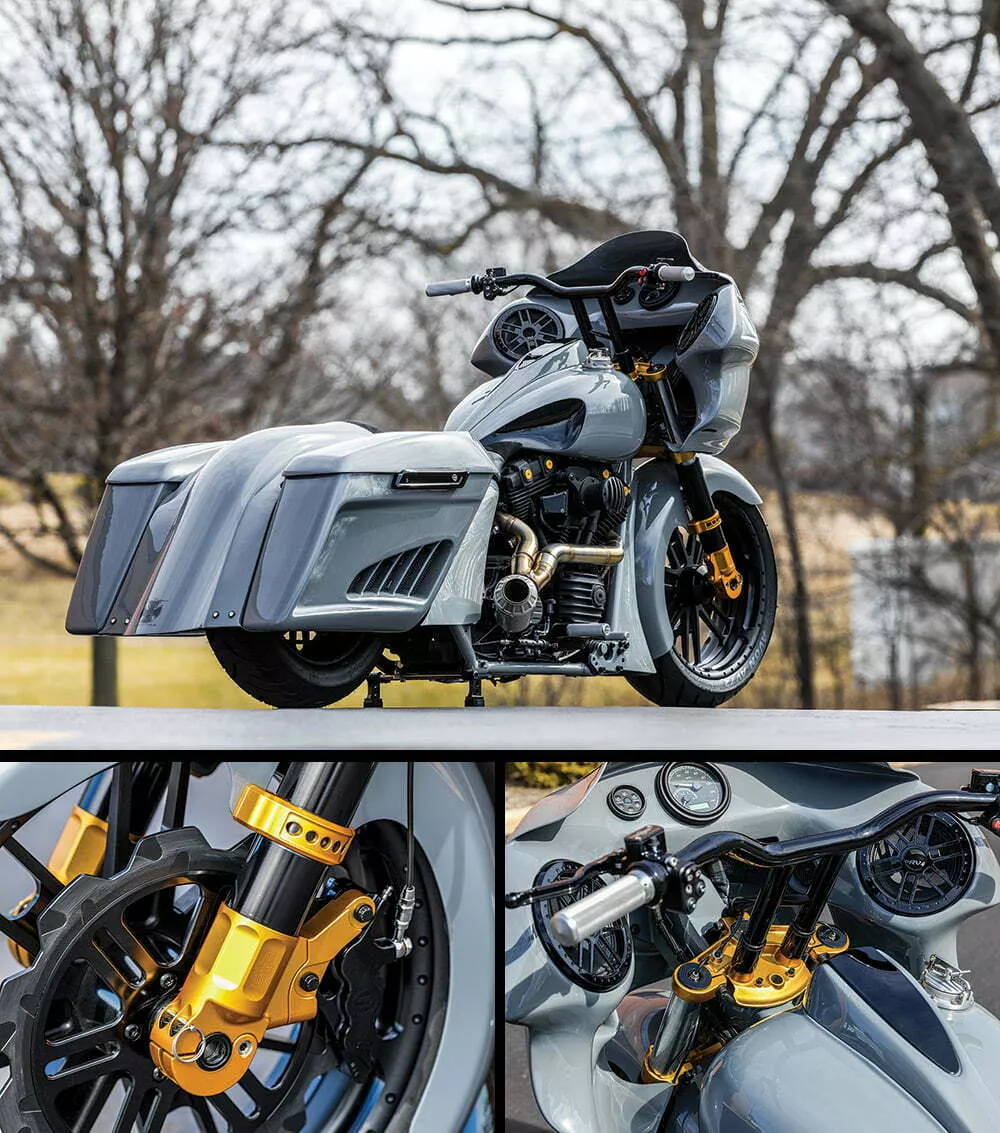 It's also nobody's big wheel. "I really wanted to build something totally different from the current stretched bags, 30-inch wheels, etc. Those bikes are starting to look the same," Dave continues. "The wide tire handles well and rides awesome. The 180 tire, you feel really in control. With the MX bars, mids, that front end, and 180, it's a full combo that's easy and fun to control."
Dave scrounged up this 2014 Road King, a donor bike, in Ohio. It was in great condition, and could have been a great bike left as is (OK, maybe not so much; it was torn down in less than a week). He then faced the task of making it all flow from front to back. "I tried to make every part of the bike, the steel fenders, steel tank, steel side covers, bags with my vents, and so on," he says, "and just make it my own and not just another bolt-on bagger."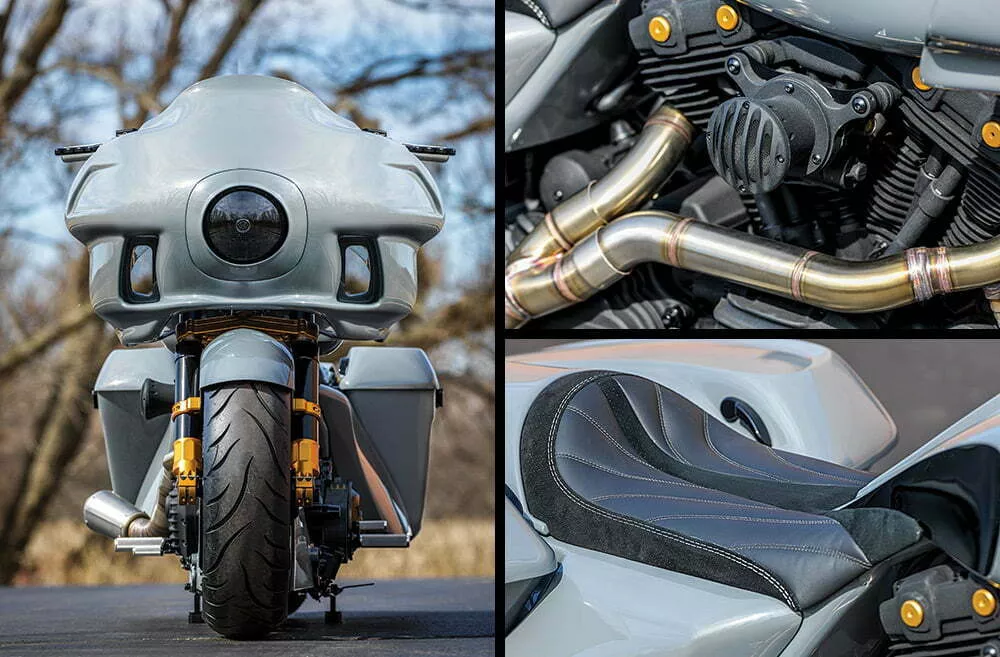 For the tugboat up front, Dave took a modified TOL Designs FXR fairing and put it on this Road King. "Even the smartest people here thought this bike was an FXR," he recalls. There are plenty of other details throughout the bike, and while it looks like a tank, it rides like a streetfighter (for a bagger). Dave tells us you can throw it anywhere you want. Plus, the wide-tire front and the short and stubby stance just demand respect. The outcome was awesome and people love it.
Dave made 90 percent of the custom parts on this bike, including the all-steel bodywork. He molded the windshield, made the speaker enclosures, and built the big 107-inch motor.
Not that the project started out with fans. There were skeptics. When the fairing came in, people came into the shop thinking it was ugly. "Wait till it's done," he'd say. "Then you can judge it."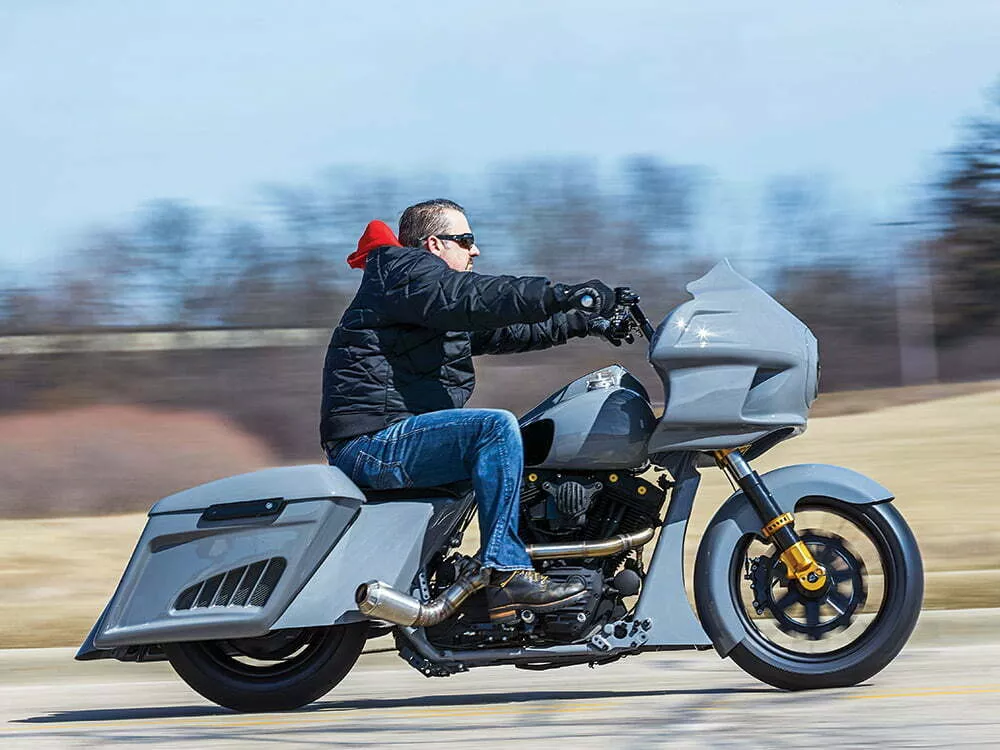 Specifications
| | |
| --- | --- |
| General | |
| Bike Owner | Dave Dupor/DD Custom |
| Shop Name | DD Custom (DDCC) |
| Shop Phone | (847) 356-8053 |
| Shop website | ddcustomcycle.com |
| Year/Make/Model | 2014/Harley-Davidson/Road King |
| Fabrication | DD Custom |
| Assembly | DD Custom |
| Build Time | Three months (should have been six) |
| Engine | |
| Year/Manufacturer | 2014/H-D |
| Type/size | 107ci |
| Builder | DD Custom |
| Cases | H-D |
| Cylinders | H-D/Dragos 107 |
| Heads | Dragos Stage 2 |
| Rocker Boxes | EMD |
| EFI/Carb | Thundermax |
| Air Cleaner | Vity's |
| Exhaust | Graffeo |
| Transmission | |
| Year/Manufacturer | 2014/H-D |
| Case | H-D |
| Clutch | BDL |
| Primary Drive | H-D |
| Frame | |
| Year/Manufacturer | 2014/H-D |
| Rake | 30° |
| Suspension | |
| Manufacturer Front | American Suspension/DD Air |
| Length | Stock |
| Triple Trees | Stock |
| Manufacturer Rear | Dirty Air |
| Swingarm | Stock |
| Wheels, Tires, and Brakes | |
| Manufacturer Front/Type | Roland Sands Design/Slam Black Ops |
| Size-Height/Width | 18 x 5.5-in. |
| Tire/Size | 180/55R-18 |
| Caliper | Performance Machine six-piston |
| Rotor | Lyndall |
| Manufacturer Rear | Roland Sands Design Slam Black Ops |
| Size-Height/Width | 16 x 5.5-in. |
| Tire/Size | 180/65R-16 |
| Caliper | Performance Machine four-piston |
| Rotor | Lyndall |
| Finish/Paint | |
| Color | Audi/Lamborghini Nardo Gray |
| Painter | Custom Painted Vehicles (CPV) |
| Accessories | |
| Front | Fender Native/DDCC |
| Rear Fender | DD Custom (steel) |
| Fender Struts | H-D |
| Gas Tank and Cap | DD Custom (steel) w/ Crazy Beaver cap |
| Oil Tank | H-D |
| Handlebars | DD Custom Ghost Bars |
| Hand Controls | Berringer |
| Foot Controls | Boosted Brad |
| Footpegs | Boosted Brad |
| Headlight | DD Custom/HD |
| Taillight | DD Custom |
| License Mount | DD Custom (hidden style) |
| Seat | Dave Vos/DD Custom pan |
| Saddlebags | Top Shop/DD Custom vents |
| Saddlebag Latches | Performance Machine |
| Audio | PRV/JL |