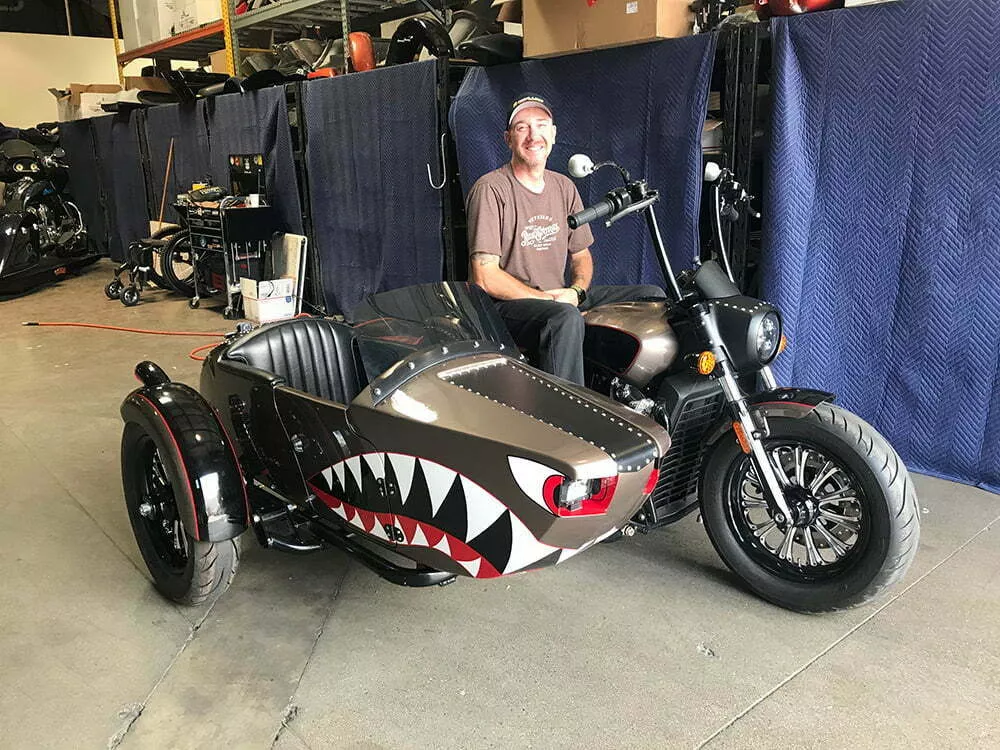 "I got into bikes when I was about seven years old," said Army veteran Richard Neider, aka Richie "Two-Chairs." "My dad used to wrench all the time and he would bring me in the garage. At that time he was teaching me about tools and he and I built a minibike that had a little Briggs & Stratton motor on it.
"After that I just kept getting into bigger and bigger stuff and got into streetbikes."
He plunked down the money for a Honda CBR600, he said, and "the rest is history."
Unfortunately that history included an IED exploding under his Humvee in 2005, which left Neider with severe spine injuries and hearing loss. The road to recovery was hard-fought.
"I originally enlisted because I always wanted to be in the military. Basically when I went in I wanted to serve my country… That was the only thing I cared about," he said.
Neider's tenure in the Army lasted two more years before the E-5 sergeant was medically honorably discharged. But the traumas of that day in 2005 continued to haunt him, the injuries to his spine eventually costing him the ability to walk. A tsunami of emotions ensued, and the grip of PTSD was strengthened by the loss of the use of his legs. In 2011, he rode a motorcycle for the very last time.
Until last year, that is. That's when Richie "Two-Chairs" jumped on a specialized Indian Scout with a Champion sidecar and rode again for the first time in six years. Richie was one of the veterans participating in the 2017 Veterans Charity Ride to Sturgis, and the Indian Scout he rode was the one Neil Frustaglio and Josh Stein had commandeered from Los Angeles to Sturgis.
"Their bike was sitting there and we weren't doing anything that morning and they were like, we're going to get you on the red Scout," Neider said.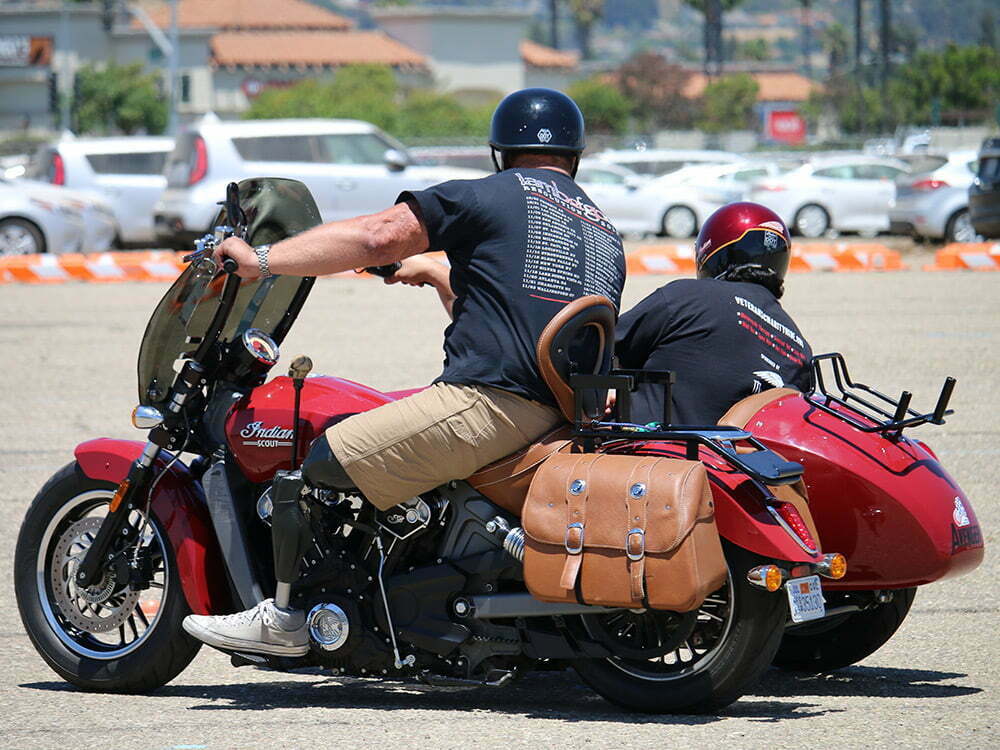 Richie "Two-Chairs" loved to ride motorcycles.
That ride reignited the fire for Richie to once again have his own bike. After returning home to Arizona from the Veterans Charity Ride, he discovered that the shop that built the red Indian Scout he'd ridden in Sturgis wasn't far from his home.
"I want one of these," Richie told Azzkikr Customs' John Meade.
Not long after uttering those words, he purchased a 2018 Indian Scout Bobber from Double D's Performance in Scottsdale and set the proverbial wheels of the project in motion. Acquisition of an Avenger sidecar from Champion followed. As word of the project spread, so did the donations from premier parts makers like RC Components and Bassani Xhaust. Richie soon became that guy at Azzkikr—you know the one—the hang-around guy.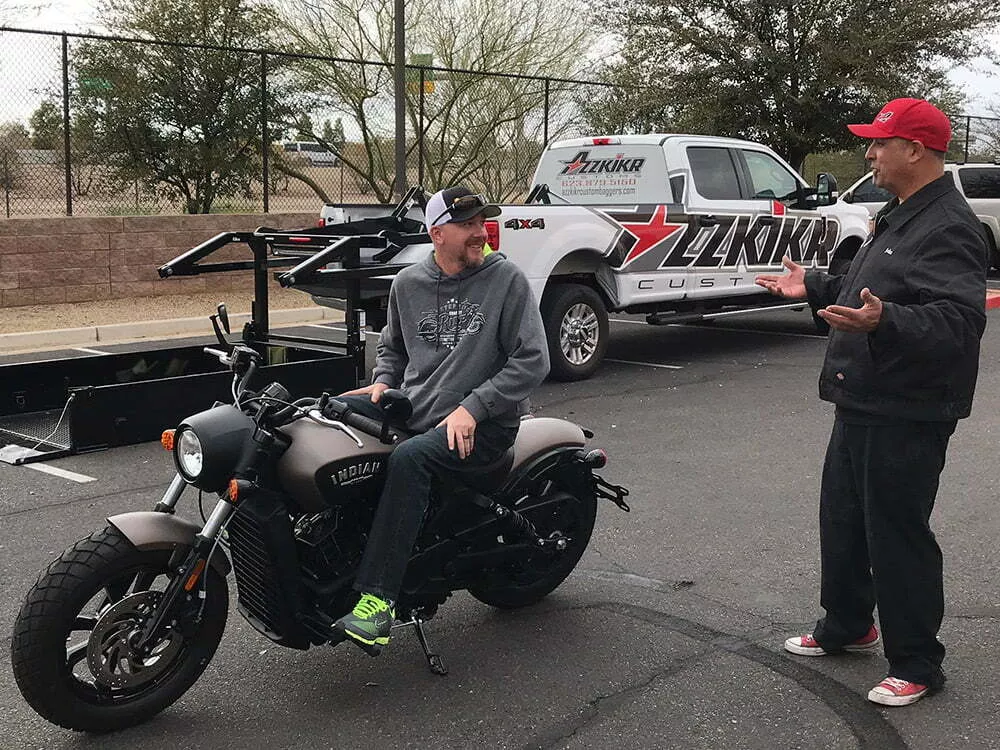 "Richie has been here working with me basically, I'm going to say, for the last six months, full-time. If I'm at this shop, Richie is at this shop," Meade said.
The hang-around set up his Scout Bobber much like the original, the rear and sidecar brakes controlled by a squeeze with the left hand and the front by the right. It's got a parking brake too, the button within easy reach on top of the headlight housing.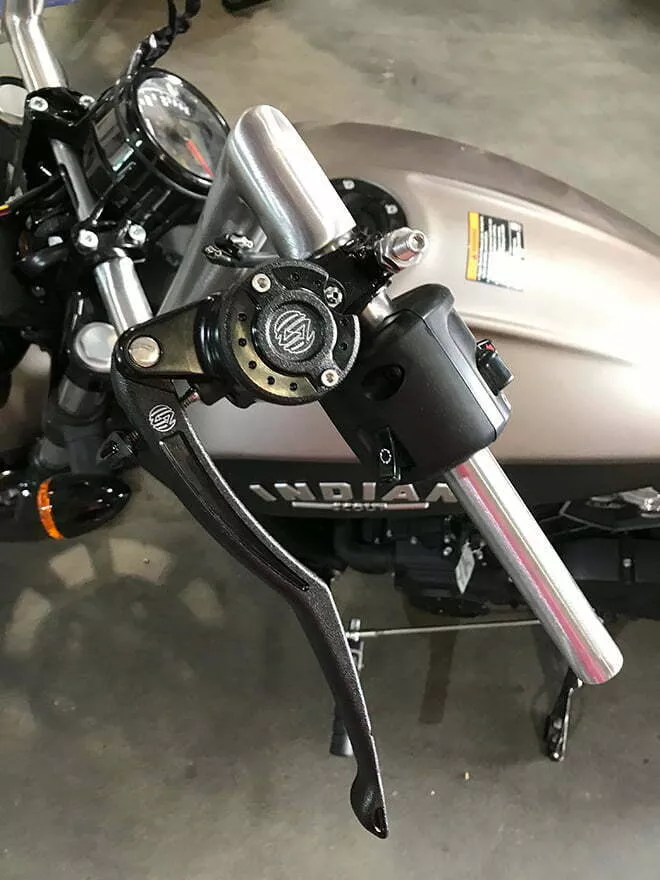 They swapped out the stock Scout clutch for a Rekluse centrifugal unit and a jockey shifter so Richie can still bang through gears. Azzkikr fabricated mounts on the custom floorboards to secure his feet when he's riding, and the apehangers are a reflection of Richie's newfound can-do attitude. And would you expect anything less than a faux hand grenade on his jockey shifter? But of all the changes to his Scout Bobber, the performance-based upgrades are the ones Richie talks about in excited tones.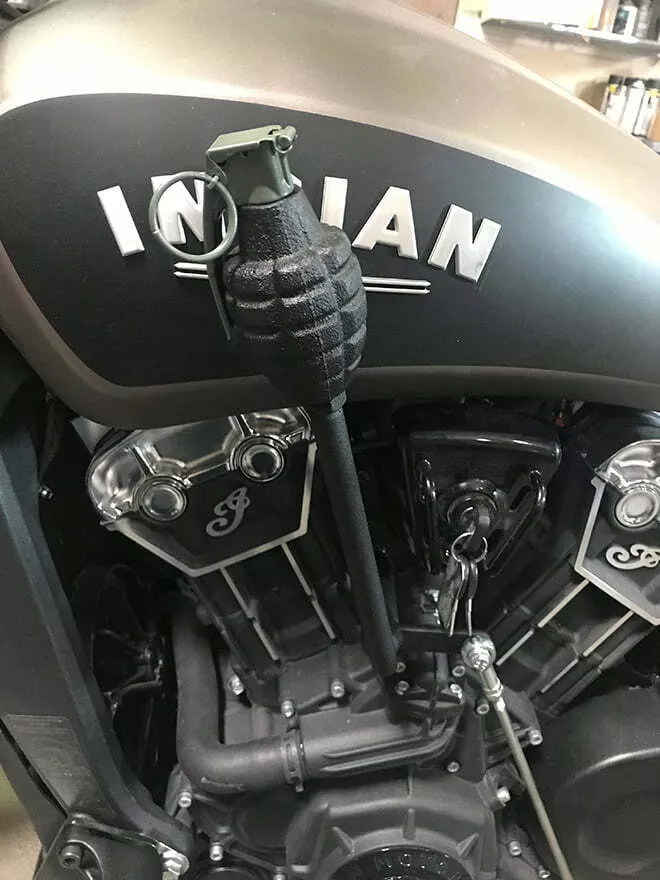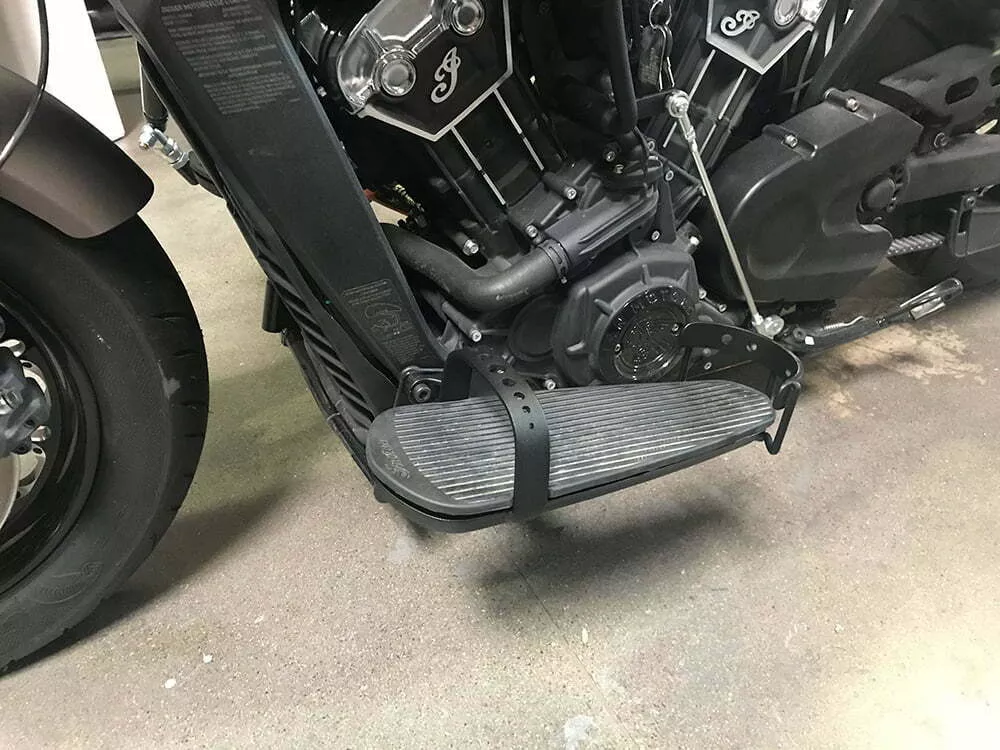 "When we got the bike, we dynoed it—74 horsepower stock. After the addition of a Trask High Flow air filter, Bassani exhaust, a Power Commander V, and tuning by John, it bumped up power output to 97 horsepower," Neider said. "We were messing around out back a little bit and I probably left like a 100-foot black streak."
While his Scout Bobber is undeniably dialed, the custom Avenger sidecar is the big attention-getter. Azzkikr redid the tail in fiberglass and added a pair of headlights to the front. A metal rack has been mounted atop the back panel so Richie can throw his wheelchair on and go.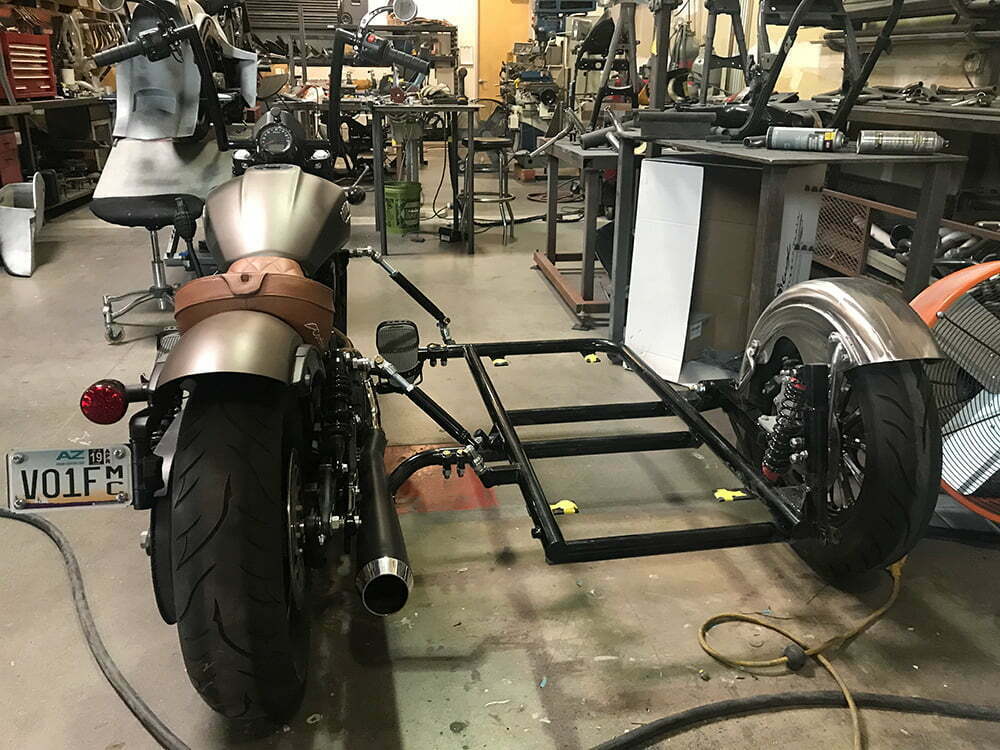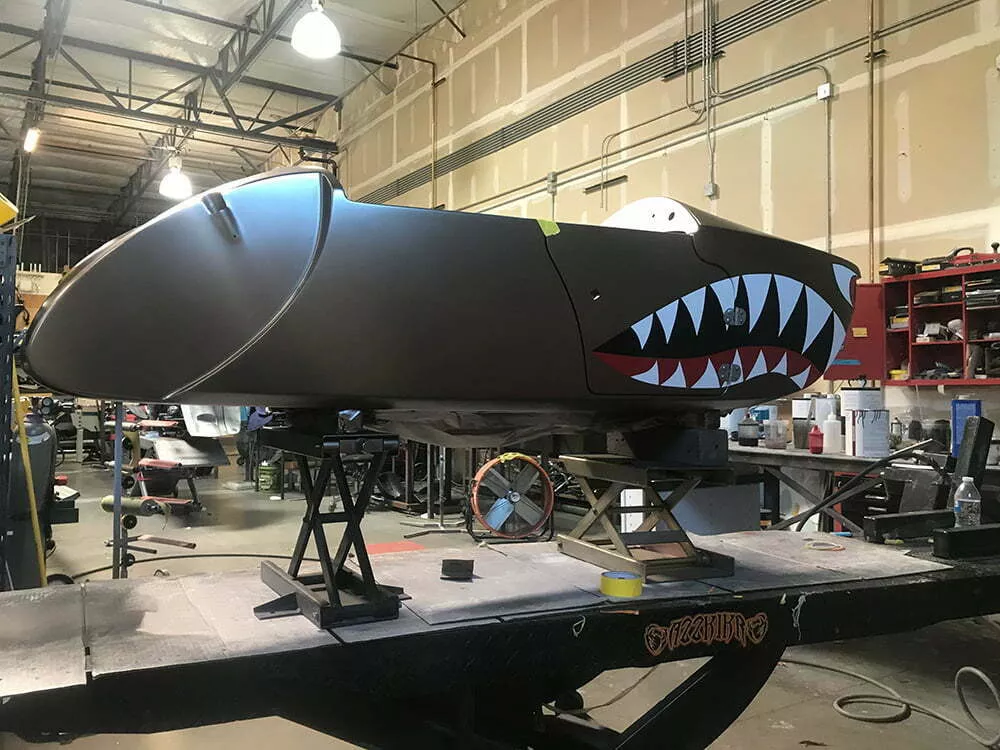 "We mocked it up a couple months ago. Richie said it was really hard to see at night so they outfitted the sidecar with headlights. Once they got the lights in, they said it looked like a face, so they drew a mouth on it and this is how it came out," Meade said at the bike's unveiling.
It came out like a P-51 Mustang ready for takeoff, a fitting choice for an owner who's ready to fly again. And fly he will; Richie "Two-Chairs" will soon be breaking in his Azzkikin' Indian Scout Bobber with the 2018 Veterans Ride to Sturgis, this time as a mentor in the program. Joining him is his good buddy Robert "Doc" Pinkham, who rode with him to Sturgis last year, Pinkham piloting an Indian Chieftain and Neider riding shotgun in the sidecar. At pit stops, Pinkham would grab Richie's wheelchair for him, either the one set up for off-road use or the one for on road.
"Doc would always say, 'Which of your two chairs do you want?' He finally got to a point where he was like, 'I need to give you a nickname, and it's going to be Richie Two-Chairs.' " The name stuck.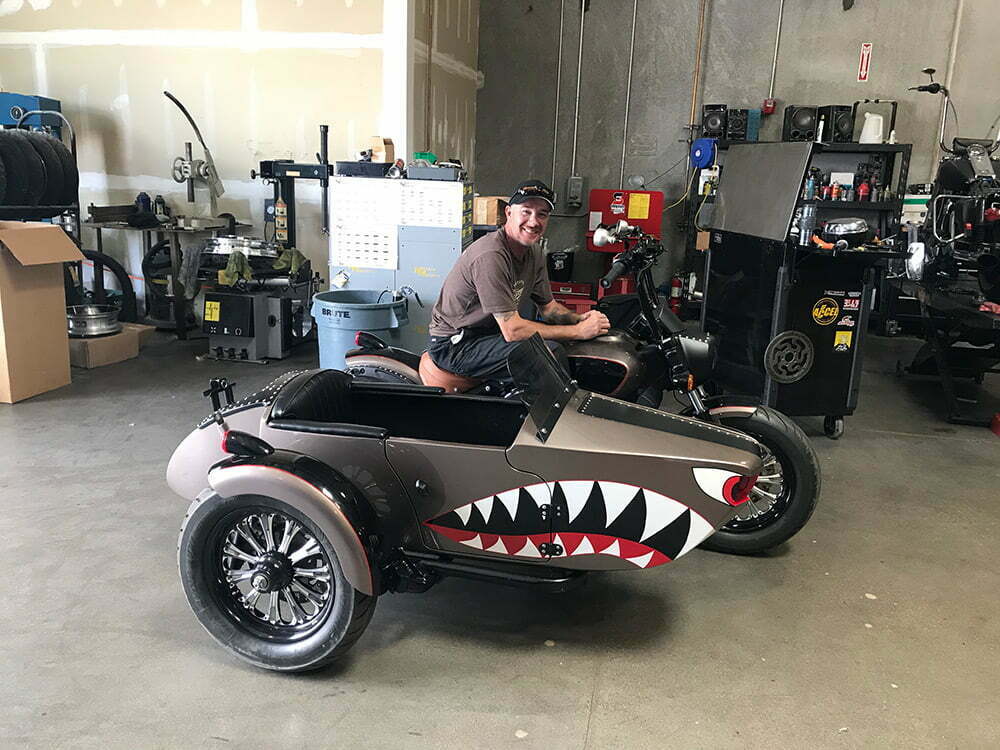 Two-Chairs has transformed since getting back on a motorcycle. Nobody has witnessed this transformation more than his wife, Kerry.
"As she put it, a piece of me came back when I came back from the trip last year," Richie said.
Parts & Contributors List
2018 Indian Scout Bobber
John Meade Customs
Champion Sidecars & Trikes Avenger model
Trask High Flow air filter
Rekluse clutch
Custom floorboards, handlebars, and jockey shifter
Roland Sands levers and grips
Corbin seat
Daymaker headlight
2 headlights in sidecar
Parking brake
Wheelchair mount
Custom taillights
2 USB ports
RC Components wheels and front rotor
3 Avon tires
Von Butch paint
Affordable Powder Coat Co.