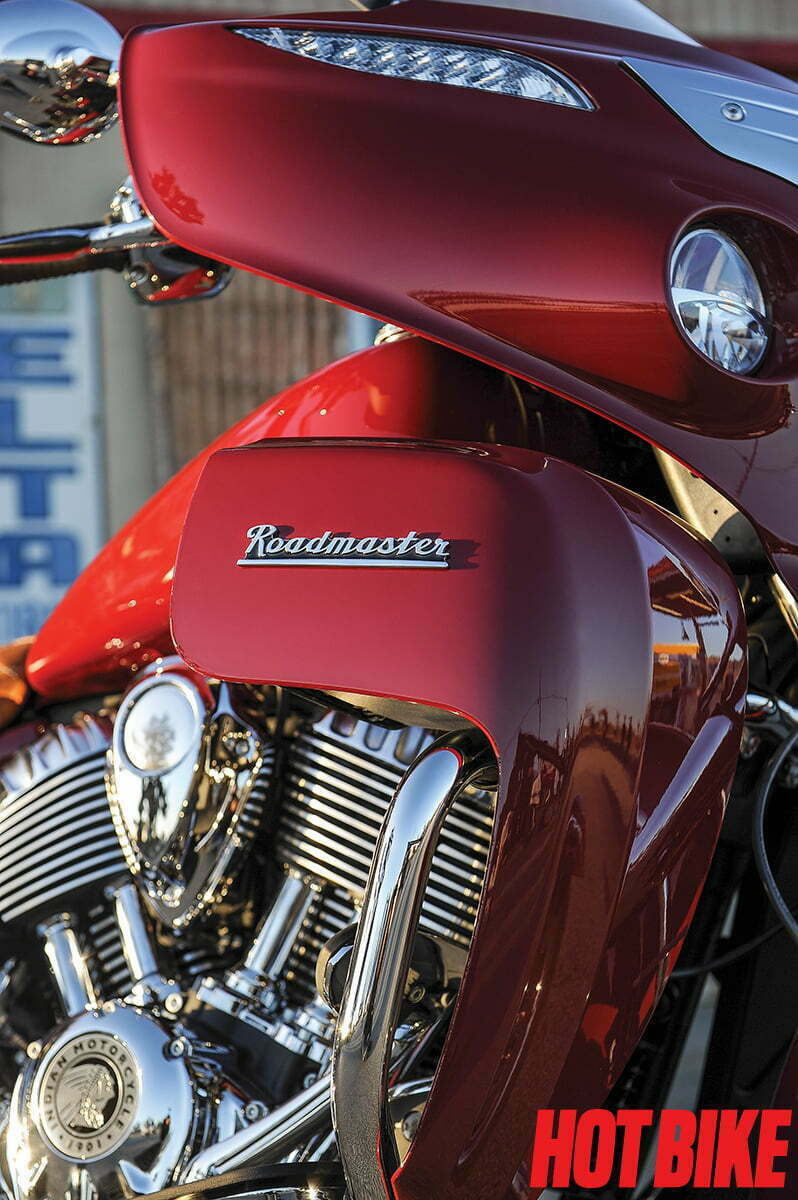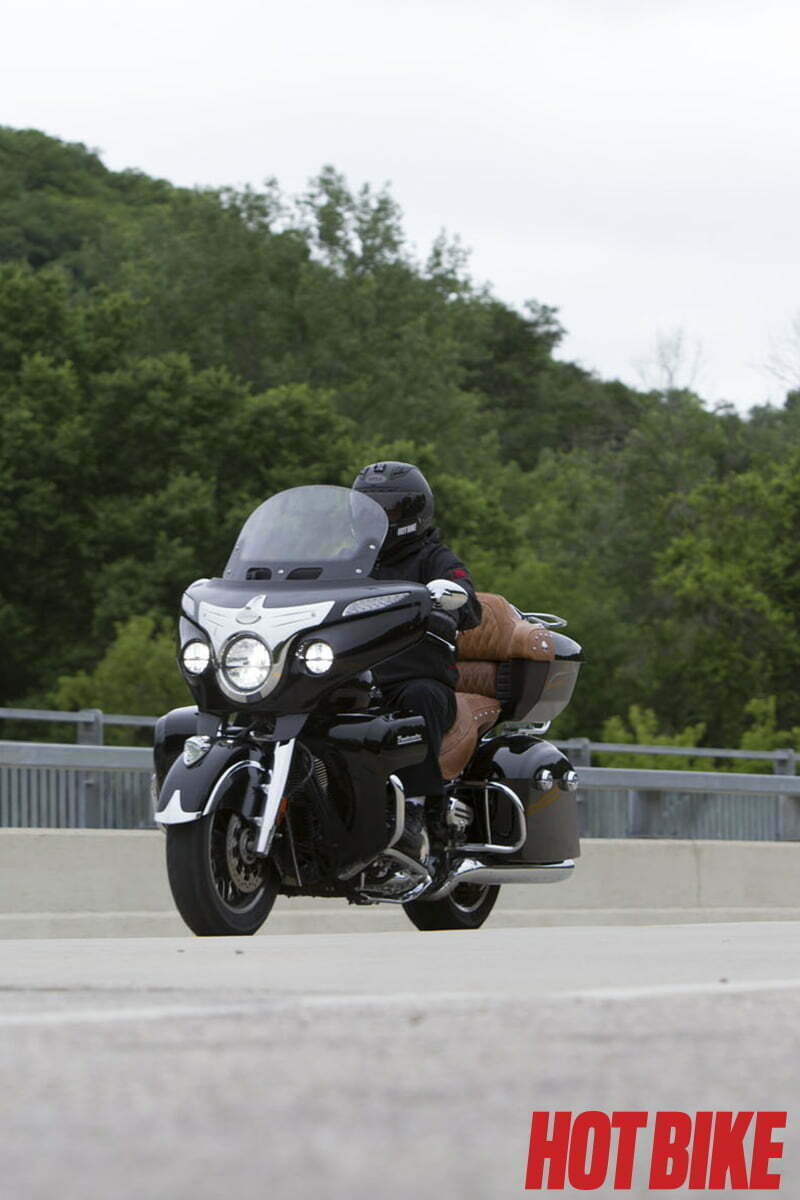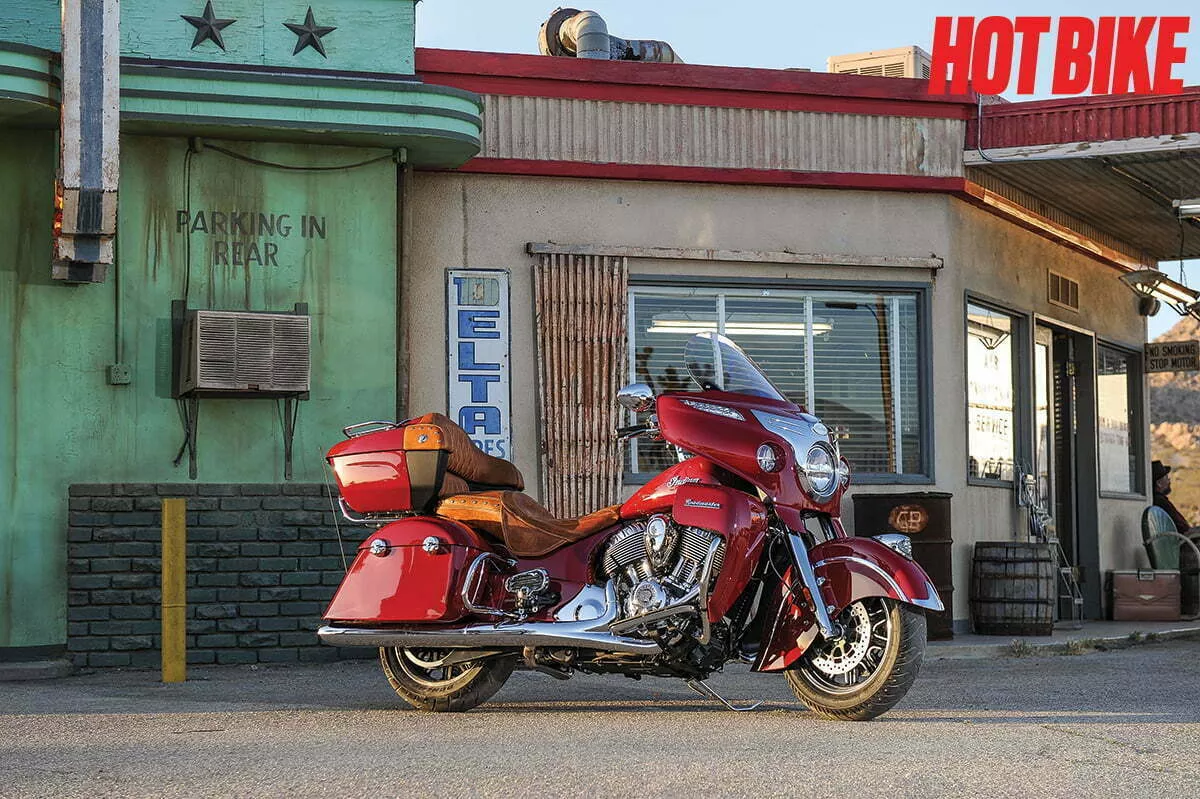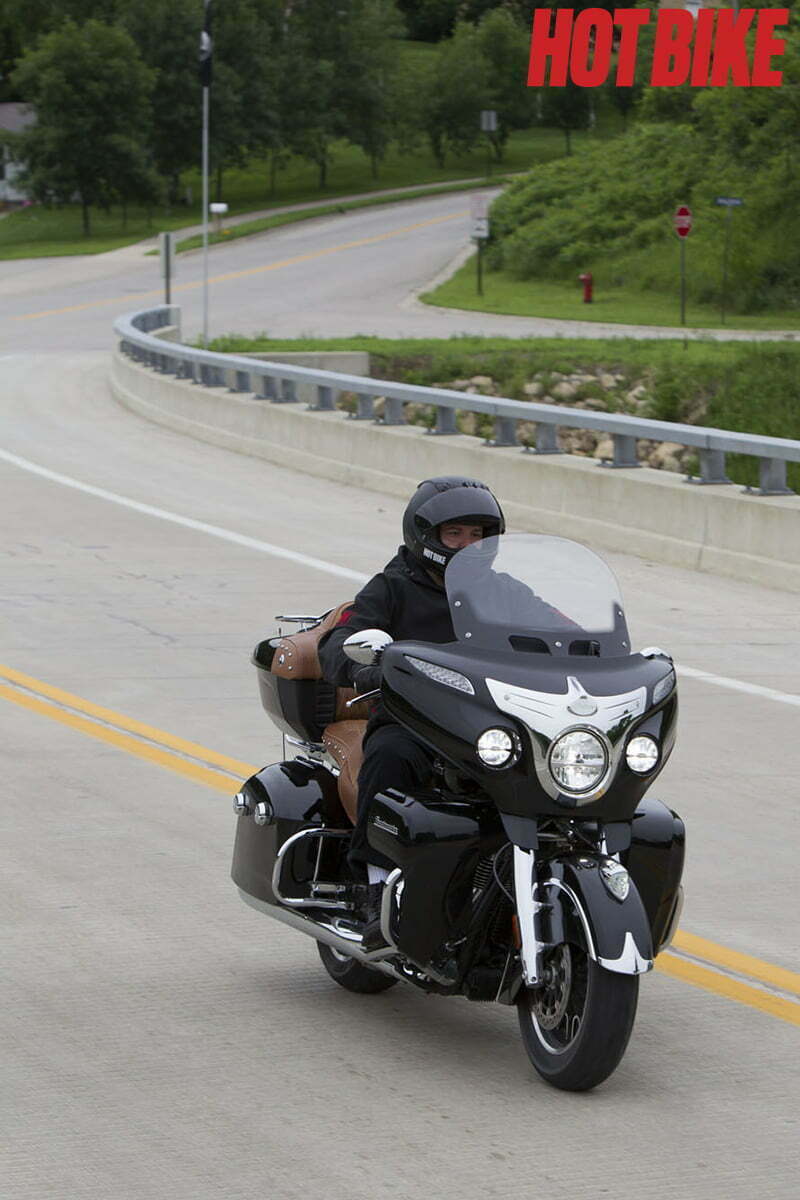 As we all know Hot Bike is considered the "catch-all" of custom motorcycles and we don't really do all that much with brand new bikes. This is mainly due to our readers, fans, and followers are more into hacking up what they already have than buying something new. Though more and more of us are thinking about hitting the road on something comfy and being more worried about the scenery around us and less about gas stops and kidney belts like we are with our current stable of peanut-tanked choppers and custom bikes that ride like shit. With that said we were lucky enough to be sent out to Indian's HQ where we threw a leg over the new Roadmaster and racked up a few hundred miles. If you know it or not Indian is intent on being the number one American-made motorcycles and have planned on going toe-to-toe with Harley. Seeing that the Ultra Glide is a very good seller and the flagship of the H-D line its no surprise that the folks at Indian would try and replicate the features that made the Ultra Classic famous. Well, they did that and then some with the Roadmaster.
First off the Indian's 111 (1811cc) Thunderstroke Engine is a perfect mix of beauty and the beast. With horsepower at just under 74 @ 4,500 RPM and a Max torque of right around 100lb-ft it gets up and moves this 889-pound bike with ease.
In the chassis department the Roadmaster is treated to 4.7 inches of travel up front via 46mm telescopic forks and 4.5-inch out back using a single, yet adjustable air shock. I am amazed at just how comfortable this behemoth of a bike was both at parking lot speeds as well as highway speeds into the triple digits. The bike floated over most road expansions and joints well and took big potholes and other tarmac inconsistencies with a great mix of both compression and rebound damping. How Indian can engineer such a rear end to work so well with just a single shock is quite amazing. Good stuff indeed.
<div class="st-block quote text-
Notice: Undefined index: st_text_align in C:laragonwwwhotbike-importblocksquote.php on line 1
">
When riding the Roadmaster it felt much lighter than the fully outfitted Harley, Honda, or Victory in it's category
Yes, these big touring bikes are all packed with features, and the Roadmaster seems to have taken the best from the rest and have left out most of the stupid stuff even the cushiest of these two-wheeled Caddies possess. The new Horizon power adjustable windshield, aerodynamically-designed fully heat and cool adjustable lowers, dual-zone real leather seat, and LED lighting were the sheer standouts of this (not so) little Indian. There are a few other standard items that make the Roadmaster a top touring bike, such as the 37.6 gallons of remote locking storage, triple power ports for electronic gadgets, adjustable passenger floorboards, full infotainment system with Bluetooth and an accessory input, tire pressure monitoring, cruise control, and the handiest item of them all (pun intended): heated grips.
All the aforementioned luxury items are all well and good, but what about the Style? Well, the Roadmaster has that in spades (for a touring bike) with than now unmistakable Art deco "Indian" look gone futuristic and ton more standard chrome than the competition. The Roadmaster is available with three retro-esque paint schemes Indian Red, Thunder Black, and my personal favorite; the two-tone Indian Red/Ivory Cream.
When riding the Roadmaster it felt much lighter than the fully outfitted Harley, Honda, or Victory in it's category. The ergonomics of this particular model Indian fit my 5-foot 10-inch frame well, but I would still swap out the bars for something a tad taller. The height adjustable windshield was a godsend when the raindrops fell and the ease of adjusting the vents on the lowers was a great thing during the downpour as well.
Though a point of contention with the other Indian models, I found the seat to be comfortable for all day riding and the heater was an added bonus.
Yes, this bike is a bit out of the norm for the Hot Bike editors and readers alike, but I found the Indian Roadmaster to be a stellar example of an American V-Twin touring machine and one that I would highly suggest you test ride if you are looking into bikes such as an Ultra Classic, Goldwing, or Victory's Vision or Cross Country Tour. And I think that you just may find this bike the best one of the bunch.
2015 Indian Roadmaster Features:
NEW HORIZON WINDSHIELD with power adjustability to customize airflow, provide weather protection, and reduce glare
AERODYNAMIC LOWERS that allow for easy adjustment of lower cockpit airflow and comfort in foul weather
37.6 GALLONS OF WEATHERPROOF STORAGE in the saddlebags, trunk and lower fairings
QUICK-RELEASE TRUNK featuring a roomy carpet lined trunk with remote locking and LED interior light
CONVENIENT FRONT STORAGE in lower fairings that's easily accessible to the rider
DESERT TAN GENUINE LEATHER SEATS with individual Hi/Lo heated controls
HEATED GRIPS with ten levels and easy off feature
INCREASED DRIVER LEG ROOM for ultimate comfort on long rides
ADJUSTABLE PASSENGER FLOORBOARDS with adjustable height and angle for a customized fit
TIRE PRESSURE MONITORING SYSTEM that keeps the rider informed about tire performance
INTEGRATED INFOTAINMENT including AM/FM/WB and accessory input for a media device including remote Pandora® control
BLUETOOTH® CAPABILITY for hands-free, multi-device connectivity and communication
KEYLESS IGNITION for hassle-free operation and the security of a tamper-proof ignition
REMOTE LOCKING STORAGE of the saddlebags and trunk provides push-button security and convenience
TRIPLE POWER PORTS for accessories and recharging
ADVANCED LED LIGHTING for Pathfinder headlight and fog lights. LED turn signals, taillight, and even the front fender War Bonnet for the brightest illumination
ELECTRONIC CRUISE CONTROL operating via ride-by wire technology that allows for comfortable sustained riding regardless of terrain or winds
STANDARD CHROME including the forks, trim, trunk rack, front and rear tip-overs, front and rear fender tips
| 2015 Indian Roadmaster Specifications | | |
| --- | --- | --- |
| Engine Type | 49 ̊ V-Twin | |
| Bore x Stroke | 3.976" x 4.449" (101 mm x 113 mm) | |
| Displacement | 111 cid / 1811 cc | |
| Cooling System | Air/Oil | |
| Charging System | 42 amp max output | |
| Transmission | 6-speed/constant mesh/foot shift | |
| Fuel Capacity | 5.5 gal / 20.8 ltr | |
| Front Suspension | Telescopic fork, 46 mm diameter, 4.7 in / 119 mm travel | |
| Rear Suspension | Single shock with air adjust, 4.5 in / 114 mm travel | |
| Dry Weight | 889 lbs / 403 kg | |
| Ground Clearance | 5.5 in / 140 mm | |
| Seat Height | 26.5 in / 673 mm | |
| Wheelbase | 65.7 in / 1668 mm | |
| Brake System Type | 49 ̊ V-Twin | |
| Engine Type | Individual front and rear control with ABS | |
| Front Braking System | Dual 300 mm floating rotor with 4-piston calipers | |
| Rear Braking System | Single 300 mm floating rotor with 2-piston caliper | |
| Front Tire | 4Dunlop® Elite 3 130/90B16 73H | |
| Front Wheel | Cast 16" x 3.5" with tire pressure monitoring | |
| Rear Tire | Dunlop® Elite 3 180/60R16 80H | |
| Rear Wheel | Cast 16" x 5.0" with tire pressure monitoring | |
| MSRP | | |
| Thunder Black | $26,999 US | |
| Indian Motorcycle® Red | $27,599 US | |
| Indian Motorcycle® Red / Ivory Cream | $28,199 US | |
| www.indianmotorcycle.com | | |