Nik and Fabian from the Young Guns Speed Shop are now two weeks away from unveiling their customized Scout at an art and motorcycle show in Switzerland. Miracle Mike, built with the official support of Indian Motorcycle, will be one of 16 motorcycles taking part in this year's Essenza sprint races and design competition.
There are two Essenza sprint races this year, one at the Café Racer Festival in Montlhery, France in June and one at Glemseck 101 in Germany in September.
Miracle Mike will face bikes entered by other manufacturers on a dead straight 1/8th of a mile strip. The winners will be the highest ranked participants in both sprints.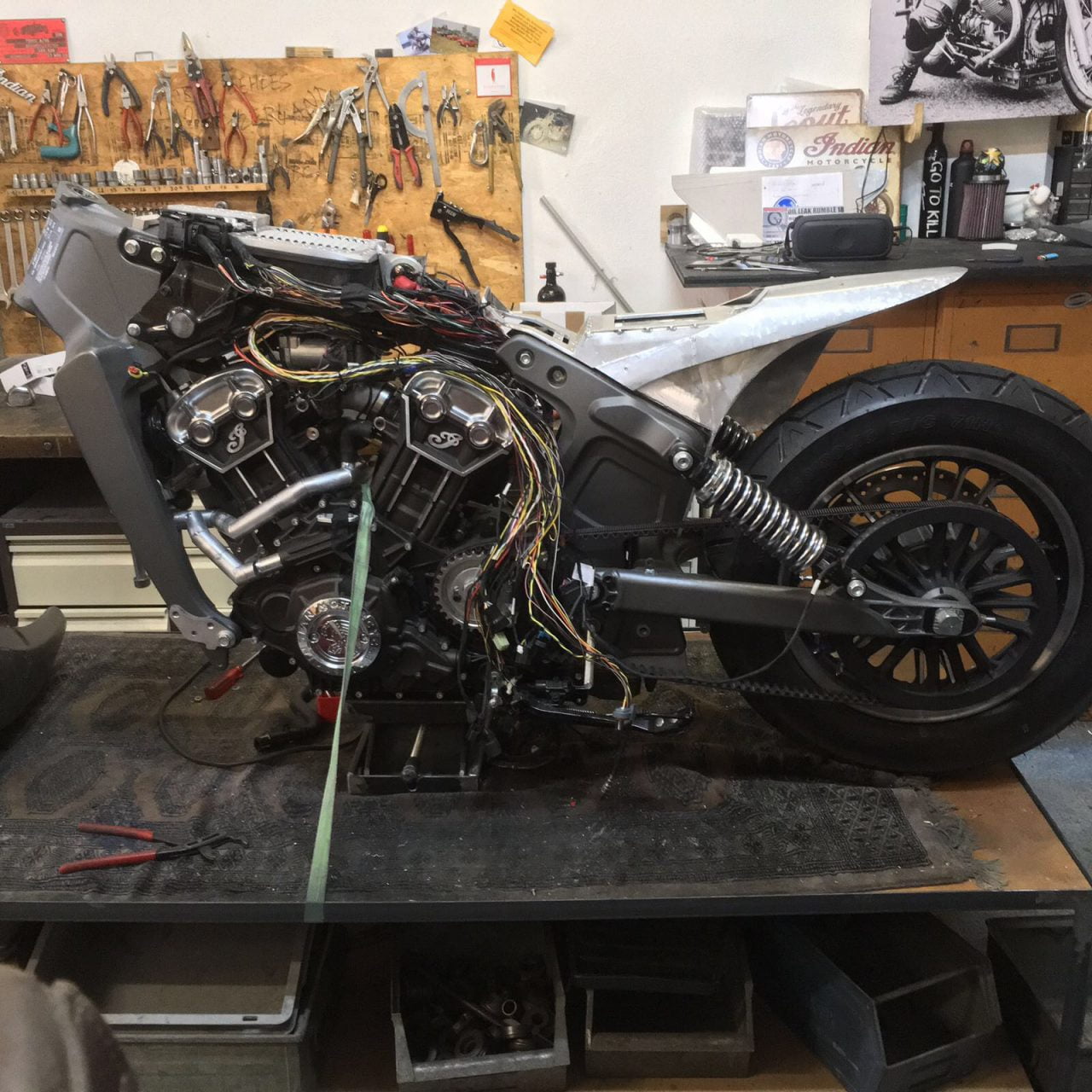 As well as the racing, during the three months between the two sprints a professional jury and the public will vote for which motorcycle should win the design competition. Nik and Fabian hope to win both the sprints and the design competition.
The pair's Indian Scout is called 'Miracle Mike' after a famous American chicken that had its had chopped off but continued to live for 18 months.
The true story can be read here and the Young Guns wanted to keep a theme of naming their motorcycles after birds, such as Ferdinand the Sparrow that they built to race on the Bonneville Salt Flats.
As Nik explains: "Miracle Mike was an incredible chicken which lived without its head for 18 months. We can't think about anything that's scarier to compete against than something you can chop the head off and it is still going strong!"
"Our Scout sprint racer, Miracle Mike, is a nitrous powered performance machine. It has been the most complicated and difficult build we have done so far, even more difficult than our winning bike in the Sultans of Sprint and our Bonneville 750ccm vintage record holder. In planning and building this Indian Scout we have invested over 500 hours of work."
Essenza organizer Katrin Oeding said: "We are delighted that the Young Guns are participating with Indian at Essenza. They are a part of a new generation of customisers and the youngest in the competition. Nik and Fabian have petrol in their blood, love speed and they combine it with design and their own lifestyle."