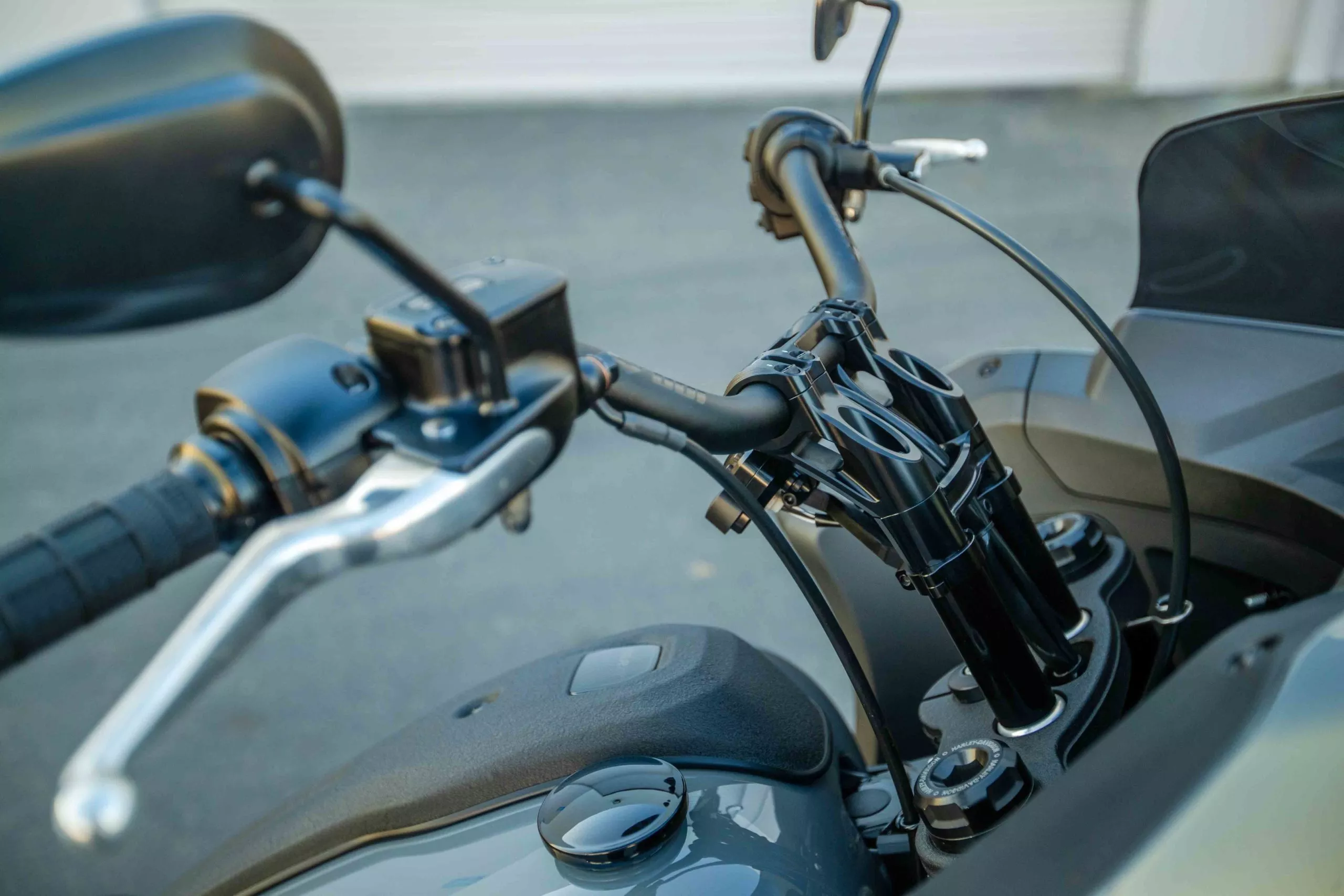 When Roland Sands Design released its new Sector lineup of hard parts for Harley-Davidson models, we knew of one specific bike that was begging for the new modular riser and gauge relocation setup (ours!). Luckily, RSD and company's Sector Riser and Gauge Relocation Kits were a perfect pair for our Harley-Davidson Low Rider ST model.
Designed, engineered, and manufactured in Long Beach California; the Sector collection from Roland Sands Design is a highly detailed V-twin performance product line that allows adjustability, gauge mounts and high-performance finishes tested for durability and long-term quality. Keeping with the all-black aesthetic of the Low Rider ST, the black ano finish was a no-brainer. Although that Nickel finish is looking top-notch, the black anodized finish made sense for this project.
The RSD Sector Gauge Relocator allows riders to ditch the stock gauge housing and location and dial in a custom rider view on their bagger. Designed as a complement to our Sector modular riser system, this gauge relocation system will work with any 1-1/8-inch T bar or riser system. The modular design of the Y mounting clamp allows for 3 areas of pivot to dial in your desired location for easy viewing. Gauges can be mounted to the front or back of the bars depending on riser height and clearances. The Gauge housing uses minimal material to ensure riders do not lose visibility of their OEM screen or infotainment system.
THE FACTS: GAUGE RELOCATOR KIT (MILWAUKEE-EIGHT SOFTAILS)
Machined from 6061 aluminum
Modular design allows for multiple mounting locations
Available in black anodize or nickel
Y -clamp system offer three points of pivot
Bar clamp size 1-1/8 inches tapers to 1-inch for bar ends
All hardware included
Designed and made in Long Beach, California
We headed over to our local dealer, Huntington Beach Harley-Davidson to tackle the installation of the new Roland Sands Design Sector Modular Riser System with new ODI Bars and Grips and all-in-one cable/wiring provided by CableKits.com. A big thank you to the crew at HBHD: Tim for being the hand model and top-notch pro at getting the Sector setup installed, Hampton the Service Manager that agreed to put up with our crew, Serra and Kristen, the marketing folks who helped facilitate this installation, and Riun the parts guru that solved any parts hurdles we ran into along the way (there were a few but Riun is the man!). And of course, Greg, the General Manager for HBHD. Thanks again, guys for the high level of service and attention to detail. You're a solid crew!