While I lay wide awake each and every night, staring at the ceiling, pondering the same question over and over—why didn't a huge crate from Milwaukee get dropped off in my driveway?!—those who are more fortunate, like San Diego Customs, probably got just as much sleep in the months after those mysterious crates began dropping last September. But for different reasons, obviously, as the fortunate ones uncrated brand-new 2018 FXFBs—Harley-Davidson's debut of its fresh Fat Bob à la Softail/M-8 platform. SDC's Chip Kastelnik and his sidekick Mikey definitely sacrificed some slumber time as they accepted their gracious gift from The Motor Company, tore it completely apart, and proceeded to do their thing, SDC style. I rode down to San Diego (on my "vintage" FXR) one Sunday morning for some coffee and conversation with Chip to get his side of the story regarding El Gato Roberto.
First question, which is more of a statement but nevertheless requires an answer of sorts on your part: If you have any words regarding the "death of the Dyna," now's the chance to get them off your chest because that horse has been beaten beyond recognition—unless you feel like talking about my Dyna instead?
Hey, Rob. What's happening, man? Good to see you, dude. To answer your question in regard to the death of the Dyna, I can say some things die at 27 and aren't buried until 75. Benjamin Franklin said something similar to that about people a long time ago, but I'll apply it to the Dyna. As the Harley demographic transitions from the older guy who thinks eagles and do-rags are the rage to the new era of motorcycle riders who aren't so concerned with trinkets and tassels but are very in tune with performance and custom paint schemes, it's going to be another time in which old things come back around again. As technology advances, manufacturing processes will advance, finishing work will provide more options than black and chrome, and H-D will be right there, offering all its new models and customization options as it has in the past, and will until single-craft space pods are readily available. As far as the actual Dyna, it may be dead, but there are a lot of them on the road, and they need to come to SDC to get some upgrades!
Tell me how this particular project all came about. Did you work directly with H-D, or through a local dealership?
Well, Rob, I'll be happy to tell you how it all went down. It was a combo deal with H-D corporate, San Diego H-D, Quaid H-D, and San Diego Customs. We got a call from Ty at SD H-D, who was with Brandon from Quaid and a few high-ranking H-D officials who were at the dealer show at the time that H-D announced the Dyna would no longer be in production and was being replaced with the Softail models. He then explained to me that The Motor Company would like to extend us a new 2018 Softail Fat Bob to customize and see what our take on the new design would be. We said yes, thanks, a few hundred times to H-D for the chance to dig into a brand-new chassis design and see what all the hype is about and see what our perspective is.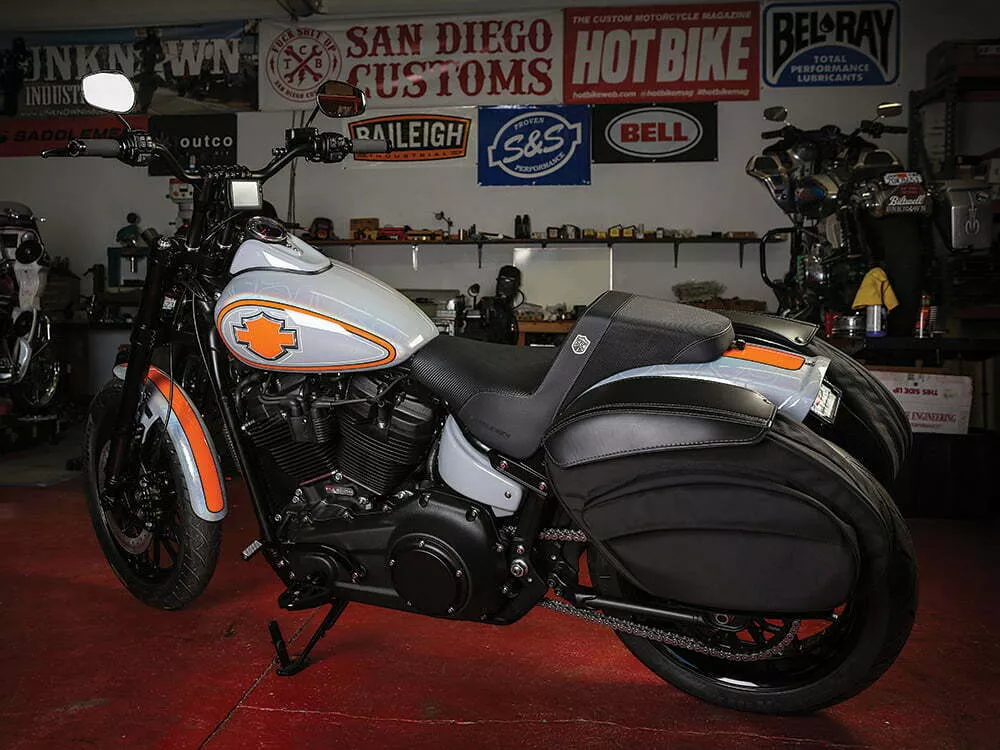 Let's hear your thoughts on the new M-8 and the Softail chassis it's wrapped in. And what did the odometer read after you came to that particular opinion?
Let me tell you this, buddy, the new Softail chassis is one stable mofo party plan. The M-8 motor has ample power and room to make more, complemented by a full array of aftermarket component choices from all the leading manufacturers. The monoshock setup is a stable, no-nonsense platform that has all riders in mind and handles like a champ. People are scared of change; they genuinely believe (often on an unconscious level) that when you've been doing something a particular way for some time, it must be the good way to do things, and the longer you've been doing it that way, the better it is. H-D must have just said let's lose this whole Dyna platform and move into the future with a new, redesigned model lineup and not look back. Fact is there is nothing anyone can do; H-D does what it does, and that's that. We have all been anxiously awaiting the return of the FXR—that will never happen, but it's great internet gossip. Add the Dyna to the list. Oh, and the odometer read zero, and now it's at 37. Ha-ha, just kidding, man. I don't know the mileage; I don't look down at that round device.
OK, so it was a 2018 Fat Bob, but it looks anything but fat now. Did you envision shedding weight from the Softail from the get-go? Explain the thought process you and Mikey had in the redesign planning stages before the first wrench was even turned.
It still is a 2018 Fat Bob on the title and in its heart. When we took delivery of the new bike, we rode it around in its stock form for a while to figure out the direction we could take and how to get there. It had the factory-built 114 kit at the time, so it had some pep in its step and was kind of fun to zip around. There are a lot of changes that we started to notice as we dug into things. Riding position, bars, foot controls, triple tree width all seemed a bit foreign to me, and so began the process of changing those things first and then dealing with the things that popped up along the way. Mike suggested the gray paint theme with a bright neon-orange "bar and shield" to Hot Dog one day when we were hanging out, and the next time we saw it, it was all dialed in. Hot Dog is one of the best painters in the world, and it was a fun change to do a simple paint scheme that could pack a punch. He nails it every time. The rest, well, just kind of happens in a puff of smoke.
I know the gears in your head were already turning as far as coming up with new products for the M-8 platform. Did this project help bring any of those ideas to fruition?
Yeah, man, it sure did. We were stoked to get a hold of a new bike to do some R&D on to make some parts for the future of motorcycling. We at SDC are not known for being quick. We are taking the time to make sure our components are up to the standards that we expect them to be rather than rush to make a quick buck with a substandard product. There are enough parts ideas to be thought of for everyone; let's all get thinking.
"Since the bike lost some weight but is still 'fat,' I kind of wonder how to say 'phat' in Spanish and get the same meaning as in English. Furthermore, you do know that Bob originated from the hypocorism Rob, short for Robert, which in Spanish is Roberto."
I'm flattered to have the SDC Softail, Los Grasa Roberto, named after me, but you know Beto is the Spanish nickname version of Bob, right?
Well, Bob, I'll tell you, pilgrim, I renamed the bike for my homies that ride Dynas around the corner and do wheelies, mang. Since the bike lost some weight but is still "fat," I kind of wonder how to say "phat" in Spanish and get the same meaning as in English. Furthermore, you do know that Bob originated from the hypocorism Rob, short for Robert, which in Spanish is Roberto.
Damn. Got me with my own uppercut there. Well, anything else you want to add?
Sure do, dude: This is all just the same old song, just a drop of water in an endless sea. All we do crumbles to the ground though we refuse to see. Dust in the wind, all we are is dust in the wind. Be the hero of your own movie. Live before you die. Enjoy yourself, it's later than you think. Thanks for letting me babble, brochacho. Always a pleasure. Check out sandiegocustoms.com. Legalize it.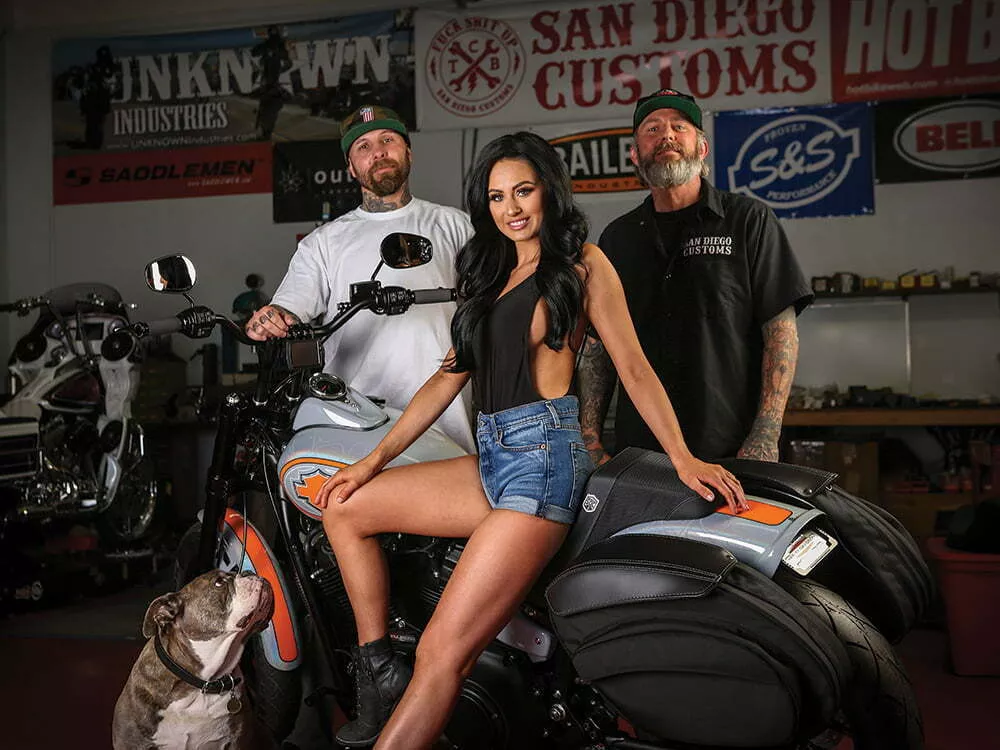 Specifications
| | |
| --- | --- |
| General | |
| Owner | Chuck Chillout/Mad Mike |
| Shop | San Diego Customs |
| Shop Phone | (619) 234-6666 |
| Website | sandiegocustoms.com |
| Year/Make/Model | 2018/Harley-Davidson/Fat Bob 114 |
| Fabrication | San Diego Customs |
| Build Time | Two months |
| Engine | |
| Year/Type/Size | 2018/M-8/114ci |
| Builder | San Diego Customs |
| Cases | H-D |
| Cylinders | H-D |
| Heads | H-D modified |
| Rocker Boxes | H-D w/ Feuling studs |
| Cams | Feuling |
| Throttle Body | Horsepower Inc. |
| Air Cleaner | Horsepower Inc. |
| EFI Controller | Power Vision PV2 |
| Exhaust | CHD Custom by Unobtainium Welding |
| Transmission | |
| Year/Type | 2018/six-speed/H-D |
| Gears | H-D |
| Clutch | H-D |
| Primary Drive | H-D |
| Frame | |
| Year/Type | 2018/H-D Fat Bob |
| Rake/Stretch | 28°/zero rake |
| Suspension | |
| Front end | ODC |
| Triple Trees | ODC |
| Swingarm | H-D |
| Rear Shocks | H-D |
| Wheels, Tires, and Brakes | |
| Front | SDC Speedline V2.0 |
| Size | 19 x 2.125 in. |
| Tire/Size | 19 x 110 in. |
| Calipers | Performance Machine |
| Rotors | SDC Speedline V2.0 13-in. |
| Rear | SDC Speedline V2.0 |
| Size | 18 x 5.5 in. |
| Tire/Size | 18 x 180 in. |
| Caliper | H-D |
| Rotor | SDC Speedline V2.0 11.5-in. |
| Pulley | SDC Speedline 51T |
| Finish/Paint | |
| Manufacturer | PPG |
| Paint/Graphics | Hot Dog Kustoms/Pete "Hot Dog" Finlan |
| Plating/Polishing | SDC |
| Powdercoating | SDC |
| Accessories | |
| Front Fender | H-D Street Bob OEM (modified) |
| Rear Fender | H-D OEM (modified) |
| Gas Tank | H-D |
| Dash | H-D |
| Gauges | H-D |
| Handlebars | ProTaper (Hardcase Performance) |
| Risers | Hardcase Performance |
| Grips | Performance Machine |
| Mirrors | H-D |
| Hand Controls | H-D |
| Foot Controls | H-D OEM |
| Footpegs | SDC Mini floorboards |
| Headlight | H-D |
| Taillight | San Diego Customs |
| Turn Signals | Custom Dynamics |
| License Mount | San Diego Customs |
| Seat | SDC/Saddlemen |
| Custom or Special Accessories/Features | |
| Custom Powervision Mount | San Diego Customs |
| Bags | LeatherPros saddlebags |
| Wiring | Custom wiring for non-ABS system |
| Hardware | Hardware by ARP |
| Tuning | Tuned by Hiro Koiso |