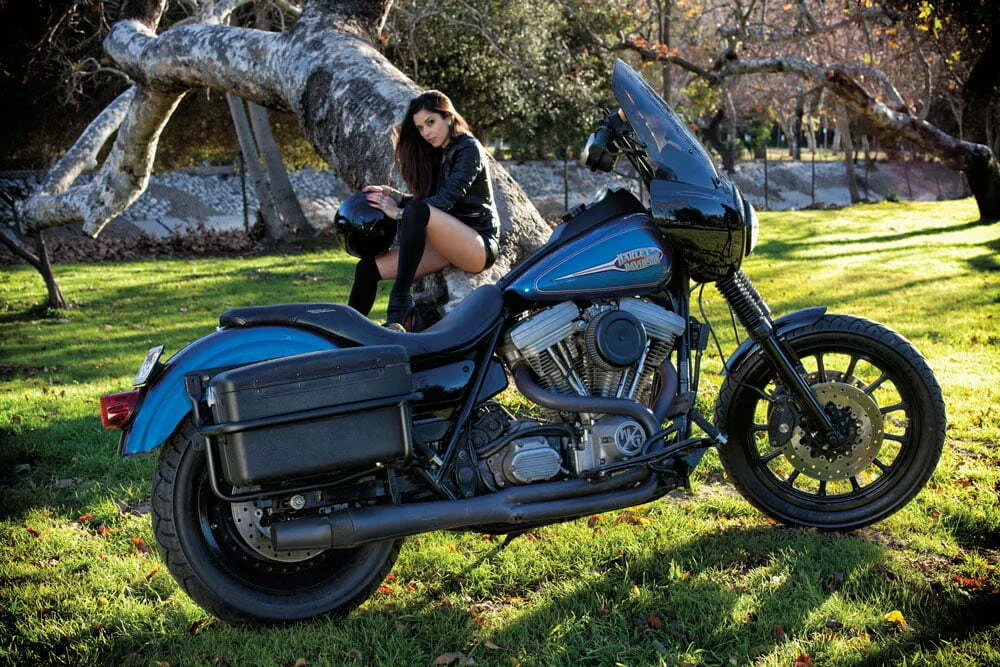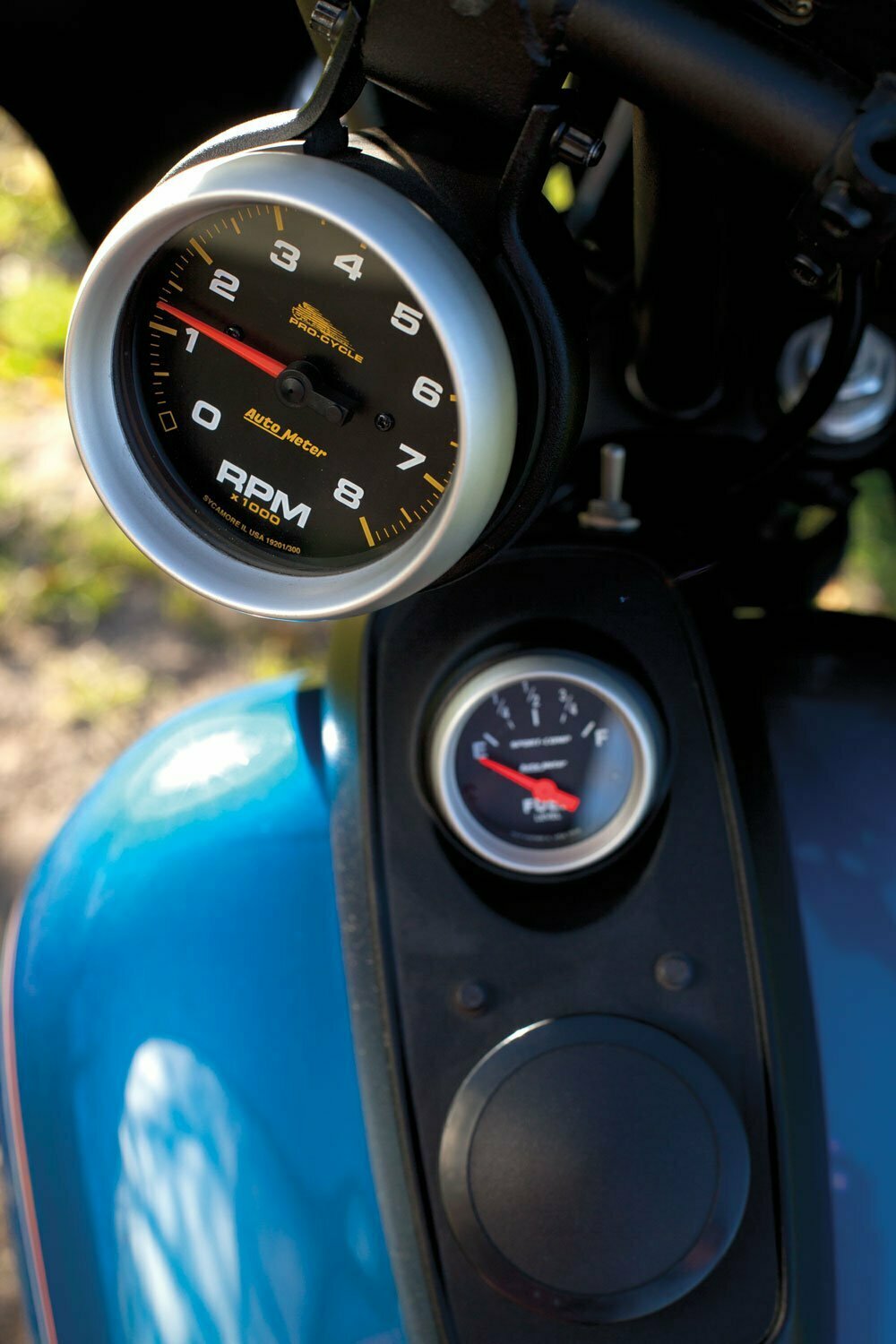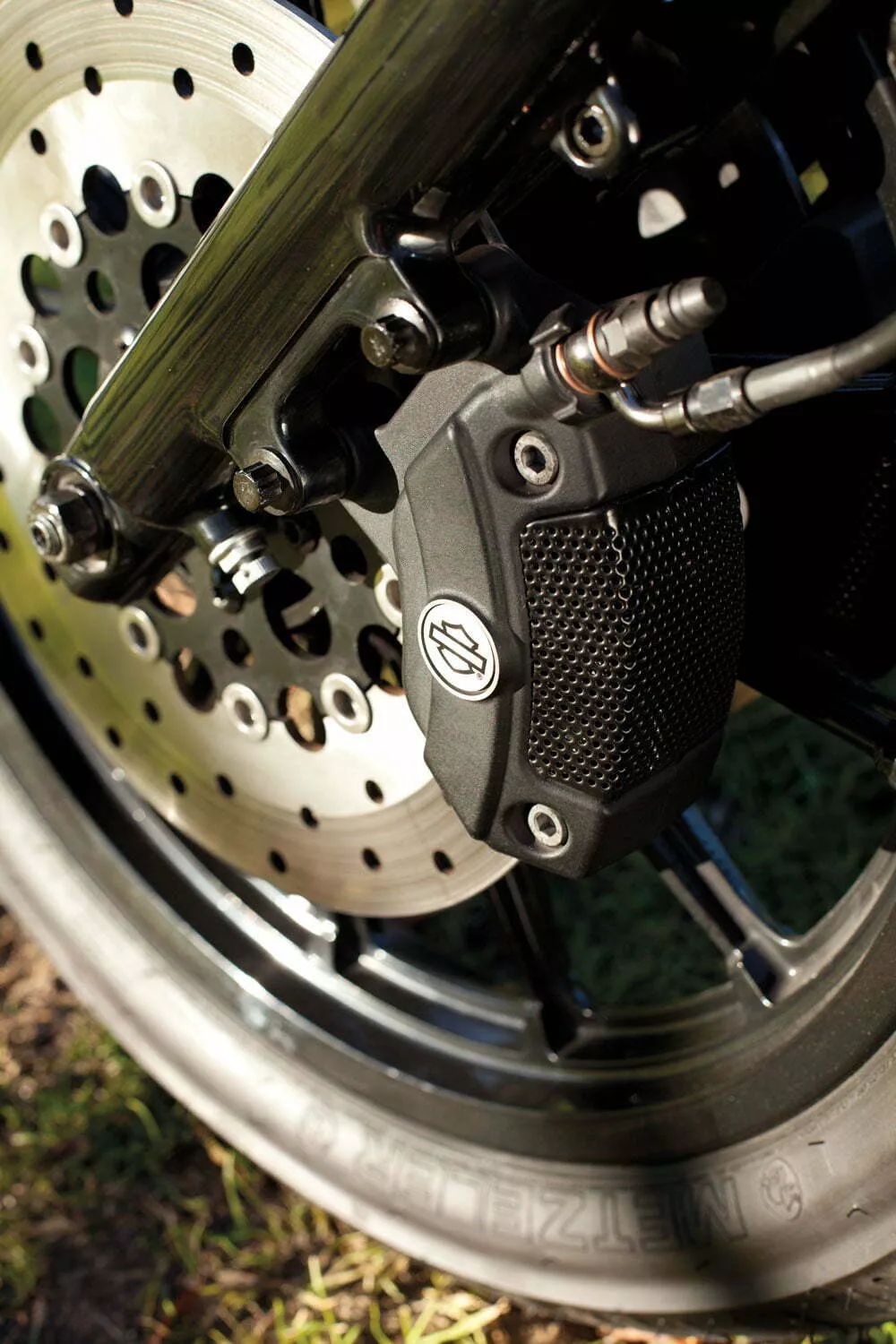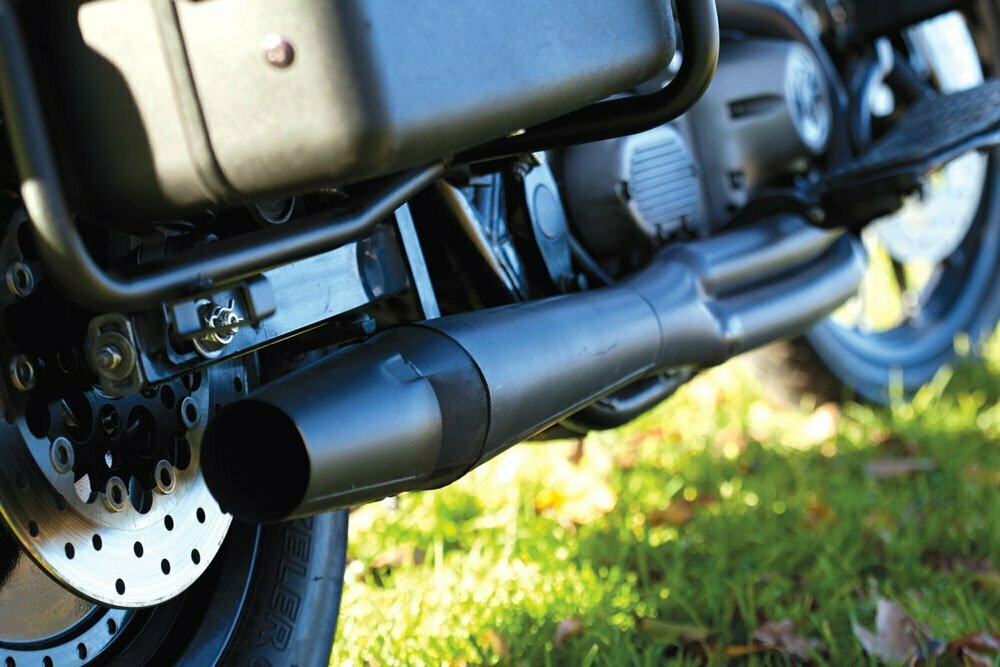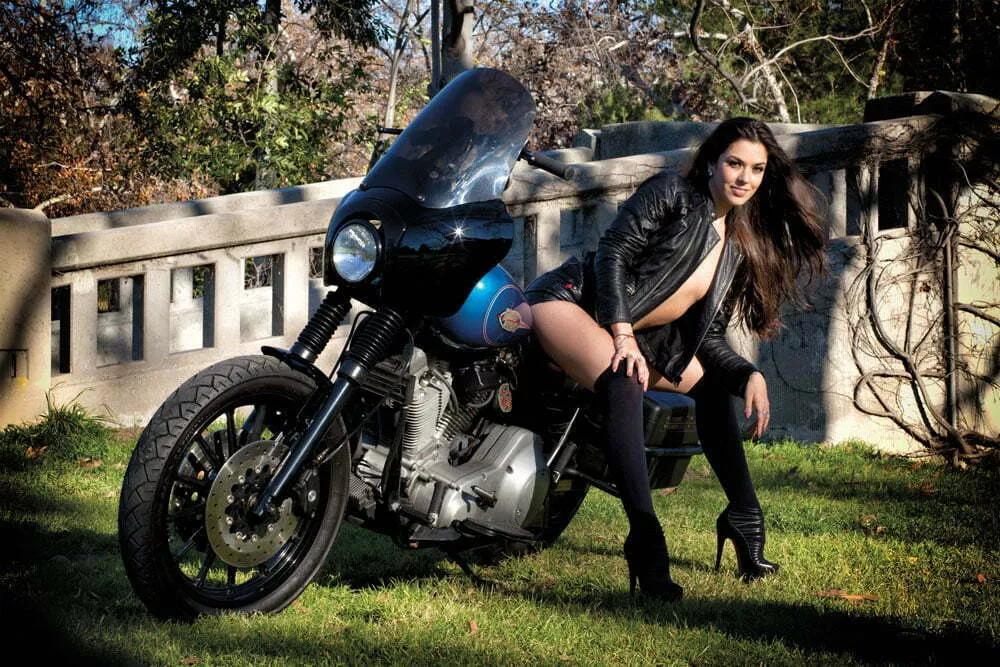 Model: Kayla-Jane Danger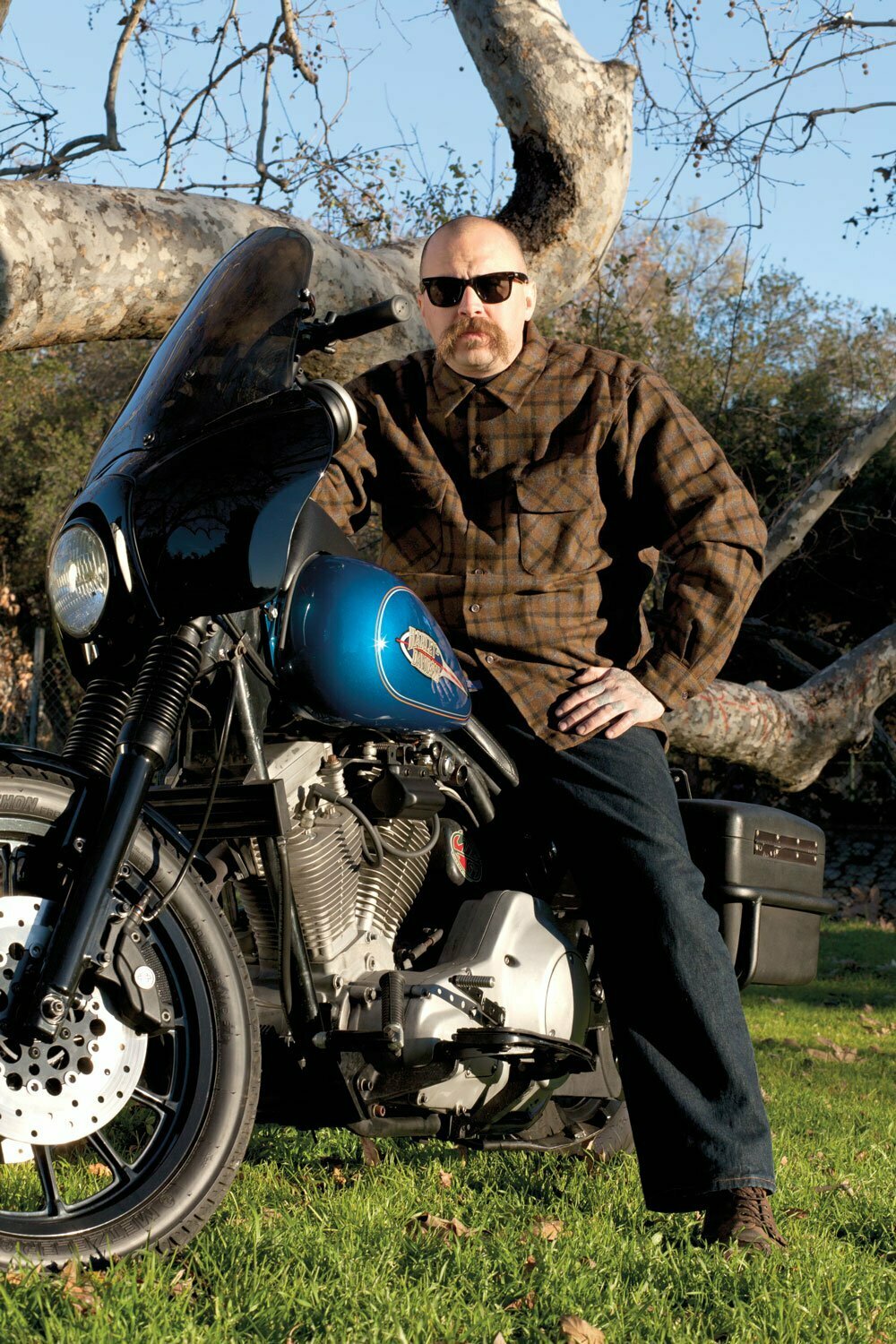 The story starts on October 10, 2008. I rode a friend's Harley-Davidson FXR for the first time. After that I knew I had to have one due to the fact that they just ride so damn well. Believe it or not, I picked up this FXRP on Christmas day of 2008 and it was used and abused as a cop training bike. Upon my arrival to pick it up, when I first set eyes on it, it truly looked like someone had dragged it out of a river.
I rode it once then began to tear it apart. I sent the engine and trans to my buddy Dan Carmellini to go through from top to bottom. The engine has some headwork and an S&S cam. I also replaced all the wiring from headlight to taillight. The stock wiring on an FXRP is a nightmare to deal with due to all the extra lights and sirens the police edition possesses from the factory. I also rebuilt the frontend and installed Works rear shocks as well as upgraded the brakes to the new H-D Brembo calipers that all the current baggers have on them. I then had every bit of chrome powdercoated black while it was apart.
After the engine and trans were done I had the sheetmetal painted panzer gray and rode it for a few years pretty much the same. Then, about a year ago, I blew a head gasket and pulled a head stud riding in a gnarly rainstorm to San Francisco. After fixing all of that and putting new gaskets on the top end, I did some horse trading with a friend for some stock original paint sheetmetal. I traded a re-pop straight leg Panhead frame for the FXDXT front fairing and trees. I built a set of super-narrow T-bars for it because I was tired of hitting people's mirrors while splitting lanes. I removed all the wiring from the bars and prototyped a neck stem that the front brake fluid runs through — I hate all the clutter on the stock frontend. To finish off the look of the bike, I installed a solid 16×3 rear H-D mag and a Dyna 13-spoke mag up front.
I've gotten to really ride this bike and have fallen in love with it. For all of you who keep asking me while I'm filling it up with gas, it's not for sale. Nor will it ever be. I'm taking it to the grave.
| Specifications | |
| --- | --- |
| General | |
| Owner | Nick Miserendino |
| Shop | Wargasser Speed Shop |
| Website | www.wargasser.com |
| Year/Make/Model | '91/H-D/FXRP |
| Fabrication | Self |
| Build Time | 3-ish years |
| Engine | |
| Year/Type/Size | '91/Evo/80" |
| Builder | Dan Carmellini |
| Cases | H-D |
| Cylinders | H-D |
| Heads | H-D |
| Rocker Boxes | H-D |
| Cams | S&S |
| Throttle Body | Mikuni 42mm |
| Air Cleaner | Arlen Ness big sucker |
| Exhaust | Thunderheader |
| Transmission | |
| Year/Type | 1991/5-speed |
| Gears | Stock |
| Clutch | Primo |
| Primary Drive | Stock |
| Frame | |
| Year/Type | 1991/H-D |
| Rake/Stretch | None |
| Suspension | |
| Frontend | '03 FXDXT |
| Length | Stock |
| Triple Trees-Harley | FXDXT |
| Swingarm | Stock |
| Rear Shocks | Works |
| Wheels, Tires, and Brakes | |
| Front | |
| Builder/Size | H-D/19×2.75 |
| Tire/Size | Metzeler / 100/90-19 |
| Calipers | H-D Brembo |
| Rotors | H-D Brembo |
| Rear | |
| Builder/Size | H-D 16×3 |
| Tire/Size | Metzeler / 140-16 |
| Caliper | Stock FXR |
| Rotor | H-D |
| Pulley | H-D |
| Finish/Paint | |
| Manufacturer | Harley-Davidson |
| Colors | Blue/Gloss Black |
| Paint/Graphics | None |
| Plating/Polishing | None |
| Powdercoating | A&M Sandblasting |
| Accessories | |
| Front Fender | Cut-down FXR |
| Rear Fender | H-D |
| Gas Tank | H-D |
| Dash | FXR |
| Gauges | Auto Meter |
| Handlebars | Wargasser |
| Grips | H-D Sportster |
| Hand Controls | Brembo |
| Foot Controls | Stock |
| Floorboards | H-D FXRP |
| Headlight | H-D |
| Taillight | H-D |
| License Mount | H-D |
| Seat | H-D Bandlander |