If you're going to create a real deal custom from the ground up, old Harley-Davidson motors are a great way to go. Get yourself a Knucklehead, Pan, or Shovel from circa back in the day and you're off to a great start. This scoot from Jeff Cochran is a terrific example of that concept.
He constructed this custom around an original 1964 Harley-Davidson Panhead motor. The frame is one of Jeff's production "traditional" models with no stretch, built using 304 stainless steel. He has hardtailed hundreds of OEM Shovelhead frames over the years, so for this project, he teamed up with Will Ramsey of Faith Forgotten Choppers and they dissected one of the Shovelhead frames to create a production chassis that wouldn't vary from the stance and height that Jeff's builds are known for.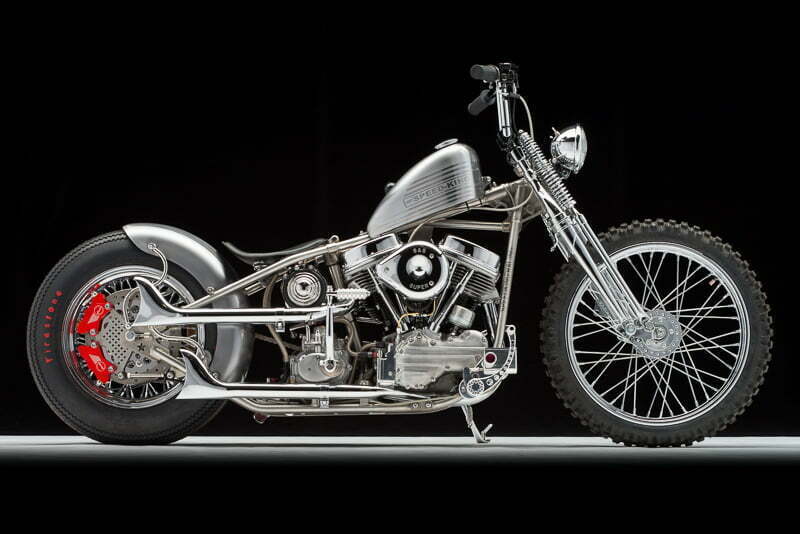 Since selling his large production motorcycle company, Jeff works alone in his shop in rural Indiana. Other than motor work, everything on his bikes and builds are pretty much done in-house, completely by him. He also strictly runs his own line of production brakes called RushHour Racing. As he's honed his skills over the decades, Jeff has consistently created bikes that are show quality yet still designed and built to ride.
Most of the metal on this bike is stainless steel, but the sheet metal is just steel that was wet sanded and buffed to shine before receiving a film-style artwork etching process to stay true to the raw metal theme. Jeff still produces 10 to 12 bikes per year, so if you'd like to see some of his other recent creations, visit speedkingracing.com or give him a follow on Instagram @speedkingphoto.