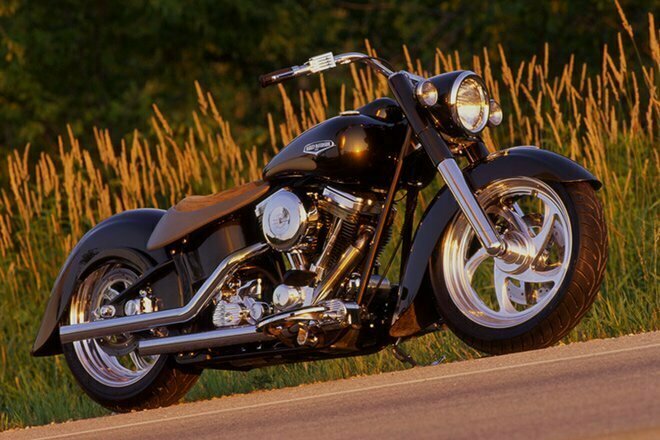 This article was originally published in the December-January 1999 issue of Cycle World's Big Twin magazine.
Originality beats conformity, always. So many custom bikes follow cookie-cutter formulas that it's refreshing to find an original, built by someone who has absolutely his own ideas of what a custom motorcycle should be. Plus, in Bob Thrash's case, the skill to make it happen. Long, low, streamlined Thirties' styling with Art Deco influence is what turns him on.
This is Thrash's first Big Twin; his first Harley was a Sportster imaginative enough to make it into a previous issue of this very magazine. And he is one of those customizers for whom the pleasure resides almost exclusively in the build. Once he's rolling down the road on his new bike, his active brain is already designing the next one.
With his Sporty, Thrash had to compromise: The basic lump was already there, and he could only modify it. This time, he started from scratch, with an Atlas Wide Drive frame and an 80-inch Evo motor. He could make this bike exactly what he intended it to be—a streamlined custom with lush, full-coverage bodywork made in the 1930s' mold, topped off by an impressive combination of billet, bronze and some really neat touches.
Those flowing good looks were ac­complished through Thrash's use of two pairs of gas tanks and no less than four fenders. The front fender comprises a complete set of fenders from, of all things, a 1996 Yamaha Royal Star. Two more of those same fenders were combined to create the contours of the rear fender. The whole rear unit mounts from the swingarm, and the absence of fender struts explains the lack of passenger accommodations. The gas tanks combine with a custom dash built by Thrash, which houses the only instrumentation found on this bike, a VDO speedometer. The electrics—including a circuit-breaker board—sit beneath the tank, with all wiring routed through the frame.
When the motor was apart, the cases were deburred and cleaned until the alloy almost shone like glass, then shot with a layer of bronze urethane paint. A touch of pearl and a dose of flattener were added to showcase the contrasting polished billet parts. Nissan Antique Bronze paint with a touch of green covers the substantial bodywork.
---
---
Thrash is a tinsmith by trade, and his main enterprise is building street rods. It's no surprise, then, that this deco express features gloriously swoopy bodywork that he hammered into shape himself. He's also an accomplished airbrush artist whose work has been featured on two-wheeled show-winners on both coasts. So, where's the airbrush work on this one, you ask? "My friends all laugh," he says, "but I think the bike makes a strong enough statement without it."
We have to agree. No excuses necessary.
| BOB THRASH'S 80 | |
| --- | --- |
| Base machine | 1991 H-D |
| Model | Heritage Softail |
| Owner | Bob Thrash- Bourbonnais, IL, 815-932-4612 |
| Designer/Fabricator/Builder | Bob Thrash |
| PAINT AND CHROME | |
| Molding | Jeff St. Aubin, Rad Rides, Manteno IL |
| Painter | Jeff St. Aubin, Bob Thrash |
| Graphic artist | Bob Thrash |
| Polishing | Bob Thrash |
| Engine | |
| Year | 1991 H-D |
| Model | 80" Heritage |
| Builder | High Gear, Cycle Works, Bourbonnais, IL |
| Displacement | 80 cu. in. |
| Cases | H-D |
| Lower end | H-D |
| Rods | H-D |
| Pistons | Edelbrock 10.5:1 |
| Heads | Edelbrock Performer |
| Valves | Edelbrock stainless |
| Cam | Edelbrock |
| Pushrods | Andrews |
| Lifters | Jims |
| Primary cover | H-D |
| Ignition | Accel |
| Coils/wires | Accel |
| Carb | 38mm Edelbrock QwikSilver |
| Air cleaner | Screamin' Eagle |
| Exhaust | 2 1/4" White Bros. Porker Pipes |
| Other mods | Block deburred and painted with flattened urethane, Boyd's billet rocker boxes |
| Transmission | |
| Year | 1997 |
| Type | H-D |
| Primary drive | Belt Drive Limited |
| Clutch | Barnett |
| Frame | |
| Year | 1998 |
| Make | Atlas |
| Type | Wide Drive |
| Builder | Bob Thrash |
| Modifications | 3" stretch, 36-degree rake |
| Front Fork | |
| Year | 1998 |
| Make | Boyd's |
| Type | 41mm Wide Glide |
| Builder | Bob Thrash |
| Modifications | 2" under |
| Rear Suspension | |
| Year | 1996 |
| Type | Wide Drive |
| Make | Atlas |
| Swingarm | 2" under |
| Modifications | Progressive Suspension shocks |
| Front Wheel/Tire | |
| Wheel | Boyd's |
| Tire | Avon |
| Tire size | 130/70-18 |
| Rim width | 3.5" |
| Brake | Drag Specialties calipers; Boyd's polished stainless rotors |
| Rear Wheel/Tire | |
| Wheel | Boyd's |
| Tire | Avon |
| Tire size | 180/55-18 |
| Rim width | 5.5" |
| Brake | Drag Specialties calipers, Boyd's polished stainless rotors |
| Accessories | |
| Handlebars | Flanders |
| Risers | Bob Thrash |
| Grips | Ness |
| Gas tank | Modified H-D, stretched 3.5" |
| Oil tank | Atlas, modified by Thrash |
| Front fender | Modified Yamaha Royal Star |
| Rear fender | Modified Yamaha Royal Star |
| Headlight | '39 Chevrolet |
| Taillight | '40 Ford |
| Electrics | Fabricated by Thrash |
| Speedo | 3" VDO Electronic |
| Tach | None |
| Seat | Dual density, suede and leather, fabricated by Thrash |
| Foot controls | H-D |
| Rider pegs | H-D |
| Other | '32 Ford driving lights |