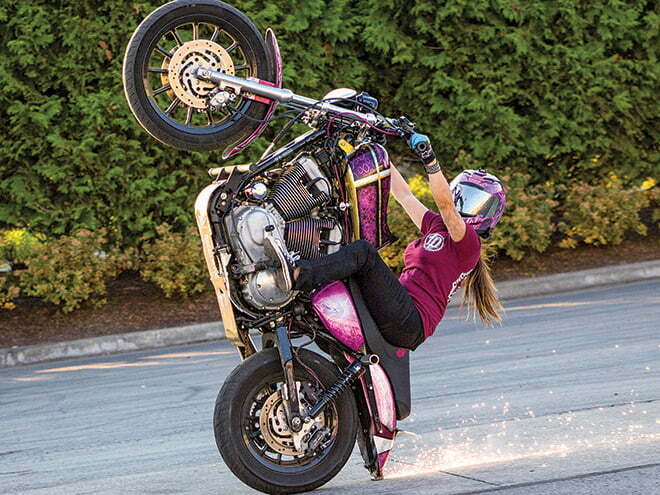 | Andrea Tuia | |
| --- | --- |
| Hometown: | Auburn, Washington |
| Website: | facebook.com/drea253stunts |
| Handle: | @dreastunts |
What do you do?
I am a female motorcycle stunt rider from the Northwest.
Describe yourself in three words.
Dedicated, motivated, and passionate.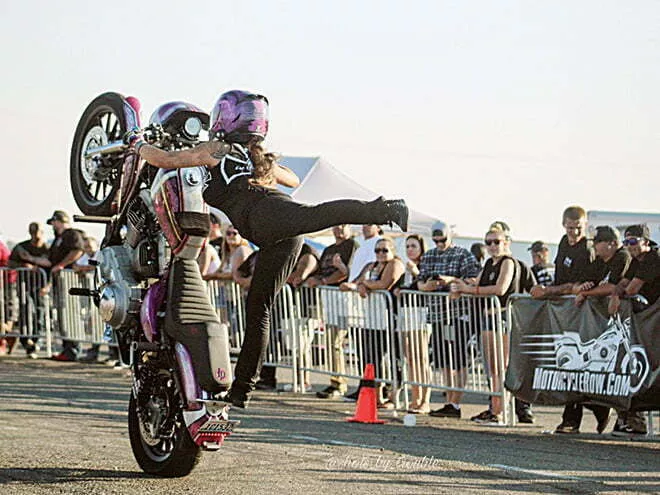 What do you ride?
I ride an '04 Harley Roadster and my '04 636 Kawasaki Ninja.
When did you first start stunting?
I first started stunt riding in August of 2013 on my 2008 Yamaha R6S. I was the only girl in my area, and it was challenging because I would always compare myself to the guys. I started off with 1-inch wheelies then slowly worked my way up from there. It took about six months to learn idle wheelies. I would ride every single day for at least six hours a day with no breaks.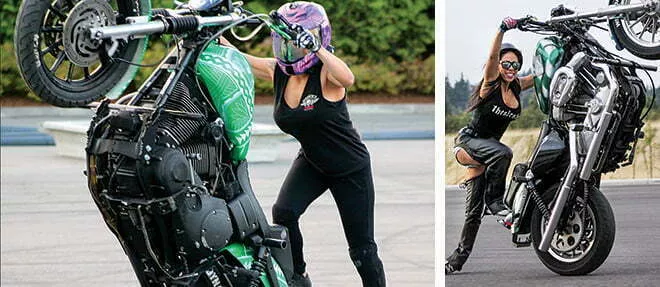 Why do you stunt?
I am addicted to the challenge. The feeling you get when you finally accomplish something that you have worked so hard at achieving and so many people told you that you could not do is probably the best feeling in the world. The harder the trick is, the more satisfying it is to perfect it! This sport is 90 percent mental, so I have learned to overcome some of my biggest fears, and I have learned a lot about myself in the process.
What is your greatest life achievement so far?
I think my greatest achievement was learning circle wheelies. It was probably the hardest thing I have ever accomplished in my life! Took a lot of seat time and tears to keep pushing and not give up!
What has been your biggest regret to date?
I don't think I regret anything in my life. Everything that happens in my life I dream into reality. I am a firm believer in positive thinking and creating your own destiny.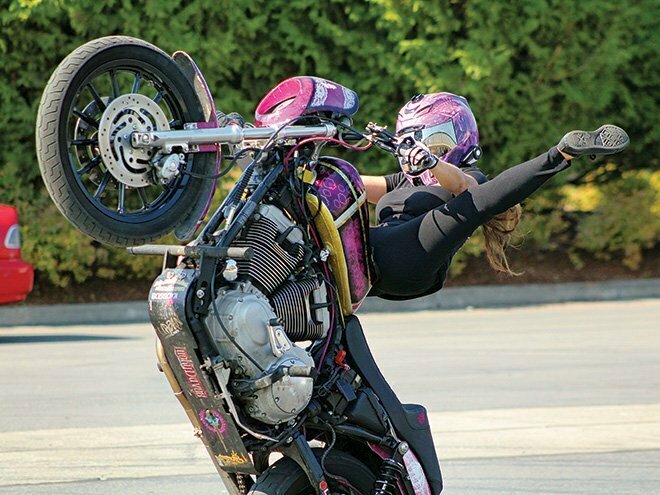 What or who inspires you?
My biggest inspiration is my husband. He believes in me when I don't even believe in myself, and without him I wouldn't be the rider I am today. I give him full credit for everything I know. He is my biggest supporter and the best coach I could ever ask for.
Any last words?
Don't ever give up. When life brings you down, get back on your bike and keep on riding.