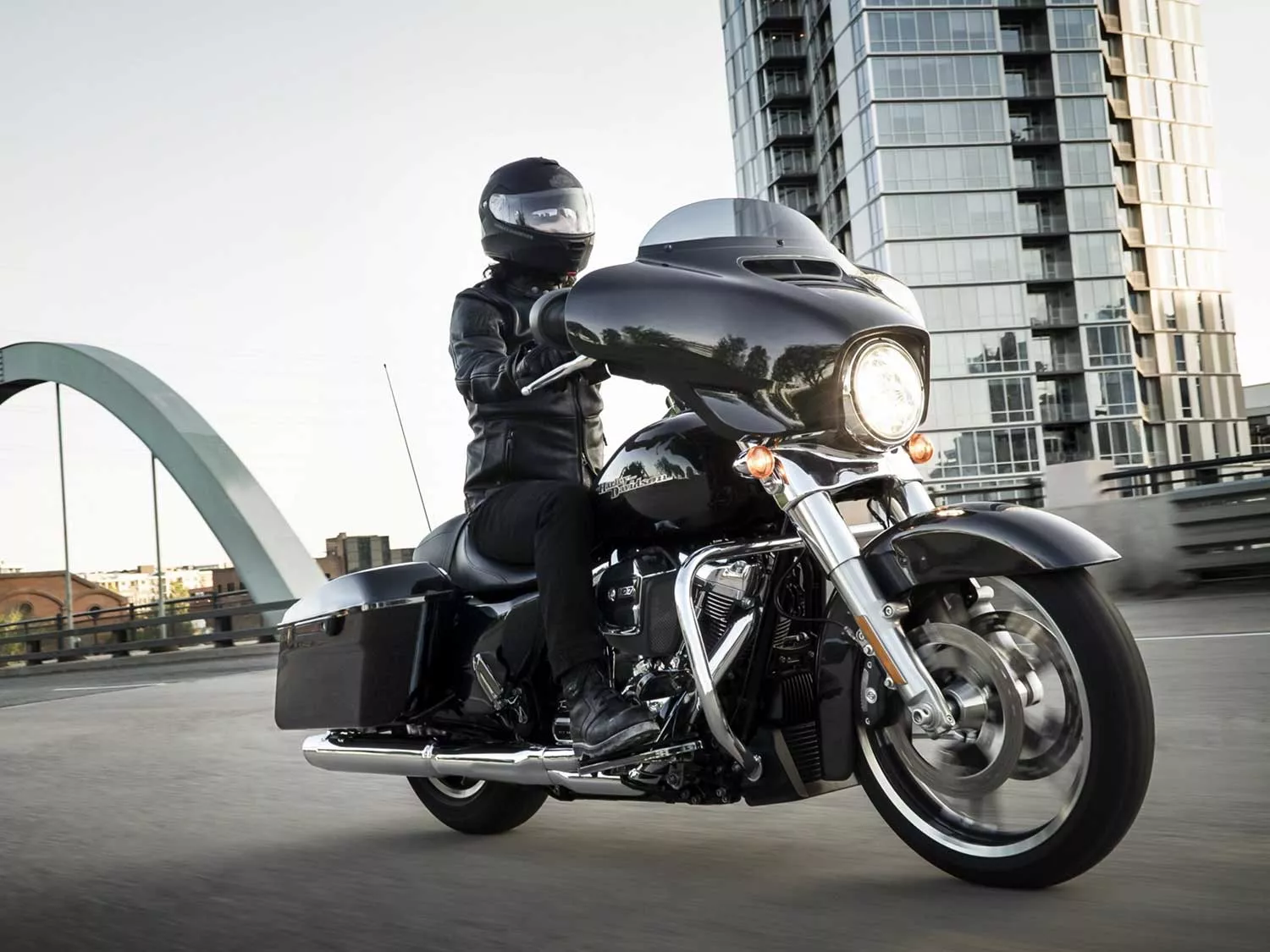 We're not sure of its status these days, but for many years the top-selling motorcycle in the US has been Harley-Davidson's Street Glide, a powerful, 1,750cc V-twin with a sleek, batwing-style fairing and roomy, hard saddlebags that'll swallow plenty of cargo. Thanks to its comfort, performance, accommodations, and creature comforts like a windscreen, stereo, and GPS, it's a great bike for most any purpose, whether you're cruising the boardwalk, rolling through the mountains, or eating up interstate miles.
But if you aren't necessarily hip to the church of Harley, your options have never been better or more varied. One of the bikes below, in no particular order, might be the right one for you.
Related: The Most Powerful Cruisers In 2019
BMW K 1600 B
BMW does not do things by halves, and its K 1600 B bagger is proof positive, even in this traditionally minded cruiser segment. It all starts down below, with an incredibly smooth, liquid-cooled 1,649cc inline six-cylinder mill dishing out a crazy 160 hp and 129 pound-feet of torque (claimed). Fit and finish are excellent, and you even get floorboards, but there's no mistaking this model for a V-twin bagger—the dynamic sloping line is the first sign that BMW doesn't subscribe to the usual cruiser styling tropes. While it's not fully automatic, it is almost effortless thanks to BMW's Shift Assist and it's even got a reverse gear. What else? Right—there are cruise and traction control, ABS, ride modes, Electronic Suspension Adjustment, and a zillion other high-tech features including standard heated seats and grips. At just north of $20K, that's a lot of bang for your deutsche mark—er, sorry, euro—but that's partly because there's no standard navigation and the stereo is a bit lame. Which really don't seem like dealbreakers to us. MSRP for the 2020 model is $20,095.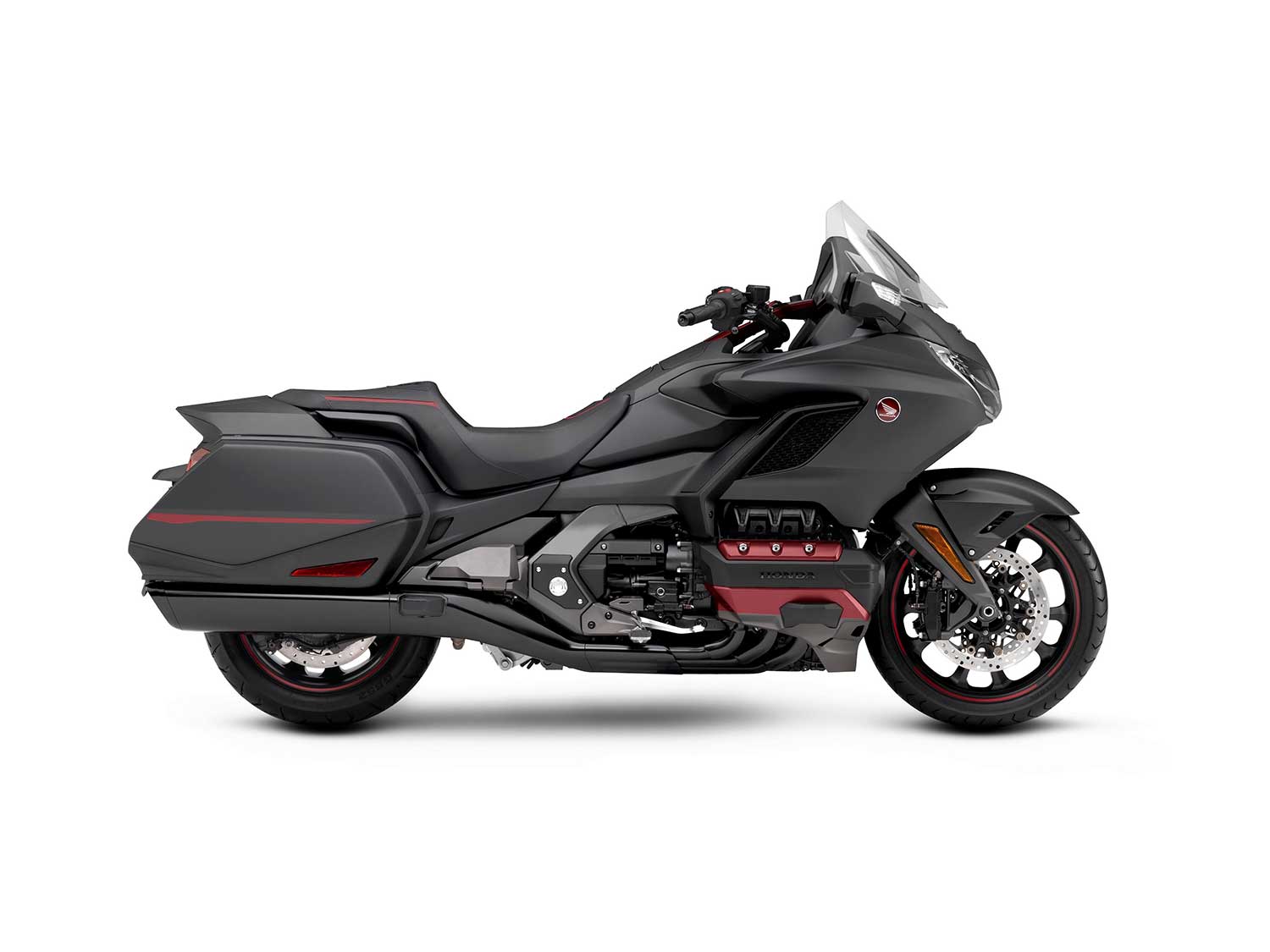 Honda Gold Wing
Honda completely redesigned its flagship tourer back in 2018, deleting the top case, trimming its girth, and shaving almost 100 pounds of weight. What you're looking at is called simply "Gold Wing" these days. The stripped-down bagger exploits its new, slimmer physique fully with that 1,833cc flat-six mill, which is now free of the extra pounds and can better uncork those 125 horses. The Honda-patented double-wishbone front end makes for a plush ride, and the perfectly neutral riding position coupled with a surprisingly deep lean angle just begs pilots to seek out twisty corners. For $23,800, you can have a bagger unlike any other, replete with all the high-tech accoutrements—full-color display, cruise control, ABS, stereo, etc.—and an incredibly responsive powerband with crisp handling, excellent braking, and phenomenal suspension. And $1,200 more—that's $25K flat, a full $2,000 less than a new Street Glide Special—you can have it with DCT, Honda's groundbreaking automatic transmission. MSRP for the base 2020 model is $23,800.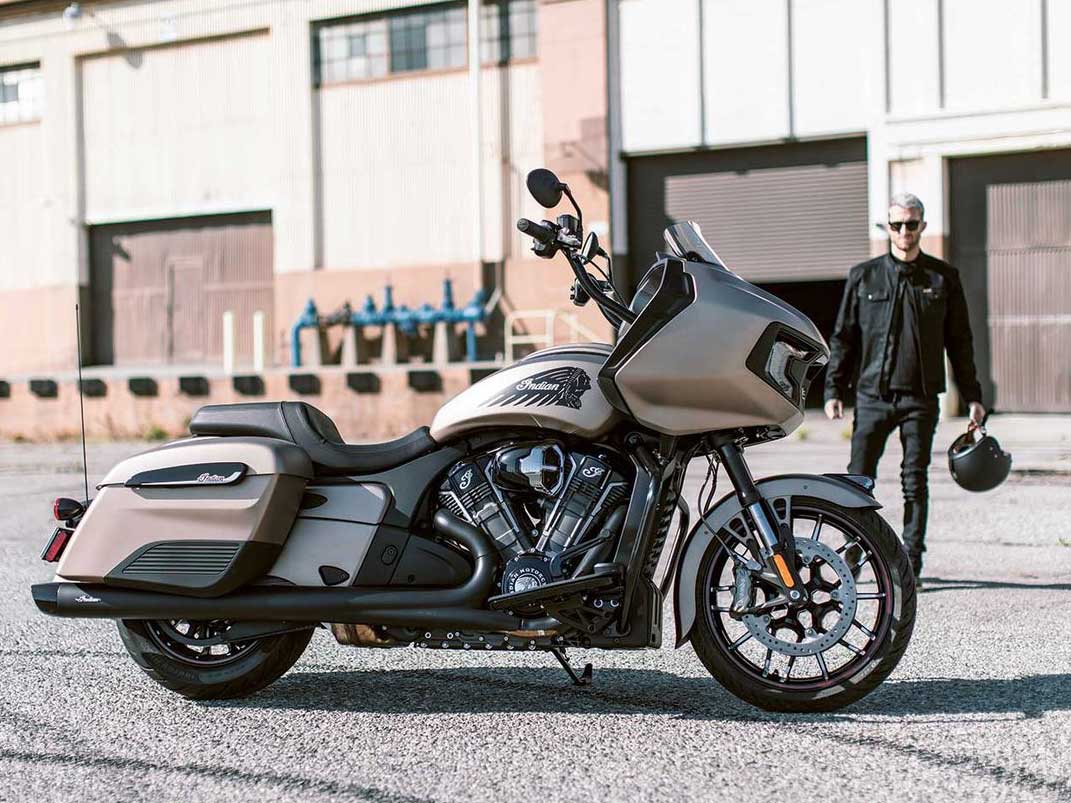 Indian Challenger
Like Harley, Indian has cast a wide net in the bagger segment, offering three entire families—the Challenger series, the Chieftain series, and the Springfield group, for a whopping total of 10 models—each with varying degrees of touring amenities. The latest and greatest—and Indian's admitted shot against Harley's Road Glide—is the brand-new liquid-cooled, fixed-fairing Challenger. It packs Indian's most powerful V-twin yet, the awesome 1,768cc PowerPlus engine, which put out a healthy 103.1 hp and 113.1 pound-feet of torque on Cycle World's Dynojet dyno. A new cast aluminum chassis uses that engine as a load-bearing component, and there's a more premium level of other bits too, like a hydraulically adjustable Fox shock. The all-new front fairing is mounted to the chassis, similar to Harley's Road Glide, as are the two storage areas on the inside of the fairing. Power adjustable windshield? Check. Same 7-inch display screen and Ride Command system, with updated processor, and weather and traffic overlay info as Indian's other big-bore baggers? Double check. The Challenger comes in three trims, the Challenger, Challenger Dark Horse, and Challenger Limited, with MSRP starting at $21,999.
Indian Chieftain Family
The batwing-fairing-ed Chieftain family is its most comprehensive, with five models, all boasting a look that shuns the company's signature neo-retro styling for a sleeker, more modern vibe. But all still retain all the now-requisite bagger amenities, including ABS, cruise control, locking saddlebags, an in-dash, touchscreen infotainment system, three selectable ride modes and even a rear-cylinder deactivation function. When we rode the revamped Indian Chieftain last year, we were already grinning like fools, but it turns out there was more to come: For 2020, the majority of the Chieftains got a serious update in the form of a new 116ci air-cooled V-twin engine with a high-flow cylinder head. The Thunder Stroke 116 is now available on the Chieftain and standard on the Chieftain Dark Horse, Chieftain Limited, and Chieftain Elite; the Chieftain Classic retains the Thunder Stroke 111. Also new for 2020 is the revamped RideCommand infotainment system and app. The Chieftains start at $21,999 and go all the way up to $34,999.
The Indian Springfield series, meanwhile, goes the more classic route, with a large valanced fenders and a big touring shield (or none in the case of the Springfield Dark Horse); MSRP starts at $20,999.
Related: 2019 Indian Chieftain Limited Dyno Run
Kawasaki Vaquero
Kawasaki's 1700 Vulcan Vaquero ABS is back for 2020 with exactly zero changes, but that doesn't mean it's still not worth a closer look, especially from a value standpoint. This good-looking V-twin bagger offers most of the same creature comforts as the Street Glide: a frame-mounted fairing, lockable hard saddlebags, a powerful engine, ABS, cruise control, lockable saddlebags, and a stereo. It doesn't, however, boast an infotainment system, so there's no full-color touchscreen, no GPS, and no wireless Bluetooth connectivity. Whatever—not everybody wants (or needs, frankly) the distraction of all that tech, and that's why the 2020 model rolls off the showroom floor for under $17,000 brand new, with a full three-year factory warranty. If you can do without all the high-tech toys, that's a pretty sweet deal on a powerful, full-size bagger. The MSRP for 2020 model is a budget-friendly $16,799.
Moto Guzzi MGX-21
Carbon fiber body parts, red valve covers, 1,400c transverse twin engine, 21-inch front wheel—there's not a lot of the same-old, same-old on Guzzi's batwinged bagger. When it was launched at Sturgis back in '17 we loved almost everything about it—and as it hasn't changed at all since then. It's a visually stunning bike, with a swooping, voluptuous figure unlike any other, and you'd never guess the Moto Guzzi MGX-21 Flying Fortress is based on the California 1400 cruiser platform. It serves up an impressive payload of features and imbues them with distinct Italian flair as you can see on the sculpted integrated hard bags, bar-mounted half fairing with chopped windscreen, cruise control, and ABS brakes. It's all powered by the big-inch, four-valve-per-cylinder, air-cooled V-twin splayed out in Guzzi's iconic perfect-balanced 90-degree vee with the crank longitudinally mounted. That 21-inch front wheel can get squirrelly at low speed, but if you learn to expect that, no sweat. MSRP for 2020 is $21,990.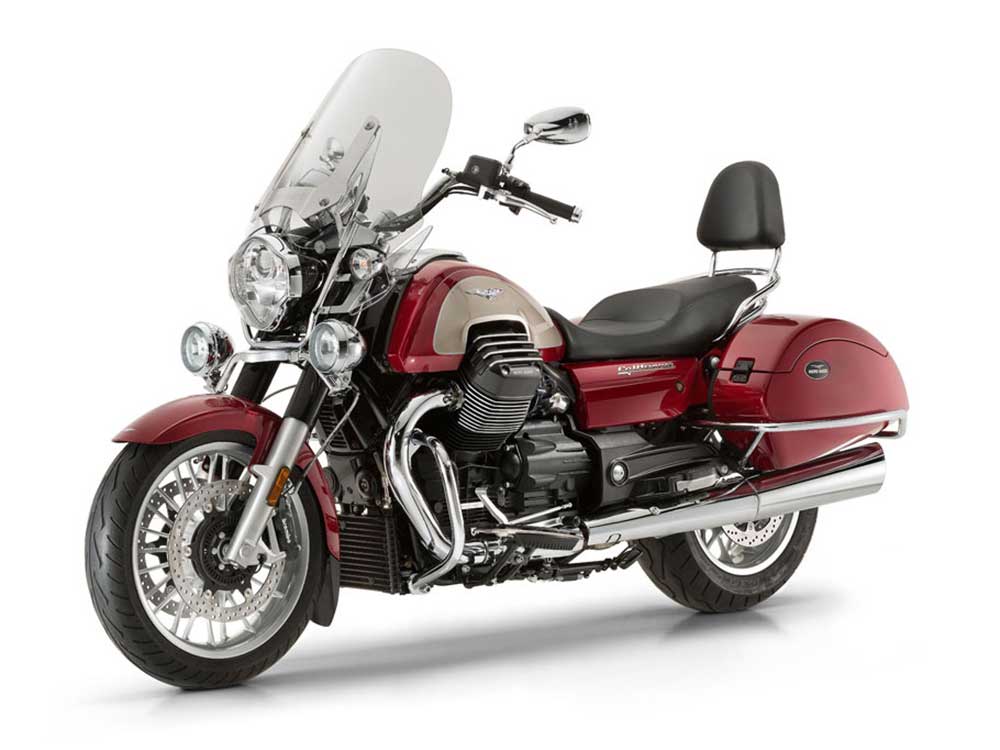 Moto Guzzi California 1400 Touring
Classic and classy, the Moto Guzzi California 1400 Touring epitomizes a modern-looking bagger, yet still hews close to its classic roots with long, sweeping lines and curvaceous accents but nothing overly flashy in the styling department. The bike is a design throwback to Guzzi's glory days, running a large touring shield, floorboards, spoke-looking (but alloy) wheels and dripping with chrome. From a performance and function perspective, the 1400 Touring features all the attributes a modern rider could want, such as ride-by-wire throttle control, electronic cruise control, dual-channel ABS, and MGCT traction control. There are even three selectable ride modes, which is pretty impressive when you look at the throwback style. The 90-degree V-twin engine features four valves per cylinder and a very peppy 78.86 pound-feet of torque at the rear wheel, delivering a get-up-and-go factor that definitely sets this bike apart from the rest of the classic bagger set. For 2020, the MSRP is $18,490.
Related: Moto Guzzi's California 1400 Touring: Tested
Yamaha Star Eluder
Yamaha's newest bagger, the Star Eluder, is a leaner, meaner riff on the full-dress Venture. It has the same engine, frame, suspension, brakes—heck, you'll find pretty much all the underpinnings from its Venture stablemate. That means a grunty air-cooled 113ci (1,854cc) V-twin engine with twin counterbalancers outputting 126 pound-feet of torque, and a character that straddles the line between smooth delivery and traditional V-twin rumble. The ride-by-wire throttle control is also carried over, but the Eluder's six-speed transmission features new ratios to exploit all that low-end torque. Traction control, ABS, and cruise control are all standard too, as is the Venture's infotainment package, which includes a 7-inch full-color LCD. To make the Eluder, Yamaha ditched the Venture's top box, swapped out the large windscreen for a shorter one, and replaced much of the chrome pieces with black. With that menacing-looking fairing, the Eluder figures to be a solid player in the big-bore bagger class.
The 2020 Star Eluder will lighten your wallet to the tune of $22,499.
Related: 2018 Yamaha Star Eluder Bagger First Look Review
---
Related: Riding Harley's 2020 Road Glide Limited and CVO Limited
---