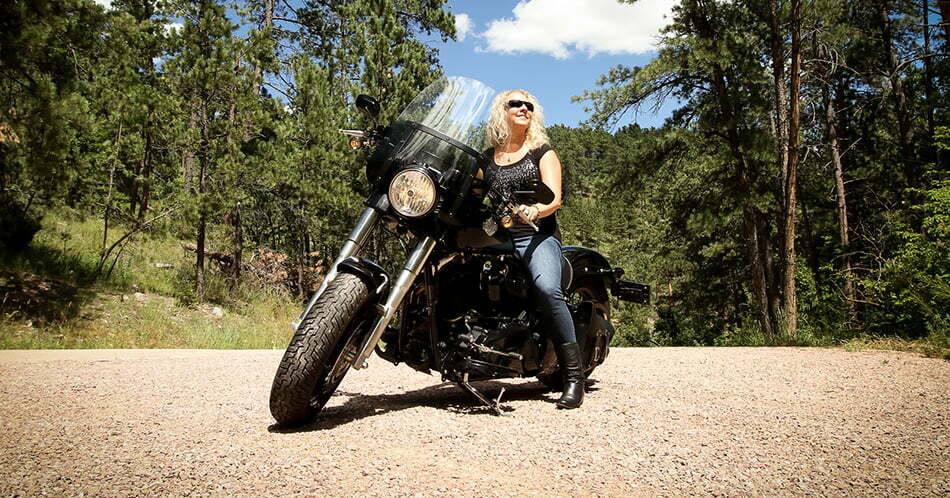 With more and more women jumping into the adventure that is motorcycling, it makes sense that there'd be a women's ride for Sturgis. The city realizes that the number of women riders is on the rise in America, and they're celebrating that with this year's Angel's Ride, scheduled for Thursday, August 12, 2016.
Road captain Michelle Thomson leads the way on a historic ride through the Black Hills. Michelle Thomson has been in the tourism industry in the Black Hills for 20 years. Since May of 2014, she has served as the president of Black Hills and Badlands Tourism Association, where she leads the team which has been promoting this region as a leisure destination and providing numerous cooperative opportunities for the benefit of its members for over 75 years. Having lived in South Dakota all of her life, working in the tourism industry, and enjoying the top-notch riding available in the Black Hills, she has a true appreciation for the Sturgis Motorcycle Rally and the impact it has on this region, including bringing in millions of diverse motorcycle enthusiasts to enjoy the area.
The Angel's Ride brings women riders from all walks of life and levels of experience together. It's the perfect opportunity for new riders to gain a new experience and learn tips and tricks for mastering the ride. It also lets experienced riders network and make new friends to learn from as well.
Enjoy the winding roads and elevation changes through hills blanketed in trees to relax and give you a real feeling for what the Black Hills are really like. Proceeds from the Angel's Ride will go to benefit the Nature Conservancy. All participants must be 21 years of age or older. For more information, visit sturgismotorcyclerally.com.