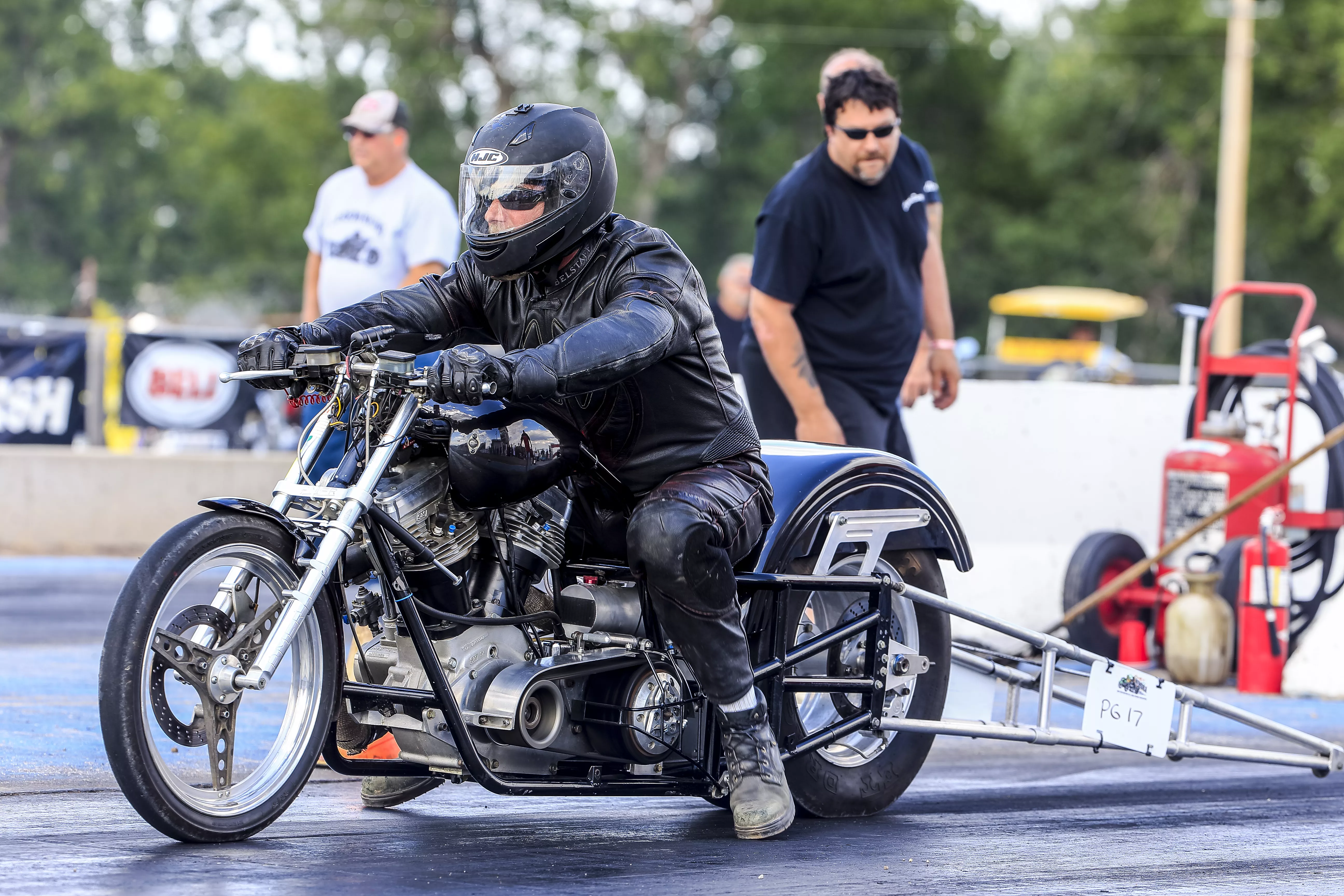 Racing in Sturgis is as time-honored as the rally itself. From that first get-together in 1938 to now, pitting your bike against a competitor's to see who can go the fastest has always been a part of the fun in the Black Hills.
Pappy Hoel Classic
The White Plate Racing Association is proud to announce its 2016 racing schedule in conjunction with The 76th Sturgis Rally. The AMA All Star Professional half mile will be held on Monday, August 8th. Tuesday, August 9th is reserved for Vintage racing featuring the old board trackers from 20th Century Racing. Gates open at 10 AM both days with admission fees of $20 per event at the Meade County Fairgrounds in Sturgis.
Last year's race was one of the fastest ever with professional racers turning in record times on the pristine half mile oval. Corporate Indian representatives deemed The Pappy Hoel Classic to be "The most significant half mile in the country". Crowds were double and racer participation at an all time high with riders representing 26 states and four different countries. The festival atmosphere lends itself well to The Rally experience with displays, booths and exhibits as part of the two day event.
Once again, Steve Nace with All Star Racing will work his magic, transforming the half mile course into a spectacular arena of speed and space allowing some of the best racers in the nation to let it all hang out. Special thanks to the City of Sturgis and its Rally Department for supporting this historic event. Race coordinator Coe D. Meyer is pressing hard to increase purse money from $10,000 to $20,000, a necessary amount to attract top National racers to our race.
On August 9th, a "Meet and Greet" will take place immediately after the Vintage races. It's a chance for fans to get down on the track and talk story, take pictures, and rub shoulders with the racers and their families. For more information please call Coe D. Meyer at (605) 490-3632.
Sturgis Dragway and BHDRA
The 76th annual rally is getting closer than we think and this will be the 11th anniversary of Black Hills Drag Racing Association (BHDRA) operating Sturgis Dragway. BHDRA has allied itself with Bill McGrew in an effort to make the 76th Sturgis Rally Drag Races the best they can be.
We have discussed the race schedule with many of you and it seems that the general consensus is to hold the races on the first weekend of the Rally so that anyone that needs or wants to head back home can do so.
Saturday, August 6th – Move In and Test & Tune
Sunday, August 7th – Qualifying
Monday, August 8th – Eliminations and Finals
Additionally, the BHDRA will be hosting some special events later in the week. Anyone who participates in the drag races, together with their pit crew, will be allowed to continue to camp in the pits for the entire week and will only be charged a nominal fee to cover the cost of cleaning of the Porta-Pots, garbage service, showers, and so forth.
Jackpine Gypsies
The Jackpine Gypsies go all the way back to year one of the rally and their hill climb event is one of the most popular races at the rally. It's always held on Monday of rally week, although last year the Gypsies ran the hill climb on Friday as well.
The Jackpine Gypsies 2016 Rally Schedule
Aug 7th Moto-X 9am
Aug 8th Hillclimb 10am
Aug 8th Pappy Hoel Memorial Outlaw PRO/AM Short Track 7pm
Aug 9 PRO/AM Short Track 7pm
Aug 10 Verta-X Hillclimb 7pm
Aug 11 JPG Tour 10 am
Aug 11 PRO Verta-X Hillclimb Noon
Aug 12 PRO Hillclimb 10 am
Visit their website jackpinegypsies.com for the latest information and see for yourself. Get more information on Sturgis in general here. Check out our latest custom bikes here.