This article was originally published in the December-January 2000 issue of Cycle World's Big Twin magazine.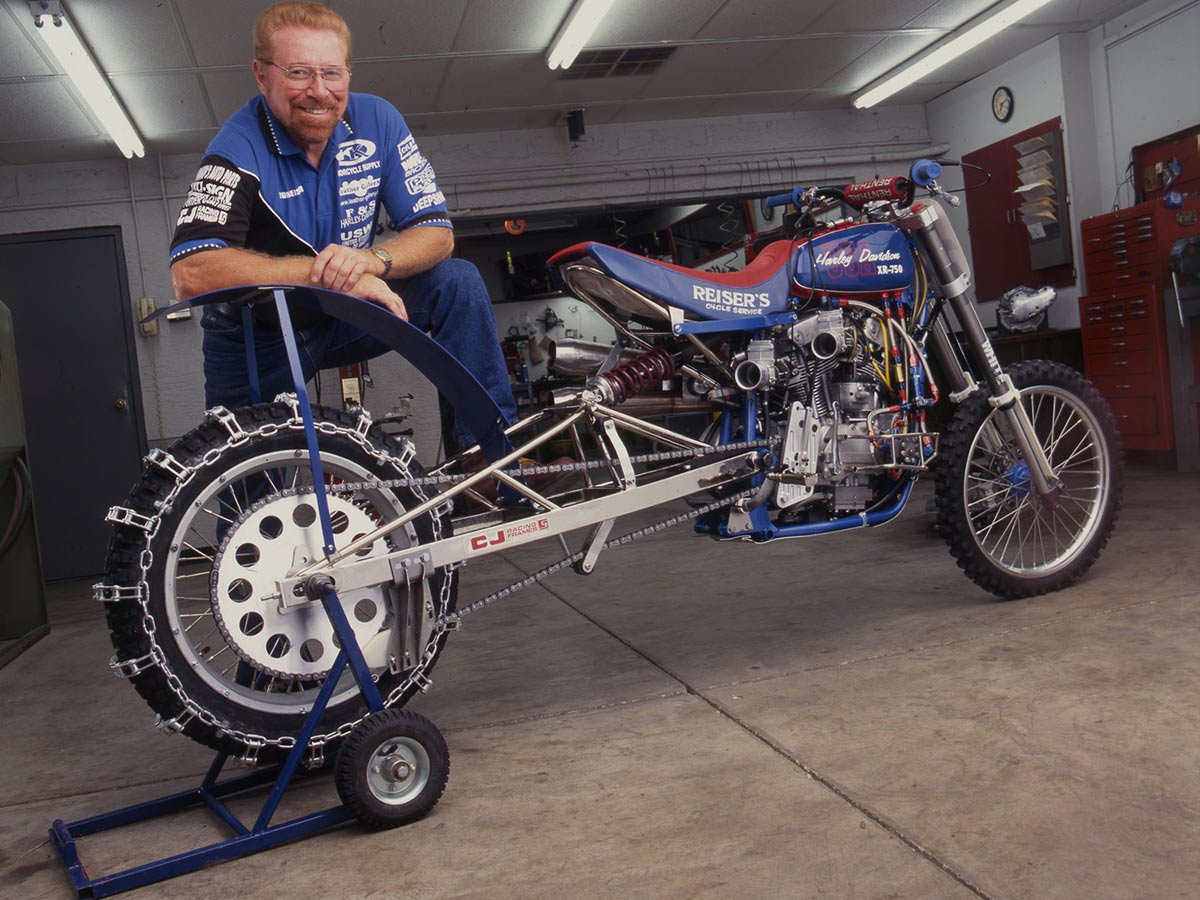 More than 20 years before he established himself as a great novelist with "The Bonfire of the Vanities," and 30 years before he followed it up with the critically acclaimed blockbuster, "A Man in Full," Tom Wolfe walked into A.D. Farrow's Harley-Davidson dealership in Columbus, Ohio, attracted by a Chevy-powered motorcycle sitting in the front window. That motorcycle and its builder, Tom Reiser, were later memorialized by Wolfe in a series, titled "The New Life Out There," he wrote for the New York Herald Tribune. In "The Mild Ones," the December 19, 1965, installment that discussed the booming motorcycling scene of the mid-Sixties, Wolfe declared, "Reiser is an underground hero in the new motorcycle life-style."
That "New Life" series represented an original style of journalism that delivered real-life facts through an array of writing techniques borrowed from fiction, making some of the readers doubt that Wolfe's characters—including Reiser—could be real. But they were real, and a decade later, Wolfe's New Journalism style delivered "The Right Stuff," a landmark tale of America's Mercury astronauts.
Like Wolfe's writing of that era, the antics of Tom Reiser's early adulthood might well be confused with the stuff of fiction. Utterly obsessed with his V-Eight-powered monster, which Wolfe nicknamed "Tom's Bomb," Reiser turned this bizarre motorcycle project into an all-consuming addiction that cost him his job and a marriage, sent him on a brief journey to the West Coast, and even got him his job back—plus fame in The Herald Tribune—all in a span of less than five years. Then, eventually cured of his 327-cubic-inch addiction, Reiser refocused his creative energy on the development of some of America's most powerful Harley-Davidson Big Twins. Since that rebirth, his competition machines have won national and world championships in both Top Fuel drag racing and Top Fuel hillclimbing.
Reiser was born in Columbus, Ohio, in 1938. In 1954, his father bought a '48 FLH with sidecar to use as family transportation. As Reiser remembers, "We couldn't afford the whole rig, so we just bought the used bike with a naked sidecar chassis and built a plywood body. Dad and I went all the way to Sault Ste. Marie in that outfit. We fished and cooked out and camped. It was really some good times."
Having that FLH at his disposal, Reiser learned to ride before he was of legal age. "Dad didn't like to ride the bike without the sidecar, but I wanted to learn to ride a solo bike, so I got pretty good at removing and reinstalling the sidecar." A smile crosses his face as he says, "I remember my first ticket. I wasn't speeding, but I was this skinny kid on a big motorcycle, obviously too young to be riding it. I had to go to court."
In 1956, Reiser went to work at Farrow Harley-Davidson, detailing motorcycles. "I didn't actually work for Don Farrow," he recalls. "A guy who was Farrow's top salesman hired me as his assistant. My job was to get bikes cleaned up fast enough for him to sell them." He soon developed a reputation around the shop as a good mechanic, and the service manager persuaded Farrow to let him work in the service department at night and on weekends.
With this opportunity, Reiser quit school in 1957 to become a full-time motorcycle mechanic, earning $30 a week. R.C. Johnson, a local hillclimber who rode out of Farrow's, recruited Reiser to be his mechanic on race weekends. But standing at the bottom of the hill and listening to the sharp bark of open-pipe Harleys and Indians was not very satisfying for Reiser; he wanted to be the one twisting the throttle and attacking the hill. So, he built his own hillclimber, powered by a Harley KR engine. Some years later, in 1964, Johnson would win the Canadian National Championship aboard a Reiser-tuned hillclimb machine; and as a rider, Reiser himself would win his first National that same year in Muskegon, Michigan.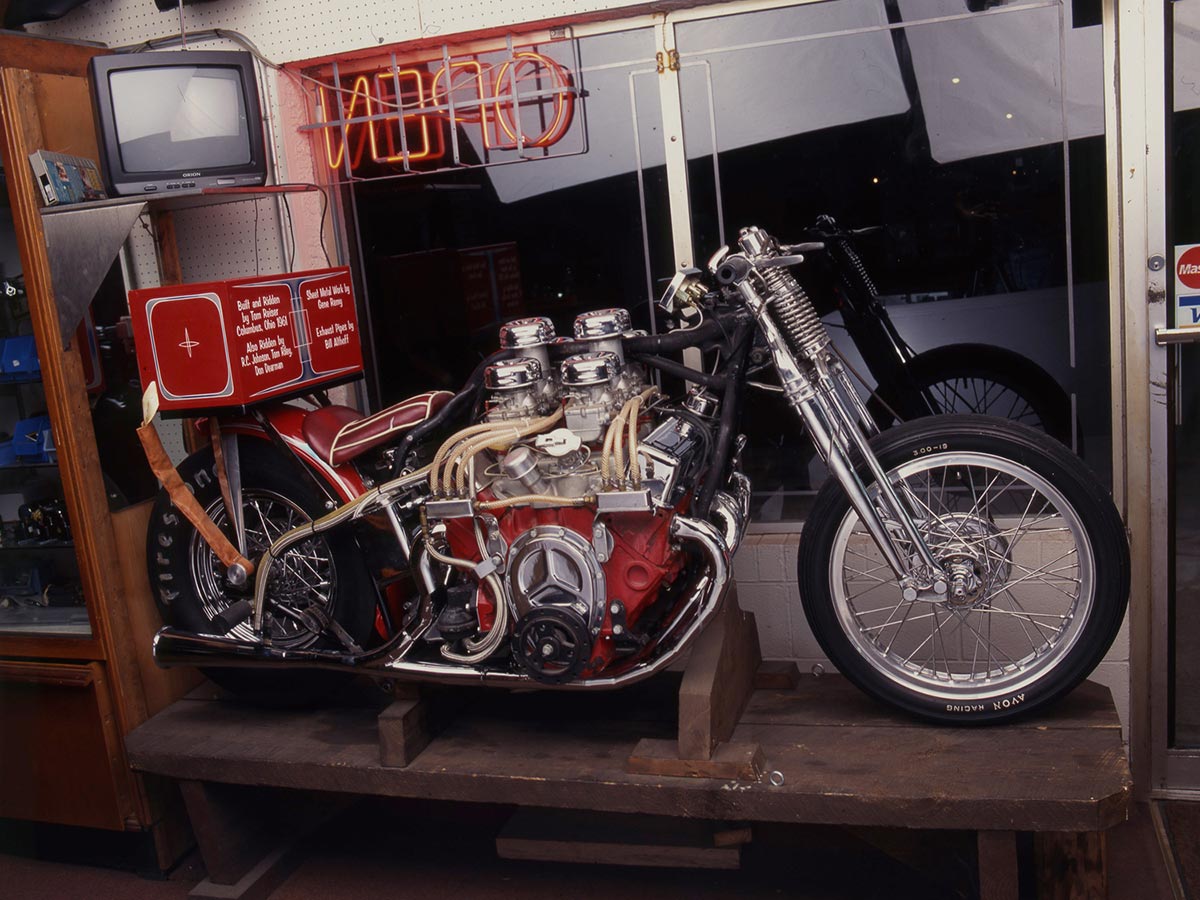 By that time, however, Reiser had already slipped into the dreadful pit of his V-Eight addiction, having decided in 1961 to build a Chevy-powered drag bike. "Somewhere, I got the idea that God put me on this Earth to build that motorcycle," he says today. "It took over my every waking moment. It is all I could think about."
Reiser had married near the end of 1958 and had a son in 1960. His new family-man status and good work at Farrow's had elevated his earnings to $60 a week. But his middle-American dream would not last for long, as the job, the marriage and the picket fence with two cats in the yard would all be gobbled up by his obsession with the V-Eight bike. "All I did was work on that motorcycle," he says, "even on company time. Don Farrow would come in early in the morning, and I would already be there working on that motorcycle. He would just give me this hard look and not say a word. I didn't get the hint, or maybe I just didn't care."
Consistent with his compulsive behavior, Reiser had set a deadline for getting the V-Eight running. When that date finally ar­rived, he rolled the bike outside and recruited everyone in the shop to help him, leaving customers standing in the showroom. It didn't matter that he had not yet fabricated ex­haust headers for the monster; the block was in the frame, the induction system was intact, there was fire in the electrics and gas in the tank. As far as he was concerned, it was ready to go, all 800 pounds of it.
As Wolfe described the machine, "… half the block sticks out of one side of the bike and half out the other, right out of the frame there, right in front of the rider's legs and just in back of the front wheel. The proportions are like a boulder rammed through a sheet of plywood."
On that long-awaited day, Reiser and his cohorts bumped the bike off and, to the surprise of some, it actually ran. It also actually moved, its open exhaust ports issuing a violent racket, belching fire fore and aft … and setting ablaze the battery located just below Reiser's crotch. But his dream had come true. Tom's Bomb lived.
And Don Farrow fired him.
Now faced with the need to earn a living, Reiser became an apprentice ironworker and learned how to weld. He liked welding but couldn't get work. So, he became a drywall worker, then an apprentice heavy-equipment mechanic, working at that for about a year.
By 1963, Reiser had managed to get back on at A.D. Farrow as a freelance mechanic, working only at night so he couldn't be a bad influence with his V-Eight craziness. Farrow had a basement chock full of frames, engines, sheetmetal and other miscellaneous bits of Harley-Davidsons, and he paid Reiser $100 each to transform them into complete motorcycles. "I made more money building those bikes than I had ever made working as a mechanic for scale," says Reiser today.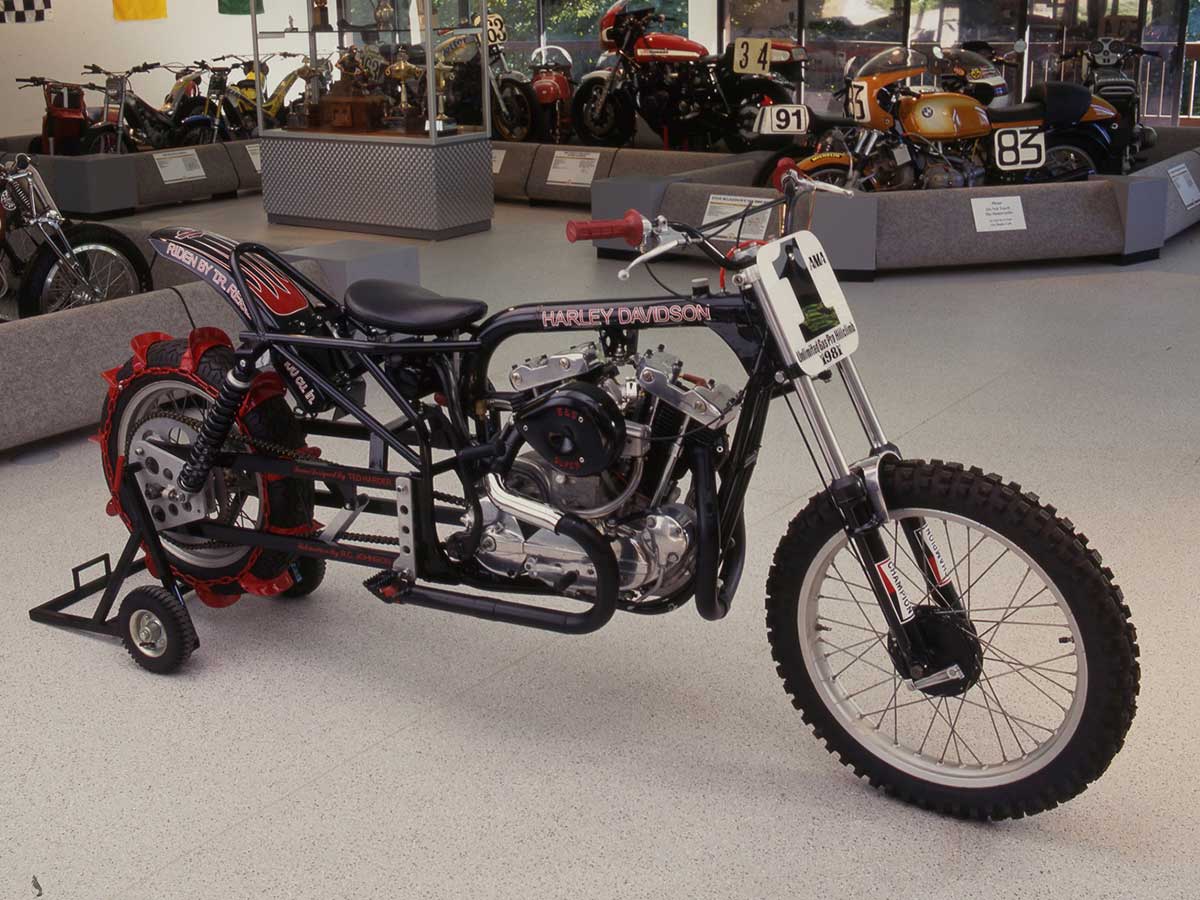 In the meantime, he continued to develop Tom's Bomb. After running the 800-pound brute into a cornfield for lack of adequate brakes, Reiser concluded that it was time to employ a bit of drag-chute technology. He bought a 15-foot parachute from a local surplus store, and he and friend Edgar Thomas hooked it up to a sidecar rig to test its effectiveness. "Thomas sat in the sidecar with the chute in his lap, and I ran the rig up to about 80 miles per hour, then Edgar tossed out the chute," recalls Reiser. "For a long time, the chute just kind of snaked along the highway behind us, then WHOOF! It popped open and the whole rig came off the ground. The sidecar was completely up in the air and the back wheel of the Harley was off the ground, too. Meanwhile, I was doing everything I could to steer and keep from getting tossed over the front of the motorcycle."
Concluding that the 15-footer gave too much braking, Reiser bought two five-foot chutes. This time, Thomas sat backward on a solo Harley, strapped around the chest to Reiser, one chute under each arm.
Incredibly, it worked. "If we had been any smarter," Reiser says, "I'm sure we would have gotten ourselves killed." Taking what he had learned, Reiser built a chute deployment system for the V-Eight that attached one chute to each side of the motorcycle.
How the V-Eight behaved under acceleration, though, perhaps was best summarized in Wolfe's "The Mild Ones" article in 1965. Quoting Reiser, Wolfe wrote, "When I started off, the back wheel bit down so hard it threw me back and it felt like the whole motorcycle was going to go over backward … The whole thing was covered in smoke, and I couldn't see nothing. The guys thought the engine had exploded or something. It was the rubber burning, but they thought the whole thing was on fire and they were going to have to get me out of there with a fire hose … It started off with a whole row of jerks. I don't know what that was, unless there was so much power it was just running over top of itself, and then all of a sudden it shot out of the cloud, and after that there wasn't anything to do but hang on."
Reiser's goal with the V-Eight monster was to break all existing motorcycle drag-racing records. At his first National Hot Rod Association meet, the officials sent the crash truck down the strip into the huge cloud of smoke, thinking Reiser had crashed. He hadn't, but the NHRA decided that Tom's Bomb was un­safe at any speed and invited him, tactfully, not to come back.
The final chapter on  the V-Eight dragster was written when R.C. Johnson wrecked it, abandoning ship at close to 100 miles per hour because it wouldn't stop. Johnson was unhurt, but Tom's Bomb was a mess.
By this point in time, Reiser had pretty much learned what could and could not be expected of a V-Eight drag bike, and his enthusiasm for the machine had begun to wane. Besides, the big, red-blocked monster had taken a terrible toll on his life. After his marriage failed in 1964, he headed for the West Coast where he worked for Harley dealer Skip Fordyce in Riverside, California.
Reiser ended up staying on The Left Coast for less than a year, in part because Don Farrow encouraged him to return to Ohio and work as general manager at his dealership. Farrow had not only made his peace with Reiser, he had come to terms with Tom's Bomb, as well. He didn't care ever to see the beast run again, but he told Reiser he would foot the bill if he would restore the wreck to its original condition and put it on display in the showroom window.
Reiser willingly complied. That's where the bike was sitting in 1965 when a young Tom Wolfe, with his soft Virginia accent and trade­mark stylish clothes, walked in and introduced himself to Reiser.
Reiser's need for speed did not end with the passing of his V-Eight obsession. Instead, it become much more productive and less destructive as he turned his interest toward the engines that had been right under his nose his whole life: big Harley-Davidson V-Twins. He even began putting the rest of his existence back together, marrying his second wife, Beulah, in 1966. These days, Beulah and daughter Chris take care of the front counter in the Big Twin specialty business the Reisers opened 25 years ago in Columbus, while Tom runs the machine shop.
In 1967, Reiser built a double-engined dragster powered by two Sportster motors. After he found the bike much too expensive to maintain, he began to develop the single-engine "Super Sportster," a 1200cc brute of an XL engine stuffed into a lean, Yetman dragster chassis, the whole affair weighing less than 300 pounds.
Then came an introduction to Leo Payne, who began to teach Reiser the alchemy of nitromethane. Payne showed him how to dial-in his carburetor for nitro that was gravity-fed through a half-inch fuel line. Having previously run 136 mph in 10.18 seconds on gasoline, the Super Sportster promptly cranked off 145 mph in 9.55 seconds on nitro. "Payne charged me $185 to set up that carburetor," says Reiser, "which we thought was a lot of money in 1967. Or at least my wife thought so, because that was money she was saving for a couch. She says I still owe her a couch!"
By the time 1969 rolled around, Reiser had taken the Super Sportster about as far as it would go. He and Bob Barker had earned a National Drag Racing Association championship, an American Hot Rod Association national championship, and an NDRA world championship. At the end of 1969, Barker hung up his leathers and never raced again.
Reiser took what he had learned about nitro with his Super Sportster and applied it to his return to professional hillclimbing. Adding to his early success on a gas bike in 1964, he won the AMA's Top Fuel class in both 1992 and 1993. In addition, five hillclimbing championships have been snagged by other riders on Reiser-built machines: Randy Gabriel in 1974; Tom Jr., Reiser's son, in 1981; Steve Dresser in 1995; and James Large in 1997 and 1998.
With this kind of record behind him, Reiser has become one of an elite group of master engine builders, fuel handlers and chassis designers within the professional hillclimbing community. Only two or three other men can equal him for engine preparation, and it is arguable that no one else comes even close for innovative chassis development. His tool of choice has always been Harley-Davidson, and today he bases his hillclimbers on the alloy XR engine, introduced more than 25 years ago for AMA dirt-track racing.
Now, understand that professional hillclimbing machines are beastly creations. With some eight feet of wheelbase, an overall length of 10 feet, more than 18 inches of ground clearance and a truly vicious-looking chain wrapped around the rear tire, they are menacing even at rest. And when their un­muf­fled, high-compression engines come alive, get back! Nothing makes an ear-splitting sound like a Big Twin burning nitromethane. Whereas an XR750 engine prepared for dirt-track racing is considered competitive with about 100 horsepower, Reiser pulls nearly twice that out of his XRs. Compression is raised to over 13:1, and the injectors pump a 92-percent mix of nitromethane, cut with a little alcohol and propylene oxide, into the combustion chambers. While XR dirt-trackers are tuned to deliver smooth power out of the turns, Reiser's hillclimbers are designed to bring the power on instantaneously, like a big hammer slamming onto an anvil.
There are, in all probability, fewer than a couple of dozen such machines in America, and Reiser's are especially clean examples. Using C&J-built frames of Reiser's own de­sign, they lack the backyard cobbiness characteristic of some hillclimbing equipment. This sense of style is carried over to his team members, who wear crisp uniforms and are expected to behave with the self-discipline Reiser has learned in the years since the dreaded V-Eight released its hold on him.
Reiser's own hillclimbing career was interrupted in 1994 by a badly broken leg. Like any veteran motorcycle racer, he is fond of ticking off his fractures: two arms, four legs, six collarbones, ribs on the average of once a year, innumerable toes. He laughs, "Beulah always said toes and ribs don't count. Then one day she fell off her own motorcycle and broke a rib. Guess what? Now ribs count!"
Fit and trim, Reiser looks much younger than his 61 years. While he still builds some of the most powerful Big Twins in America, his motor madness is long behind him. He spends his days doing overhauls and custom machining on Harley engines. He rides his new Twin Cam FLH for enjoyment, and on summer weekends attends professional hillclimbs, always ready and willing to share his wisdom and experience with a younger generation of hopeful riders. He refuses to speak of retirement but devotes a lot of attention these days to furthering the careers of young lions such as James Large.
Tom's Bomb, the infamous V-Eight-powered monster, still sits in the front window of Reiser's Cycle Service, still looking like a boulder rammed through a sheet of plywood. But today it is no longer his addiction. It is kind of like an old friend, a strange and quiet monument to an exciting era that was understood and described by Tom Wolfe better than any other writer in America.
A lot of nitro has flowed through the ol' Hilborn since Wolfe's article appeared in 1965. If he were to walk into Reiser's shop today, he would probably no longer see Tom Reiser as a wild, underground motorcycling hero, but find him rather a man in full.