Nothing is invincible. Every man and machine has a weakness, but it's the size of the fight within that makes all the difference when it comes down to not getting your ass kicked. When a potential deathblow presents itself, you had better be ready, or else prepare to get smacked down and taken out.
Now, you might not think you'd have much to worry about with a brand-new bike. All of its components are fresh and dependable, and there aren't usually very many curveballs to anticipate in the form of misfires or malfunctions. But accidents do happen. And when they do, you'd better be ready to roll with the punches.
Nick Trask, of Trask Performance, has been in the business of building bikes long enough to know that it's wise to hope for the best while expecting the worst to rear its ugly head at any time. "I would say the most challenging aspect of this particular build was having to regroup, rebuild, and deliver by the original deadline," he says of an unfortunate occurrence that had the power to destroy the momentum of the build. Luckily, it would most likely take an act of God to derail the Trask team.
"In January of 2018, this bike was near completion when part of our facility was damaged by a fire that broke out in a neighboring business. Luckily, our crew was strong enough to step up to the challenge of building it a second time." Since Nick founded Trask Performance back in 2000, he has molded the company into an industry leader in turbo systems for Harley-Davidson models. With that much clout comes a responsibility to never let anything that can be overcome make too big of an impact on any particular project.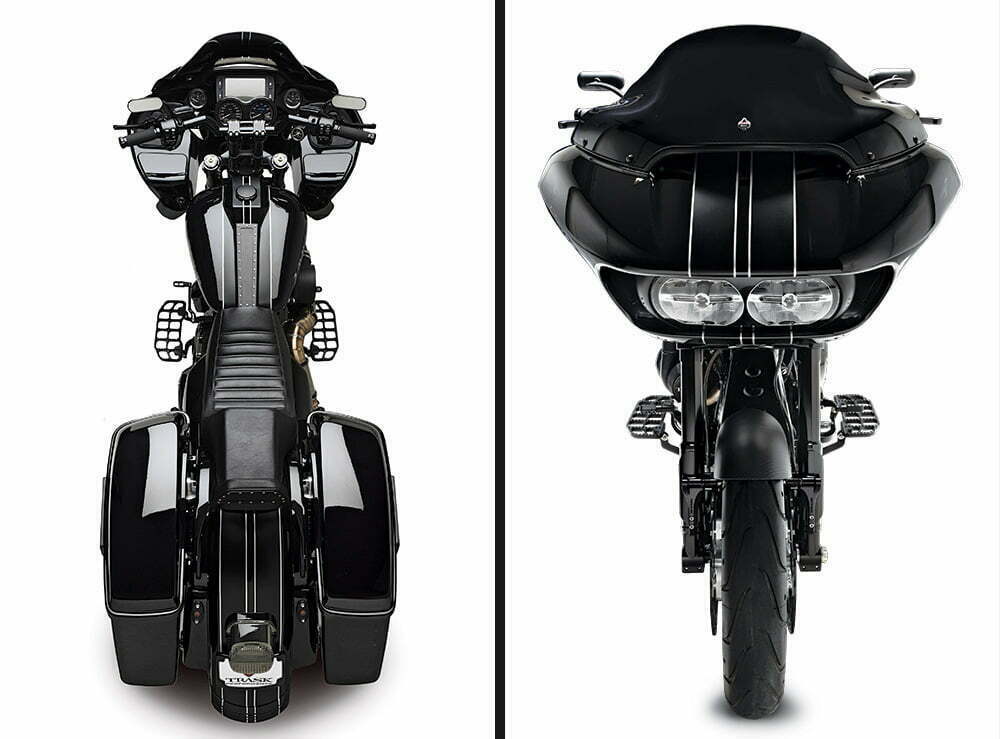 The bike was being built for Brent Frasier, a longtime friend and customer of Nick's for whom the shop had previously completed several custom motorcycles. When he approached Nick to build yet another bike for him, he was anxious to find out what the new Milwaukee-Eight motor was all about, so Nick set out on a mission, which led him to a new 2018 FLTRXS, fresh from the dealership.
"The vision for the build was simple," Nick admits. "Brent wanted a well-handling motorcycle with the necessary upgrades to meet his personal standards." In short, all he was after was Nick's trademark level of performance, and that's exactly what he received. Of course, the reason customers choose Trask is for its world-renowned turbo system, which Nick was quick to elaborate on. "We stayed with our Assault style with this build, but added a new twist. This custom-built system features a V-band turbo housing, pie-cut stainless steel, mesh heat shields, and carbon-fiber muffler. All business and big-power performance."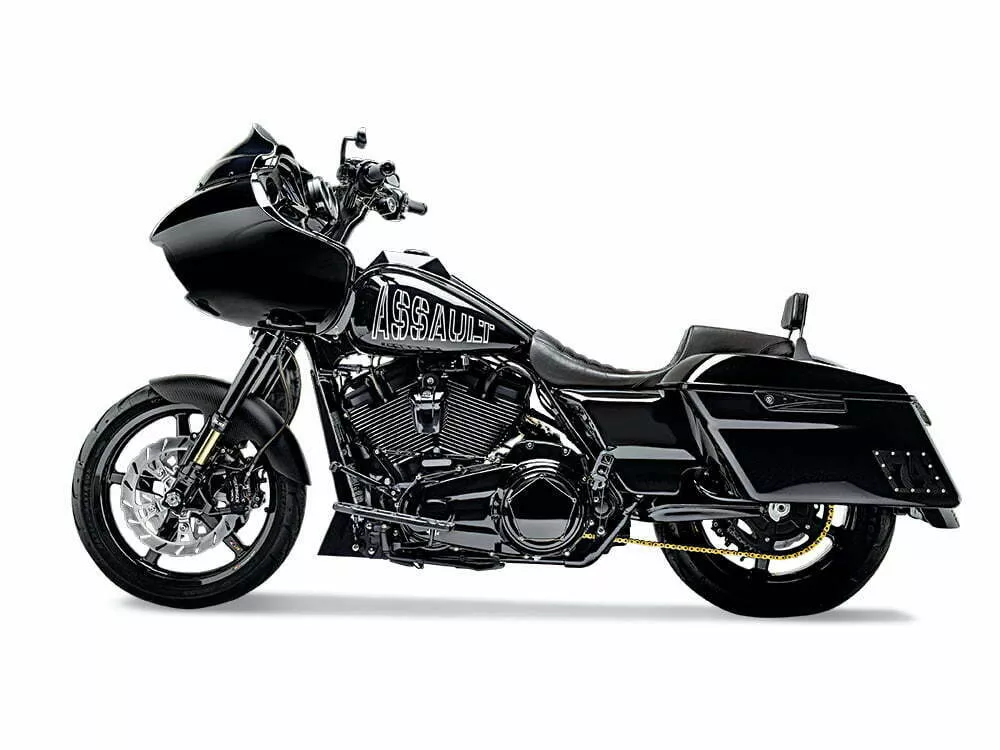 To round out the true performance of the Road Glide, Nick and crew opted for a combination of Öhlins and Legends air suspension for a very responsive motorcycle that is an overall pleasure to ride. "Version 2.0 of this particular bike turned out to be the best-handling bike we have ever ridden," Nick says about the final outcome of the Road Glide Special. Obviously, the man knows what he's talking about, and with a statement like that, we'd have to estimate that Brent has been busy taking full advantage of his latest machine.
When it comes down to it, there are decisive moments that separate the average tinkerer from the seasoned veteran. It was a moment such as this when the entire Trask Performance outfit soared above all expectations in the face of adversity. Calling it quits was never in the stars—the only option was to rebuild the bike to go even faster, and to handle better than ever before.
Specifications
| | |
| --- | --- |
| General | |
| Owner | Brent Frasier |
| Shop | Trask Performance |
| Shop Phone | 623-879-8488 |
| Website | traskperformance.com |
| Year/Make/Model | 2018 Harley-Davidson Road Glide FLTRXS |
| Fabrication | Trask Performance |
| Build Time | Two months |
| Engine | |
| Year/Type/Size | 2018 Harley-Davidson Milwaukee-Eight 107 |
| Builder | H-D |
| Cases | H-D |
| Cylinders | H-D |
| Heads | H-D |
| Rocker Boxes | H-D |
| Cams | S&S 456 |
| Exhaust | Trask Turbo System, stainless pie-cut with carbon-fiber muffler |
| Air Cleaner | Trask Turbo System |
| Special Features | Trask Performance big-power custom turbo system, Thundermax ECM, Trask custom chain-drive conversion kit |
| Transmission | |
| Year/Type | 2018 H-D six-speed |
| Case | H-D |
| Clutch | Stock with Trask billet clutch basket |
| Primary Drive | H-D |
| Frame | |
| Year/Manufacturer | 2018 H-D FLTRXS |
| Rake | Stock |
| Stretch | Stock |
| Suspension | |
| Front End | Kraus/Öhlins |
| Triple Trees | Kraus |
| Rear End | Legends 12-inch Revos |
| Wheels, Tires, and Brakes | |
| Front Builder/Size | BST Touring carbon fiber 19×3 |
| Tire/Size | Michelin Scorcher 120/70/19 |
| Caliper | Beringer |
| Rotor | Trask 13-inch Double XL brake kit |
| Rear Builder/Size | BST Touring carbon fiber 17×6 |
| Tire/Size | Michelin Scorcher 200/55/17 |
| Caliper | Beringer/Kraus |
| Rotor | Trask Double XL brake kit |
| Finish/Paint | |
| Manufacturer | Specialty Coatings |
| Color | Gloss black |
| Graphics | Trask Assault graphics, flat black/Cerakote silver rally stripe |
| Accessories | |
| Front Fender | Kraus carbon fiber |
| Rear Fender | H-D with custom-fabricated turn signals and license plate mount |
| Fairing/Windscreen | Klock Werks |
| Gauges | H-D with Kraus mount |
| Gas tank | Joker Machine |
| Dash | Trask custom fabricated |
| Oil tank | H-D |
| Handlebars | Trask 8-inch Assault risers, Trask V-Line moto bars |
| Hand Controls/Grips | H-D controls, Trask V-Line grips, PSR levers |
| Foot Control/Pegs | Joker Machine floorboards and foot controls |
| Headlight | H-D |
| Taillight | Custom Dynamics |
| Turn Signals | Vision X (rear) Custom Dynamics (front) |
| License Mount | Custom Dynamics |
| Seat | Guy's Upholstery |
| Special Features | Trask custom-fabricated sissy bar |