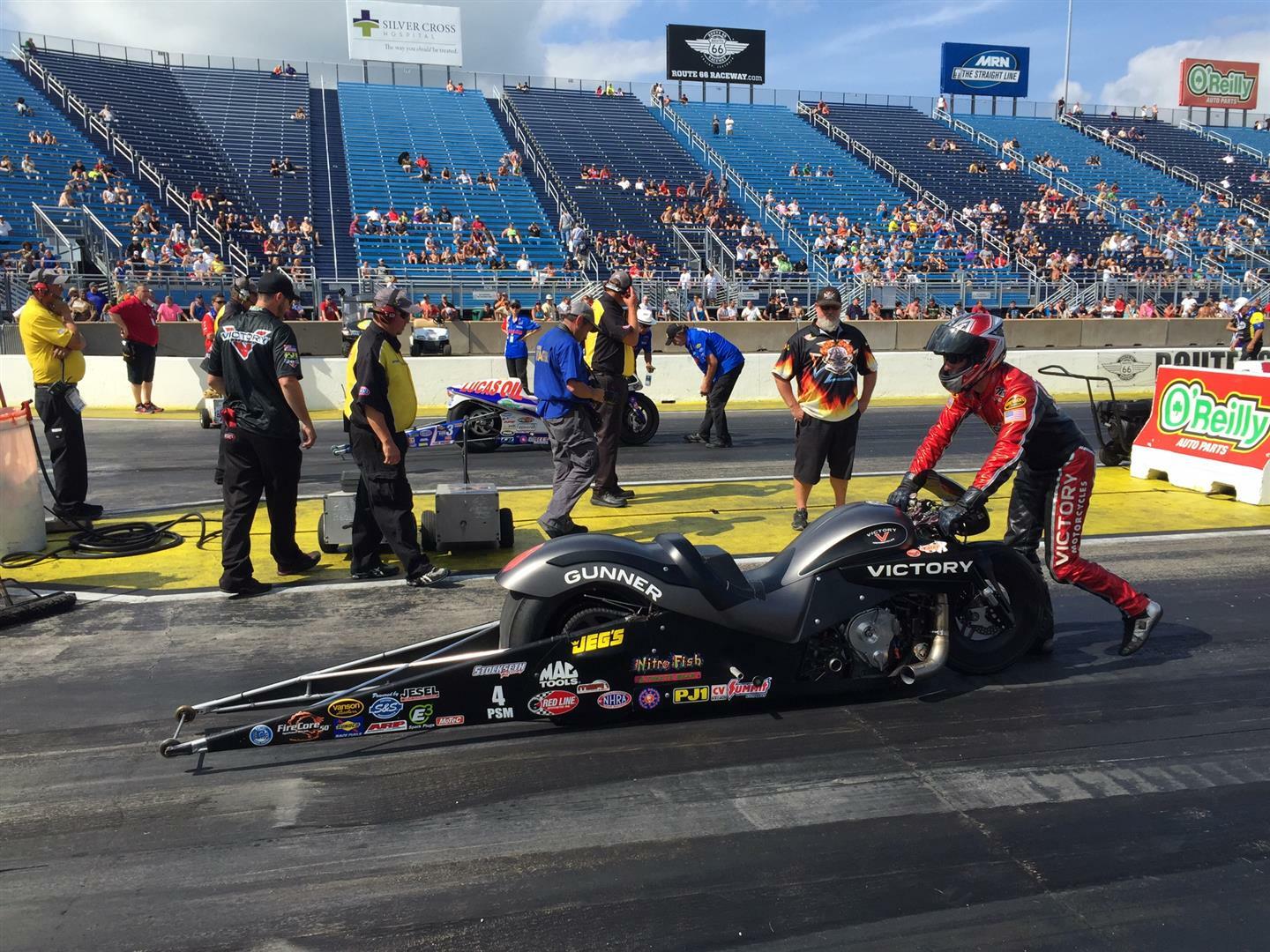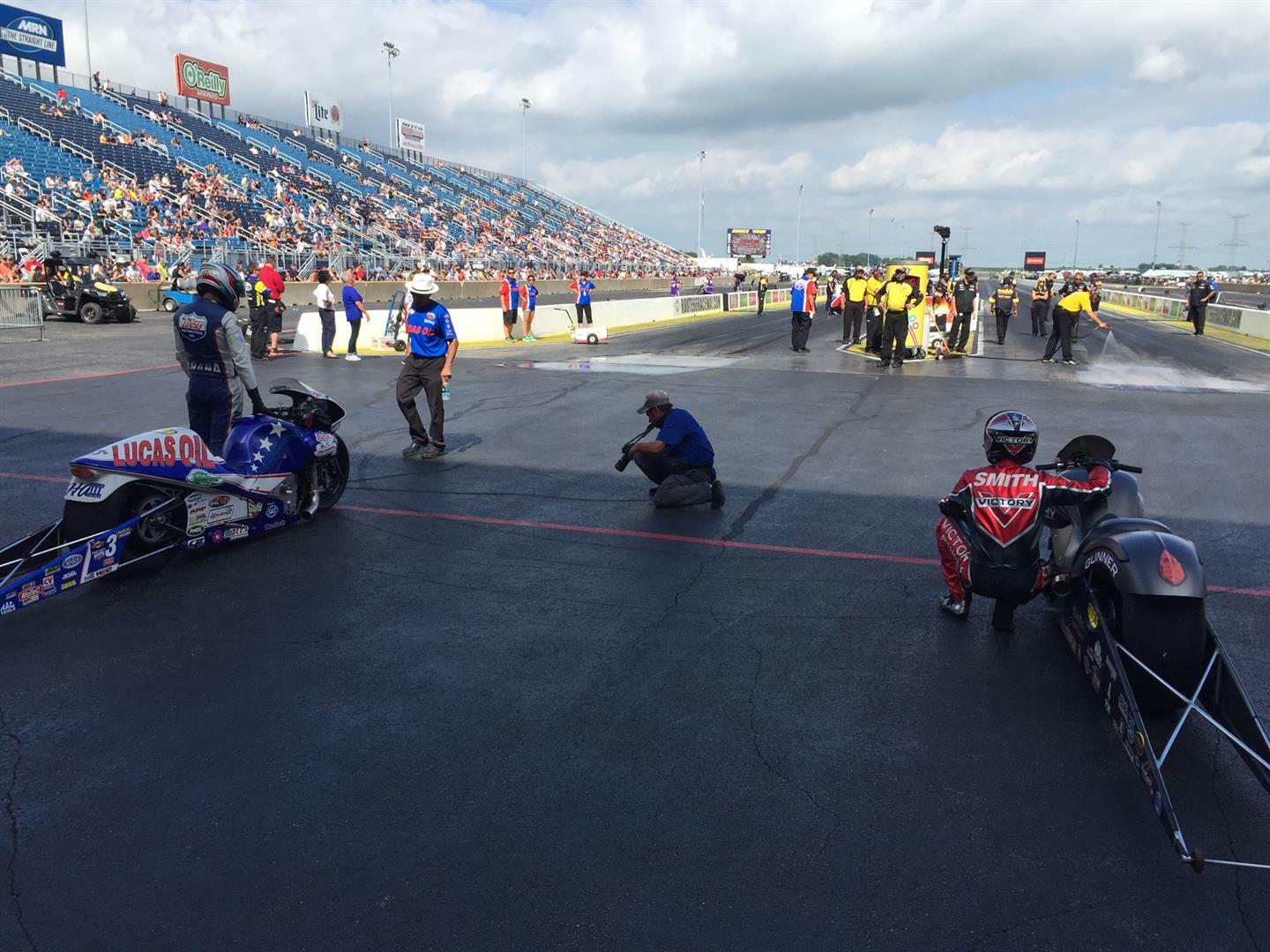 Victory Racing's Matt Smith demonstrated true American performance, reached the finals, and finished second in Pro Stock Motorcycle competition at the NHRA's Lucas Oil Nationals on July 12 at Route 66 Raceway in Chicago. Racing on his Pro Stock Victory Gunner, Smith qualified fifth-fastest and outran three opponents in Sunday's elimination rounds to reach the final, where he was edged by a front wheel after getting the jump at the start.
With Victory Racing fans cheering him on in the final, Matt got off the line with a great reaction time of 0.039 seconds and ran the quarter-mile in 6.957 seconds at 190.24 mph. He was edged by Hector Arana, Jr., who started in 0.071 seconds and ran 6.918 seconds at 194.66. Arana caught Matt at the finish line to win by 0.0076 seconds – a margin of about 2 feet.
"It's been a long work in progress but it feels like we've made a big leap with the Victory Racing bike this weekend," Matt said. "All in all, it was a great weekend for Victory and everyone that supports us. We had a big and supportive crowd in the hospitality center, the Victory Club. We had people from three Victory dealerships out there cheering us on and they had a great weekend."
Angie Smith of Victory Racing qualified for the Sunday elimination rounds at Chicago but lost as her first-round opponent made a late-run surge to overtake her after she got off to a quick start.
Matt Advances With Consistent Power
Matt Smith was the fifth-fastest qualifier for Sunday's elimination rounds. His best run in qualifying was in the second round, when he ran a 6.893-second quarter-mile at 192.71 mph.
Once Sunday's racing began, Matt made a steady march through the competition to reach the finals. In the first round on Sunday, Matt got off to a great start with a 0.021-second reaction time and made his run in 7.008 seconds at 187.94 mph to beat Karen Stoffer. Matt got off to an even quicker start in round two with a 0.005-second reaction time en route to a winning run of 6.989 seconds at 189.36 mph against Eddie Krawiec.
Matt had a free run in round three as Chip Ellis never made it to the line and forfeited. Matt got a great reaction time of 0.011 seconds and made his run in 6.977 seconds at 188.28 mph.
Matt's second-place finish at Chicago was the best showing of the season for the NHRA Victory Racing team. He had reached the semi-finals at the season's second race, in Charlotte, but lost in a close race. After the Chicago race, Matt was 11th in NHRA Pro Stock Motorcycle points, and he was hopeful the team's performance would continue to improve.
"NHRA gave us a couple things a few races ago," he said. "We've got a new windshield that seemed to help us out, and when we get the new [intake] scoops, we're hoping that helps as well. The windshield is the same height [as before], but NHRA gave us 2" more in width, which keeps the wind off our hands and shoulders. That gained us about a mile an hour, but we're still 3 mph off where we want to be."
The new intake scoops should be in production in the week after the Chicago race, and he hopes they're on the bikes at Denver, the next stop on the schedule. "The new scoops should look the same from the side, but from the front, they're dramatically smaller, and we hope that's going to help," Matt said.
Angie Delivers More Quick Starts
Angie Smith qualified 16th on her Pro Stock Victory Gunner at Chicago. Her best run of the weekend came in the second round of qualifying, when she ran a 7.060-second quarter-mile at 188.23 mph.
In Sunday's first elimination round, Angie got off to a lightning-quick start with a reaction time of 0.018 seconds, and she led to the 330-foot mark before Chip Ellis overtook her to win. Angie made her run in 7.165 seconds at 186.82 mph. She is now 3-2 in the first round this season, and is 12th in NHRA Pro Stock Motorcycle points.
Next Up: Denver
The next race for the Victory Racing NHRA Pro Stock Motorcycle team will be July 24-26 at Bandimere Speedway in Denver. After that they'll race July 31-August 2 in Sonoma, California, and August 20-23 in Brainerd, Minnesota. The team tested at Bandimere during the American Victory Rally in June and is ready for the challenges of the highest-elevation professional drag strip in America.
About Matt & Angie Smith
Matt Smith started his pro career in 2003 and won the NHRA Pro Stock Motorcycle championship in 2007 and 2013. As Matt won his 2013 championship, his father Rickie Smith won the NHRA Pro Mod [car] Series title. Matt entered the 2015 season with 17 career wins, a career-best E.T. of 6.793 seconds and career best speed of 198.32 mph. He is 42 and a native of King, N.C.
Angie Smith started racing motorcycles in 2000 and raced in regional series before stepping up to the NHRA's top national series. She has continually set higher top speeds and better E.T.s as her career has progressed, and in 2014 she earned her first circuit victory – racing against her husband Matt in Epping, N.H. Her career-best E.T. is 6.846 seconds, and her top speed is 195.22 mph. Angie, 36, is a native of Winston-Salem, N.C.
More info about Victory Racing; www.victorymotorcycles.com/victory-racing