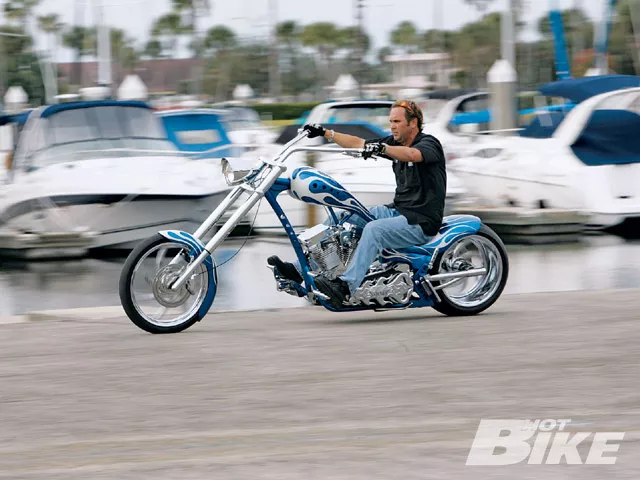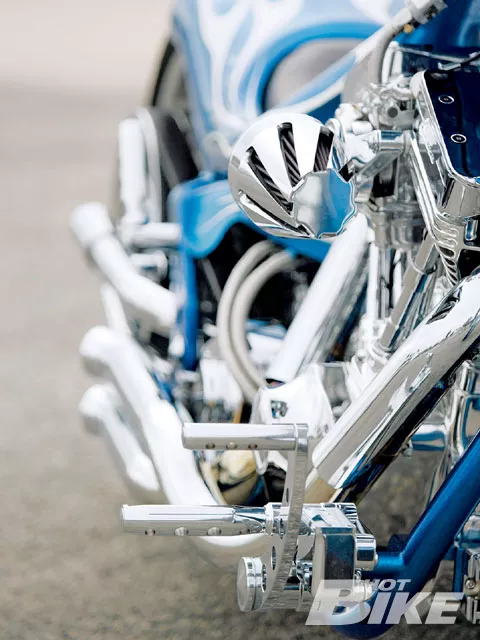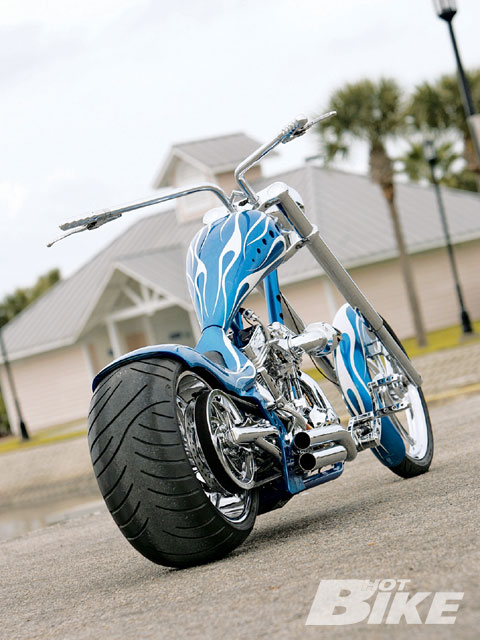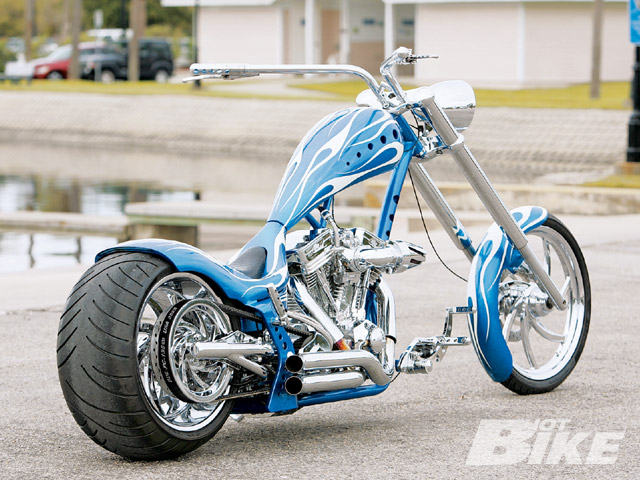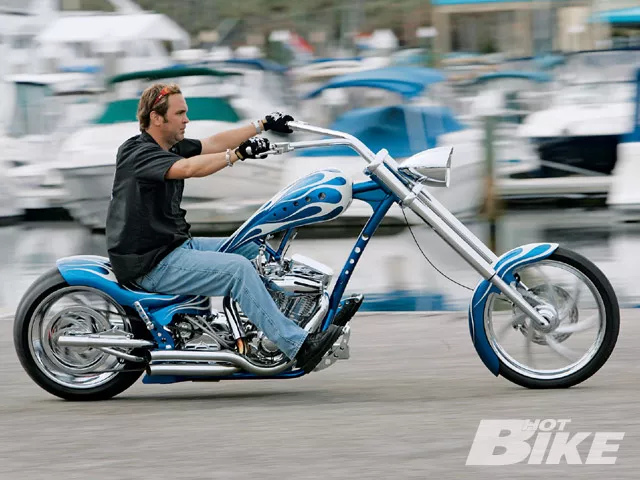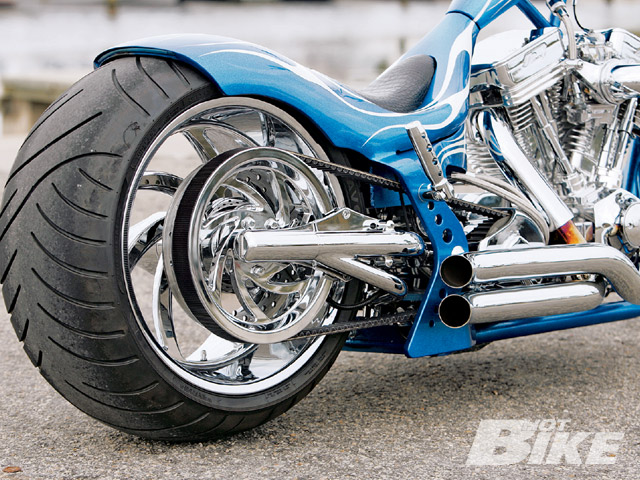 When Chris Shoemaker of Wicked Choppers in Myrtle Beach, South Carolina, envisions a custom chopper, his first thought is to design a bike primarily for riding but also build a bike with a one-of-a-kind look. Chris started customizing as a hobby when he modified his own H-D Fat Boy and entered it into a bike show during Daytona Bike Week and took First place. It was during this event that Chris decided he wanted his own chopper and building it was the best way to get what he wanted. This led to the founding of his shop Wicked Choppers. "Wicked Storm," the bike seen here is not the first custom that Chris has built. In all, he's built 23 custom choppers and the Wicked Storm is one of his best. Chris put all his vision into building this one-off chopper.
A solid, well-conceived, custom chopper frame was crucial to the success of building Wicked Storm. This is because a chopper's frame not only dictates how it will look, but how it will ride as well. To get the chopper look and ride, Chris selected a Pro-Street Frameworks frame, and then added 6 inches to the backbone and 8 extra inches in the downtubes. In addition to frame and sheetmetal modifications/fabrication, the rear taillight was discreetly molded into the back fender and blends into the metallic blue paint scheme.
One of the first unique design features you will notice about this chopper are the holes that appear to be open through the tank and downtube. In order to achieve this design and allow the tank to hold fuel, Chris added stainless steel, mirrored discs inside the holes to give the appearance of a drilled opening in both the tank and frame.
Every bike needs a set of wheels and Chris added some bling with a pair of Weld Racing wheels. The rear wheel is wrapped with a fat 300 series Avon tire and is led by a 21- inch on the front. To give the bike some extra detail and sort of help promote his company and the name of the bike, Chris had the word "wicked" inscribed into the primary cover.
The power inside the frame pulling this massive storm is a 114ci TP show-polished engine and shifts with a Baker six-speed transmission. One of the most impressive design elements on this chopper are its patented, illuminated, gauges integrated into the tank and are only visible when the ignition switch is turned on.
While Chris admits the design phase of this project took a long time, it produced a bike, which shows you something different every time you look at it. And every time Chris rips this bike down the street, the handmade pipes rumble like ominous thunderclouds, letting people know a wicked storm is on its way.
| | |
| --- | --- |
| SPEC SHEET | |
| GENERAL | |
| OWNER | Chris Shoemaker |
| SHOP NAME | Wicked Choppers |
| SHOP PHONE | (843) 294-2900 |
| YEAR/MAKE/MODEL | '06/Wicked {{{Storm}}} |
| FABRICATION | Wicked Choppers |
| ASSEMBLY | Wicked Choppers |
| BUILD TIME | Three months |
| | |
| --- | --- |
| ENGINE | |
| YEAR/MANUFACTURER | '06/TP Engineering |
| TYPE/SIZE | Evo/114ci |
| BUILDER | TP |
| CASES | TP |
| CYLINDERS | TP |
| HEADS | TP |
| FLYWHEELS | TP |
| ROCKER BOXES | TP |
| CARBURETOR | Mikuni |
| AIR CLEANER | Wicked Choppers |
| EXHAUST | Wicked Choppers |
| | |
| --- | --- |
| TRANSMISSION | |
| YEAR/MANUFACTURER/TYPE | '06/Baker/6-speed |
| CASE | Baker |
| CLUTCH | BDL |
| PRIMARY DRIVE | BDL |
| | |
| --- | --- |
| FRAME | |
| MANUFACTURER | Pro-Street Frameworks |
| RAKE | 41 degrees |
| STRETCH | 8- up, 6-out |
| | |
| --- | --- |
| SUSPENSION | |
| MANUFACTURER FRONT | Spyke |
| TRIPLE TREES | Spyke |
| REAR | |
| SWINGARM | Pro-Street Frameworks |
| SHOCKS | {{{Legend}}} Air RiIde |
| | |
| --- | --- |
| WHEELS, TIRES, AND BRAKES | |
| MANUFACTURER/FRONT | Weld Racing |
| SIZE-HEIGHT/WIDTH | 21×2.125 |
| TIRE/SIZE | Avon/21 |
| CALIPER | HHI |
| ROTOR | Weld Racing |
| MANUFACTURER REAR | Weld Racing |
| SIZE-HEIGHT/WIDTH | 18×10.5 |
| TIRE/SIZE | Avon/300mm |
| CALIPER | HHI |
| ROTOR | Weld |
| | |
| --- | --- |
| FINISH/PAINT | |
| COLORS | Metallic Blue/White |
| PAINTER | Copperhead Graphics |
| PLATING/POLISHING | Meclec |
| | |
| --- | --- |
| ACCESSORIES | |
| FRONT FENDER | Wicked Choppers |
| REAR FENDER | Wicked Choppers |
| FENDER STRUTS | Wicked Choppers |
| GAS TANK∩ | Wicked Choppers |
| OIL TANK | Pro-Street Frame works |
| GAUGES | Wicked Choppers/{{{Dakota}}} Digital |
| HANDLEBARS | Wicked Choppers |
| RISERS | Wicked Choppers |
| HAND CONTROLS | PM |
| FOOT CONTROLS | Accutronix |
| FOOTPEGS | Accutronix |
| HEADLIGHT | Headwinds |
| TAILLIGHT | Wicked Choppers/ |
| | Custom Dynamics |
| LICENSE MOUNT | Yaffe |
| SEAT | Wicked Choppers/Duane Ballard |