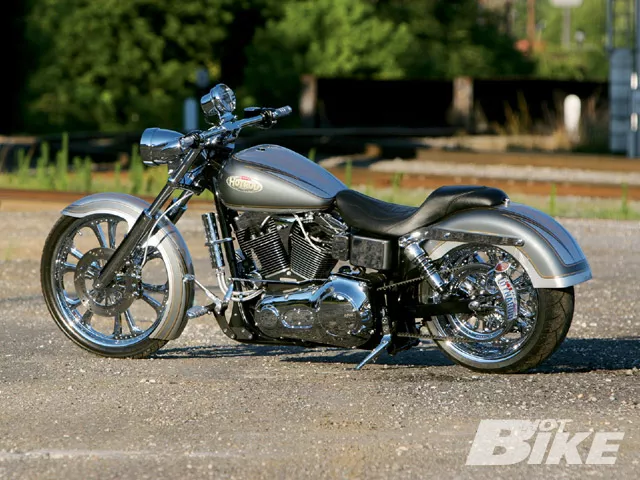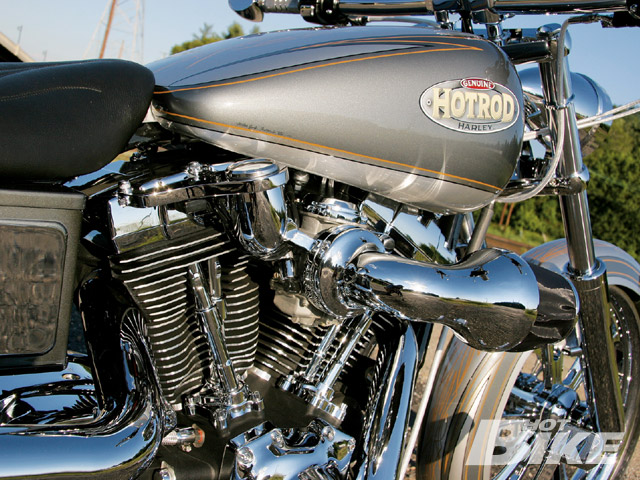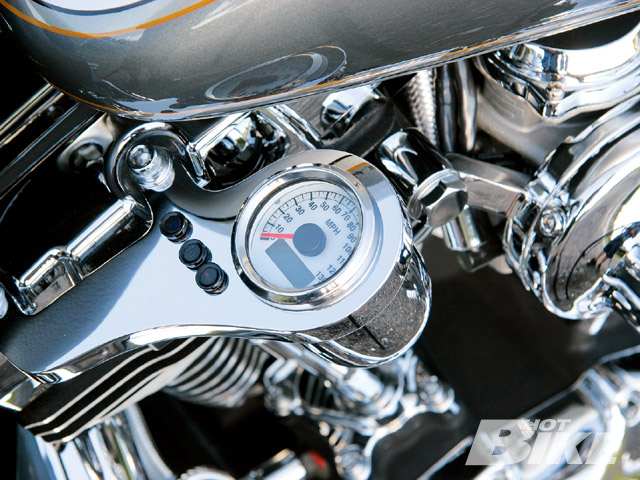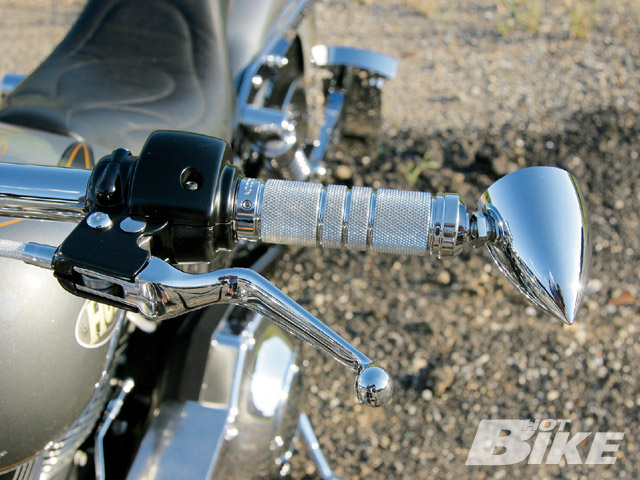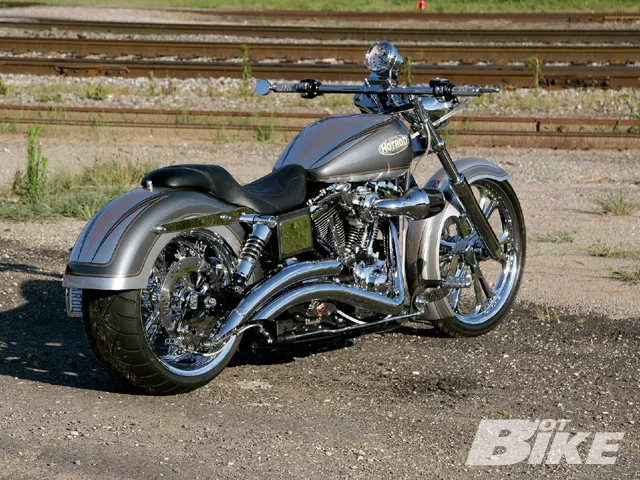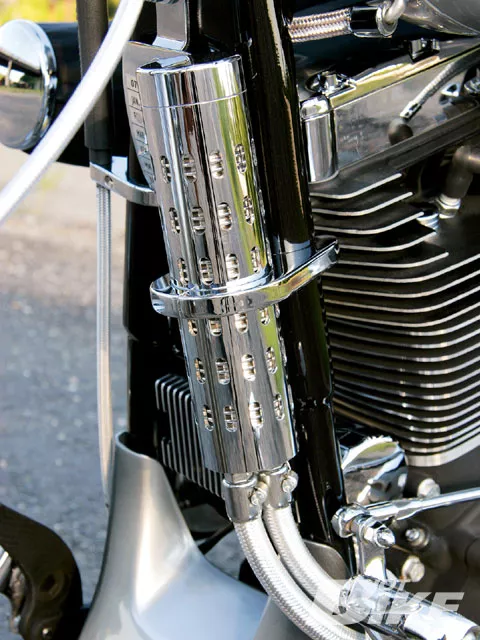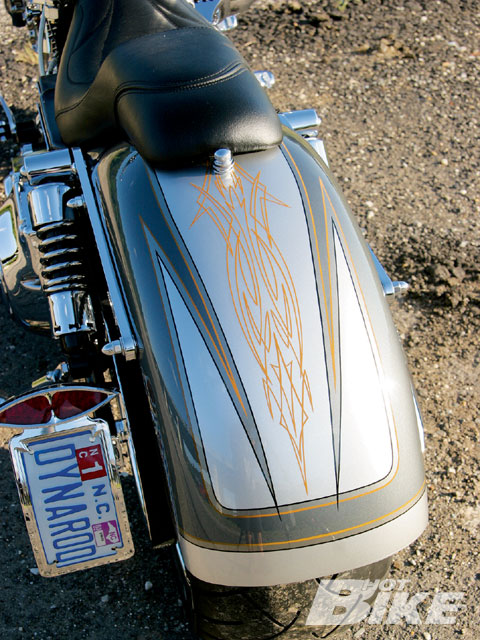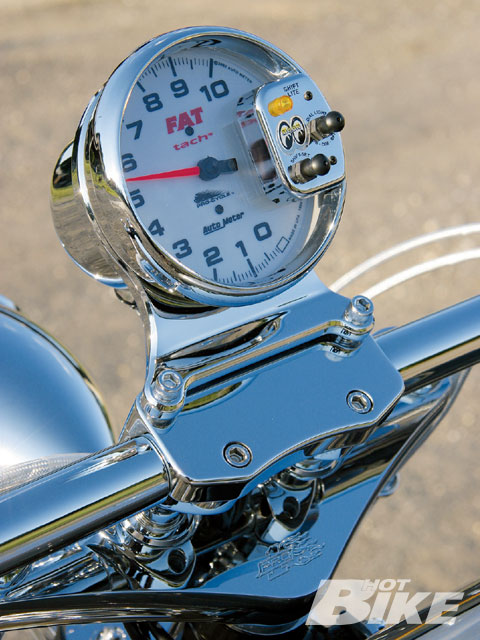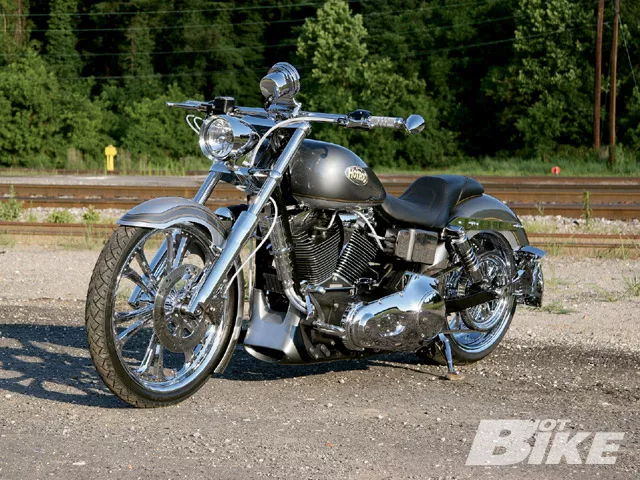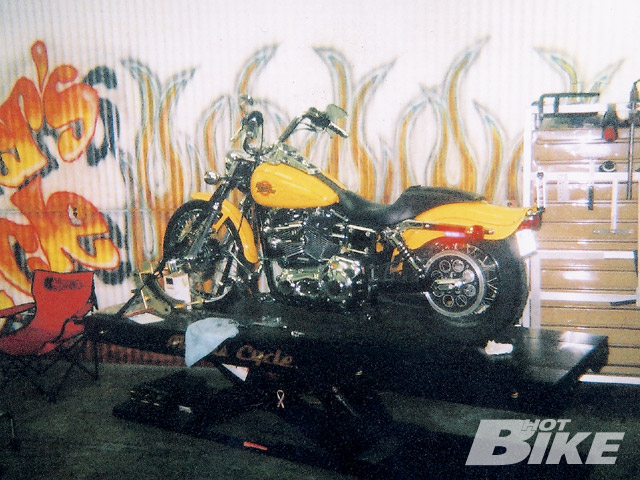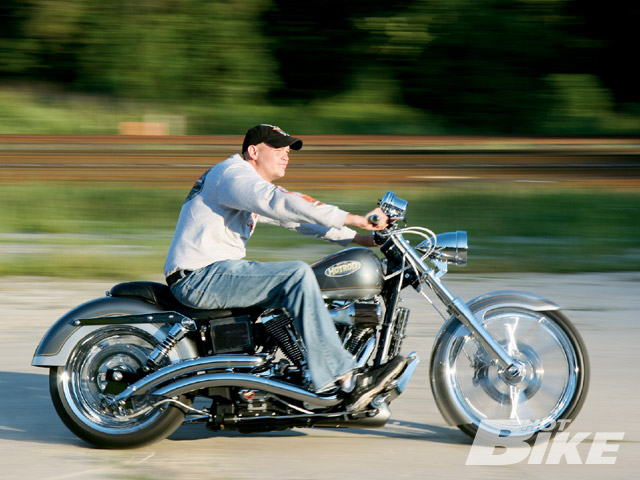 [Editor's Note] When it comes to purchasing a motorcycle, most people buy a bike because they like how it looks, how it rides, or a combination of both. Then there are a handful of people who like the challenge of purchasing a dare we say, "ugly duckling" just to see what it can be turned into. Such was the case with Jarrod Wells and his '00 Dyna Wide Glide.
Part of the fun of buying a used bike is tearing off all the "cool" parts the previous owner installed and getting the bike down to a blank canvas to start your own transformation. When Jarrod picked up his used Dyna, it had a long way to go before he would really put some miles on it. Here's Jarrod's explanation of how it went down.
When I purchased my first bike, an '02 Road King, in June of 2005, I fell in love with it immediately. Shortly after that purchase I met Randy Miller, the owner of Miller's Cycle, a local bike shop outside Asheville, North Carolina, and we started riding together along with a few others. After more than a year of riding on weekends and a few semi-long trips with our usual riding crowd, and seeing Randy and his brother Stacy both riding Dynas, I felt the strong desire to pick up a Dyna Wide Glide."
I purchased a 2000 Dyna from a friend in May of 2007 and for the next two months I only rode the bike about 25 miles, from his house, to my house then to Randy's shop. Needless to say, I didn't have the same "love at first sight" feeling with the Dyna as I did with the RK. When I purchased the Dyna, it had stock wire wheels, shotgun style exhaust, some trumpet-like air horn crammed on the side of the jugs and a yellow paint job that was much more suitable for a school bus than for a Harley. Now, I'm not knocking those folks that may find a bike like that appealing, but let's just say it wasn't really my cup of tea. Fortunately for me, I didn't buy the bike for what it was but for what it could be with the help of the very capable hands of Randy.
I don't really know why I wanted to have this bike built, whether it was from being around a Dyna every time I stopped by Randy's shop and wanting to fit in with him and his brother, or if it was just a desire to have something different than most 25 year-old dump truck business owners. Maybe it's just nice having two bikes, one for trips and one for beating around the back roads we have in the Appalachian Mountains. Nevermind the reason, I'm just thrilled that HOT BIKE has taken an interest in the pains we took in creating our own version of a '00 Dyna Wide Glide.
Before we got started on the makeover, Randy and I took a road trip to Bowling Green, Kentucky, and one of our stops was at the RC Components factory. While there, we got to see step-by-step how the company makes its wheels. Needless to say seeing all those wheels roll off the line inspired me to purchase a set of the company's newest wheels, the Czar design. While on the trip, Randy and I started a game plan on certain things I wanted to see with the finished Dyna. It started out being pretty simple: new wheels, fenders, and of course a new paint job. But then when we got back home and Randy got his hands on it, it turned into a raked out, wide-tired Wide Glide. Anyone who has seen Randy's work from his "one man band" bike shop, knows Randy has a desire to make things different and unique for each customer. His meticulous nature made him the only candidate I would let tackle this one-of-a-kind Dyna.
Randy modified and manufactured many of the parts that are on this bike since Dynas seem to take a back seat in the aftermarket parts scene. There are pages full of parts for Softails and touring models, but when it comes to Dynas there isn't even much of a selection for pipes. This in a way worked to Randy's advantage because it allowed him to showcase a lot of his metalworking skills. He modified the stock gas tank by cutting out the speedo, gas cap and gauge, and smoothed out the tank with a flush-mount gas cap. An Auto Meter tach with a shift light was mounted to the custom drag bars Randy made.
Randy installed a 240 wide tire kit and made a fender to cover the top half of the tire. To give the bike a lower, meaner stance, he moved the shock mounts back on the swingarm and installed a set of 2-inch shorter than stock shocks from Progressive Suspension. Up front, Randy cut and raked the neck out to 43 degrees and installed a Pro-One frontend with internal fork stops. To help me fit the bike better he moved the foot controls 3 inches forward.
While all this was going on, the motor was taken apart and Luther Briggs installed some new cams, along with a H-D 95-inch kit and modified the CV carb. Then with the motor back together, Randy made a custom motor mount with the choke knob incorporated into it, made some new side covers for the battery and electrical box.
With all the work Randy was doing to my bike I thought it was going to take him forever to finish. However, I was amazed at how quickly he assessed and accomplished each step of the build. Randy is even responsible for the paint job, from the fenders to the frame, with some assistance from Mark Peters, who did the awesome pinstriping and tank logos. It blows my mind that Mark can somehow paint these show-winning accents with only a paintbrush.
| | |
| --- | --- |
| SPEC SHEET | |
| BIKE OWNER | Jarrod Wells |
| SHOP NAME | Miller's Cycle |
| SHOP PHONE | (828) 683-3060 |
| SHOP WEBSITE | millerscycle@bellsouth.net |
| YEAR/MAKE/MODEL | '00/H-D/Custom |
| FABRICATION | Miller's Cycle |
| ASSEMBLY | Miller's Cycle |
| BUILD TIME | 2 1/2 months |
| | |
| --- | --- |
| ENGINE | |
| YEAR/MANUFACTURER | '00/H-D |
| TYPE/SIZE | TC/95ci |
| BUILDER | Luther Briggs |
| CASES | H-D |
| CYLINDERS | H-D |
| HEADS | H-D |
| ROCKER BOXES | H-D |
| CARBURETOR | H-D |
| AIR CLEANER | Arlen Ness |
| EXHAUST | Arlen Ness |
| | |
| --- | --- |
| TRANSMISSION | |
| YEAR/MANUFACTURER/TYPE | '00/H-D/Five-speed |
| CASE | H-D |
| CLUTCH | H-D |
| PRIMARY DRIVE | H-D |
| | |
| --- | --- |
| FRAME | |
| YEAR/MANUFACTURER | H-D/Miller's Cycle |
| RAKE | 43 Degrees |
| STRETCH | None |
| | |
| --- | --- |
| SUSPENSION | |
| MANUFACTURER FRONT | Pro-One |
| LENGTH | Stock |
| TRIPLE TREES | Pro-One |
| MANUFACTURER REAR | Progressive Suspension |
| SWINGARM | H-D/Custom Valley |
| | |
| --- | --- |
| WHEELS, TIRES, AND BRAKES | |
| MANUFACTURER FRONT/TYPE | RC Components/Czar |
| SIZE-HEIGHT/WIDTH | 21×2.15 |
| TIRE/SIZE | Metzeler/{{{80}}}/{{{90}}}-21 |
| CALIPER | PM |
| ROTOR | RC Components |
| MANUFACTURER REAR/TYPE | RC Components/Czar |
| SIZE-HEIGHT/WIDTH | 18×8.5 |
| TIRE/SIZE | Metzeler/{{{240}}}/40-18 |
| CALIPER | PM |
| ROTOR | RC Components |
| | |
| --- | --- |
| FINISH/PAINT | |
| COLOR | Charcoal/Silver, Gold Pearl, Black |
| PAINTER | Miller's Cycle |
| GRAPHICS | Mark Peters |
| PLATING/POLISHING | S&H; Chrome Plating |
| | |
| --- | --- |
| ACCESSORIES | |
| FRONT FENDER | Milwaukee Iron/Miller's Cycle |
| REAR FENDER | Miller's Cycle |
| FENDER STRUTS | Custom Valley/Miller's Cycle |
| GAS TANK∩ | H-D/Miller's Cycle, Pro-One |
| OIL TANK | H-D |
| GAUGES | Auto Meter/Miller's Cycle |
| HANDLEBARS | Miller's Cycle |
| RISERS | Drag Specialties |
| MIRRORS | Joker Machine/Miller's Cycle |
| HAND CONTROLS | H-D |
| FOOT CONTROLS | Kuryakyn/Miller's Cycle |
| FOOTPEGS | H-D |
| HEADLIGHT | Arlen Ness |
| TAILLIGHT | Drag Specialties |
| LICENSE MOUNT | Drag Specialties |
| SEAT | Danny Gray |