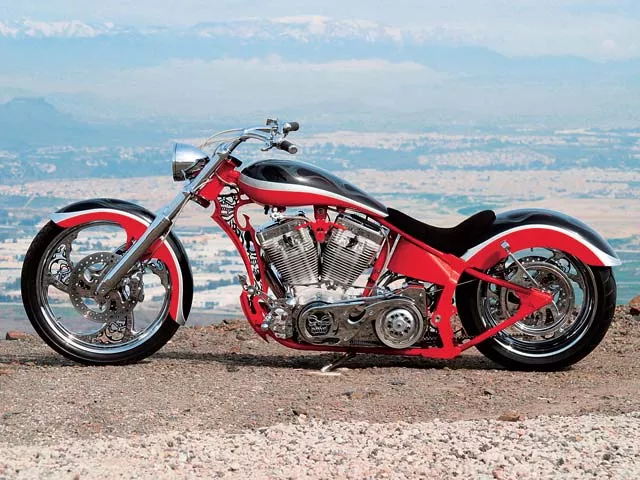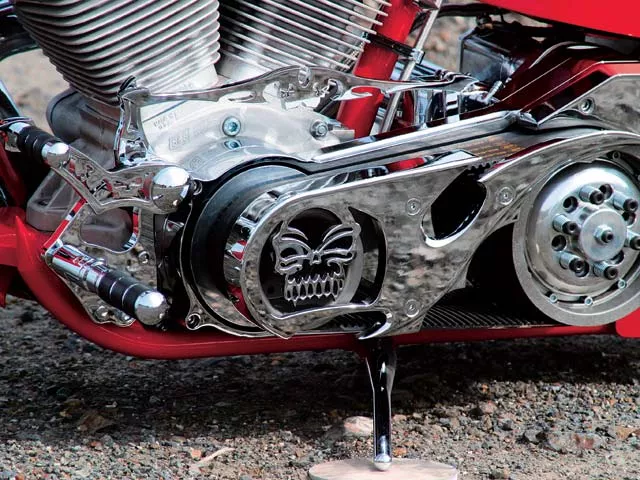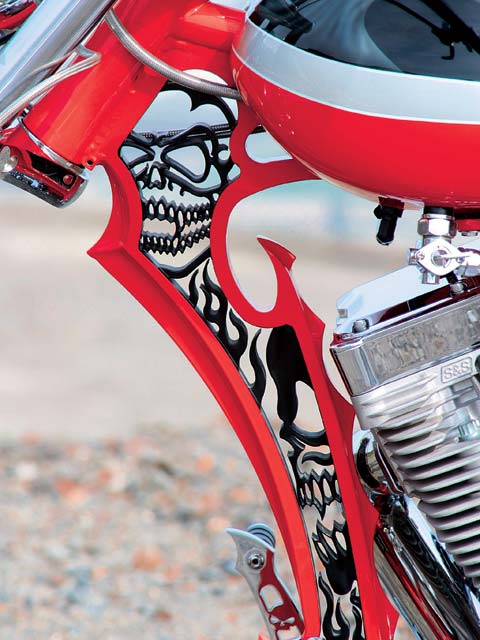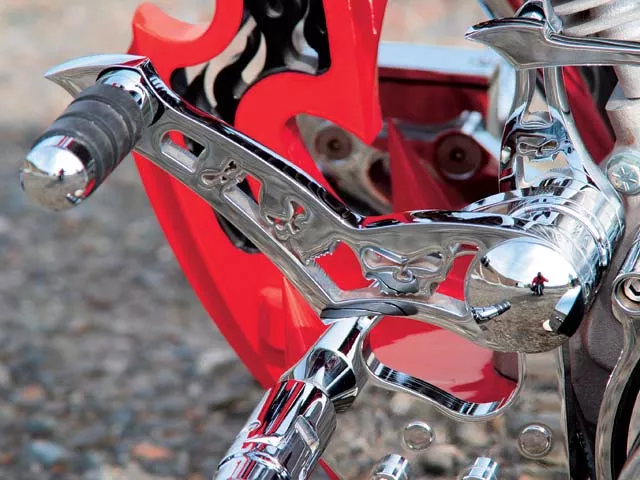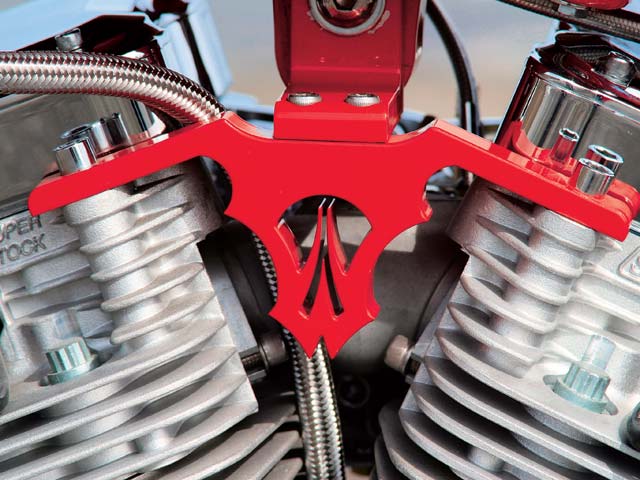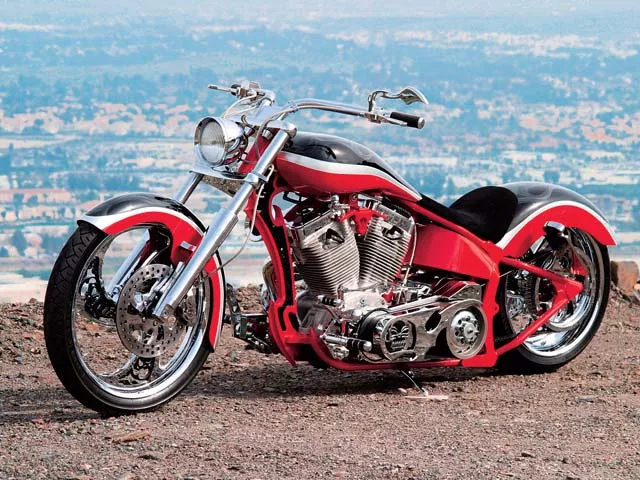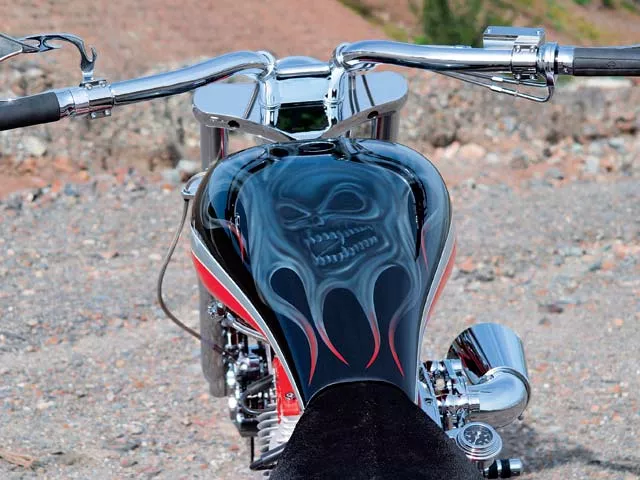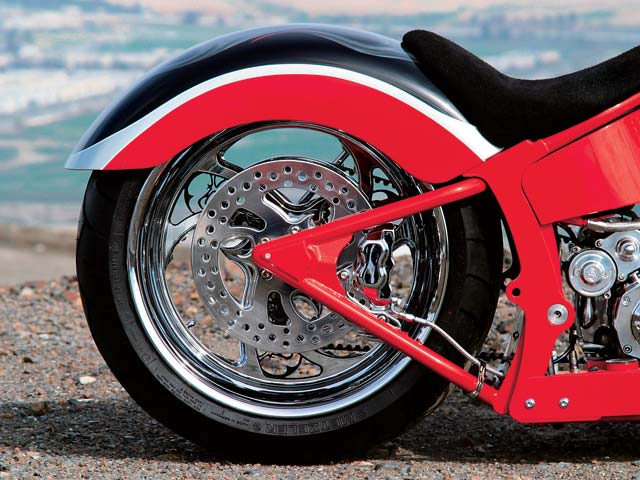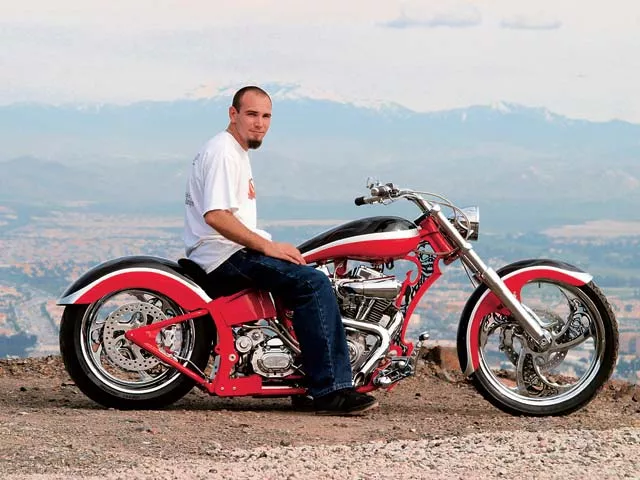 Isn't it funny how, whenever you get a new tool, you seem to go out of your way to find reasons to use it? Like when you buy a set of new wrenches–suddenly every nut and bolt in your car, house, motorcycle, and your friends' motorcycle needs to be loosened or tightened. Well, it was the acquisition of a new tool that inspired the bike you see before you.
A little more than two years ago, Tony Quinones was looking for a way to increase the creativity, production, and quality of the mirrors, wheels, forward controls, and shift linkages his company, Wicked Image, creates. After some extensive research, Tony found that investing in a waterjet machine would accomplish all three of his goals. A waterjet is similar to a CNC mill in that it's used for machining metal. However, unlike a mill, which uses various bits and tooling for the metalworking process, a waterjet uses a highly pressurized stream of water and a cutting agent such as sand. The water and sand combination produces very intricate, clean cuts in a variety of materials and thicknesses and requires little, if any, secondary machining such as deburring or grinding.
So with his new tool set up in his shop, Tony was eager to put it to use. "When we first got the machine, we were cutting components for one of those chopper shows on TV. It was pretty basic stuff, flames and spider webs, nothing too flashy," says Tony. "We wanted to push the limits of waterjetting and see what this machine was capable of. So we decided to build a bike utilizing the waterjet as much as possible while emphasizing the Wicked Image style and quality."
The most common platform for the aftermarket industry is the basic Softail chassis. So with that knowledge in mind, Tony called up Xtreme Cycle Design and ordered one of the company's Pro-Street Softail frames with 2 inches of stretch in the backbone.
Tony is quite the artist, and pretty much all of the products his company makes come from his own drawings and designs. So when it came time to add some life–um, actually….in this case, death–to the project, he just let his mind wander to a dark place we probably shouldn't delve into too deeply.
"I came up with this skull and flame design that I wanted to incorporate into various components of the bike. However, I quickly learned that the waterjet is very versatile. I could cut so much detail into just about anything, it was easy to get carried away. I had to back off," Tony said. "I wanted to find a balance and not overdo it. My idea was to keep the paint simple and let the metalwork speak for itself."
And speak it does. "With this build I wanted to push the limits of waterjet cutting. I had never seen a bike with a downtube or wheels that were cut with a waterjet. So the first thing we did was bust out the Sawsall and slice and dice the Xtreme downtube," Tony said. "Then we took a piece of 1-1/8-inch steel, secured it in the Omax, and awhile later, we had this crazy skull-laden downtube. There are still some things the waterjet can't do that a CNC mill can, such as the beveled knife-edge that was added to the downtube for a razor-sharp look."
The wheels started as a pair of blanks that were first CNC milled and then thrown on the waterjet. "Whenever people notice the wheels, they always think the skulls and flames are plastic inserts," says Tony. "It's just black powdercoat over chrome. It's a pretty tricky process; you only have one shot to get it right. Otherwise, you have to strip everything and start over."
While the downtube and wheels may stand out the most on this bike, it's the small details that really make people do a double-take–when they notice them, that is. Take the BDL 3-inch belt drive, for example–more specifically, the belt-drive cover. Sure, it has a skull that matches the rest of the bike, but if you look closely you'll see the front half covers the front pulley, while the back half leaves the rear pulley exposed. "I designed the cover like that because I wanted the open-belt look, but I was tired of the heel of my pants getting caught and torn up in the front pulley." Also, check out the motor mount cut into the shape of the Wicked Image logo. Did you happen to notice that the forward controls have tiny skulls cut into them that are just as intricate as the larger skulls?
While Tony and the Wicked Image crew wanted to keep as much of the build in-house as possible, obviously there were some things that just couldn't be created with a waterjet and a CNC mill, such as the 96ci S&S; motor, Wimmer Machine air cleaner, MGS pipes, Pro-One frontend, Platinum Suspension Air Ride shocks, and the sheetmetal from Russ Wernimont.
As stated earlier, Tony's idea for this bike was to keep the paint subtle and let the waterjet work stand out. So after Danny Albert of Danny Albert Designs finished the red, black, and silver paint scheme, Tony laid down some light ghost flames on the fenders and tank. But to cap off the build, he just couldn't resist adding one last screaming skull to the top of the tank.
Tony and the crew have displayed the bike in their booth all over the country, from Daytona to Reno, and it always attracts a crowd. "People see the bike and either want the same set of mirrors, or they want a belt-drive cover, but with their own design," Tony says. "And it's not a problem, because with this waterjet machine we can do mass production runs or one-off custom-order belt-drive covers and wheels."
From what we hear, even though it's been two years since he got the waterjet machine, the novelty hasn't worn off yet. Tony is still finding new uses for his favorite new tool. All we can say is, "Got waterjet?"
SPEC SHEET
GENERAL
OWNER : Tony Quinones/Wicked Image
SHOP : Wicked Image
PHONE : (951) 894-2929
WEBSITE : www.wickedimage.com
YEAR/MAKE/MODEL: '04/Wicked Image Custom
FABRICATION : Wicked Image
ASSEMBLY : Wicked Image
BUILD TIME : Eight months
ENGINE
YEAR/TYPE/SIZE : '04/S&S;/96ci
BUILDER : S&S;
CASES : S&S;
FLYWHEELS : S&S;
RODS : S&S;
PISTONS : S&S;
CYLINDERS : S&S;
HEADS : S&S;
VALVES : S&S;
ROCKERS : S&S;
ROCKER BOXES : S&S;
PUSHRODS : S&S;
PUSHROD TUBES : S&S;
CAM(S) : S&S;
LIFTERS: S&S;
CARBURETOR : DaVinci
AIR CLEANER : Wimmer Machine
IGNITION : Dyna
EXHAUST : MGS
TRANSMISSION
YEAR/TYPE : '04/MC Goodies six-speed
CASE : MC Goodies
GEARS : MC Goodies
CLUTCH : BDL
PRIMARY : DRIVE BDL
FRAME
YEAR/TYPE : '05 Xtreme cycle Design/Wicked Image
RAKE : 40 degrees
STRETCH : 2 inches out
SUSPENSION
FRONT: Pro-One
LENGTH : Stock
TRIPLE-TREES : Classic and Custom Rides
REAR : Platinum Air Ride
SWINGARM : Xtreme Cycle Design
SHOCKS : Platinum Air Ride
WHEELS, TIRES, AND BRAKES
FRONT
BUILDER/SIZE : Wicked Image/21X2.125
TIRE/SIZE : Metzeler 21
CALIPER : HHI
ROTOR : Wicked Image
REAR
BUILDER/SIZE : Wicked Image/18X8.5
TIRE/SIZE : Metzeler/240mm
CALIPER : HHI
ROTOR : Wicked Image
FINISH/PAINT
COLOR(S) : Black, red, silver
PAINTER : Danny Albert Designs
GRAPHICS : Tony Quinones
PLATING/POLISHING : Orange County Plating
POWDERCOATING : Temecula Valley Powdercoat
ACCESSORIES
FRONT FENDER : Russ Wernimont Designs
REAR FENDER : Russ Wernimont Designs
FENDER STRUTS : Internal
GAS TANK & CAP : Russ Wernimont Designs
OIL TANK : Xtreme Cycle Design
HANDLEBARS : Redneck
RISERS : Built in
MIRRORS : Wicked Image
HAND CONTROLS : PM
FOOT CONTROLS : Wicked Image
FOOTPEGS : Wicked Image
HEADLIGHT : Headwinds
TAILLIGHT : Radiantz
LICENSE MOUNT : Radiantz
SEAT : Wicked Image