On the surface, the MotoLady's third annual Women's Motorcycle Show was indeed a bike show. Twenty-seven motorcycles built or ridden by women riders were spread about Lucky Wheels Garage, vying for Best of Show, Old Skool Cool, Going the Distance, and Modern Momma trophies. Many were obviously daily riders, from an Indian Scout with its handlebar wrapped in a black bandana and a fuel sling strapped to its back, to a Star Bolt with a soaring sissy bar and custom purple paint. There were bikes steeped in history, most notably an amalgam of a 1938 Indian engine spooned into a Royal Enfield frame built and ridden by Cecilia Adams not long after World War II. Some builds bordered on the sublime, from Amy Mulligan's Suzuki GS450 with post-apocalyptic charm, to Kristine Peach's 1953 Triumph 650, a dry lake bed racer with a trio of aluminum canisters streaking down its backbone. Then there was the odd couple of the show, Masumi Takamine's 1959 Panhead wearing its patina and peeling paint next to the "Future of Fast," Jen Dunstan's sleek 2018 Alta Redshift electric supermoto.
It was definitely a party, and one that far exceeded expectations (and fire codes!). An estimated 1,500 people packed inside, outside, and around Lucky Wheels Garage. Friends hammed it up at the photo booth as shutterbug Julio Bustamante clicked away. Stephen El Rey crooned tunes before Low Volts took a turn providing the party beat. The staircase to the second floor looked like the 405 freeway as revelers filtered upstairs to watch the ladies battling it out on the handlebar arm-wrestling table or to put their raffle tickets in the jar to win prizes from industry A-teamers including Bell, Sena, Alpinestars, Rev'It, and Biltwell. By the time they broke out the motorcycle-shaped piñata stuffed with bottles of booze, levels were measuring pretty high on the fun meter. And then the police came to shut down the party.
"Seriously, there were so many people and bikes that the cops thought we were street racing. They actually thought the event was really cool and want to help us out next year with keeping it on the up-and-up. I was so proud and happy, hearing two LAPD officers tell me, 'This is the coolest event we've ever had to shut down' is definitely the feather in my cap," posted the MotoLady on Facebook.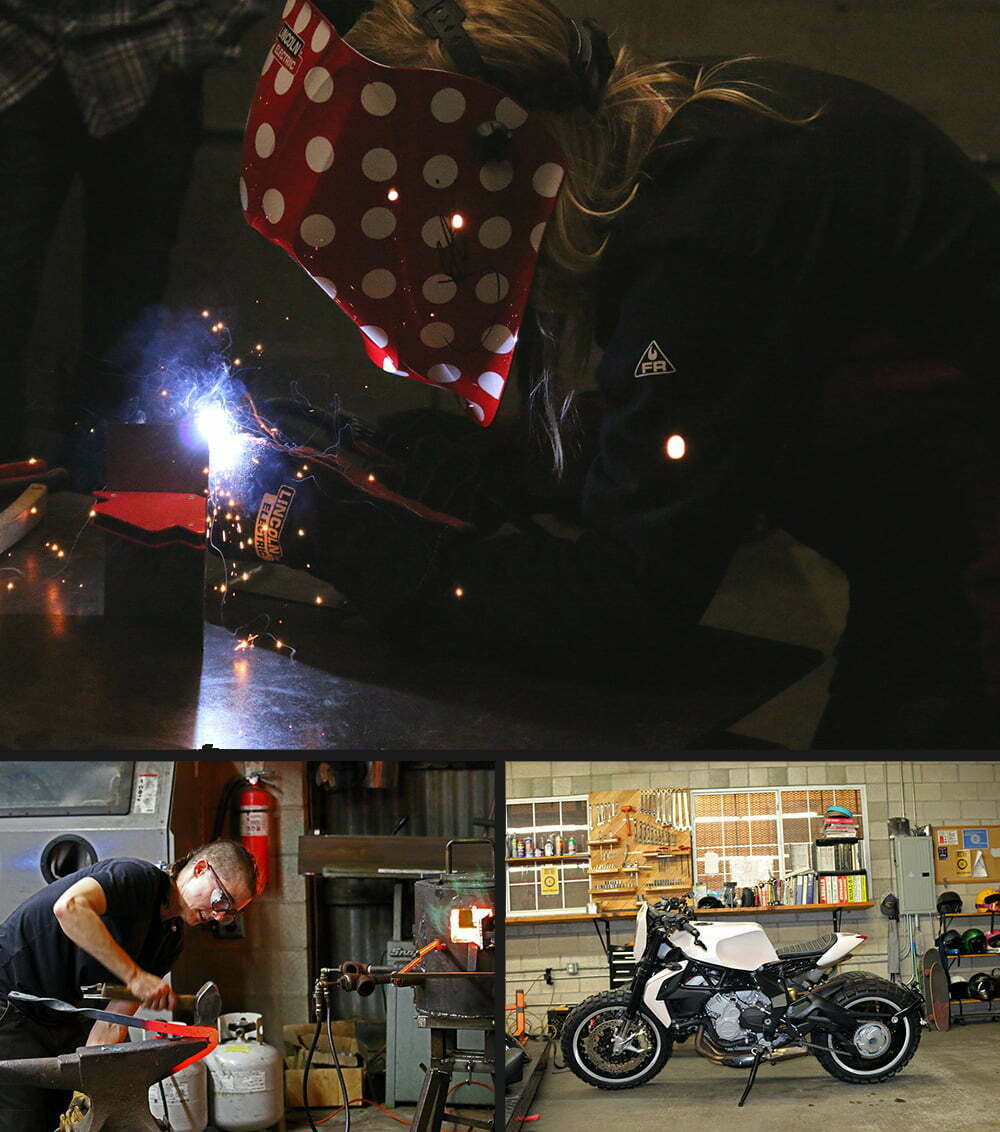 Scratch the surface a little deeper and you have an outpouring of some of the leading ladies in the motorcycle industry, women who are empowering other women riders by their abilities and actions. High on that list is land speed record holder, fabricator, and TV personality Jessi Combs, who was on hand conducting a little Welding 101 class at the show. Joining Combs was her Real Deal partner, Theresa Contreras, along with the 2016 BMW R nineT the two customized. Contreras busily gave pinstriping demonstrations, educating the eager on tricks of the trade, from the different brushes she uses to the art of pulling a clean line. Joy Fire was also the real deal, the veins and muscles in her arms hardened like the steel she manipulates with heat, hammer, and anvil. The roots of blacksmithing history run deep, and Fire is a fine ambassador of the old-world trade. Custom builder Sofi Tsingos of GT-Moto brought the 2013 MV Agusta Brutale 800 she built with help from her friend, the MotoLady. The duo had plenty of motivation in building the Brutale, as the bike was raffled off to the tune of $25,000 for St. Jude Children's Hospital.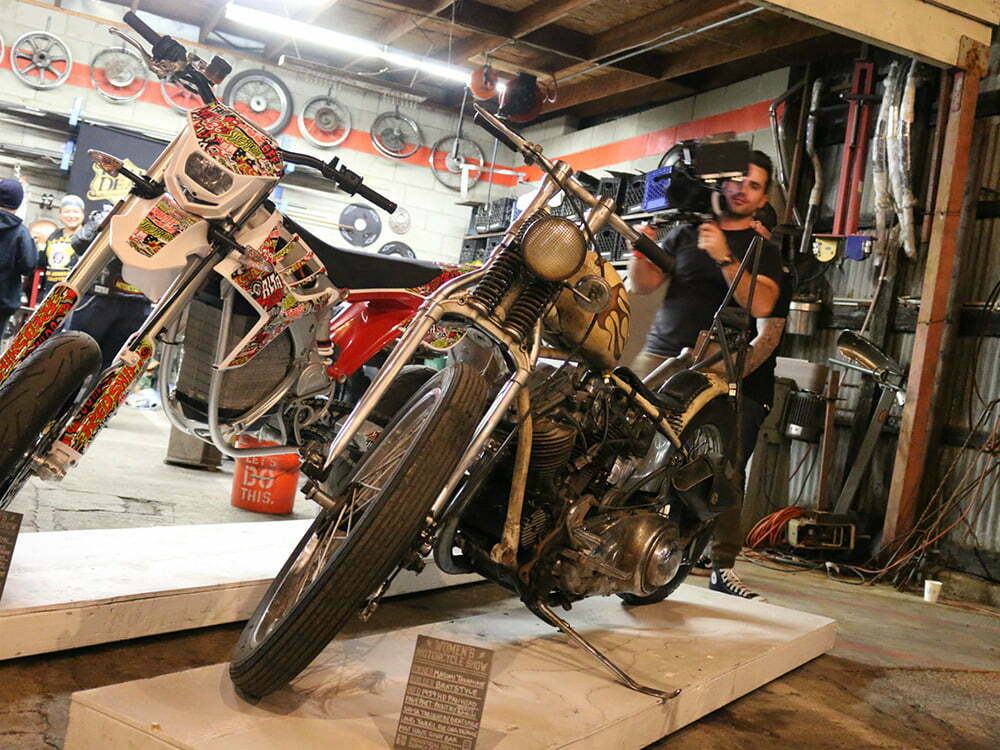 Krystal Hess, another woman who's doing good things in the industry, was at the show as well. Hess operates a nonprofit organization called Motorcycle Missions that helps veterans and first responders suffering from PTSD through both a custom bike building mentorship and off-road riding programs. She also brought her award-winning custom 2015 Indian Scout to the show all the way from Texas. Gevin Fax, with her infectious smile and enigmatic personality, was in the house too, helping the MotoLady celebrate her anniversary. Fax is a true road warrior who has been inspiring women riders for years now through her exploits as a musician, TV personality, and professional stuntwoman.
Then there's the MotoLady, Alicia Elfving. For the last seven years she's been passionately portraying women motorcyclists in a powerful, positive light. She has amassed a following with her willingness to share her trials and tribulations as a lady rider openly through her blog and social media channels. Her candor and honesty make her easily relatable. She let the public in when she built her beloved custom Ducati Monster, called "Pandora." Elfving later wrecked her cherished Monster at high speed and shared the ensuing hardships that came along with the experience, from physical and mental trauma to the fear of getting back on the bike. She used the experience as a platform to advocate for wearing proper gear, something she credits with helping her survive the wreck. She's made a lot of friends along the way, from the cast of leading ladies who supported her third annual gathering, to the members of the SoCal motorcycling scene who came out in force.
At its core, the Women's Motorcycle Show is also a reflection of the evolution of our industry. Women are wrenching and riding in record numbers. They're organizing their own events—from campouts to rides to motorcycle shows—and establishing networks of lady riders. The movement shows little signs of slowing down and the timing couldn't be better, as women motorcyclists are providing a much needed boost to a listing industry.