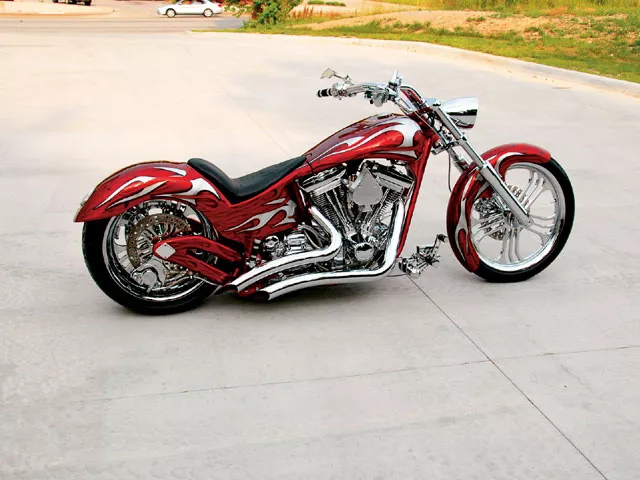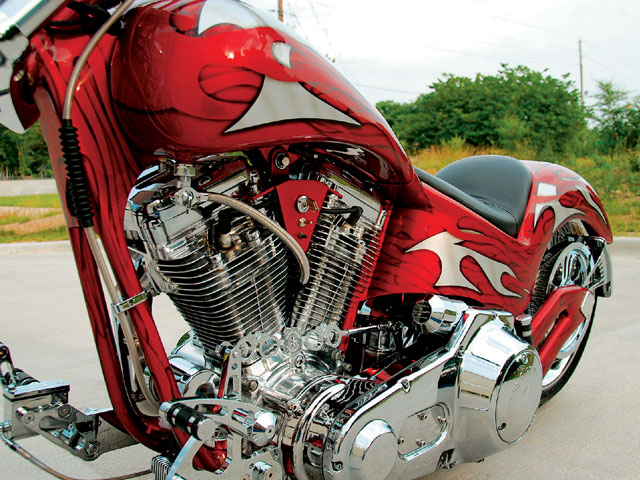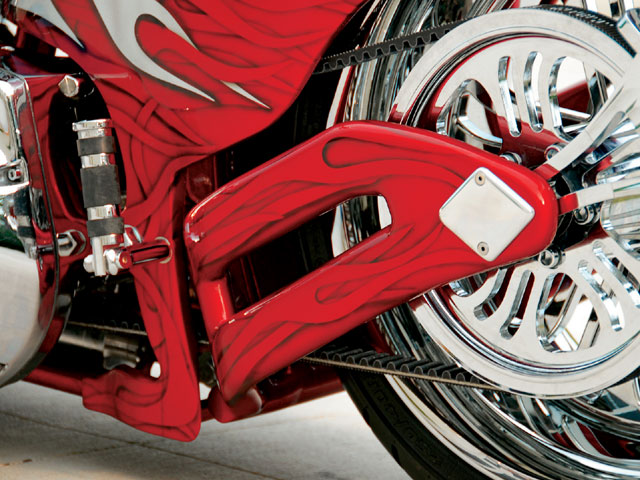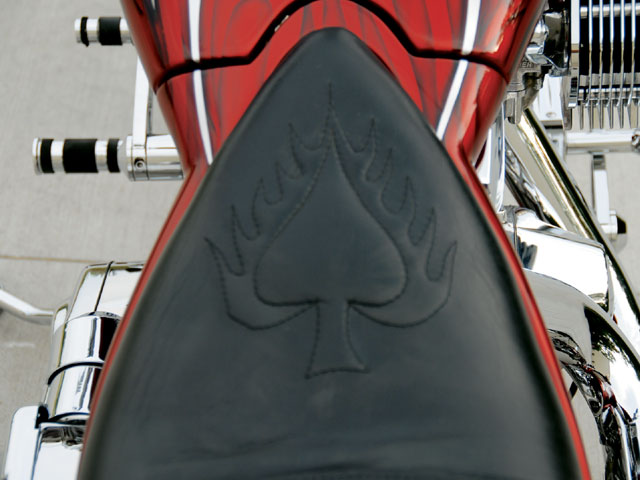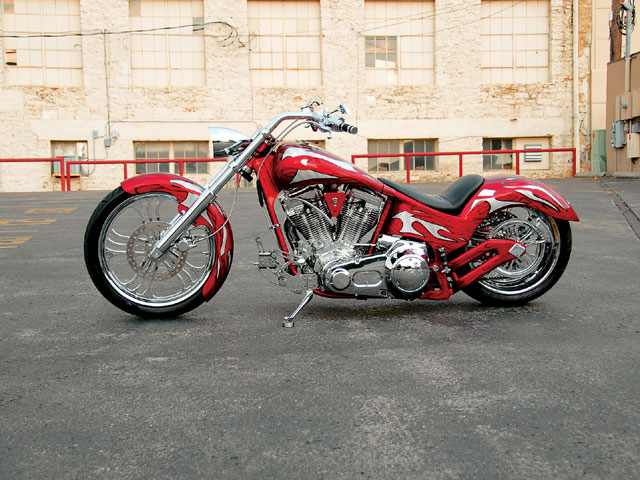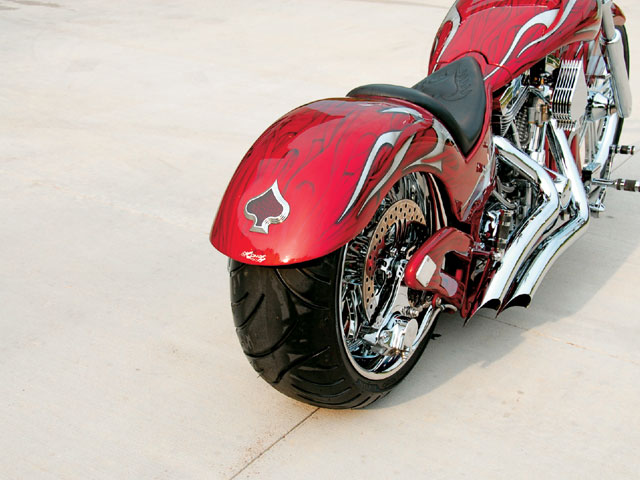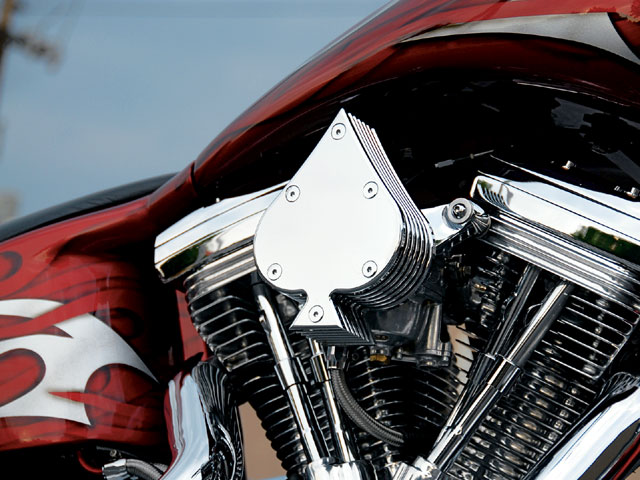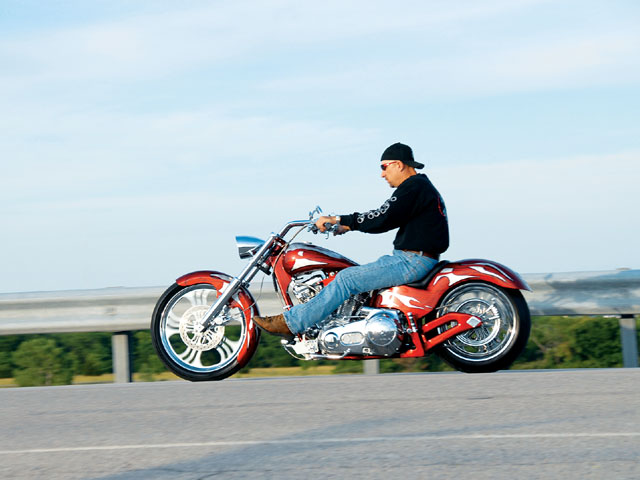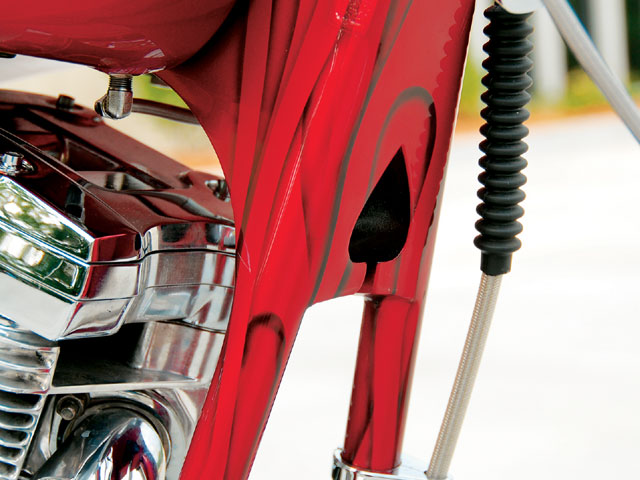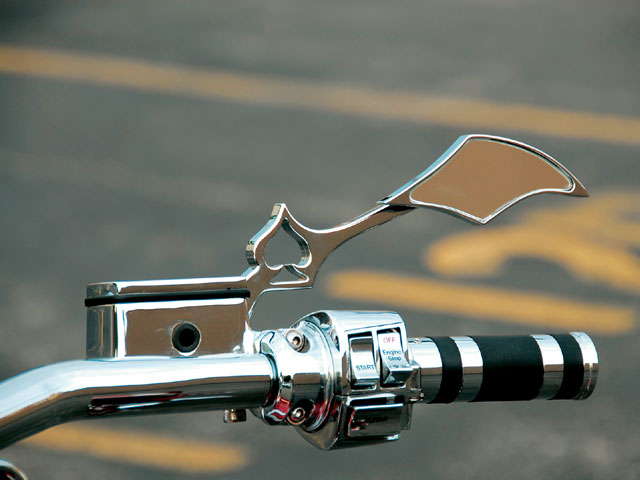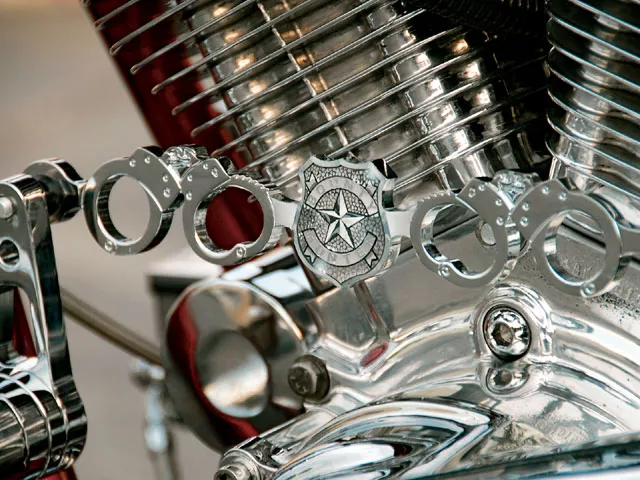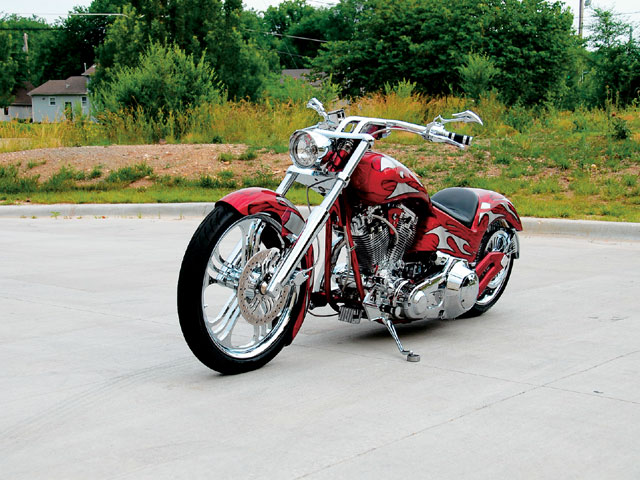 Some of the best motorcycles start out as one thing and end up a totally different bike. Rick Combs, owner of Combs Custom Cycles in Lawrence, KS, had a stock 1988 Harley-Davidson Softail roll into his shop looking for a new frontend, with owner Steve Robson-a friend of Rick's-in tow. Steve and Rick sat down and started chatting, and the next thing Steve knew, Rick had talked him into doing an entire facelift on the bike-nothing stock would stay. It would be completely torn down and reassembled to have a pro-street look, the basis was there for a mean-looking custom. Rick always looks to his customers for inspiration and direction when he takes on a custom project, whether it's a ground-up custom or a facelift for an existing bike. In this case it was easy to come up with an overall theme. Steve was a bounty hunter, bondsman, and president of Ace Bail Bonds in Lawrence. This gave Rick the idea to incorporate some playing card references, specifically Spades, and really give Steve the bike he had always dreamed of owning.
There are several positive reasons to start with an existing Harley-Davidson platform as a basis for a custom bike. The first is that it will still be titled as a Harley-Davidson, which always makes it easier to register and insure; the second is that everything is already there to complete the bike as far as essentials for wiring; the third and most important is that if the general geometry of the bike is unchanged-it can still be ridden for miles and look good. This is one of Rick's guiding principles at his shop; he likes to give his customers bikes that are meant to ridden but have extra flair. "My customers work hard for their money and most have one bike, so that one bike needs to be able to handle a long haul if that's what they desire," he said.
Rick started by tearing the bike completely down on his own. It seems another guiding principle of CCC is if you want something done right the first time, do it yourself. The shop is a one-man operation, and Rick keeps his quality control up because of it. The first order of business was to take care of the frame and make it a little sleeker. He raked the neck out to 39 degrees and added the first Spade on the gusset of the two down tubes. Those are the kinds of details that Rick has become known for over the last 20 years of doing custom motorcycle fabrication and painting. He looks at all the details and makes sure that they are right. With Steve's Softail, the bonus for Rick was having complete liberty to do as he wished within reason. Because he is a fabricator at heart, he set to work on some of the more difficult tasks, like dishing out the swingarm and modifying it heavily to accommodate a 250 tire. The swingarm was fitted with an Accessories Unlimited air ride system so that it could get slammed to the ground. With a fat rear tire comes a Combs Customs fat fender. Rick also used his fabrication skills to french in a custom spade taillight, and in addition saw the need for an entirely new seat pan to be fabricated. The oil bag, gas tank, and fender were all custom built around the seat pan and carried the flowing lines all the way to the back of the bike. Since the front fender had to fit the low profile of the bike, Rick chose a Kustomwerks fender that fit the bill.
Meanwhile, the motor was getting torn into and completely polished. The stock displacement was kept to maintain reliability, but the motor was freshened up for the inevitable miles that would be racked up when the bike was completed. There were a few minor details that really added the finishing touches; the spade mirrors and air cleaner cover added to the theme, as did the handcuff shifter linkage with a replica of Steve's bounty hunter badge airbrushed in by Greg Mauer of Mauer Designs.
| | |
| --- | --- |
| ACCESSORIES | |
| FRONT FENDER | Kustomwerks |
| REAR FENDER | Combs Custom Cycles |
| FENDER STRUTS | Combs Custom Cycles |
| GAS TANK(S)∩(S) | Combs Custom Cycles |
| OIL TANK | Combs Custom Cycles |
| DASH | None |
| GAUGES | Accessories Unlimited |
| HANDLEBARS | Wild 1 |
| RISERS | None |
| MIRRORS | Mammoth Choppers |
| HAND CONTROLS | Mid-USA |
| FOOT CONTROLS | V-Twin |
| FOOTPEGS | V-Twin |
| HEADLIGHT | Accessories Unlimited |
| TAILLIGHT | Bragg Engineering |
| TURN SIGNALS | Bragg Engineering |
| LICENSE MOUNT | V-Twin |
| SEAT | NAC's Upholstery |
The paint was going to have to be of the same caliber as the bike; this was definitely not going to be an inconspicuous bike. Rick wanted the paint to really stand, out so he decided-because of all the molding-to paint the frame as well as the bike so that it all flowed. The base was a PPG candy apple red, and then several layers of flames were added to give it a truly deep looking flame job.
It seems that Rick's attention to detail and his ability to take on a project completely paid off one more time with this Ace of Spades Bounty Hunter. It's hard to tell that there is a stock Softail under all that, but one thing is for sure, the bike begs to be ridden…hard.
Spec Sheet
| | |
| --- | --- |
| GENERAL | |
| OWNER | Steve Robson |
| SHOP | Combs Custom Cycles |
| PHONE | 785-749-1562 |
| WEBSITE | www.combscustoms.com |
| YEAR/MAKE/MODEL | 1988 H-D FX Softail |
| FABRICATION | Rick Combs/Steve Robson |
| ASSEMBLY | Rick Combs/Steve Robson |
| BUILD TIME | 3 months |
| | |
| --- | --- |
| ENGINE | |
| YEAR/ TYPE/SIZE | '88 /H-D/80ci |
| BUILDER | Combs Custom Cycles |
| CASES | Polished H-D |
| FLYWHEELS | H-D |
| RODS | H-D |
| PISTONS | S&S; |
| CYLINDERS | H-D |
| HEADS | H-D |
| VALVES | H-D |
| ROCKERS | H-D |
| ROCKER BOXES | H-D |
| PUSHRODS | Crane |
| PUSHROD TUBES | H-D |
| CAM | S&S; |
| LIFTERS | H-D |
| CARBURETOR | S&S; |
| AIR CLEANER | MC Advantages |
| IGNITION | Crane |
| EXHAUST | Hooker Trouble Makers |
| | |
| --- | --- |
| TRANSMISSION | |
| YEAR/TYPE | '88/H-D Five-speed |
| CASE Polished | H-D |
| GEARS | H-D |
| CLUTCH | Barnett |
| PRIMARY DRIVE | H-D |
| | |
| --- | --- |
| FRAME | |
| YEAR/TYPE | '88 H-D Modified by |
| | Combs Custom Cycles |
| RAKE | 39 degrees |
| STRETCH | None |
| | |
| --- | --- |
| SUSPENSION | |
| FRONT | |
| LENGTH | Stock |
| TRIPLE TREES | DNA 3 degree |
| REAR | |
| SWINGARM | Combs Custom Cycles |
| SHOCKS | Accessories Unlimited |
| | |
| --- | --- |
| WHEELS, TIRES, AND BRAKES | |
| FRONT | DNA 2.15 x21 Tenzo |
| TIRE/SIZE | {{{90}}}/90/21 |
| CALIPER | H-D |
| ROTOR | DNA Tenzo |
| REAR | |
| BUILDER/SIZE | DNA 8.5×18 Tenzo |
| TIRE/SIZE | 250/18 |
| CALIPER | Modified H-D |
| ROTOR | DNA Tenzo |
| | |
| --- | --- |
| FINISH/PAINT | |
| COLOR | PPG Candy Apple Red |
| PAINTER | Rick Combs |
| GRAPHICS | Rick Combs/Greg Mauer |
| MOLDING | Rick Combs |
| PLATING/POLISHING | Combs Custom Cycles |
| POWDER COATING | None |